Did you ever encounter the stigma that the right time to get a dog is when you are settled down at your white picket fenced house, somewhere in the suburbs or a farm where the dog can be truly happy?
But the thing about dogs is that they are highly adaptable to the owner's lifestyle, and like tens of thousands of dogs out there, they can be perfectly happy in an urban environment.
From personal experience and lots of research, I bring to you the ultimate guide for keeping your dog happy in the city:
GET TO KNOW YOUR DOG
My first and most important tip is to get to know your dog. Find out what he likes to do and when, what he enjoys and what he hates. Learn to assess their mood to figure out when they are bored, over-excited or anxious. This can really differ from dog to dog and you have to keep in mind some variables (such as their age, breed or past experiences if you adopted a dog with a troubled background).
Dogs are better communicators than humans, so it's up to you to make the effort to understand them in order to know how to act in those situations and keep your dog happy and out of trouble.
My four month's old staffy, Flicka, fails at communicating when she needs to go outside for example, but she becomes hyper and restless (attacks socks, barks for apparently no reason). Learning to read that has made such a difference because I can prevent accidents from happening in the apartment and once she goes out and does her business she comes back calmer and acts in a pleasant manner.
MAKE SURE THEY GET PLENTY OF EXERCISE

Lack of exercise can really make living with a dog in a small apartment a nightmare. If you want a dog that is both happy and healthy, but also receptive to your commands, you need to make sure they get proper exercise every single day.
This will improve your dog's lifespan and prevent them from using their extra energy on your furniture.
Take your dog out for walks as often as you can (at least two times a day) but also spend some time with them indoors or in the backyard making sure they use some of that energy. Even half an hour of fetch can make a huge difference.
Stimulating them intellectually it's also a form of exercise. I still make sure to spend at least 10 minutes every couple of hours doing basic training or proving a puzzle toy for my puppy. Why not do the same for your adult dog?
CHANGE THE SCENERY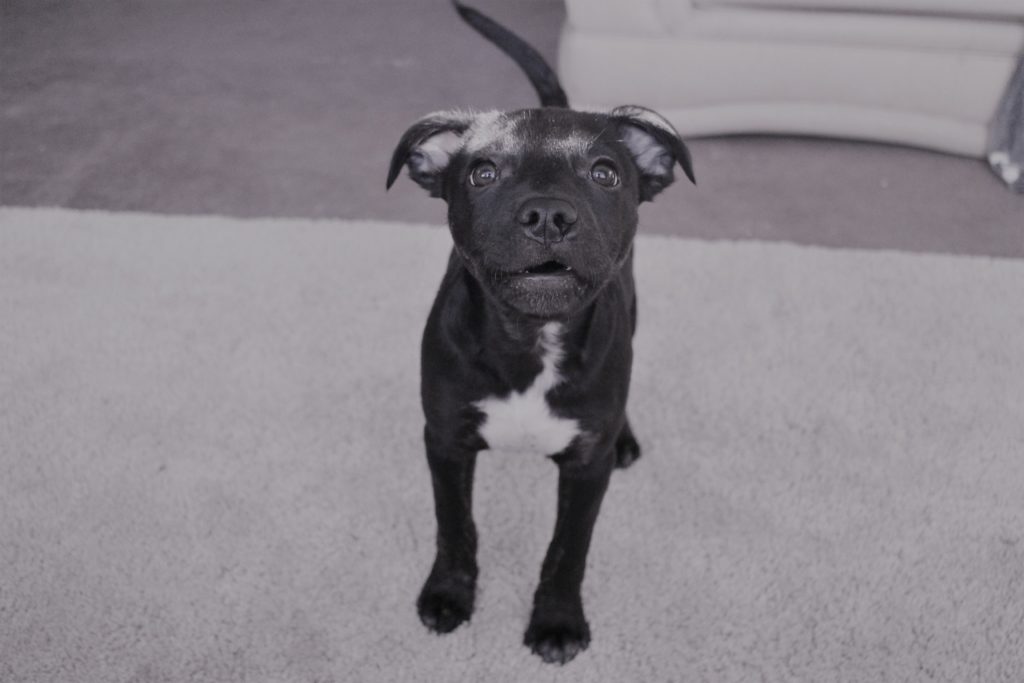 Would you be happy living in a small apartment and seeing the same exact houses on your daily walks? Don't keep your dog in a rut. Sure, sticking to a daily schedule can help and discipline never hurts. But your dog needs some diversity.
Find a park nearby and take them there once a week. Letting them run loose in a safe environment can be such a thrill for a dog that always walks on a leash because of the dangers that come with the urban territory. Choose to walk on a different route back home once in a while. Find some public gardens that will allow pets and visit them once a month. Going on a trip? Take the dog with you. Just find a way to visit new places once in a while.
A change in scenery isn't just going to keep your dog happy, but it can also do wonders for you.
SWITCH THINGS UP 
A dog doesn't need much to be happy overall. But life in the city can be quite mundane for your little pooch. So make it exciting when you can!
But a new toy once a month. And rotate the old ones regularly. (Flicka loves when she gets to play with a toy that she hasn't seen in a few days).  Give them some new treats such as vegetables or fruit that dogs can eat (carrots and apple slices are my personal favorite). Put a piece of meat in the freezer and let them lick it off. Hide some kibble in a toy.
Arrange a puppy play date with your neighbor's dog or socialize them around the park. Even introducing them to new people can be exciting.
There are endless things that you can do (and it only takes seconds of your time) to make their day.
Related post: 7 Tips For Raising A Puppy As A Millennial