Instagram Reels Tips For Blog Traffic
Any time Instagram announces a new update or feature, they are usually met with skepticism from users because a new feature implies revamping their content planning and engagement strategy. Something similar happened when Instagram announced reels, a short-form video feature modeled after TikTok's mega success.
But with Instagram announcing they are no longer just a square photo sharing app and embracing video content, reels have taken most businesses by a storm with it's incredible reach and engagement.
Do you really need to add another Instagram feature in your blog marketing strategy when there are so many to take care of? Will it be worth your time? Yes. Even if you are not the dancing, pointing to the air type creator, there's something for you in it!
You are one reel away from getting discovered by your ideal audience and building amazing connections with like minded people.
This article will help you understand why as a blogger you need to start using Instagram reels and how it will benefit you in the long run.
7 Reasons to Start Using Instagram Reels
With more than 500 million daily active users (according to Backlinko), Instagram is an amazing social media platform for bloggers to find and relate with their target audience.
Reels can be a great way to use Instagram to grow your business because of its highly engaging content format. Here are a few reasons to get started with Instagram reels to promote your blog, products and services:
1. REACH A NEW, WIDER AUDIENCE ORGANICALLY
We all can agree that Instagram was a tough platform to grow organically on until reels came around. The discoverability and reach you get with Instagram reels organically is unparalleled.
Because reels are a fairly new Instagram feature, you can be sure of Instagram favouring reels over other types of Instagram content. This means the chances of your next reel getting on the explore page and going viral are high. Super helpful for your blogging business too!
Also, since people are only getting busier each day, most of them do not have time for long-form content or have no patience to scroll through carousels. This is the perfect time for you as a blogger to hop on the short-form content trend and get discovered by your target audience.
If you're still iffy about how long reels are going to last or if it's even worth spending time on, just observe how other social media giants like YouTube and Pinterest have incorporated short-form video content into their platforms to combat the tough competition they were getting from TikTok.
Bottom line, reels have great potential in terms of Instagram reach and engagement. They are here to stay and definitely worth your time.
2. CONNECT WITH YOUR INSTAGRAM AUDIENCE BETTER
Instagram feed and aesthetics have a long history. Regardless of if you're pro color coordinated/ aesthetically pleasing Instagram feed or not, one thing you can agree with is how there's only so much you can do with feed posts to connect with your audience better and take them behind the scenes.
But with reels, it is so much easier to show a raw, unedited version of your blogging business. What your day-to-day routine looks like, what you do to make your business a success, what mistakes you made when you started out, advice on how your audience can achieve their goals, etc.
Connecting with your existing audience on a deeper level is just as (if not more) important as getting discovered by new audiences. With reels, you can do just that by being your authentic self. And no, you don't have to share too many personal details to connect with your audience.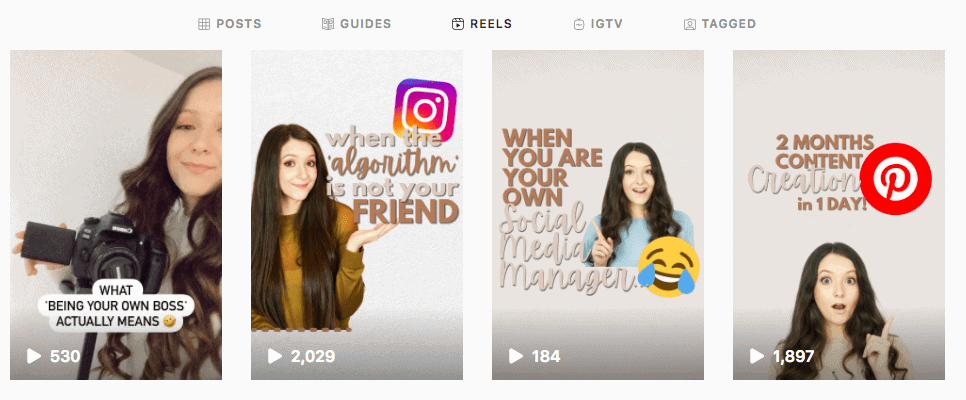 All you have to do is hop on the reels trend of the week and give it your own spin. This is the perfect opportunity for you to ditch the formal, more serious type content (aka feed posts) and adopt a meme-y, fun style of video your audience can enjoy.
Instagram reels will help you build a tight-knit community by sharing a more light-hearted, personal side of your business. Which we all know is key to growing your blogging business and making it a success.
When your audience realizes you actually care about providing value and helping them and not look at them as another sales option, they will be able to connect with you better and eventually become your customer.
3. DEFINE YOUR UNIQUE SELLING PROPOSITION
Your USP or Unique Selling Proposition is something that helps you stand out from your competitors. As a blogger or business owner, having a clear USP people can easily identify with will help you turn random followers to your raving fans.
Why should your followers buy your new ebook? Or why should your ideal client work with you? Sign up for your email list? How will they benefit from your blog content? What's in it for them to choose you over your competitors? Highlighting this will help you win your clients/ customers' trust faster.
Video content makes it so much easier to show your thought process, your opinions on certain aspects of your niche, how you approach things in your niche differently, etc. This is key to defining your Unique Selling Proposition. By doing this, you are basically giving your target audience a reason to stick with you in the long run.
Here's an example to illustrate my point better:
Let's say most bloggers in your niche do not use Instagram reels to promote their blog posts. You can use this opportunity to make Instagram reels your differentiation strategy and be the first or one of the few bloggers in your niche to incorporate reels and leverage it to market your brand.
Create reels around popular misconceptions in your niche, how you think certain practices are nothing but myths, unheard of ways you got to where you are today, etc. to set yourself apart from the crowd.
4. INCREASE KNOW-LIKE-TRUST FACTOR
I'm sure you've heard of the phrase "People don't buy, they choose". Your potential clients/ customers decide if they want to work with/ buy from you and not your competitors based on how much they know about you, like you and trust you. Aka, the know-like-trust factor. You need to get this right if you want to sell!
The easiest way to increase the know-like-trust factor is by letting your followers know a little more about your blogging business, why you started it, your brand values, etc. The person behind the brand they can relate and connect with. This opens doors for more trust and eventually more sales.
With Instagram reels, you can increase the know-like-trust factor by showing more of your personality which is otherwise not possible through feed posts. Think about it. How much of your personality can shine through a feed post? Not as much as a reel!
Entertaining yet educational reels, reels that show the behind the scenes of your blogging business and several other Instagram reels ideas will help you make sure your personality shines through your Instagram feed and takes you a step closer to your potential customer/ client.
5. IG REELS ARE A GREAT LEAD GENERATION TOOL
The ultimate goal for you and every other blogger is most definitely getting more people on your email list, solving their problems, and converting them into loyal customers. Because let's be honest here, we don't own the followers on Instagram, and sending personalised messages through Instagram is taxing.
But, if you use Instagram reels as a lead generation tool and direct them to your email list, it will be easier for you to have a 1:1 with your audience, connect with them better and build a meaningful relationship with them.
With the sheer amount of people you can reach through Instagram reels, generating high-ticket leads is not a far-fetched dream. Not just that, with a plethora of Instagram reels ideas to promote blogposts, services and products, you will never bore your followers with repetitive content.
Let's say you are a food blogger and have a new eBook about vegan recipes you'd like to promote. Creating a reel about the problems your audience might be facing and offering your eBook (or freebie) as a solution is a great way to increase your eBook sales.
Or, if you are a blogger who offers content writing services, using testimonials from previous clients in your reels to attract new clients shouldn't be that hard. Since you are putting yourself out there, your potential client is more likely to trust you and choose you over your competitors.
And of course, you can direct your viewers to your bio where you can add a link to your latest blog post and get that extra traffic to your blog!
6. REUSABLE MULTI-PURPOSE CONTENT
I'm sure you'll agree with me when I say half of blogging is all about promoting your blog posts on different social media platforms. Repurposing is the go-to to save time in such situations.
If not anything else, the reusability factor of Instagram reels will definitely motivate you to incorporate Instagram reels into your blog marketing strategy.
Instagram reels are so easy to repurpose and reuse on several other platforms such as YouTube shorts, TikTok, Facebook, Pinterest Idea pins, etc. Or, if you already create TikToks, it's high time you start publishing them as reels to reach a wider audience on Instagram!
Also, if you create a lot of carousel posts for your Instagram, you should definitely look into repurposing them as reels. Like I mentioned earlier, you don't always have to show your face to go viral with reels. As long as your content provides value, you're good!
Apart from being highly reusable, Instagram reels are easy to create. It requires less time to create a reel than a graphic carousel for your feed. All you have to do is record a 15 second video and add engaging texts! You can do all of this without showing your face too!
7. GREATER SHELF LIFE
Knowing the shelf life of your social media posts is key to crafting a solid content marketing plan that is bound to succeed. The minute you know how long your post lasts, you know exactly how many of them you need to create to keep in touch with your audience.
So, the greater the shelf life a social media platform has, the more chances you have to reach new, potential audiences in your niche. This also means that you as a content creator get a high return on investment.
Unlike Instagram stories which disappear within 24 hours or feed posts and IGTVs that receive most engagement within 48 hours, reels have a greater shelf life. Reels will continue to be promoted by Instagram for multiple weeks.
Since reels have a greater shelf life compared to other features Instagram provides, you can be sure of gaining real Instagram followers throughout!
Key Takeaways From This Instagram Reels Tips Post:
In conclusion, Instagram reels are a great way for bloggers to introduce their content to a whole new audience and build deeper connections with them.
You should look into creating reels to promote your blog if you want to:
Reach a new audience and grow your Instagram following organically fast.
Go beyond the feed posts and show your personality to your followers.
Ensure your Unique Selling Proposition is crystal clear, giving your audience a reason to work with you.
Develop trust and likeability around your brand and become the go-to in your niche.
Drive traffic to your blog, email newsletter and increase products and services sales.
Batch create content in one go and reuse it across multiple platforms to save time.
Ensure your content lasts longer and generate views and engagement even after weeks of posting them.
Have I convinced you to hop on the Instagram reels train yet? What will be your reason to get started with reels? I'm curious! Let me know in the comment section below.
---
About the author:
Divya Hegde is a blogger, SEO content/ copywriter and designer who helps bloggers and businesses grow their online presence through content writing and social media marketing. Get her ultimate blogging resources list curated to accelerate your blogging journey here.