5 Strategies To Get F

ree Instagram Followers Daily
Let's face it. Instagram is a mystery for most of us. Between constant algorithm changes, buying followers, the shadowban debacle and the follow and unfollow game, it's almost impossible to grow your account organically.
But after a few weeks of trying out different strategies last year, I cracked the code and I can tell you exactly how I manage to get around 30 real Instagram followers daily.
Before I get into it, please note that this post contains affiliate links and any purchase made through such links will reward me a small commission. If you choose to purchase anything through my links, thank you for supporting me and my blog. You're amazing!
I also feel the need to disclose that while these strategies work, most require an outgoing time investment. Which means that when you stop doing them, they stop working…
Because Instagram is not a priority for me, I try to invest as little time in it as possible, so you'll see that my growth or followers number is not linear. But that doesn't mean yours can't be!
What I'm trying to say is that these strategies work! But you have to commit to dedicating at least 1-2 hours daily and create new content periodically. If you do, you can easily get 200 followers on Instagram every week!
Here's what I did to make that happen:
How to get real Instagram followers daily
💎 1. BE COMMITTED AND POST REGULARLY
First of all, whenever you want to grow a specific social media account, I find it that it's best to dimish the effort you put into all the other platforms and focus on the one you're trying to grow (unless you're a superhero and you can do everything at once, in which case disregard what I just said and fly off into the sunset while managing at least 3 different accounts and saving puppies from trees).
When I decided to experiment more with Instagram, I had to leave other platforms on the backburner for a while and schedule content ahead of time so I can focus solely on Instagram for a while. And it worked!
Want to know what tools I use to automate my social media and be active even when I take a social media break? Read my article on The Best Apps I Use To Schedule Social Media Posts.
But in order to grow your Instgaram account, you need to commit at least 30 minutes to an hour daily if you want to see constant growth. You also need to create new content periodically which might take extra time.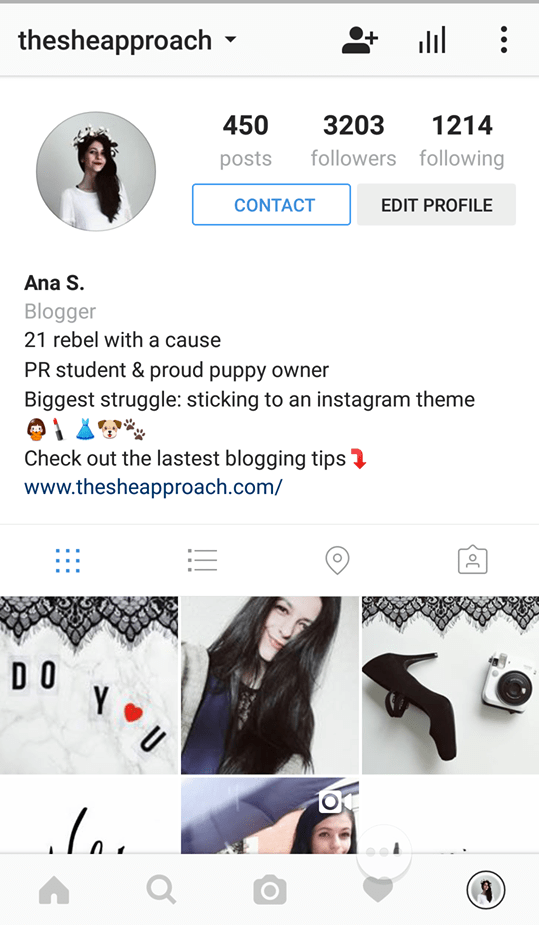 I started this experiment with around 3000 followers and I noticed that I only reached the goal of 30 new followers per day when I posted new pictures and spent at least 40 minutes strategically interacting and engaging with other accounts.
This is a screenshot I took after about two weeks of starting my experiment.
As you can see, I tried to stick to a theme (my overall conclusion was that if your individual pictures are high-quality, the theme isn't a deal breaker for your potential followers) and mix up the pictures I posted between quotes, selfies and product photography.
Looking for tips on how to improve your photography and what type of props to use in your images? Check out my post on How To Take Photos Like A Pro (Even If You Aren't One).
I found that posting at least one new picture a day is all you need. There have been days where I didn't post anything and still got great engagement, but to get new followers you need new content because that is how you get discovered.
This discovery is also backed by this Instagram case study that shows that posting more actually increases your engagement rate and that accounts that post 7 or more times per week get the most likes.
UPDATE: I am currently sitting shy of 12,000 Instagram followers. So the strategies in this post still work, and I've recently updated it to take into consideration the latest Instagram changes. But some of the screenshots I've added are a bit old because I was documenting my progress before Instagram stories were even a thing.
💎 2. TAKE BETTER PHOTOS & EDIT THEM WELL
While a pretty and cohesive feed can impact the decision of your viewers and determine if they are going to hit that follow button or now, what most Instagrammers fail to pay attention to is individual photos.
Because, in 90% of the cases, new viewers get to your profile by seeing a single photo in their feed or discovery page (or even in someone else's story).
And if that one photo doesn't stand out on it's on, they might never stop their scrolling long enough to check your profile page for more.
So instead of always trying to make sure that your Instagram grid always looks perfect, focus on taking and editing photos that can "take a stand" all on their own.
That's easy to say, but hard to do. But here are 2 things I did to achieve that:
TAKE A PHOTOGRAPHY CLASS OR LESSON
First of all, if you want better photos, you must learn to take better photos.
Learning about composition, lighting and the rule of thirds helped me improve my photography skills and drastically improved the end result, without me needing to upgrade my equipment.
In fact, I still take a lot of my Instagram photos using my iPhone!
If you've never taken a photography class or lesson, stop putting it off. It's going to change the way you take photos for the best so that you can post the type of Instagram posts that people stop dead in their tracks for.
Here are two online photography classes that I personally love:
EDIT YOUR PHOTOS IN LIGHTROOM
The second part of posting stunning photos is editing. I've used countless apps in the past, as well as Instagram's own editing tools, to attempt to improve my photos in the past. And thankfully, my editing skills did get better over time.
But it wasn't until I came across the Lightroom app (which is free on mobiles + all I use now), that I finally figured out how all these Instagram influencers were editing all their photos to look the same and create a signature style.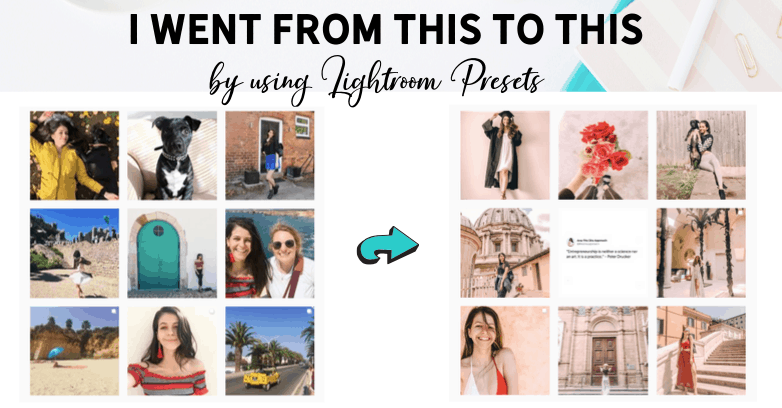 Because no matter how hard I tried, my feed looked like a jumbled mess where each photo had its own editing style. Some were bright & warm, others had cool tones, harsh shadows or airy vibes. It was all over the place. (See a screenshot of my first grid above.)
Turns out that the secret is to use Lightroom Mobile Presets!
After toying with the Lightroom app on my phone (again – it's free to download and use!), I decided to get some help and invested in some Lightroom presets.
Now, whenever I want to edit a photo, I can do it with just one click. And the results are amazing! Not only do my individual photos look better, brighter and more colorful, but they all fit together in my grid where they tell a story.
If you're tired of trying to create a cohesive feed on your own, and you want something that will bring that magic from your photos, here are a few Lightroom presets you can try:
💎 3. SCHEDULE YOUR POSTS WITH TAILWIND
To be consistent with this posting schedule I needed some help, so I decided to invest in Tailwind, an Instagram scheduler that allows you to schedule multiple posts in advance.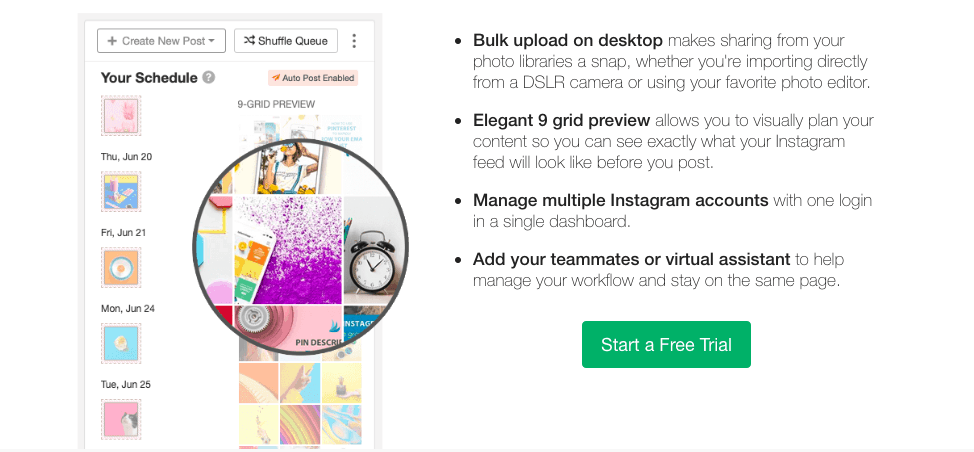 This app was revolutionary for me, because posting a picture + writing the caption + finding the right hashtags (more on that below) would take me anywhere from 30 minutes to an entire hour sometimes, and there were days where I simply couldn't find the time.
With Tailwind, the photo you scheduled posts automatically at the time you chose (no annoying notifications to post, where you still have to do everything manually) and because Tailwind is an official and approved Instagram partner, your reach won't suffer when you automate the posting process either (something that I've seen happen with unauthorized apps).
This way, I managed to schedule my posts in advance, so that if I spent 2 hours of Monday planning my feed, I would be done for the rest of the week.
>> Try Tailwind for Instagram here for free.
What I love about Tailwind is that they don't only allow you to schedule posts for your feed, but they also analyze your engagement and show you the best time to posts based on when YOUR followers are active.
And with the rise of Instagram stories and the consumption of video content on social media, it also comes in handly that Tailwind allows you to schedule videos for your Instagram stories (with links and all!).
For more Instagram tips for bloggers & business owners, make sure to check out Tailwind's blog, because as an Instagram partner, they are always up to date with the new trends and algorithm changes.
💎 4. USE THE RIGHT HASHTAGS
To get new followers on Instagram (or any other platform for that matter), you have to get people to your account first. And the best way to reach Instagram users that don't know about your existence is through the use of hashtags.
For the longest time, I thought hashtags don't really make a difference and only bring spammers to your account, but that is only because I was using the wrong hashtags.
I used to go for very short, generic hashtags with loads of searches such as #blogger, #spring, #selfie (or anything a two-year-old would use to describe the photos I was posting) and all it got me was a couple of likes (most of which were probably those automated IG bots), some spam comments and if I was really lucky, a few new followers.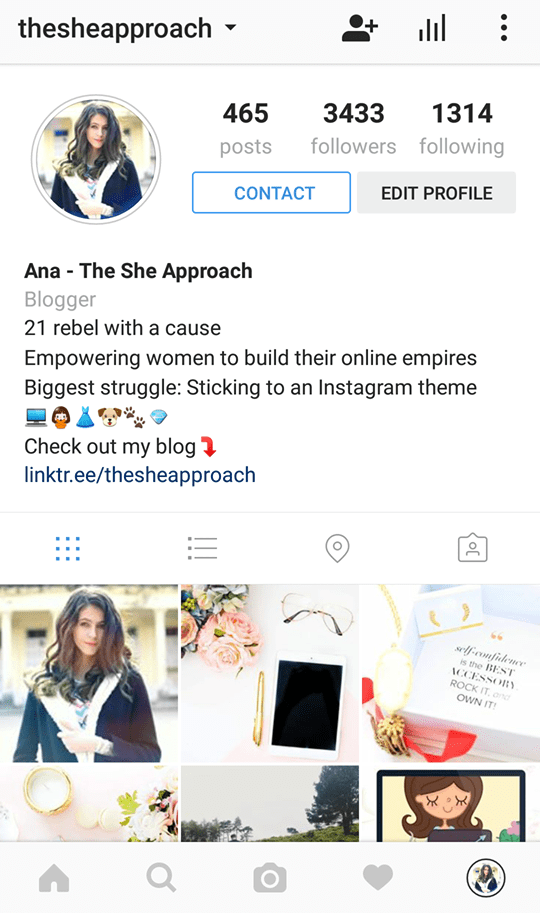 I knew how important hashtags were and it soon became obvious that I had no idea how to use mine.
So, instead of trying to come up with hashtags on the spot, I changed my strategy.
It was only after I did so that I started seeing real growth in my account (even if I failed to post daily or maintain a very organized schedule).
Not only was I meeting my goal of 30 new followers a day, but I actually got to interact with real people and build a following for my blog at the same time.
Speaking of which, I would love to connect with you on there as well! You can find me at @thesheapproach.
But this was my strategy for planning and picking high-quality Instagram hashtags:
I looked at accounts similar to mine and copied all the relevant hashtags that they use in a spreadsheet.
I used Tailwind to help me generate even more hashtags with their smart hashtag recommendations feature.
After I came up or found about 100+ hashtags, I manually checked each one to make sure that a) it wasn't blocked by Instagram and b) it featured relevant posts.
Then, I split them all up into categories, based on the number of posts they each have. For example: I had a column for hashtags under 50k (A), a column for hashtags between 50k and 200k (B), another one for 200-500k (C), one for 500k to 2m (D) and a final column for hashtags with over 2m uses (E).
Once that was done, I split these hashtags into as many groups of 30 hashtags as I could, without repeating any of them. I ended up with 6 groups.
Each group featured: 3 hashtags from column A, 8 from column B, 8 from column C, 7 from column D and 4 from column E.
This super strategic approach to hashtags helped me rank for the smaller hashtags first, which gave me a boost for the bigger ones.
The mix of popular hashtags with the ones under 500k proved to work wonders, and the multiple groups of hashtags allowed me to go an entire week without repeating hashtags – which is a big mistake that Instagrammers make.
If you're struggling to research the best Instagram hashtags for your account, I have put together a Hashtag Finder worksheet and checklist that you can download for free above. You can use this to brainstorm ideas and pick the best hashtags that will save you tons of time when you post.
And with the help of Tailwind, I was able to save my hashtags into reusable lists that I easily access on desktop and mobile with a single click.
HOT TIP: Don't use the same group of hashtags for multiple pictures in a row. Mix it up!
Because the hashtags I use are high quality and don't have a crazy amount of searches (but they still have enough to make a real difference and help me reach a whole new audience), I often find my photos in the Top Posts category (which is the section of 9 photos that are most relevant to a certain hashtag and are show first when someone looks that hashtag up).
You can often happen to rank for more than just one hashtag for the same picture (which doubles your chances of being found), which is what happened with one of the flat lays I posted (the first picture with the yellow theme):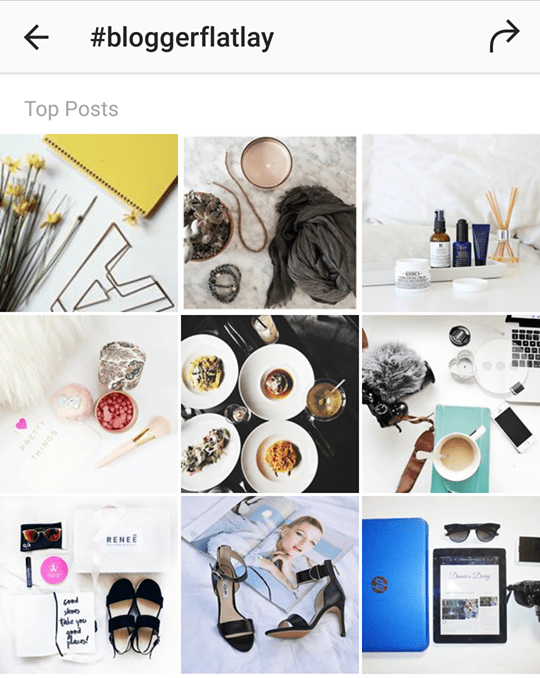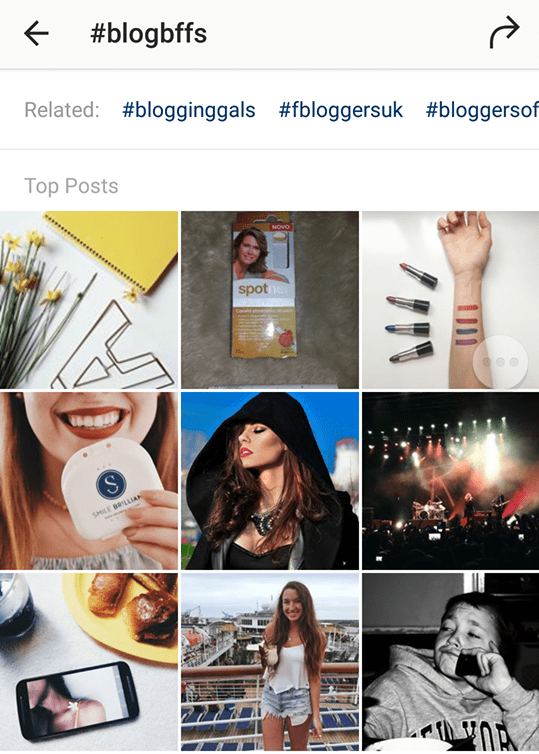 While your picture goes lower and lower every time some adds a new post using the same hashtag as you, if you score a spot in the top posts, this will drastically increase your exposure and the length of time a new picture is shown to outsiders.
This guarantees to get you more followers on Instagram because people are more likely to click on the top posts and browse around your account.
💎 5. INTERACT AND ENGAGE
If you really want to build a following and connect with real people, you have to be willing to actually interact, both with your current followers and potential ones.
I spend a big chunk of time finding similar accounts and interacting with them by leaving comments, liking their posts and keeping up to date with their stories.
You can't expect to build any type of connection with people online if you aren't willing to engage with them. So make sure to:
Follow back a couple of accounts that you actually like
Leave genuine comments (and read their captions)
Like their photos regularly
Watch their stories and reply to them
Don't force yourself to interact with people that you wouldn't normally. It's a waste of time. Rather just try to connect with real people and become a regular in their circle.
The biggest mistake I see people make (and a big reason why people lose so many followers) is that they interact with an account once, just enough to get them to follow, and you never do it again.
So make sure to spend some time going through your feed and commenting and liking pictures from people you already follow. This will strengthen the "bond" and they will see you're a real person yourself, and not just a "hungry for a follow back" type of account.
Since I started doing this, I didn't only get more followers, but I got real and consistent engagement over on my account. Because when people see that you care, they will put in the time to engage back with you.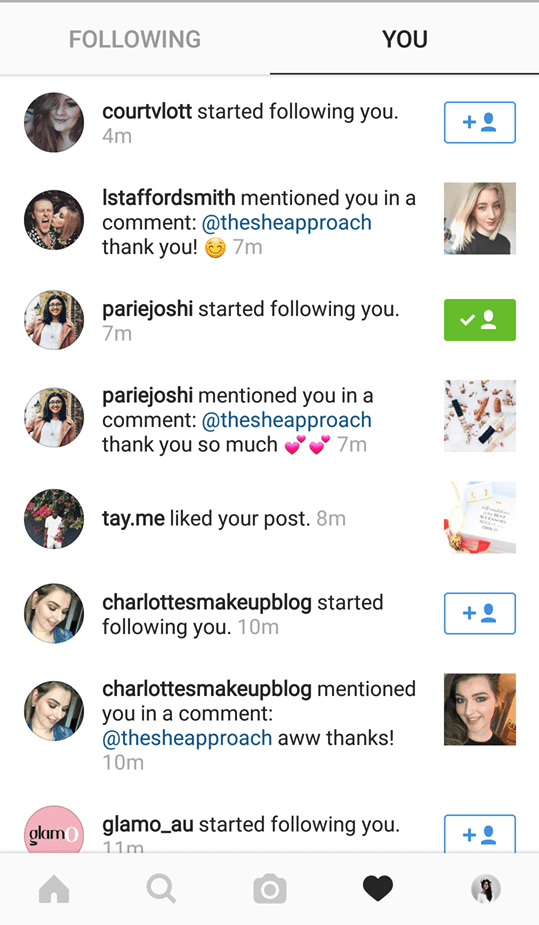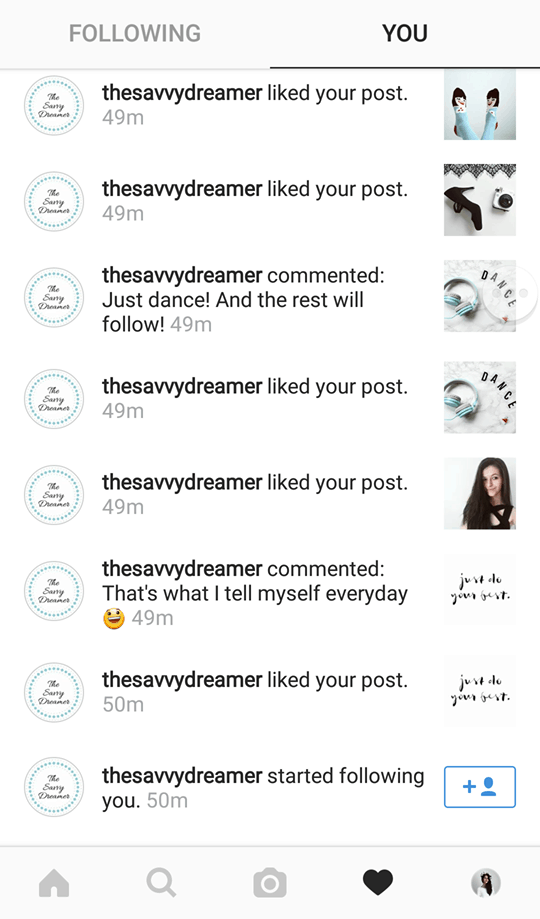 PRO TIP: If you want to discover new accounts to connect with, I found some really interesting ones by looking (and using) the hashtag #discoverunder1k or #discoverunder5k (and so on). Give it a try!
Something else that I like to do is interact with people who are "live/online" on Instagram because they are more likely to see the notification right then and there and check out my account or engage back.
If you go to your notifications, and to the "Following" tab, you can see the most recent activity of the people who you follow (what photos they liked, who they followed and so on), and how long ago they performed that action.
I make sure to refresh it every minute or so, and simply go and interact with the accounts that are online and active. Doing this for only 5 minutes each day will have a massive impact in building a community around your Instagram account, and not just boost followers.
💎 6. BRING YOUR OWN OUTSIDE TRAFFIC
Focusing only on Instagram to get people to your account will get you results, but why not harness the power of your other social media accounts?
I often participate in Facebook group promo threads to invite people over to my account. Some of the blogging groups I am in have special threads just for social media or Instagram promotion) for example.
You can grab my list of 65 Facebook Group For Bloggers below.
I also schedule a couple of monthly tweets to go out, inviting my Twitter friends to connect over on Instagram. Because Twitter is another platform where I have more followers than on Instagram and I really engage with them, this pays off.
(UPDATE: I have officially reached more Instagram followers, but still use Twitter to promote my account regardless.)
This is an example of one of my old tweets. I find it best to add a screenshot of your account and the direct link to make it easier for people to go over.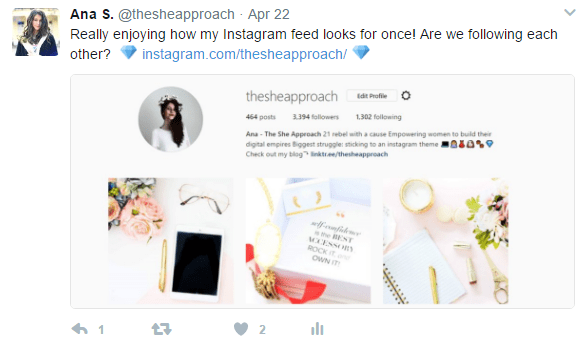 Overall, I found that I need to spend at least an hour daily to post using the right hashtags, interact with others and cross-promote my account on other platforms to get 30 new followers (sometimes a bit more due to people who play the follow-unfollow game).
Avoiding spammers completely seems to be impossible, but I found that 90% of my followers are real humans beings that are actually interested in my content, so I will be sticking to this strategy from now on (as time allows).
Because while 30 followers per day doesn't seem like much, that adds up to over 200 Instagram followers weekly if you are consistent. So give it a try and let me know how it works for you.
RELATED INSTAGRAM TUTORIALS:
💎 7. MASTER YOUR INSTAGRAM STRATEGY
Instagram is an art for sure. And while sometimes it's all about personal connection with your readers, a good strategy can help you go a long way.
What that means is that you post and interact with others with purpose. You're still being you, but your moves are calculated to save you time and bring you better results.
That's what Helene, a successful travel blogger, really understood about Instagram and used it to her advantage. With over 150,000 Instagram followers and a super-engaged audience, Helene now travels the world and gets paid for it, and it's all due to her Instagram success.
I've attended not one, but two trips around Europe with Helene and her husband, Michael, and learned so much about Instagram during her live workshops, but I can't divulge her secrets.
However, Helene has created an amazing course – Instagram For Success – that opens for enrollment every January and that is jam-packed with her best strategies, Instagram and photography tips + her tried and tested methods for building an audience that wants to hear from you, meet you in person and so much more!
So if you really want to uplevel your Instagram game, join the waiting list here. Or check out her Instagram Content System, backed by a research-driven strategy aimed to help you grow your engagement.
Helene's one of the few people that I would trust enough to get my Instagram tips from, and if you follow her on Instagram, you'll quickly understand why.
---
📌 PIN THIS POST FOR LATER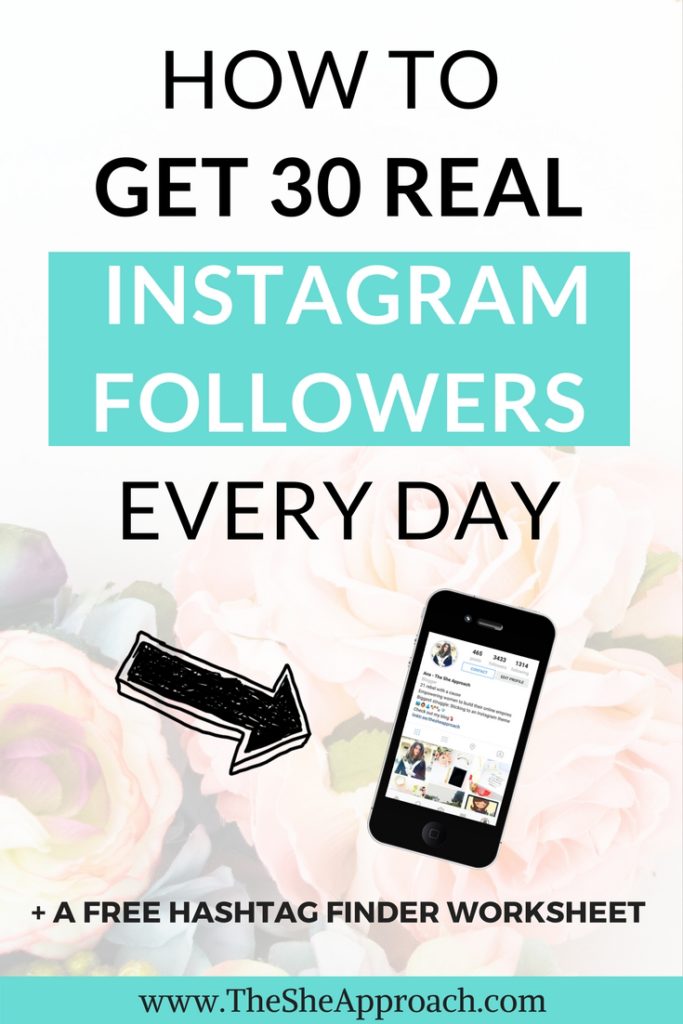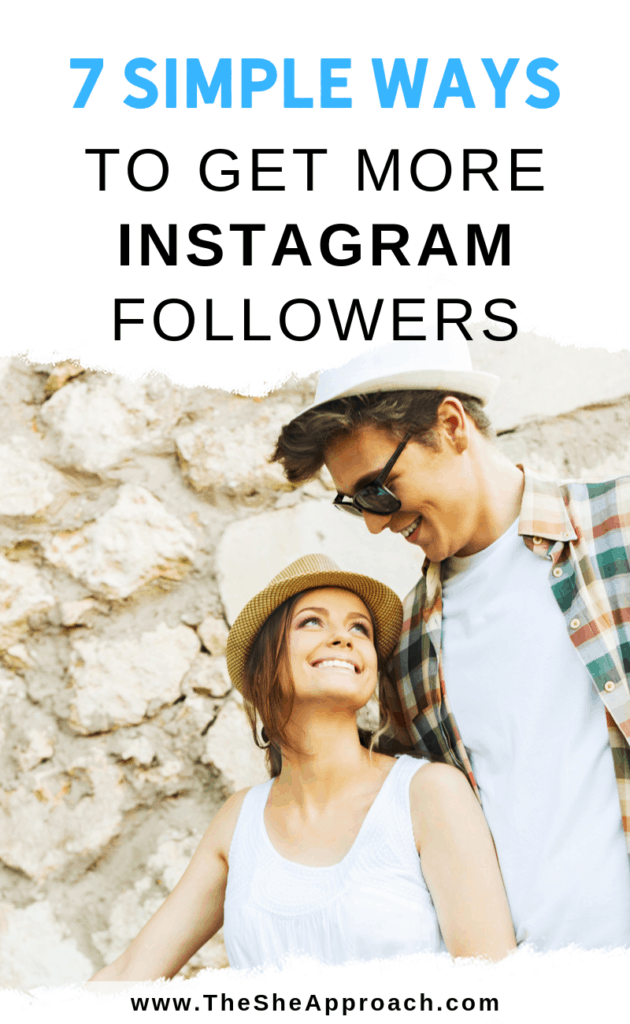 Has Instagram been kind to you later or are you struggling to grow an organic following? Let me know in the comment section below.
Article Last Updated: April 2022
How to get 30 real Instagram followers daily