How To Start A Profitable Blog In 2023 That Makes You Money
Are you thinking of starting your own blog but it seems like an impossible task to amount to? I've been there and I'm here to assure you that it is doable and it's probably easier than ever to start a blog in 2023. In fact, you can start your own blog for only $2.95/month in a few easy steps.
Forget all those in-depth posts that make it seem that you are never going to catch up with the big bloggers, focus on my super simple 3 step process that is by far the best way to start a blog and you can have your own blog up and running in less than a week.
If you want a more in-depth run through these 3 essential steps, and more importantly, you have your mindset on making money with your blog, then take my free course by entering your email address below. (Seats are limited!)
STEP 1 – Figure out the why, the what and the who
If you're reading this, you are probably pretty adamant about getting started with blogging. And I want to cheer you on because I think that's truly amazing!
But before we get into the more technical aspects of how to do that I need you to grab a piece of paper and answer these three simple questions:
💎 WHY do you want to start a blog?
Are you just looking for a creative outlet? Do you want to inspire and connect with people that have the same interests as you? Do you want to make money from it or use it as a tool to draw more attention to your online store?
There is no right or wrong answer here! But you need to define the role of your blog the best you can before you actually get started. This will help with step two as well.
Entrepreneur.com has a great article on Why You Should Consider Blogging, for example, that goes over a few great reasons why you should blog for your small business.
💎 WHAT do you want to blog about?
Before you start a blog, you need to figure out what topics you're going to approach in your posts. This is also known as your blogging niche and it's going to determine the entire concept of your blog, your online role, and your blog title.
For me, this took a lot of experimentation as I didn't know precisely what I wanted to blog about when starting out. Narrowing it down as you go along is 100% fine.
If you're not entirely sure, don't pick a very specific blog name that won't allow you to move away from a certain topic when you finally decide what to blog about. (I started off as a lifestyle blog but my blog allowed me to rebrand as a blogging strategist without changing it, for example.)
If you already know what you want to blog about, make a list of your main blogging sub-categories (What do you want to me know for, more exactly?) and start thinking of some blog posts ideas!
It's also important to remember that in order for your blog to be able to make you money, you need to write about a problem, a paint point or a niche passion that your audience might have.
A couple of blog niches that make money examples are:
DIY, craft and crocheting blogs
Mom & parenting blogs
Pet health & training blogs
Finance & business blogs
Travel, RVing & activities blogs
Home improvement, decor & organization boards
Any blogs that target hobbies with a passionate following such as fishing, golfing, gardening, cooking etc
Any blogs that solve specific problems or answer often asked questions
💎 WHO do you want to blog for?
If you're only planning to blog for yourself and you don't care who reads it or who you can help, I would suggest saving your money, time and effort and putting it all in a diary or starting a free blog.
But if you actually want to reach out to people, build your brand or help someone face a problem that you previously solved, narrowing down who your dream audience is can be crucial. So think about it for a minute!
Brainstorm who can benefit from your awesome experience and creativity (because I know you have both!) and make a list of people that you truly believe you can help with your blog.
---
Writing the answers down on an actual piece of paper and thinking through them can bring clarity to your idea and help it come to life. But most importantly, they are going to speed along the process of starting your blog on the right path.
Need to give your blog idea more thought? Download my printable vision map template below and work out through everything you need to decide before you start your blog in 2022 with the help of my worksheet.
---
STEP 2 – The best way to start blogging & how to set that up
If you completed step 1, you just completed the hardest part! Now all you have to do is set it up your blog and launch it. And before you get overwhelmed by the technical mambo jumbo, know this:
YOU CAN DO IT!
You don't need to know how to code or have advanced tech skills. You don't need to spend loads of money hiring someone to do it for you (unless you want to). You don't need to worry about anything else that is to come after you set it up. Not yet anyway!
Just follow this simple guide to setting up your blog and you should be good to go!
Before I get into it, in the name of full transparency, please note that this post contains affiliate links (I only promote services that I use myself and that I truly believe in) and any purchase made through such links will award me a small commission.
If you choose to purchase anything through my links, thank you for supporting me and my blog. You're amazing and it won't cost you any extra! Learn more about my privacy policy here.
---
💎 BUY BLOG HOSTING
I assume (and correct me if I'm wrong) that if you want to start a blog you actually want to own what you create and you want to have the freedom to express yourself in a unique way. Well, free platforms such as WordPress.com or Blogger have so many limitations and they actually own all the content you create and store on your free blog there.
Not to mention that they have countless limitations on how you can design your blog and most platforms don't allow you to make money from it either. By purchasing hosting, you're renting space on the internet to "host" your website which means that you own it, you can monetize it and you can make it look just the way you want to!
Confused? Read my blog post on 7 Reasons To Go Buy Hosting For Your Blog
This is why, when starting your blog, you need to make a small investment in order to make a big change. Hosting can cost anywhere from as little as $4 to $20 per month and going self-hosted was the best decision I made for my blog.
My absolute favorite hosting company and the only one that I can wholeheartedly recommend is BlueHost. They have safely and faithfully stored my website on their servers for over year now and I can see why so many big bloggers opt for it.
Their customer service has been absolutely amazing as they went out of their way to help me when I had any questions and setting everything up was so easy!
Best Hosting For Bloggers!
Here are some more reasons why you should start your blog with Bluehost & WordPress:
They are the number 1 hosting company recommended by WordPress
They are offering your domain name for free (your .com URL) for the first year
They are optimized for SEO = you have a better chance of getting found on Google
They offer free WordPress integration and installation (it only takes on click!)
WordPress has over 40,000 free plugins that you can use to customize your blog
They are the most affordable and dependable hosting company out there
---
In fact, because I am adamant about helping new bloggers get started, I negotiated with them a special price for my readers so you can start a blog for only $2.95 a month!
---
What convinced me when I decided to go self-hosted was the incredibly affordable price (that is such a low investment to make for a website that wows because unlike free blogs, you get the flexibility to design it yourself by using high-quality templates and even monetize it down the road) and the fact that they offer your domain name free for the first year!
Are you ready to start your first blog and build a website that wows? Follow these quick steps: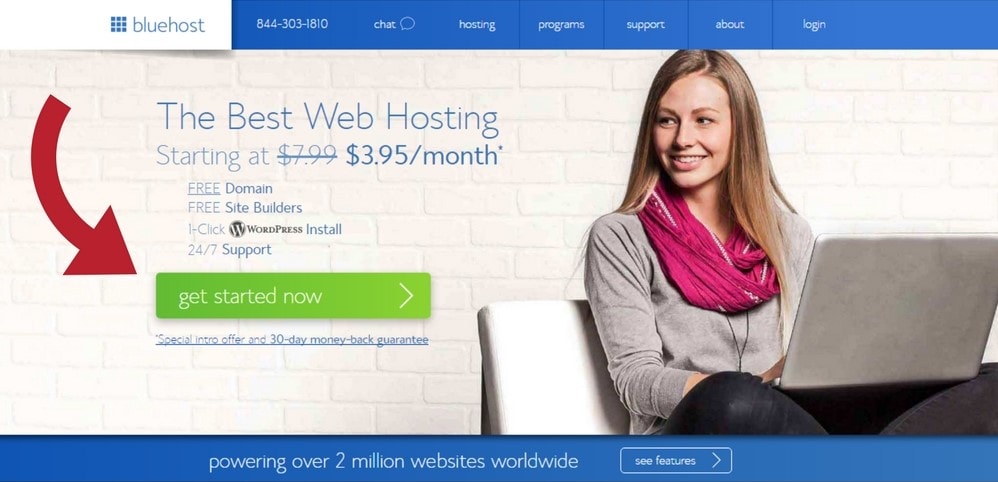 Select your hosting plan as shown below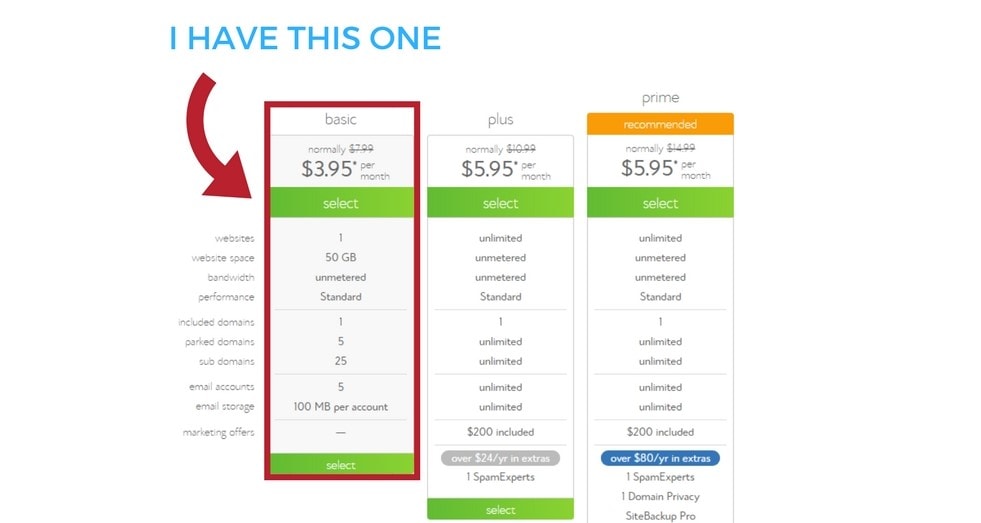 Choose your free domain name (your blog title)
This is where you need to put your chosen blog title aka the URL you will type to get to your website. Keep it sweet and short (no numbers or hyphens and stick with .com if possible), make sure it's also available on the social media platforms you want to create an account on and that there aren't similar titled blogs out there.
Read my post on How To Come Up With A Blog Name if you're struggling to decide!
If you already purchased a domain name elsewhere (Name Cheap has great options for example), insert the full URL in the second box.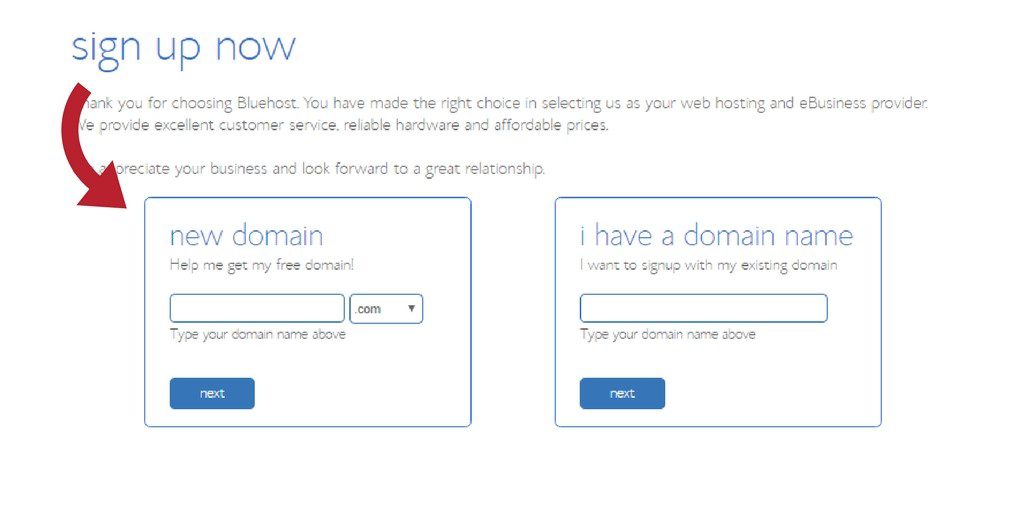 Connect with your Google account or create a new user and keep the details safe. You will need this in a bit to log into your Bluehost dashboard, once you're finished.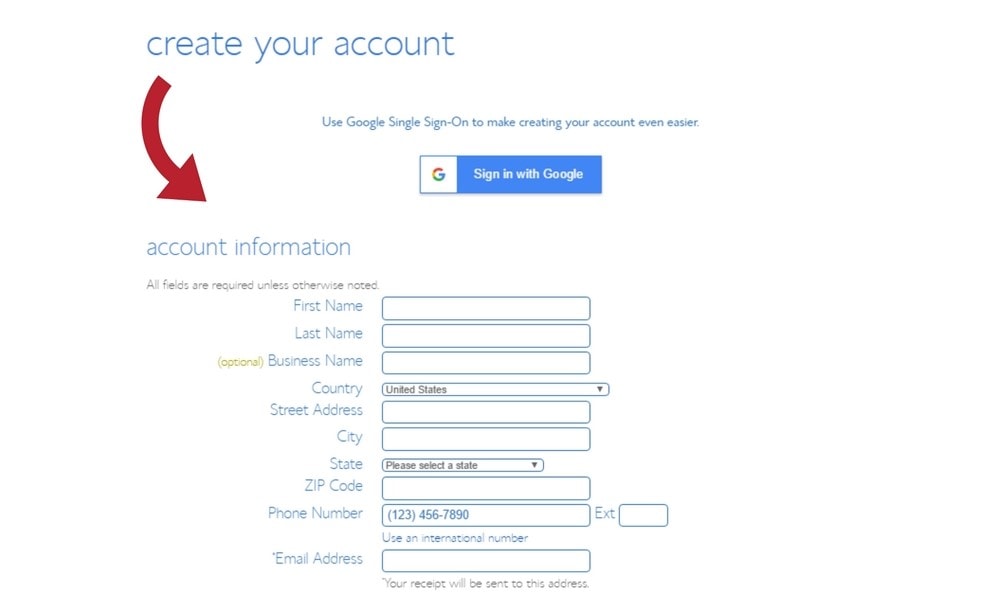 Confirm your package and pay
This is where you get to decide if you want to pay upfront for 12, 24, 36 or 60 months. I decided to go with 36 months to mark my commitment to the blog and get the best price possible.
Make sure to also deselect the extras that you don't need (some of them offer obvious benefits, but I find that I'm not missing much and I can backup my website in other ways for example) so you get the cheapest offer. Insert your card details and voila!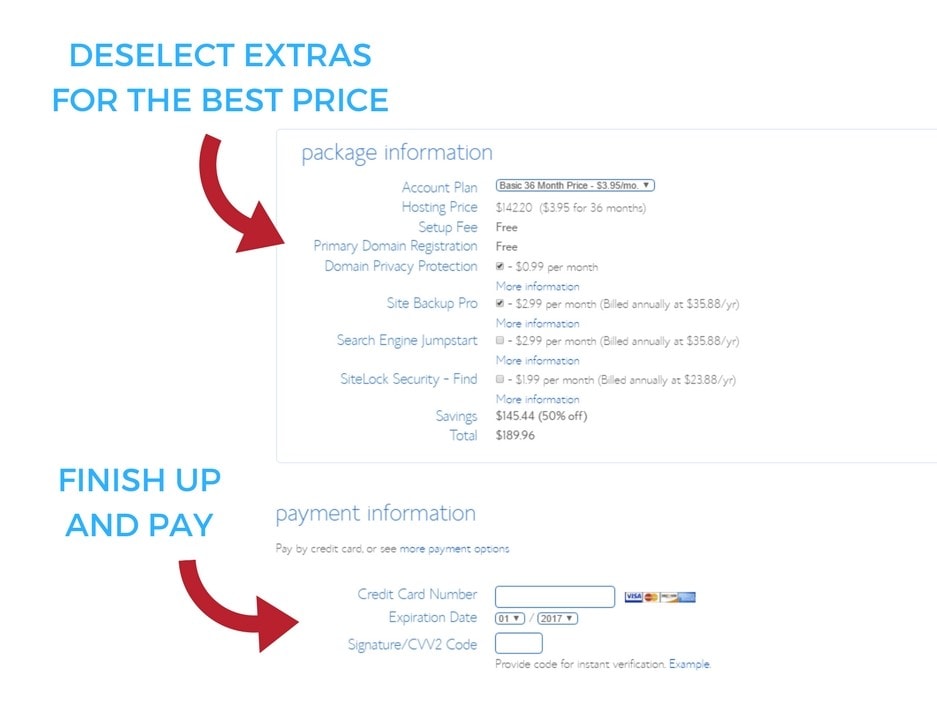 If you encounter any issues or if you're moving from a free website and making the transition to self-hosted, they offer 24/7 live support. Just go to the Chat icon and someone will be there to walk you through any questions you might have.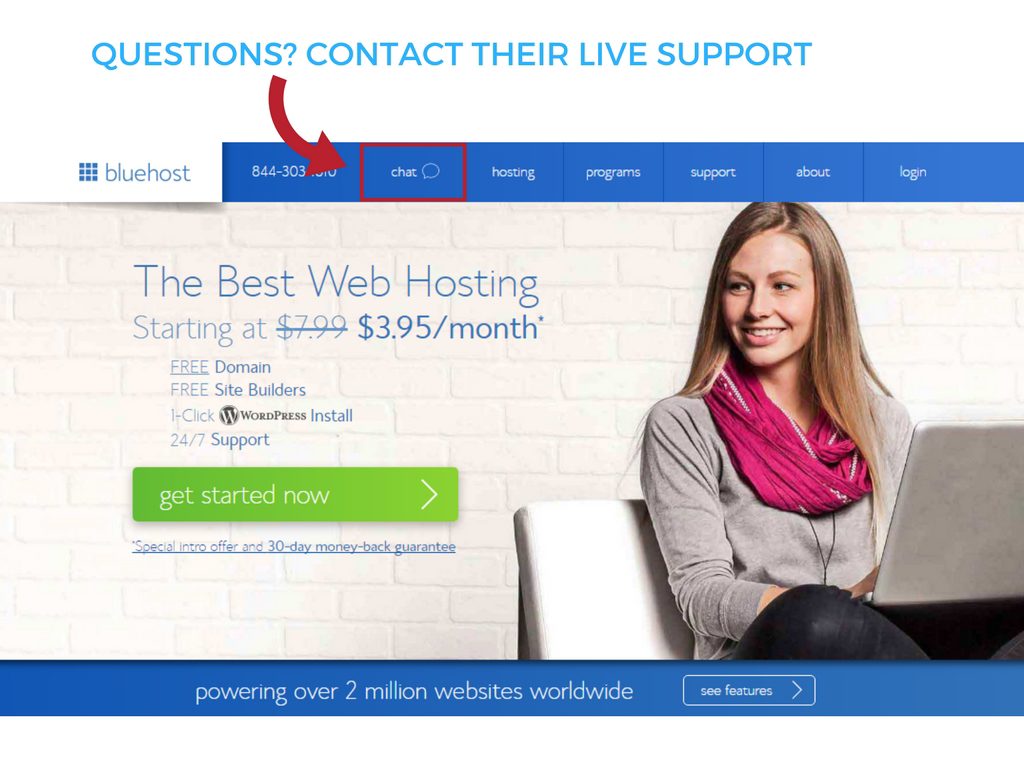 After this step you will need to create a new user (make sure to write down or save those details so you can log-in later) and simply start building your blog.

---
💎 START BUILDING YOUR WEBSITE
Now that you have your hosting set up, all you need is a blogging platform that will allow you to change the appearance of your website as you wish and publish new posts.
To make things extra easy for users, Bluehost automatically installs WordPress for you, so all you have to do is pick a free theme and start building your website! (Don't worry, you can always change the theme or upload one of your own.)
Sidenote: A theme is the layout of your blog, the format in which your posts will appear and the foundation of your blog. You can always change certain aspects of the overall design, but by choosing a pre-made theme, you avoid the complications of having to know code.
No tech background required, no complications. Building a website has never been easier. (Seriously!) Here's how easy that is to do with Bluehost: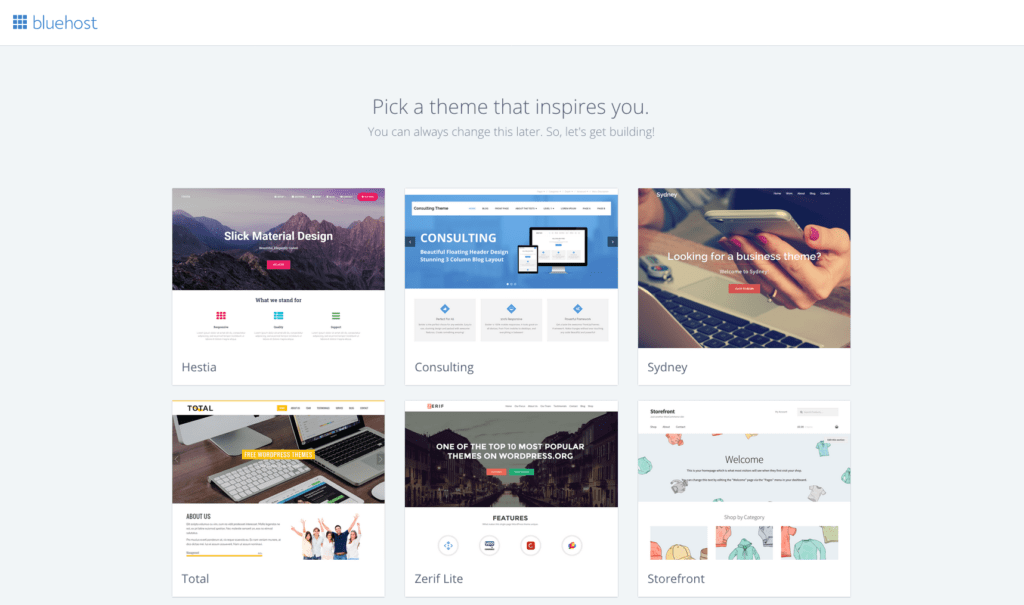 Because the WordPress installation is done by them in just a few seconds, the next step that you will see is to pick a website theme from their free templates.
(This can be changed at any time without affecting any of your content and you will even be able to insert your own theme if you decide to buy one from somewhere else down the line.)

Once you've done that, you can start building your blog and changing the theme around so it looks just the way you want it to! Pretty much everything is customizable and can be changed with a few clicks.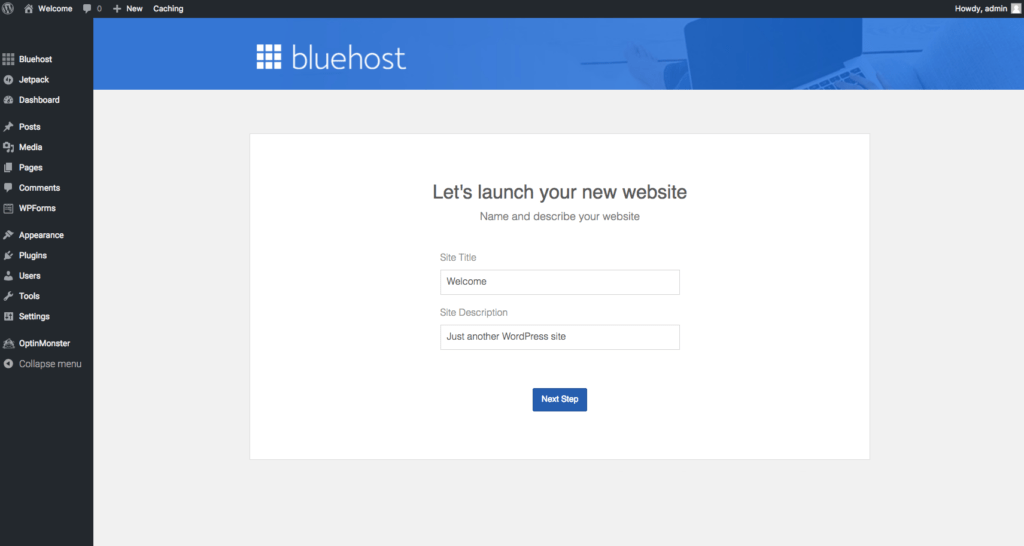 You can work behind the scenes and see previews of your website before launching it for the world to see. Here is where you will write your posts, change any aspect of your website that you want to and keep an eye on your comments and statistics.
If you had a free WordPress blog in the past, chances are you already know how to navigate the dashboard. If not, look up some tutorials online. It shouldn't take you more than a few days to get the hang of it before you become a full-on blogger.
---
💎 GET A BLOG THEME
So now you have a blog! Hooray! Who thought it was that simple?
Before you even go into details about growing your blog, creating awesome content and everything else that comes with the territory, you need to make your blog look like a blog.
All you need to do to make that happen is to get a professional theme! The best part of starting a blog in 2022 is that you don't need to do any coding yourself. You can either hire someone to design a custom website for you or choose a pre-made theme.
WordPress offers a variety of free and premium themes that you can easily integrate with their platform, and while some of them are lovely, they are all too common in the blogging world.
(If you're happy with the theme you choose for the previous step, you can skip this part!)
If you want a theme that stands out, try searching for a theme template that will match your blog's personality and purchase that separately.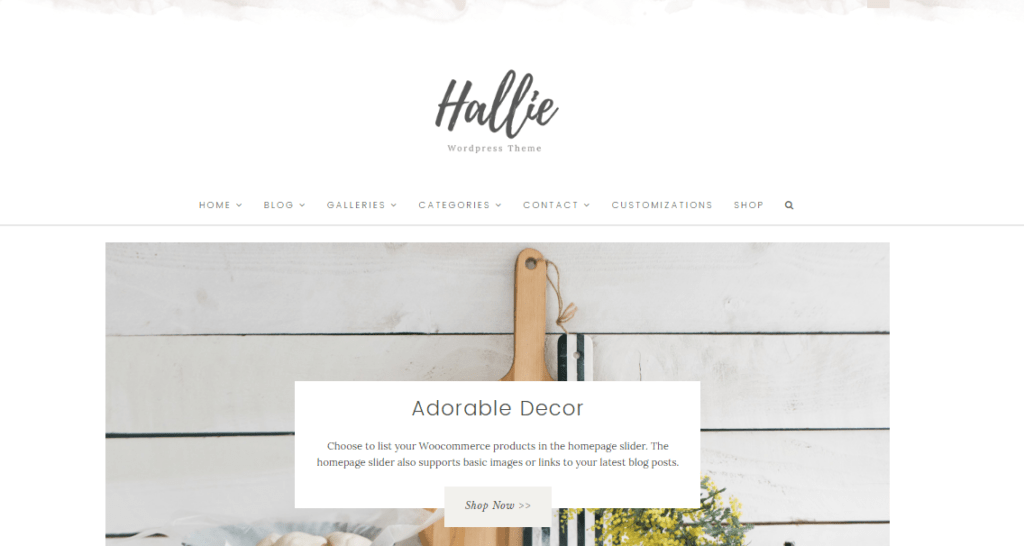 Here are some of my favorite places to go theme hunting at (that are super affordable):
BluChic – Stunning themes that come with installation support & additional help from their team.
Theme Forest – Where I got my theme from. Endless choices and amazing customer service.
Restore 316 – The ultimate vault for beautiful WordPress themes.
Looking for more ideas? Check out my post on 10 WordPress Themes For Female Bloggers & Entrepreneurs to find my absolute favorite themes for bloggers.
Your job is to pick a template that you can envision on your own blog, purchase it and install it to WordPress. It's simpler than it sounds.
After you purchased the theme you will have access to a file that you need to download. To upload it on your blog, simply go to your WordPress dashboard > the "Appearance" tab > "Themes" section > "Add New" button > "Upload Theme" > Install it after it uploads. It should look something like this: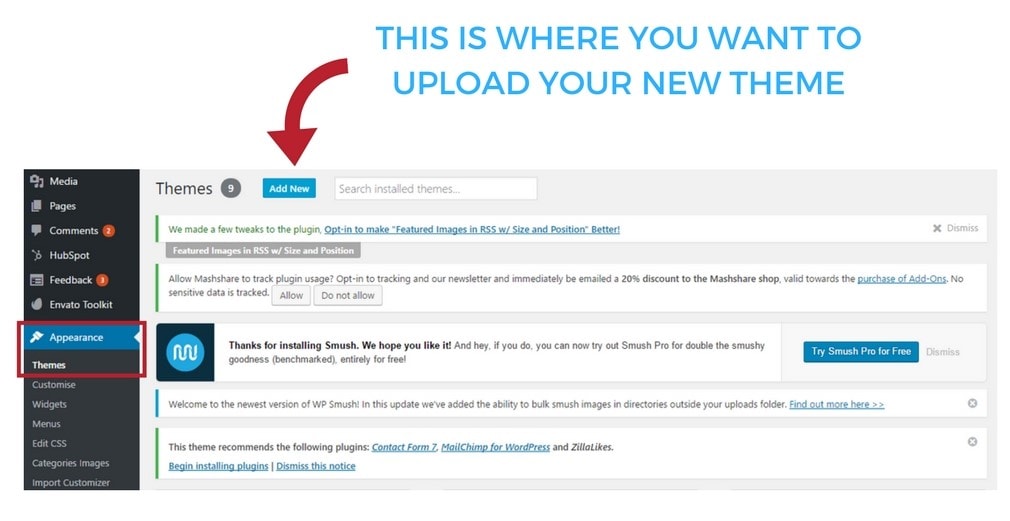 If you have already started publishing posts, don't worry. Changing your theme or uploading a new one won't affect your posts, comments or overall content. It will just change the appearance of the website.
💎 START CREATING BLOG CONTENT
Once you have your blog set up from a technical perspective, it's time to start blogging. As a blogger, your most powerful asset will be your content.
By this point, you should already have your blog niche chosen and mapped out into 3-5 main blog categories. The next step is where it gets a little tricky, especially for new bloggers, but once you get the hang of it, you'll become a pro in no time.
What you want to do next is to brainstorm blog post ideas around your chosen categories, that will be on interest to your audience, and write out 3-5 blog posts, and publish them before your blog goes live.
In the first 6-18 months of blogging, it's also imperative that you continue to publish high-quality articles – ideally hitting the goal of 100 great articles in that time frame.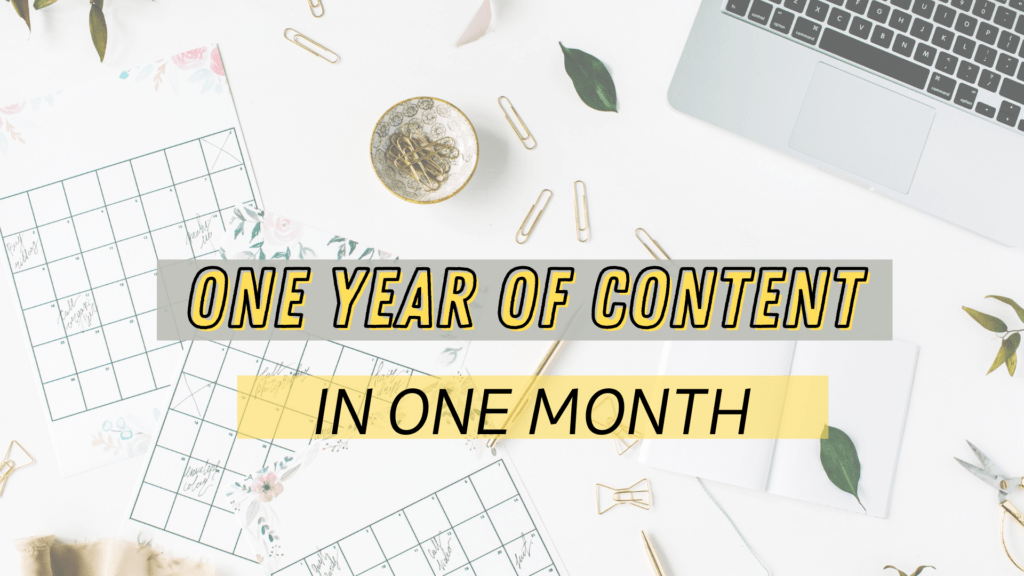 To help new and more established bloggers brainstorm blog post ideas, do keyword research, pick topics that you can rank for in Google (to be able to bring free traffic and grow your blog) and write a whole year's worth of content in just one month, I've designed this blog post creation challenge.
Because the challenge takes you through the whole process of creating blog posts (in a time effective way), this will be perfect for you even if you've never written a blog post before in your life.
It will also help you build the foundations of an SEO strategy, which so many bloggers neglect when they first start, which costs them years of slow traffic.
So once your blog is live and good to go, I would love to invite you to join the blogging challenge! Use the code "TSA5OFF" to save $5 as well!
How To Write Awesome Blog Posts
If you are still stuck on having to write blog posts and produce content for your new website, here are a few more useful free guides to set you on your way (hand-picked my me):
At this point, everything is already setting you up for your blogging success! This brings me to:
STEP 3: Learn as you go and become a successful blogger
One of the biggest blogging advice I can give to new bloggers is to do it and figure out the nitty-gritty details and the intricate work that goes on behind building a blog later.
Wondering how to start a blog in 2022? Simple: Just start! Just remain excited and willing to learn and you will figure it all out in time! You don't need to know how to do everything before you start your own blog because otherwise, let's face it, you might never start one…
So before you learn anymore, before you get overwhelmed with any more information, go back and complete the first two steps. (I'm serious. A big part of this blog post is about leaving you with a sense of excitement for what's about to come because starting my own blog is the best decision I ever made and I cannot wait to see what opportunities it opens for you! But I almost let myself drown in overwhelm and I don't want to let that happen to you.)
Set up your blog, learn to walk before you run and you're ready to make some magic happen, come back here for some of my best resources and blogging tips such as:
💎 MY ULTIMATE RESOURCE LIBRARY FOR BLOGGERS
Want a list of all the amazing tools and resources I use to make my life easier as a blogger? I have them all (100+) listed in my free resource library for bloggers, alongside more blogging recommendations and a few discount codes you can grab as well!
Looking for some more blogging wisdom? Check out some of my most popular blogging related posts:
💎 GROW YOUR BLOG – FREE EMAIL COURSE
Once you have your blog up and running, my email challenge will give you the chance to rectify any mistakes that might turn visitors away and it will teach you how to grow your blog traffic in a few easy steps.
---
I know all this can be overwhelming, but I would like to invite you to adopt one of my most useful mindsets in life: the say YES now and figure it out later approach. Because it truly is easier than ever to start a blog in 2023!
📌 PIN ME FOR LATER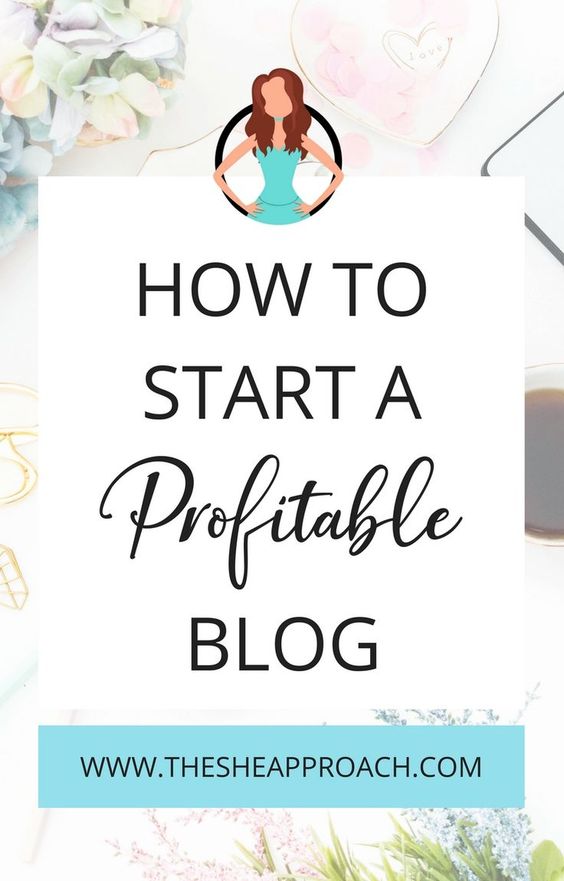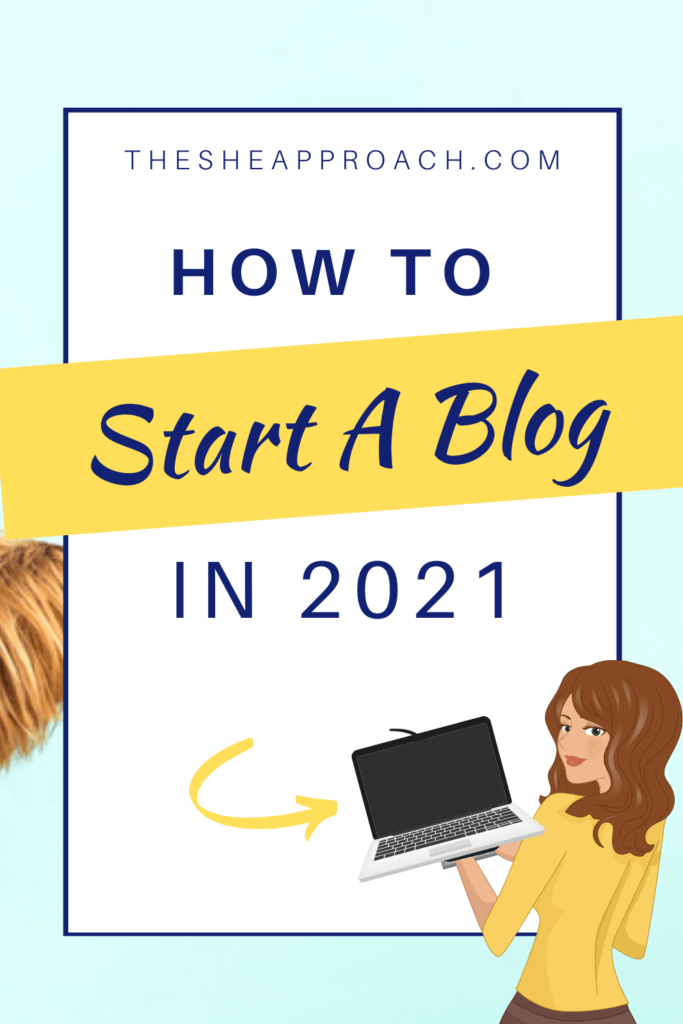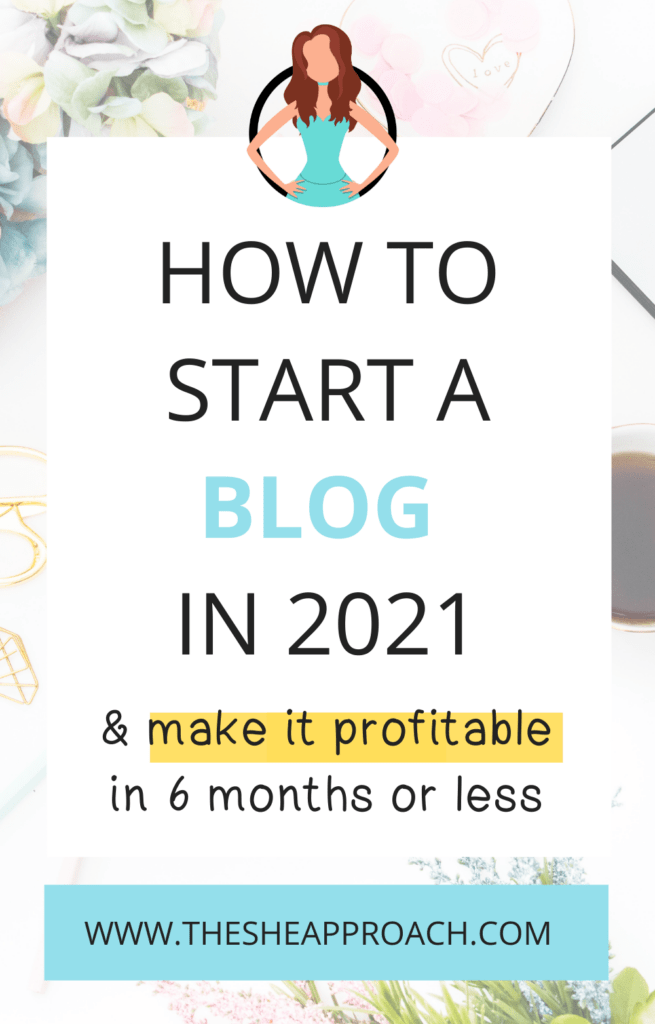 So take a deep breath or have a 5-minute dance party. Whatever you need to shake off that feeling of overwhelm. And come back and follow the next three steps so you can start your own blog by the end of the week.
3 Easy Steps To Creating Your First Blog:
The world is dying to see what you have to offer! Don't hold back because you are afraid you won't be able to tackle the technical issues! All you need to do is start!
What are you waiting for? Take advantage of the special discounted price that Bluehost offers my readers here and secure your idea blog name!
Do you happen to have a friend who secretly wants to start their own blog this year as well? Share this post with them and get yourself a new blogging BFF!
Is it too late to start a blog in 2023?
I get this question a lot. And my answer is, and will remain – NO! New blogs are launched every single day, because blogging still works. And there is always room for more!
Time and time again, I see bloggers who commit to their blogging business succeed, and those who give up too early fail and make room for new bloggers.
So my hope is that this post has taught you how to start a money-making blog from scratch in 2023. But it's up to you to show up every day, to build that blog from the ground up.
How do you start a money-making blog from scratch in 2023? [Blog Set-up Checklist]
To sum it up, all you need to do to start a profitable blog this year is listed below in this blog launch checklist:
Find an idea, passion or knowledge in a niche that has an interested audience.
Secure your social media handles for your blog name
Install WordPress
Pick and install a WordPress theme
Set up your blog
Install your must-haves WordPress plugins
Set up your blog legal pages
Brainstorm blog topic ideas & create your main blog categories
Launch your blog
Join affiliate programs or craft a blog monetization strategy
Start promoting your blog
Keep learning and improving!
Both the foundations of your blog (your niche), the quality of the content you put out and the monetization strategy you choose to follow (aka the methods in which you're planning to make money blogging) will determine the success of your blog and its profitability.
But for now, all you need to do is start!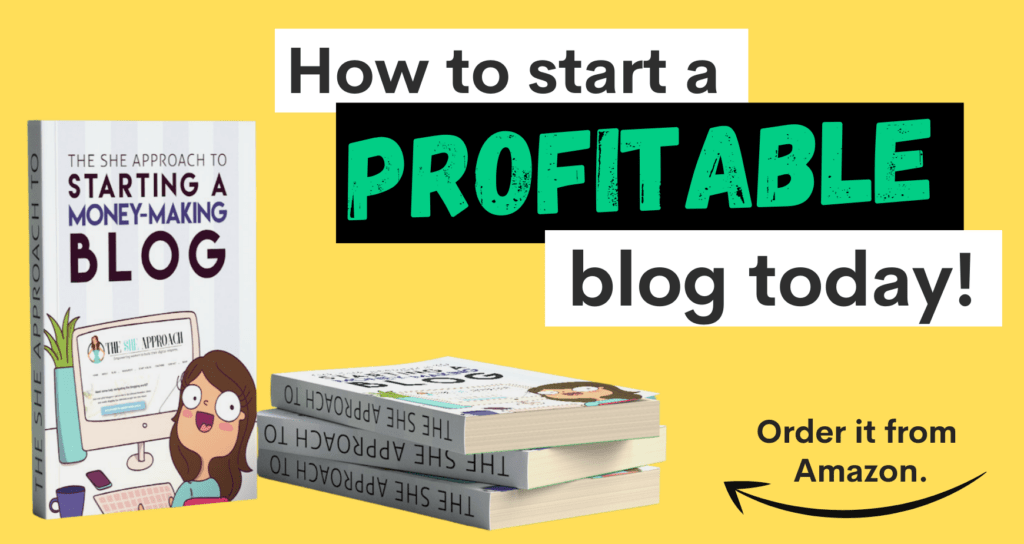 And if you happen to need more guidance, be sure to grab a copy of my Amazon exclusive eBook that will teach you how to run a successful blog, from the ground up.
How To Start A Profitable Blog In 2023 – The Ultimate New Blogger Guide