Make Money Blogging Through Affiliate Marketing
While a few years ago the notion of making money online seemed crazy and highly unlikely, the internet has opened a world of opportunities for creative people to make an income with just a laptop and Internet access. In this post, I'm going to go over the 5 steps you need to take to learn how to make your first $1000 in affiliate sales.
Because, yes, it is possible. And no, you don't have to trick anyone into buying something they have no use for.
Before I share some of my secrets to a stress-free path to conquering affiliate marketing, even if you're a newbie, please keep in mind that this post contains affiliate links. In the event of a sale, I get rewarded a small commission, at no extra cost for you. These funds help me keep my blog up and running, so thank you!
What Is Affiliate Marketing?
In a nutshell, Affiliate Marketing is basically a way of advertising someone else's products or services and receiving a commission every time someone makes a purchase through one of your "affiliate links".
The beauty of this is that it doesn't cost people extra to buy through your links, but you get a referral fee of the sale (or a percentage) as a reward for guiding someone to make a purchase.
For example, if you become an Amazon affiliate and you promote a watch that is worth $100, you will get $10 for every person that buys that watch. You don't have to deal with inventory, shipping, customer service or anything else!
You simply have to guide people to buy using your links, and as a reward for bringing them sales, the affiliate program in question rewards you a cut of the profits.
To be able to create affiliate links and start using them, you must first apply and get into affiliate programs or networks. (more on this later)
Each program is different and has a custom dashboard where you can find your unique tracking links that you need to be using when promoting certain products and you can also check your stats and earnings from there.
So the way it works is this: You apply to programs that are relevant to your content> You get accepted and get access to unique tracking links > You insert the links on your blog/social platform > A blog reader clicks on it and purchases something > You get a percentage of that sale > Hurray!
For more information on Affiliate Marketing, you can read:
How Do You Get Started With Affiliate Marketing?
To get started with Affiliate Marketing you need an online platform of some kind. While social media channels can be profitable if you have a decent following and a way to share multiple affiliate links, I highly recommend starting a blog!
Not only will you get accepted into affiliate programs quicker because of it, but owning your blog will make it easier to grow a following, build trust with your readers and showcase the affiliate offers of your choice in their best light.
Or, for a step-to-step plan on how to get started and monetise your brand new blog, you can take my free course. Enroll today!
If your blog is already set up and running, your first step with getting started with affiliate marketing is to do some research and find the right type of affiliate programs for you.
There is a lot that goes into affiliate marketing that would serve you better if you knew it from the beginning. I had to find out everything the hard way and that's why it took me 4 months since the start of my blog to make my first affiliate sale.
But as I experimented more and more, made hundreds of affiliate sales after that first one and thought other bloggers to do the same in my 1-on-1 coaching calls with them, I put together a video course that maps out the exact steps you need to take to get started with affiliate marketing.
How Do You Find The Right Affiliate Programs?
If you are just starting out, I recommend carefully picking 2-3 affiliate programs to focus on as you're working your way to making your first few affiliate sales. That's it!
The biggest mistake that you can make when starting out is to join every program that comes your way, even if it has nothing to do with your blog's content. So to make sure you remain focused and you try to help your readers instead of trying to sell them something.
Based on that, make a list of affiliate programs that you would love to join. Here a few that will probably do very well for you:
Affiliate programs for products or services that you would want to promote even if you weren't get paid
Products and services that you've promoted in the past because you loved them
Affiliate programs for brands that you know are going to help your audience solve a problem
If you're not sure what your options are, read my post on 5 High-Paying Affiliate Programs For Bloggers or download my list below. But remember, only join 2-3 that seem highly relevant for starters!
How Do You Make Your First Affiliate Sales?
So you've joined the perfect affiliate programs, picked the right products for your blog and you're ready to start talking about them and cash in those first sales. Here's how you do that:
After joining the affiliate programs and getting accepted into them, you will need to log-in into your affiliate dashboard and copy (or create) your unique affiliate link.
When starting out, I recommend choosing one product/service and creating a high-value blog post around it. That can be a review, a tutorial, your story or experience with it or something similar. But no more than one affiliate offer per post, for now.
📌 PIN THIS POST FOR LATER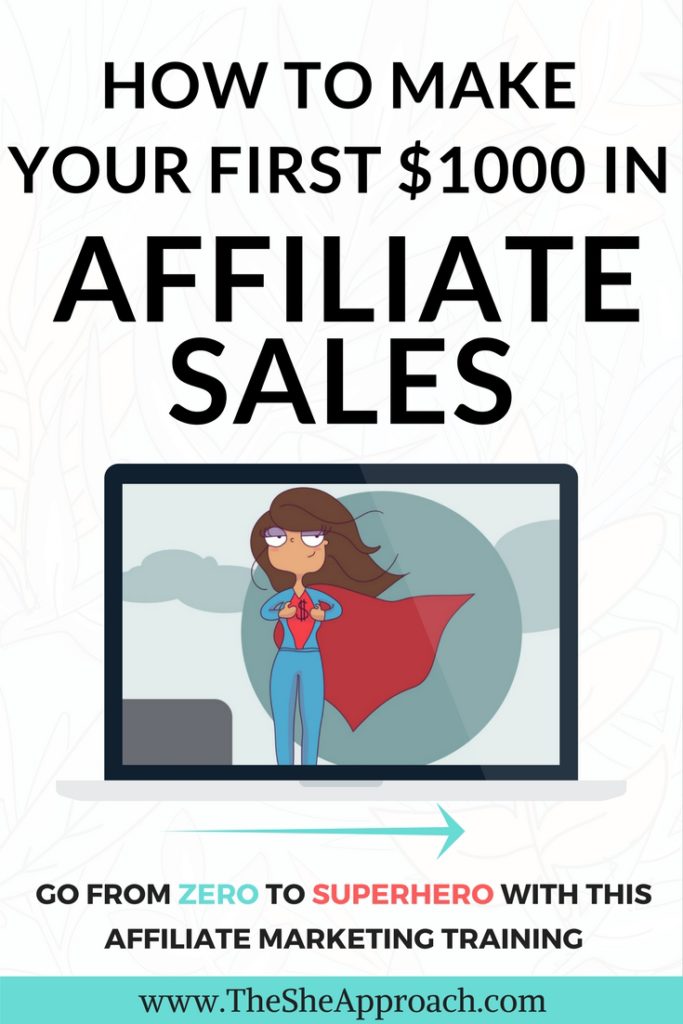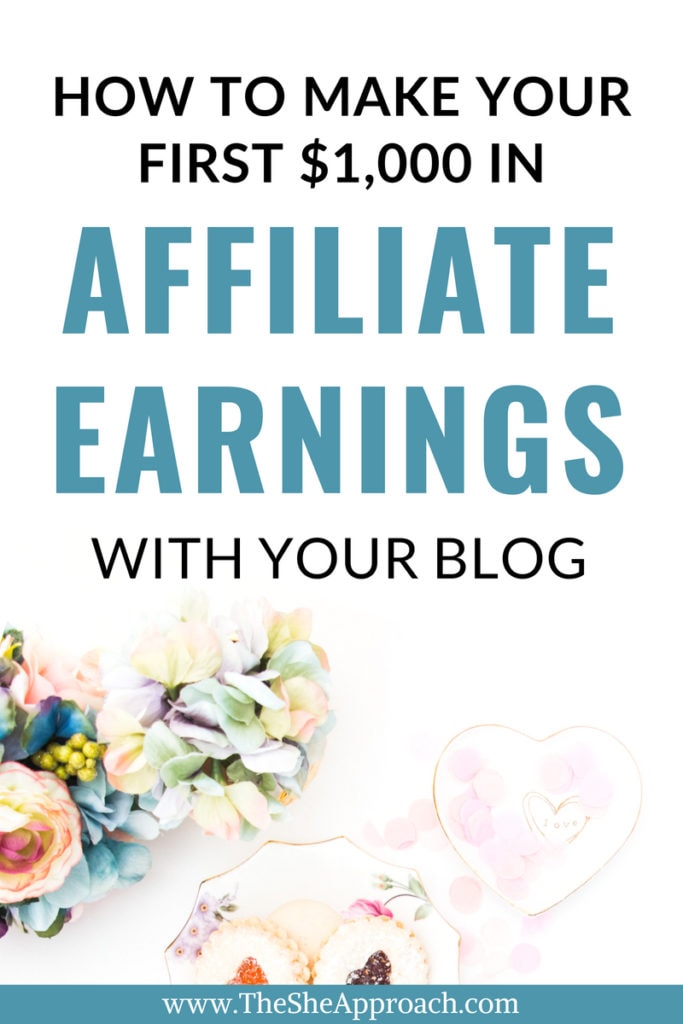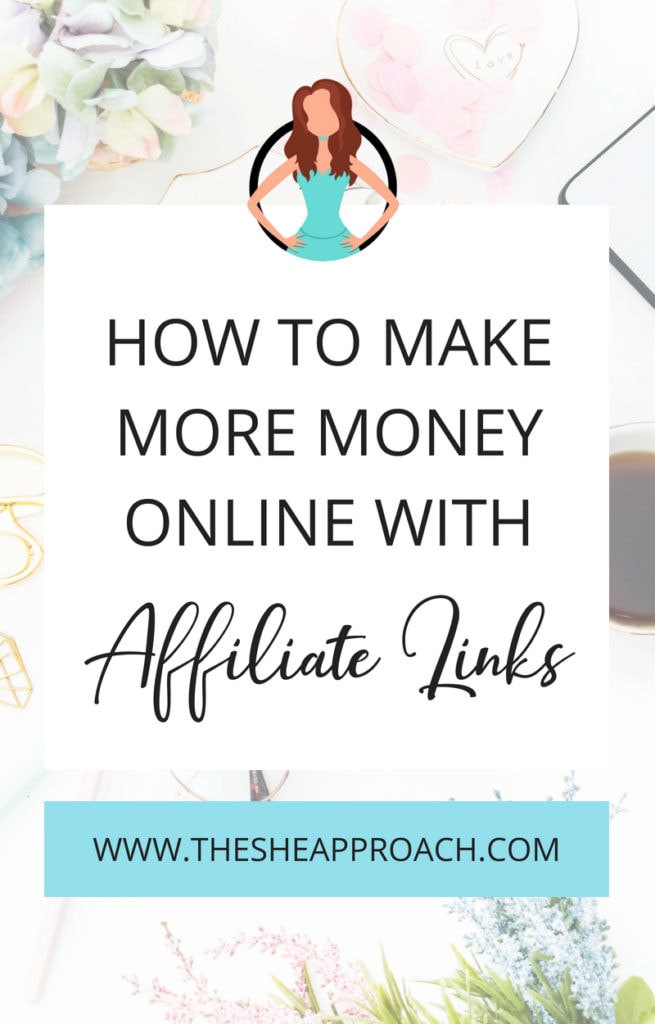 By only allowing one affiliate offer per post (you can insert multiple links, but they should all lead to the same place), you get really clear about the action you want your readers to take: to click that link, check out the product and perhaps buy it.
So write your post with that in mind. Add photos of the product you mention, ask people to click to check it out in more depth, but most importantly, show them what problems that product can solve in their lives.
So the blueprint goes something like this: You get accepted into affiliate programs > You log in and access your links > You pick 2-3 offers/products > You create 2-3 blog posts about them > You drive traffic to those posts > You get your first affiliate sales.
PRO TIP: If you've been blogging for a while, you can go back to your most popular posts and see how you can monetise them by inserting relevant affiliate links.
Start by looking at your most visited articles, and include an affiliate link for at least one relevant product or service within that blog post. (That way, you are taking advantage of traffic you're already getting.)
If you're brand new and not getting a lot of traffic, your next step would be to promote those blog posts and get some extra eyes on your content.
Here are some helpful posts that will help you get more blog traffic:
Where Do You Go From There?
To increase your affiliate income after that and keep the "ball rolling", you will have to:
continue to build trust with your audience by showing up and delivering quality content
continue finding awesome products to promote and include them in your posts
continue to drive traffic to your affiliate posts
After that, you might slowly want to explore the option of joining more programs, perfecting your affiliate strategy based on what your audience responds to and growing your blog.
If you're serious about monetising your blog and want to take a shortcut to success by getting access to the exact blueprint I used to get my first affiliate sales, check out my new affiliate marketing training for beginners: The Zero To Superhero Affiliate Marketing Bundle.
This bundle provides you with everything you need to know before you get started with using affiliate links on your blog including:
When's the best time to get started with affiliate marketing if you have a new blog
How to make money without being spammy and get thanked by your readers instead of receiving complaints
Where to find the best affiliate programs so you can monetize your blog no matter what you love writing about
How to use affiliate links, make money and respect the legal implications
What's the best way to increase traffic, clicks, and sales to keep cashing the affiliate sales
As an exclusive bonus, when you purchase the bundle, you get an invitation to a private Facebook group where we talk all things affiliate marketing. If you could use some social accountability, more insights into my affiliate strategy and some encouragement and support on this journey, we would love for you to join us!
Have you gotten started with affiliate marketing yet? How close are you to making your first $1000 in affiliate sales? Let me know in the comment section below!
How To Make Your First $1,000 In Affiliate Sales