Grow Your Blog Traffic With Tailwind Tribes
If you've used Pinterest before to expand the reach of your blog and you want to know my secret weapon for maximizing my Pinterest Presence, this post is for you. I'm going to walk you through exactly how to use Tailwind Tribes to get more eyes on your pins and therefore more readers to your blog (even if your Pinterest account is new).
And the best part is that you can do it all for free!
Keep in mind that this post contains affiliate links and in the event of a sale, I will be rewarded a small commission. I only recommend services & software that I truly believe in and I even paid full price for those mentioned in this post.
But let's start at the beginning, shall we?
---
If you're new to Pinterest and you don't have your account all set up read the post below:
SNIPPET: Pinterest is a search engine that can help you connect with your ideal readers. By creating vertical graphics for your blog posts and optimizing your account, you can drive a ton of traffic from Pinterest to your blog. This post will help you set up your accounts and boards the right way and give you the tools you need to start building a solid Pinterest strategy.
---
If you know the basics, but you're struggling to really grow your account, grab my Pinterest ebook:
SNIPPET: If you feel like you've tried everything, but you're still struggling to get traffic from Pinterest and grow your account, you need my Pinterest ebook! Covering both manual pinning and automation strategies, this ebook is the ultimate guide to Pinterest success, including the 10 techniques I used to get to 10k followers and interviews with 20 bloggers who are Pinterest superstars. Grab your copy here!
---
If you've mastered Pinterest but haven't heard about Tailwind before, check out this post:
SNIPPET: To make sure that your pins are seen and that they keep circulating on the platform, you need to be active on Pinterest and constantly repin your own content, as well as others. Tailwind is a Pinterest scheduler that helps you schedule content in bulk & loop your own pins, while saving you tons of time in the process. You can try Tailwind free for a month here!
---
So, while Tailwind is a paid scheduler (read my post above to find out why it's so worth the $15 a month), Tailwind Tribes are free to use. (Certain limitations are included.)
If until now you could only join tribes by invitation only, they are now open to the wide public. That's amazing news for bloggers!
(If you want to join an exclusive community of bloggers where you can promote your own blog posts & pins to reach more people, join my Tailwind tribe below!)
What exactly are Tailwind Tribes?
Before I get started with telling you all about how to use Tailwind Tribes and what an amazing impact they can have on your Pinterest presence, allow me to quickly introduce you to the notion.
Tailwind describes a Tribe as "a group of trusted peers with a focus on aggregating content in a specific topic or niche of interest to them. There are thousands of Tribes in niches ranging from parenting to food blogging, social media marketing to home decor – and lots more!"
Basically, Tailwind Tribes are communities of pinners that gather on the Tailwind platform to help each other reach more people on Pinterest.
Sometimes the tribes can be very topic focused, such as tribes for beauty bloggers, fashion tribes, food & drink tribes and so on. Other times, tribes can be a bit more general. I'm in quite a few promo tribes for bloggers for example, and while we all write on different topics, the main idea remains the same: we want to help each other grow.
Most tribes have a standard rule to enforce participation: you need to re-share at least the same amount of pins that you add to the tribe. (If you add 5 of your own pins to a tribe, you need to pin at least 5 posts from that tribe.)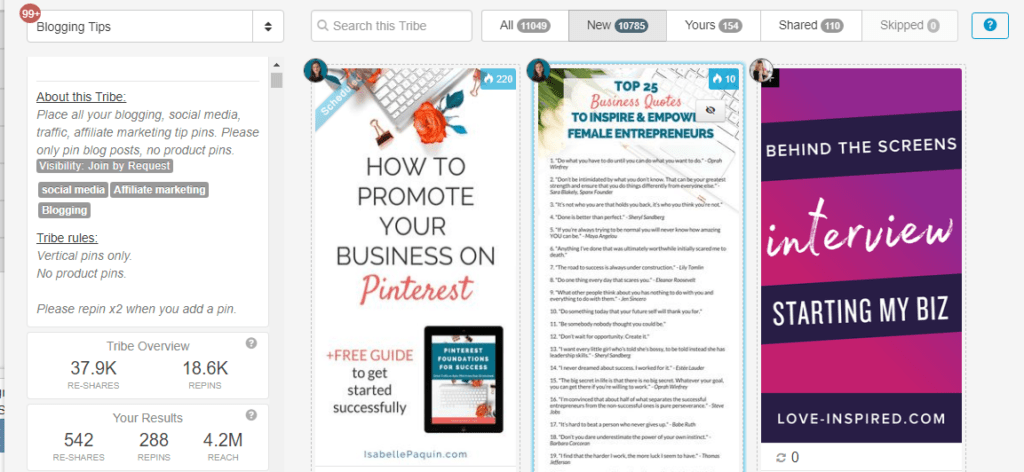 To give you a clue of what a tribe looks like, I screenshotted the dashboards of one of the tribes I am in. As you can see above, Tailwind keeps track of all the pins you added and shared from a tribe (and it looks like I need to catch up and share some more from this tribe today).
On the side, you can also see an overview of what resulted from me being in that tribe. From the 150 pins that I've added, based on what people from my tribe pinned, I received 542 reshares on Pinterest, totaling to a number of 4.2 million impressions!
How amazing is that!
Keep in mind that these numbers only keep track of the progress a pin made after being shared from this particular tribe. If the same pins I added here were suddenly repinned from my Pinterest account by someone with a big following and would reach another 4M people, those would not even be included here.
So my participation in this tribe alone got my pins to be seen over 4 MILLION TIMES. Seriously. How crazy is that?
Do you see now how amazing Tailwind Tribes are? Because once 10 people pin your pins, their followers see them, they pin it, their followers see it, and so on! It's the gift that never stops giving and the ball that never stops rolling.
Tailwind Tribes are, in a conclusion, a catalyst for getting traction to your pins, even if you have a very small Pinterest following!
How To Use Tailwind Tribes
Now that I've expressed my love for Tribes, I'm going to quickly show you how to use them and how they can enrich your Pinterest presence and strategy in a few easy steps:
1. FIND & JOIN YOUR FIRST TRIBE
Since Tribes have opened to the public and no invitation is required to join them (as long as they are public), all you need is to do to join your first tribes is to create a free Tailwind account.
Once you've done that, you just have to go to the "Tribes" section in your sidebar and click on "Find A Tribe". In there you can browse the tribes by category, or type in anything to find something that suits you.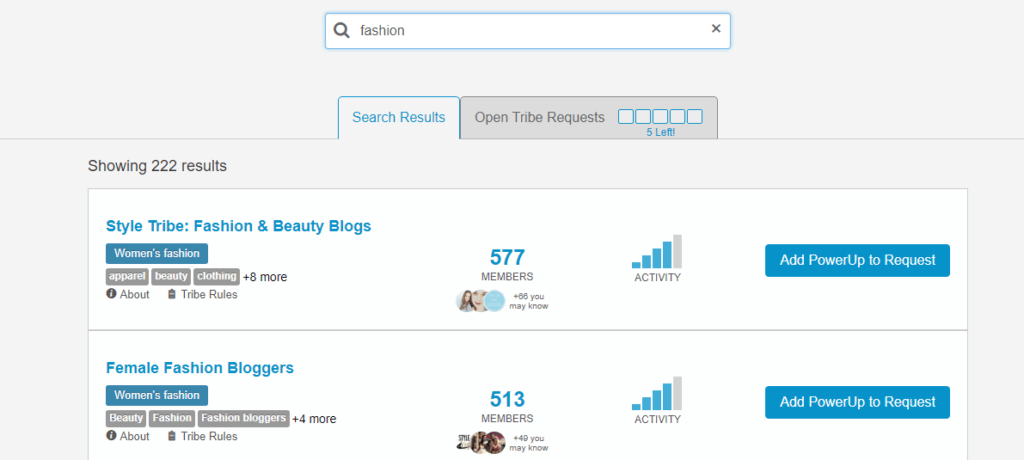 Before you join (or request to join) a tribe, you will be able to see the number of members, how active the tribe is, the tribe's rules and if any of your Pinterest friends are already in that tribe.
Your Tailwind account will allow you to be in a maximum of 5 tribes at a time and submit 30 pieces of content to them per month. If you want to join more tribes or submit more content, you will need to purchase something called "PowerUps", which we will talk about in a bit.
As you can see in the picture, I've already reached my allowed number of tribes, but if you were just starting out, you would be able to click on the blue buttons and request to join your chosen tribes.
2. SHARE YOUR TRIBEMATES' CONTENT
As mentioned before, most tribes have a rule that requires you to share at least the same amount of pins that you add to that tribe. To save myself some time, I like to go into the tribes I'm a part of and share at least 10-20 pins before I add any of mine.
That way, for the next few weeks I can add 10-20 pins of my own, without having to go in each time I add something new to keep the balance. This saves me a lot of time and helps me keep on top of all my tribes.
If you have a paid Tailwind account, you will be able to share your tribemates' content by adding it to your queue and scheduled to go live per your already set Tailwind schedule. If you don't have a paid Tailwind account, you will need to re-pin that content live.
To visit a tribe and share other's content, you will need to go to Tribes > Choose the tribe you want to visit from the drop-down menu in the corner > find pins that you want to share.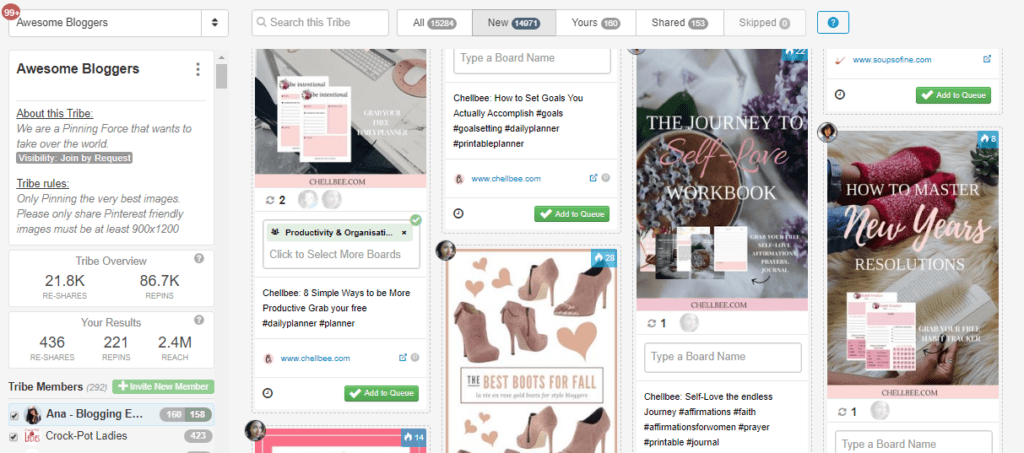 Once you've found a pin that you want to share (remember – you can choose to share any pins added to those tribe, as you don't have to strictly reciprocate by sharing pins from people who shared yours), all you have to do is type in the board name you want it pinned to and click "Add to Queue" or "Pin" (if you don't have a paid Tailwind account).
You will start seeing the number of pins you shared from that tribe in the sidebar or in the bar on top, so you can keep track of your added/shared balance.
3. ADD YOUR PINS TO THE TRIBES YOU'RE IN
But really, the real reason why you want to join tribes is so that you can submit your own pins for the rest of the tribe to see and share because you ultimately want to expand your reach and get seen by followers that you don't yet have.
Submitting your own pins to any of your tribes is really easy. The first thing you need to do is install your Tailwind Browser Extension. (Once you create your Tailwind account, a pop-up will open to enable to download it. You can also search for it in your browser's store).
After that, you can go to your Pinterest account, to the board where you store all the pins that lead directly to your website or go to a specific blog post where you have included a pinnable graphic.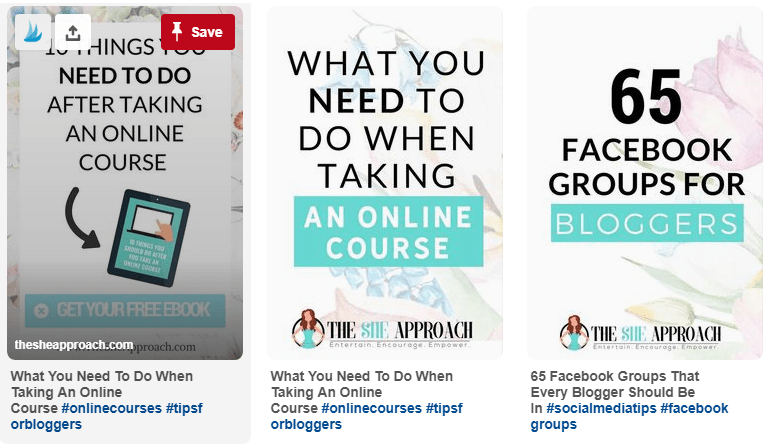 If you've installed the extension, every time you hover over a picture or pin, a little Tailwind logo will appear on the screen and all you have to do is click it.
(There's also a Tailwind logo in your toolbar that you can click to see all the pinnable images or pins from a page. I often use it when I have to mass schedule or add multiple pins to my tribes.)
A new tab will pop up that will look something like this: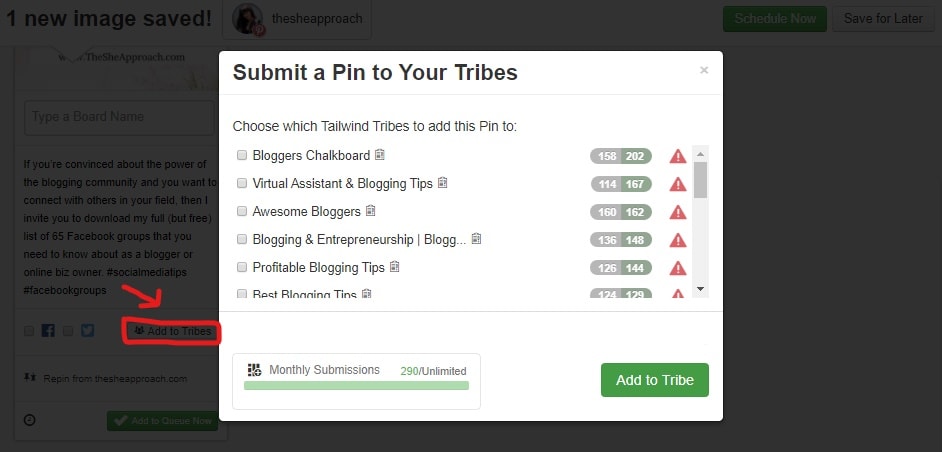 The image you choose to pin will show up, but instead of scheduling it on Tailwind, you need to click on the "Add to tribes" button that you see highlighted in the background. A new window will appear that will allow you to choose the tribe that you want to add it to.
The great thing is that you can add it to numerous tribes at once (you simply select all the tribes that you want it added to) and they even tell you if that pin/destination URL has been added to that tribe by you before (that's what the red warning sign means).
And to keep track of your submissions (you're only allowed 30 a month), you will get a little tracking bar here, as you can see on the image. But once you click on the green "Add To Tribe" button, your pin will be added to the tribes of your choice, ready to be reshared!
It's that simple!
📌PIN ME FOR LATER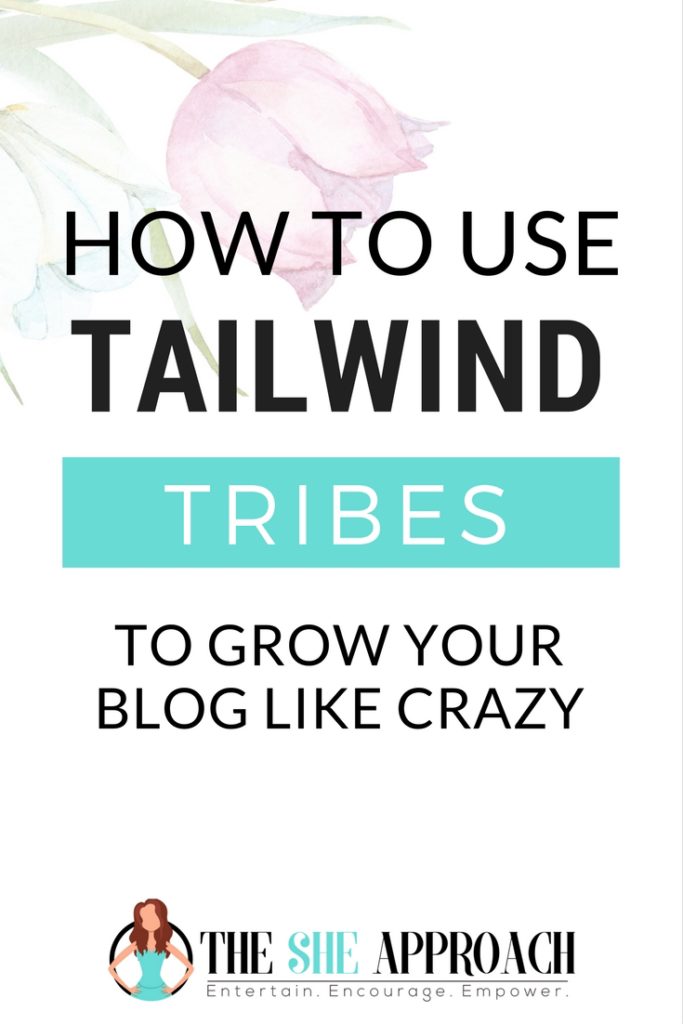 What are Tribe PowerUps?
As mentioned, the free plan of Tailwind Tribes allows access to 5 Tribes and the submission of 30 pieces of content a month. While that's a great place to start, if you really want to take advantage of the traction that tribes bring to your pins (and ultimately back to your blog), you can add Tribes PowerUps starting at just $5 per month.
You can find the Tribe PowerUps under Tribes > Hover over your plan details (in the right side corner) > See Tribe PowerUps > Select a new plan.
The cheapest plan is under $60 a year and will allow you access to 10 tribes and up to 80 submissions per month. The next plan costs somewhere around $120 a year and allows you unlimited tribe memberships and up to 200 submissions/month,
There is no right or wrong choice here. Take a look at how often you use (or would like to use) the tribes you're in because different plans work best for different people.
Wherever you go with the free plan offered by Tailwind or you choose to upgrade to a PowerUp, Tailwind Tribes are still a great way to enrich your Pinterest presence, get known in your community, support fellow bloggers and grow your blog or business in the same time.
Don't forget that you can create a free Tailwind account now & get started with using tribes today!
And if you're looking for active tribes to join, come join mine! Would love to have you! (And if you're new to Tailwind, you'll also get $15 credit or a free month!)
These are my personal results, but Tailwind also publishes the Typical Results of Tailwind for Pinterest Members every year, so you can see what the average growth rate looks like for all of their members.
Have you seen any results from being part of Tailwind Tribes? Leave your comments below!
WHAT TO READ NEXT:
How To Use Tailwind Tribes To Grow Your Pinterest Account