Whenever you check the income reports of big bloggers out there to find out how they make money, affiliate marketing is always on the list. So here I was, a new and impressionable blogger thinking I could score hundreds of dollars a month from something I didn't quite understand.
This is a story of my first affiliate marketing fail that got me exactly $7.60 in my first 4 months of blogging, as requested by my lovely Twitter followers.
(Speaking of which, I would love to connect on Twitter!)
Affiliate marketing strategies have become one of my passions lately and I love hearing success stories and writing about what actually worked for me (eventually). Because after failing to make any real money in the first months of blogging, and almost giving up on it, I revised my approach and turned affiliate marketing into one of my main sources of income that stream from my blog. And this shows in my income reports:
In fact, as further proof that after you put in the work, the income can be very much passive, I recently took a short family trip to Italy and in the 4 days that I was away, I made enough money in affiliate sales to cover my full expenses. I am only pointing this out because I have been blogging for less than a year and I want to encourage you and make you see that it is possible!
But as I looked back at how I got started I realize there is so much to learn from my failures and my misconceptions about affiliate marketing that will help others succeed with it quicker, because I now see that is a great and very real opportunity to make money blogging.
So I put together some of my most embarrassing mistakes that resulted in my affiliate marketing fail and what I learned from them. In the name of full transparency, please be aware that this post also contains affiliate links and any purchases made through such links will result in a small commission for me, at no extra cost for you.
First things first. This is what my affiliate marketing "strategy" consisted of in my first few months of blogging:
I had joined Amazon's affiliate program and placed banners on my blog. This resulted in no sales and I quickly learned that affiliate marketing is NOT ad display.
I had signed up to a huge affiliate network and because they give you instant access to all their merchants, I was in over my head and overwhelmed so I started writing fashion posts (that's what all the cool kids were doing). Didn't make a single cent with this network. (Sometimes, even if the network is amazing, if their products don't match your content, you are just wasting your time.)
I found independent affiliate programs and joined them. A productivity e-course that I talk in more depth about in this post and an ebook that brought me my first $7 and is to date my most profitable affiliate program.
I promoted each product once at the most, didn't use affiliate links on social media at all and I was barely starting to grow my email list.
I broke down my biggest mistakes and what I learned from them below:
💎 I had no idea what I was doing
To be completely honest with you, when I first found out about affiliate marketing I was so excited to get started and implement what I had read in a few blog posts here and there that I had no real strategy, no goals (other than that of making money) and no clear idea of what I was doing.
And that cost me 4 months of my time and a lot of wasted hours. So if you are just starting out and want to see results quickly, I would recommend that you invest in your education on this topic.
For me, things finally started to make sense and bring results when I purchase this e-book that not only thought me how to successfully use affiliate links on Pinterest but some of the core basics of affiliate marketing that were lacking from my knowledge vault.
Priced at only $25, How to Make Your First Affiliate Sale in 24 Hours Using Pinterest was the reason I made my first $100 blogging a few weeks later and a big contributor to making my first $1000 online. (See my income reports above to read more.) So I think any investment made in affiliate marketing e-books or e-courses are definitely going to pay off if you then take the time to apply what you learned.
If you want my full, step-by-step blueprint that I now use to promote affiliate products on Pinterest, be sure to check out my post on How I made my first affiliate sale in 2017 With Pinterest where I explain exactly how I made it happen to give away a free printable game plan for you to follow.

Since then a lot of things have changed and I've learned how to use my blog's content to make over 300 affiliate sales in my first year of blogging. I put everything I've learned in an Affiliate Marketing Training Bundle for beginners.
So if you want to start using affiliate marketing to make money with your blog (and with integrity), check out my training above!
TAKEAWAYS
If you are just starting out, do your research and invest in educational products on this topic.
Learn to think outside the box. Affiliate marketing is not ad display!
💎 My blog had no vision
When I first started The She Approach I had no real vision for it. I only knew that I wanted to write (basically about everything and for everyone) and I did just that. I treated it like a lifestyle blog and I posted everything from blogging tips to university posts, recipes and photos of my dog.
There is nothing wrong with lifestyle blogs. In fact, there are many of them who are doing an amazing job! But I had no vision for my blog, no idea who I was writing for and to be honest, I was messy and inconsistent when posting.
This had a huge impact on my affiliate sales because I was promoting the most random products that were not really in line with what I was writing and not everyone who was interested in my university blog posts cared about my dog or about blogging.
Realizing the importance of having a blog vision and actually mapping it out (you can get a printable blog vision map right here and do this for your own blog) made a huge difference for me and helped me narrow down my focus and figure out who my audience is. (I have an entire chapter about figuring out who your audience is and how to reach them in my new ebook, The She Approach To Boosting Your Blog Traffic if that's an area you are struggling with.)
TAKEAWAYS
Take some time to map out your blog's vision and write it down!
Narrow down your focus. Pick 3-4 topics to blog about.
Figure out who your audience is.
💎 I promoted the wrong products
The very key of affiliate marketing is to find products that you truly believe in and that are relevant to your audience. The things I was promoting were neither.
In fact, I still remember the first thing I become an affiliate for: a $97 online productivity course that I knew nothing about. Since I was writing about university tips, I thought this was a great product for students that were my audience at the time.
Because what student doesn't want to spend nearly $100 for an online course about productivity that they will probably never have time to go complete, right? …
Needless to say, my attempt flopped big time and I didn't make one single sale. Since then I dedicated time to find the right affiliate programs to join and became very picky by only choosing products or services that I truly believed in (or tried myself) and that were relevant to my audience.
If you're struggling to find affiliate programs or networks to join, I highly recommend you get my list above or you check out my post on 5 High-Paying Affiliate Programs For Bloggers.
And did I mention that my Affiliate Marketing Training Bundle comes with a masterlist of 300+ affiliate programs in over 17 niches? You'll be sure to find something that your audience will love in there!
TAKEAWAYS:
Promote only products/services you have tried or truly believe in.
Think about your audience's needs when picking affiliate programs.
Join one affiliate program at the time, implement your strategy and only after that go looking for more.
💎 I didn't have enough blog traffic
When I was promoting the productivity course, I wrote a blog post about how to be productive and promoted it on Facebook that week. And that was it. I had no creative ways to get people to read my posts and I had to keep posting to keep getting traffic consistent which was exhausting.
I had just started out and my page views were not amazing. I was getting a little over 1,000 per month, but because my topics were so wide, most of those people were often interested in a single topic and wouldn't hang around for long.
If that's an area you are struggling with, take on my 7-day email challenge and get my best tips on boosting your blog traffic!
The thing with getting people to buy through your links is that you have to get them to click first. And to get them to click, they have to read your posts and be interested in what you were promoting. Even so, a ridiculously low amount click.
So it's simple math really. The more people you get to your blog, the more will click, the more will buy and the more money you will make.
Affiliate marketing is great in the sense that unlike monetizing your blog with ads (where you need thousands and thousands of page views to make any real money) getting the right kind people to your blog will results in more affiliate sales even if you don't have impressive stats.
It's all about the quality of the traffic you bring in. And as soon as I rebranded my blog and had a clear vision of who I was writing for, attracting that audience became so much easier. And once my blog grew, so did my affiliate sales.

My blog growth didn't happen by chance. It took a lot of work, time and at occasions, luck that I created for myself. I totally believe that you can catch up to bigger bloggers even if you just started out, which is why I put everything I knew about growing an authentic readership for your blog in this e-book.
Because you can write amazing posts and promote all the right products, but if no one is reading them or clicking through, your affiliate attempts will fall short every time.
Check out my e-book here and get a free sample chapter!
TAKEAWAYS:
Quality traffic matters more than quantity when looking to score affiliate sales.
Invest some time into promoting your blog and growing your traffic if you want to see real results.
💎 My readers didn't trust me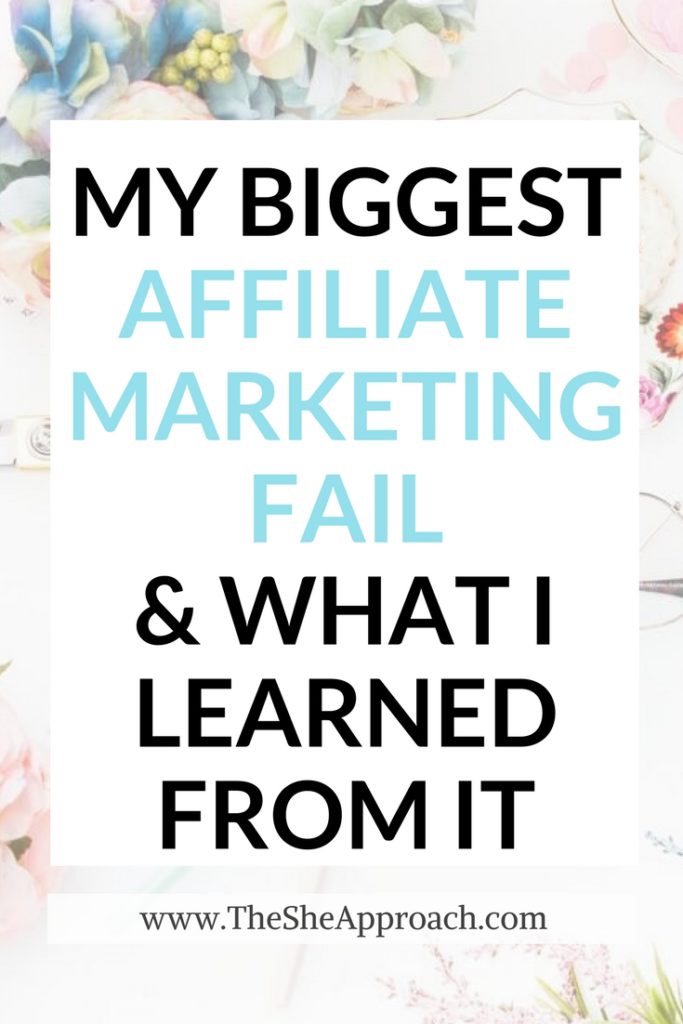 Looking back I am not at all surprised that I went so long without making any affiliate sales. Why would anyone want to buy through my links? I was offering no value, I was all over the place blogging wise and I had no real connection with my readers!
Since then, I made sure to work on all that and besides building a professional platform that people can come to for blogging advice and offer free value as often as I could (in blog posts and other freebies that I have on my website, as well as exclusive bonuses for anyone who purchases something through my links). But more than that, I wanted to build that trust with my readers and actually help them, so I started an email list.
Not only do I now successfully promote affiliate deals to my email list, but I created a bridge of trust and a way of communication between me and my readers that beats any cold traffic (new people who randomly find my blog).
If you're thinking of starting an email list (which I highly recommend) here are some posts I have on this topic that you might find of interest:
TAKEAWAYS:
Have a professional platform and focus on building trust first.
Start an email list and build a connection with your audience.
Offer tons of free value!
I had a ton of fun writing this case study about why I failed to make any real affiliate sales when starting out and going over what I did wrong. I want to encourage you to try some new strategies and don't let failures keep you from giving this another try!
Your success can be just one strategy away! Let me know in the comment section what you're struggling with and what are you going to try and change!