65 Ways To Grow Your Blog Traffic
Blogging is a complicated affair. Between the technical skills you need to have to run your blog and the writing skills to create new content, there is little room left to master the art of marketing and to know how and where to promote your newest blog posts.
That is why I put together a list of +65 ways to promote your blog posts so you can draw inspiration, test out new blog promotion strategies, find out how to increase your website visits and boost your blog traffic.
In this blog post, I'm going to go over my absolute favorite ways to increase your blog traffic, but if you want the full list of ideas on how and where to promote your latest blog post, enter your email address below (and you will get it instantly!):
Before we get started, please keep in mind that this post contains affiliate links and any purchase made through such links will reward me a small commission – at absolutely no extra cost for you. Thank you for supporting my blog!
Ways To Promote Your Blog To Increase Traffic
1. Get Started With Pinterest
One of the best things I did for my blog was to learn how to promote it on Pinterest. After months of experimentations, I finally cracked the code and since then, Pinterest has been my nr.1 source of traffic, bringing in more than 80% of my pageviews each month.

Not only did I cracked the code of using Pinterest to boost my blog traffic, but I've also grown my account to over 12k followers and a monthly reach of nearly 500k (and I did all this by working less than 3 hours a week on my Pinterest strategy).
If you want to find out how I did it, and make it possible for you as well, check out my Pinterest ebook.
From manual pinning, to automating and scheduling your pins, reading your analytics and creating stunning graphics, everything you'll ever need to know about promoting your website on Pinterest is included in this ebook.
And you want to learn how to do it, because Pinterest is actually a search engine. That means people are on Pinterest looking for ideas and inspiration all the time. If your pins are not on there, you are missing out on website visitors!
RELATED READS:
2. Create Round-Up Posts
Round up posts are articles where you create (=round-up) a list of blog posts, answers, ideas or products on a certain subject. Here are a few of the most popular round-up posts that tend to get a lot of traffic:
Expert Round-up – A blog post where you interview experts in a certain field about a topic like I did for my Best Blog Traffic Tips From Pro Bloggers posts. This is not only a great way to build connections with your network, but it can be an amazing opportunity to give your traffic a little boost. After the post is live, make sure you email the bloggers or experts that you mentioned to let them know the post is up and ask them to share the article (which most people gladly do because they appreciate the mention).
Blog Posts Round-up – Posts such as "10 Easy Dinner Recipes" or "Top 20 Book Reviews Of 2018" are a great way to drive traffic to older posts, by rounding them up, writing a short paragraph about them and then adding the link for people who want the full recipe or review, in this case. This round-up works for every blog niche, because as soon as you have multiple articles on a topic, you can gather them all together and use a new post to get your readers to find your older articles. (You can do the same and link to other people's posts as well – such as "10 Blogging Income Reports" – and ask them to share it after.)
Gift Guides – Gift guides are an amazing round-up post for listing products and affiliate links, and they are particularly popular around the holidays and around specific celebrations (such as Mother's Day).
Normal Round-Up Posts – And last, but not least, if none of these are applicable to your niche, you can write a normal round-up post with ideas (ex: "10 Cities You Need To See In Europe", "15 Ways To Make Money Online" and so on) and these tend to be quite popular because they are easy to digest, fun to read and they tend to get more clicks and shares overall.
So if you've noticed that your blog posts are not attracting a lot of attention, start creating some round-up posts!
3. Use Tailwind Tribes
Believe it or not, I get around 80% of my blog traffic from Pinterest. If you want to know how I do it, I mapped out my entire strategy in my new Pinterest ebook.
But the secret to getting your pins go viral (and get traffic to your blog posts as a result) is by getting the traction they need before they start spreading from board to board.
An easy and free way to do that is by adding them to Tailwind Tribes.
While Tailwind is a paid service (and my favourite Pinterest scheduler), the tribes are a free feature that you can use even if you don't have a paid subscription (with some limitations). They serve as reciprocating group boards where members repin each other's pins.
Since I've started using tribes, I've received over 6,700 repins, reaching and additional 97.6 million impressions on Pinterest (both repins and views I wouldn't have gotten without Tailwind).

After you pinned a graphic to one of your boards, add it to your tribes, ensuring that it gets repinned and it takes off. If you're interested to know more about how Tailwind made a huge impact on my blog traffic, read my post on How I Use Tailwind To Grow My Pinterest Account.
But give Tailwind Tribes a try! They are free to use as well, but I do recommend to upgrade if you have over 50-100 pins of your own by now (which you should!).
4. Optimize For SEO
With over 40,000 search queries being typed in on Google every second, ignoring your SEO duties and not giving your blog posts a chance to be found online can be a big mistake.
Speaking of SEO mistakes, have you seen the guest post that my good friend and SEO expert, Mariah wrote? If not, find out the 3 Biggest SEO Mistakes To Avoid On Your Blog by reading this article.
You can also read my post on 7 Key Elements Of A SEO Friendly Blog Post to know what you have to do to optimize your blog posts for search engines and get free, organic traffic sent your way.
Or, if you're serious about conducting some research, a blog post that I found really helpful is 46 SEO Tips for WordPress Bloggers. Start small and make some changes today, because SEO takes a while to implement and bring results, so the sooner you start, the sooner you're going to rank in Google.
And ranking in the first 2 or 3 pages of Google can be the difference between your blog getting 1,000 views a month, and your blog getting 100,000 views a month. (Honestly, I know bloggers who have that and much more, and they owe it all to paying attention to their SEO tactics.)
5. Participate In Facebook Share Threads
Facebook blogging groups are a great resource that you need to take advantage of if you want to expand your online circle and drive traffic to your blog posts. Enter your email below to get access to 65 of my favorite FB groups.
A smart way to drive traffic to your blog is to participate in share threads where you leave a link to a post you want shared and you share a couple of blog posts in exchange.
Unlike promo threads where everybody drops their link and moves on, this thread will not only get people to come to your blog, but it will get them to share your post with their audience.
If you want to find out about more ways to drive traffic to your blog using Facebook, read my post on How I Get 70% Of My Traffic From Facebook. (This was written before Pinterest started taking off for me, but I still use the strategies here to grow my blog to this day. The difference now is that Facebook accounts for only 5%-10% of my blog traffic.)
6. Send Out An Email Blast
There are a million reasons why bloggers need an email list and getting your subscribers over to check your new articles and promote your blog posts is one of them.
A great way to bring targeted readers to your blog is to send out an email blast to your list, sharing a snippet of the post or the story of why you wrote it. To avoid spamming your subscribers, don't do this for every single post, but pick a couple every month and announce them to your loyal readers.
You can also set up an RSS campaign to go out once a month with a list of all your new blog posts so that your email list can be kept in the loop and have a few options of articles to read.
If you're still looking for an email service provider, I recommend getting started for free with Mailerlite. You can read Why I Switched From Mailchimp To Mailerlite here to find out more about why I love them.
RELATED READS:
7. Tweet About It
Twitter is an amazing platform to use to get more eyes on your content. Because it's a very fast-paced platform, you will need to tweet more often than you think you should (around 10-20 times a day), but there are scheduling tools out there that make self-promotion incredible easy for bloggers.
I use Smarter Queue to create evergreen tweets that recycle all year around a schedule that I created, which means that my blog posts (even the old ones) get constant traffic.
If you want to find out why I do that without appearing spammy and losing my followers, and more importantly HOW I do it, check out my Twitter tutorial here.
Give Twitter a try, especially if your audience hangs out there and let me know your results in the comment section below!
📌 PIN THIS POST FOR LATER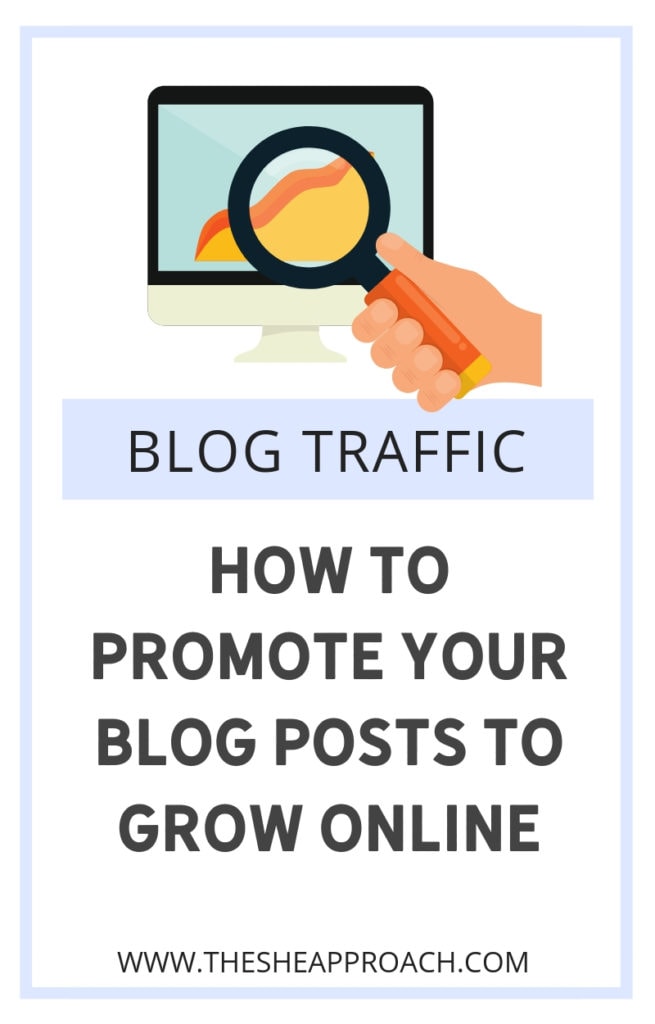 60+ More Ways To Promote Your Blog Posts
Getting more people to read your posts is a combination of knowing where to promote it and how to reach the right people. While this might be different for everyone, I encourage you to grab the list below and experiment with what works best for you.
And please keep in mind that if you don't share your posts, no one will! You have to get comfortable at self-promoting your amazing work, because the world needs to see it!
Test a few new strategies every month, and keep an eye of your stats (I recommend using Google Analytics for the best results. If you are unfamiliar with how it works, check out my Guide To Google Analytics For Bloggers).

Learn How To Boost Your Blog Traffic Today
If you want to build a strong foundation for your blog and learn in-depth strategies on how to boost your blog traffic, check out my new ebook on this topic in which you will learn how to set up automated systems to bring in traffic in your sleep, reach your target readers and grow your blog like never before.
Grab your copy here (or get your hands on a free chapter first) and learn what is missing from your approach that is making you fall short of your blogging goals! I have a few bonuses included in the price that are especially aimed at helping you get creative and strategic, so be sure to check it out!
What are some creative ways you promote your blog posts? I would love to hear from you in the comments section below!
65+ Ways To Promote Your Blog Posts & Increase Blog Traffic