Is the Genius Bloggers Toolkit worth it? And what's included in the 2022 blogging bundle?
Are you willing to invest in your blogging education, and you've heard that the Genius Blogger's Toolkit is back in 2022, with brand new courses, eBooks and bonuses?
But should you get it? And what's the catch?
Because 62 products worth $6427.51 for only a fraction of the price sounds way too good to be true. But I promise that it isn't!
I'm dedicating this entire article to answer questions, clear confusion, and share some exciting bonuses, so if you've heard about the GBTK and you're curious to learn more, stick around!
In the name of full transparency, I'm an affiliate and contributor for the Ultimate Bundles (the team that puts together the GBTK) for the past 5 years. I've worked closely with them and saw both my blog and other people's blogs explode because of the access to all these amazing resources.
I will try my best to be biased in this review but keep in mind that I use affiliate links in this post, and any purchase made through such links will award me a small commission. (At no extra cost for you – in fact, keep reading to find out what exclusive bonus you get when you purchase the bundle through one of my links!)
UPDATE: The new Genius Blogger's Toolkit (2022 version) is finally here! Grab your copy here between Tuesday, February 21st and February 23rd.
What is the Genius Blogger's Toolkit?
The Genius Blogger's Toolkit (shortened as the GBTK) is an annual bundle full of tools (such as courses, eBooks, webinars, templates, printables and more) to help you start or grow your blog, work smarter, and make more money online. But at a crazy discount!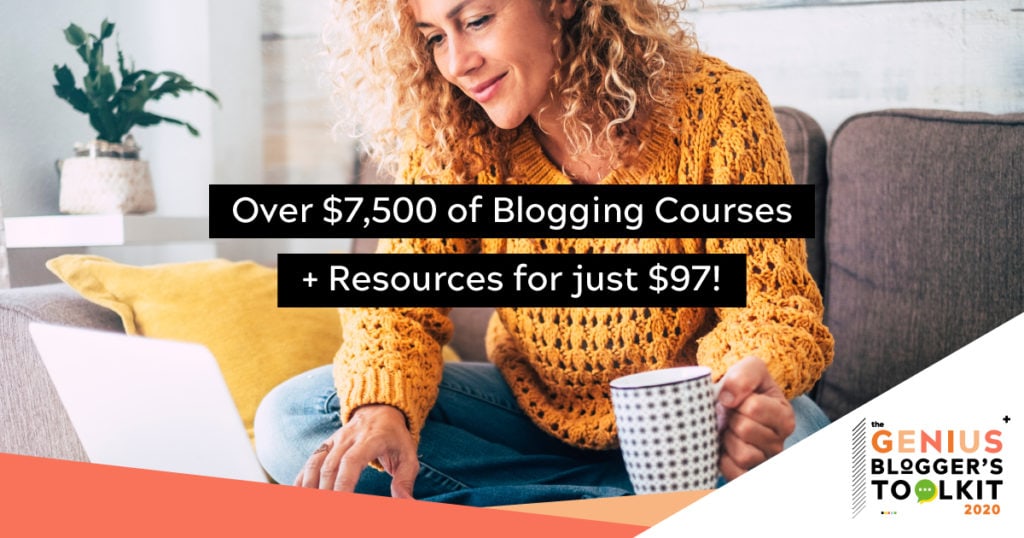 The biggest advantage of the Genius Blogger's Toolkit (besides the amazing deal on the price) is that you get instant access to multiple top educators, blogging gurus and experts whose courses or resources you wouldn't normally invest in (especially if you're on a budget).
So instead of learning everything from just one person, you get taught by experts in blogging, email marketing, design, affiliate marketing, Pinterest and content creation (to name a few) in one place.
How much does the bundle cost?
Although the 2022 GBTK bundle is valued at $6427.51 (and it includes 12 bonuses worth $1259.00) for the duration of 6 days, you can get it for only $97.
In some cases, it is literally cheaper to buy the bundle, than to invest in 1 or 2 of the courses included separately.
You can also purchase cheat sheets for the bundle for an additional $50 – totally optional, but they offer a road-map to what every eBook and course included offer, so you can pinpoint the ones that are going to be most useful to you.
Can I just buy it later/next year?
Unfortunately, no.
The 2022 GBTK bundle is being put on sale in this format just one time, before being retired for good. If you don't grab it during the 2 day flash sale, you might miss on it for good.
Open Cart: Tuesday, February 21st at 12am EST
Sale Ends: Thursday, February 23rd at 11:59pm EST

Once the timer runs out, so does your window of opportunity.
And because the bundle has brand new resources & bonuses each year, if you wait until next year to buy it, you will miss out on the amazing courses and trainings included in this round. So don't wait around – start growing your blog today.

What do you get in the 2022 Genius Blogger's Toolkit?
As an insider, I have the full scoop on what's included in this year's bundle. Here's what you get immediate access to when you grab yours:
62 products worth $6427.51 in total
5 eBooks
39 eCourses
4 Printables
1 Summit
9 Templates
4 Workbooks
12 bonuses worth $1259.00 + Early Bird Bonus worth $200.00
In total, it includes 70+ products and over $6,400 worth of blogging tutorials, strategies, and super practical information and ideas.
And it all comes packaged up for you at 98% off of the regular price. What a steal!
My Top Picks – Best Resources From The 2022 GBTK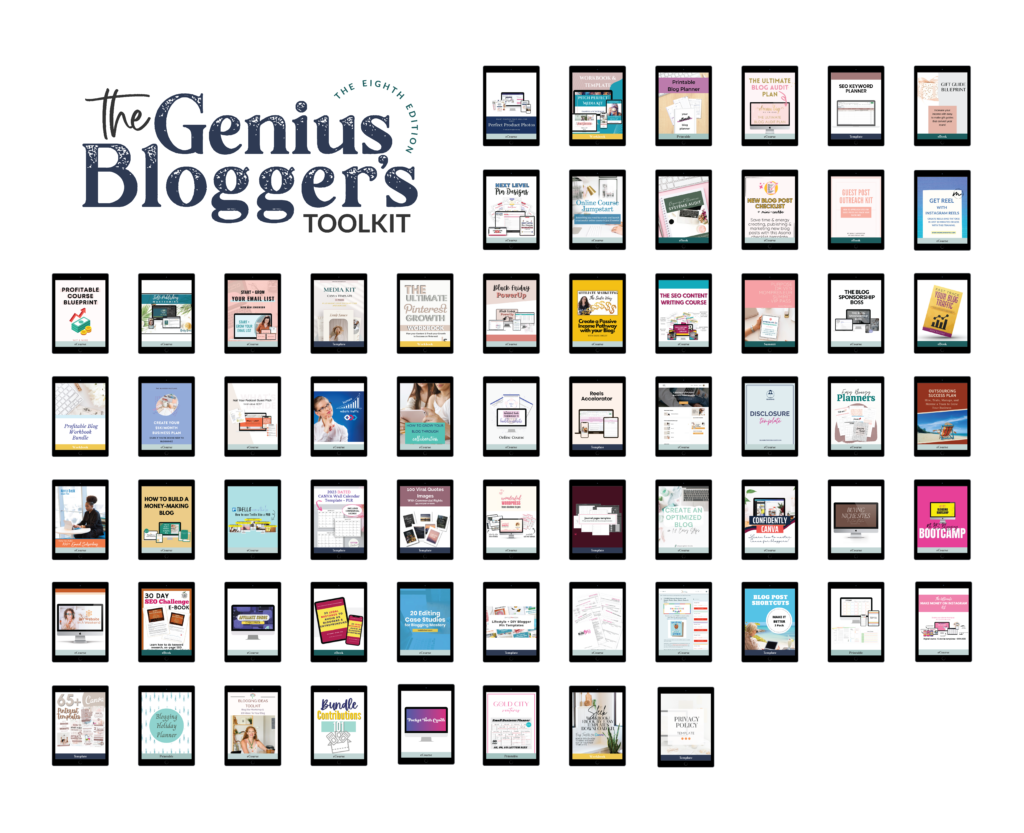 The truth is that you probably won't end up taking every single course, or reading every eBook – and you shouldn't either.
But every single year, the bundle includes a few must-take-advantage-of resources that make it all worth it! And here are of my top picks this year:
The 14 Days Affiliate Surge Challenge by Ana Skyes (me!!) $95.00 – Learn how to audit your own affiliate performance, increase conversions and boost your affiliate sales (with content you already have) in only 14 days.
The 65+ Pinterest Templates File Pack by Lidia S (Template) $48.00 – Edit and create Pins in a few Seconds in Canva, by just Dragging & Dropping. Make them Unique by Adding your Own Fonts & Colors – and they will be ready to go up on Pinterest in minutes!
Fast Track Your Blog Traffic: No rocket science to attract new readers, get more clicks and build up massive traffic by Arfa Nazeer (eBook) $35.00 – The 100-page guide with fail-proof lessons to build up a powerful blog audience and attract thousands of page views.
Buying Niche Sites To Earn Faster by HerPaperRoute (eCourse) $997.00 – Savvy bloggers don't waste their time building niche sites from the ground up. We have a better strategy, and it's to BUY niche sites that are already established. In this training, you will learn why the buy-then-build strategy helps you and your blog earn and scale faster.
SEO Keyword Planner by Michelle Pontvert (Template) $100.98 – Find the perfect keywords to show up in Google search and strategically plan out how to use them on your website.
Confidently Canva by Karina Gafford (eCourse) $57.00 – Master Canva and learn how to design social media graphics and printables.
The Quickstart Guide to Being Ready to Build a Website by Gemma Louise Kimpton (eCourse) $111.00 – This course aims to help you get your stuff together and be 100% ready to build a website that feels aligned, rock solid and future proofed, come rain, shine or rebrand.
And these are just my personal favorites, all created by true blogging experts. Like my friend Helene who makes a full-time living with her travel blog (and hired her husband full-time as well). Or like Chelsea who made over 300k blogging this year!
Not to mention the bloggers who have mastered niche topics like selling printables, creating email funnels or technical SEO – all things that don't come easy to most bloggers.
Here's the deal: you don't have to take every single course in the bundle. It's nearly impossible. But if you take just these 10, you're going to become unstoppable!
Keep reading for the full list of products and bonuses included.

EXCLUSIVE BONUSES – find out how to claim yours 🎁
This year, I'm throwing in a special bonus of my own to all those who buy a copy of the bundle through my link, just to say thank you for your support.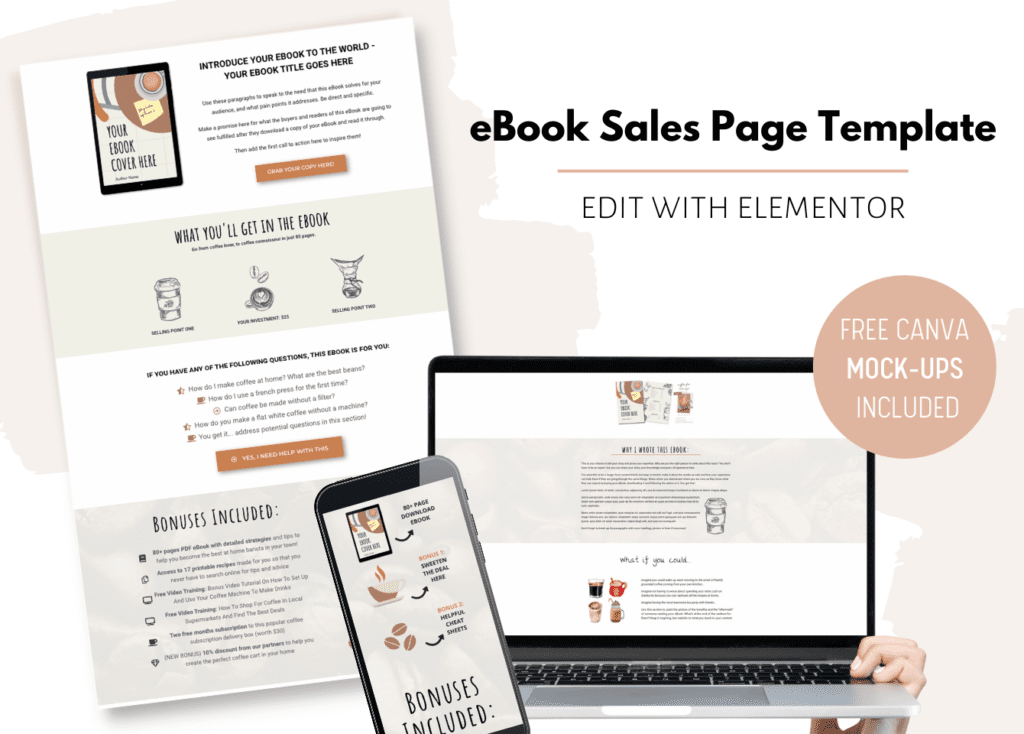 That's why I'm offering a free copy of my Ebook Sales Page Template (worth $27) to those who grab the bundle, which will help you set up an Elementor WordPress page in minutes for any of your digital products.
To claim this bonus, all you have to do is:
Grab your bundle using any links on this page, or from my emails
Email me at [email protected] to let me know you did so, and share a screenshot of your receipt or your order ID number (which will be something like #127286)
I'll send back your exclusive bonus
🔥 Other Burning Questions About The GBTK 🔥
If you are new to the concept of these bundles, I've compiled a list of frequently asked questions, including questions I had before I bought my first bundle in 2016. (And I've been buying them ever since!)
But if you have a burning curiosity that's not answered here, just leave in a comment below, and I'll personally get back to you.
Who creates the bundle? Are they trustworthy?
The Genius Blogger's Toolkit is put together by the Ultimate Bundles team by taking existing courses and resources from top bloggers, experts and online business gurus and packaging them for a short-term sale.
For us, the collaborators, we gain exposure, and the buyers get amazing value and the education equivalent to a blogging degree.
At this point, you might be thinking that it sounds too good to be true, or that this is a scam…but I promise it's not. Ultimate Bundles has been around for years, and creating these packages is really their thing (they've sold over 180,000 of them on all sorts of topics from online business to photography, gardening, gut health and a lot more), so you can trust that they're legit.
Do the contents (ebooks, courses, bonuses etc) stay the same every year?
No. The bundle in the format that is now, has never been for sale before – it's all brand new. So you are getting brand new courses, digital products and bonuses.
Besides the bonuses that are sometimes offered by the same company or software, the eBooks and courses included never repeat themselves.
So if you bought the 2021 Genius Blogger's Toolkit, you will want to grab the 2022 version now as well – because everything is brand new! And the blogging tips included are relevant to what's working right now.

What if I buy it and I change my mind?
The Ultimate Bundles team provides a 30-days risk-free / no questions asked refund guarantee. So if you buy the bundle, and decide that it's not for you, you'll get your money back.
The funny thing is that they rarely get any refund requests, because the value of the bundle and all that it's included is too good to pass up!
Do I have access to these materials then if I buy them now?
Yes. You get instant access to everything included in the bundle, in a neatly organized dashboard. You can then choose which eBooks to download or courses to enroll.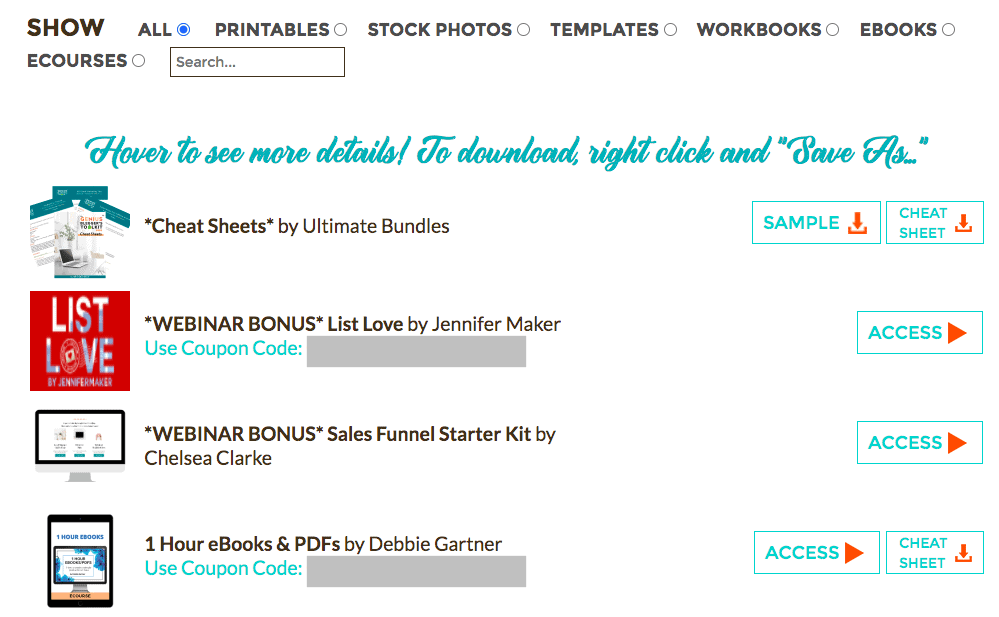 You have 6 months to do so, but if you download/enroll before the time is up, you get lifetime access to those resources from the educators that created them.
So I usually make a list of the resources I want to use in the first month, and enroll or download them ahead of time. This way, I can wait more than 6 months to take advantage of them if I want to.
Is the bundle good for total beginners?
I get this question a lot because some of the resources and courses included each year are a lot more advanced than the typical blogging education you see around.
So while ⭐ the bundle is perfect for bloggers who want to level up ⭐ , regardless if they are intermediate or more advanced bloggers, it is also good for total beginners (or people who haven't started a blog yet) because:
It's the perfect investment if you're on a budget. It can literally save you thousands of dollars on a blogging education that you NEED to succeed. You honestly can't get a better deal than this!
It allows you to master each skill individually. As an example, you learn about email marketing from people who've build lists of 900k subscribers. And you get to sit down, dive into one course/resource at a time, focus, and implement.
There's a 30-day money-back guarantee. So you can dive it, see if it's for you, and make a decision after you've reviewed the contents or a few courses.
There's an entire section of the bundle who is aimed at bloggers who are just getting started as well, along with 10 resources on content creation – which is the base and the foundation of any profitable blog (you simply can't skip this step).
Personal review: What do I REALLY think of the bundle?
I've given you a lot of practical information about the bundle, because I wanted you to see – pen on paper so to speak – what's actually included and what you'll get. But what I haven't gotten around to is sharing my personal review or opinion of the GBTK. So here it is.
Back in 2016, I bought my first bundle out of pocket. Back then, I was yet to monetize my blog, and spending $100 on my blogging education was a huge investment. Or so it felt at the time.
And because of that, I made sure to take advantage of as many of the resources and the bonuses included. This allowed me to dive deeper into what other bloggers were doing that was working at the time, and it motivated me to implement those strategies too!
By 2017, I was monetizing my blog and one of my eBooks because part of their next bundle. I've been working closely with the Ultimate Bundles team since then, and every single year the bundles get better and better.
Because, here's the deal – as years go on, the blogging culture and landscape changes. Pinterest has countless updates. Google wants something new from content creators. Audiences interact differently with affiliate links and so on.
The only way to keep up with the blogging world is to keep learning.
And because the bundle has new courses every year, it's such an affordable way to tap into the best educators and their teachings, all in one go.
And I'm going to be honest with you – I haven't loved every course I've ever taken that was included in the GBTK. In some (rare) cases, I don't even particularly agree with the strategies taught there…
But blogging is not a "one size fits all" kind of approach. So the fact that you get to see, compare and contrast different techniques, allows you to make the best decision for YOUR blog and your audience.
Not to mention, that as the years went on, the UB team has gotten pickier with who they let in the bundle – so this year's bundle contributors were all highly vetted.
But seeing as I'm one of them, and an affiliate for the bundle as well, I can understand why you think my opinion might be biased.
The truth is that I recommend the bundle to all my blogging friends and coaching clients regardless if they buy it through my link or not. And that's because I know that it's really going to help them take their blogs to the next level.
📦 The full list of contents for the GBTK 2022:
Without any further ado, let's unpack all of the resources included in the 2022 blogger's bundle. Have a nosey look, and pay close attention to the categories where you have the most to improve in.
I've also stared my favorite resources or those created by blogging gurus that I looked up to, to help you get started once you're inside the bundle, based on where you are now in your blogging journey:
⭐ – best resources for beginner to intermediate bloggers
💙 – best resources for intermediate to advanced bloggers
Affiliate Marketing (4 resources worth $338.97)
Affiliate Marketing The Sadie Way by Sadie Smiley (eCourse) $77.00
Learn how to do affiliate marketing in an authentic, profitable way!
💙 Affiliate Surge Challenge: 14 Days Affiliate Marketing Challenge For Bloggers by Ana Skyes (eCourse) $95.00
Improve affiliate conversions and sales for content you already have!
Gift Guide Blueprint by Gemma McBride (eBook) $19.97
Your easy guide to making gift guide posts that convert into sales.
The Black Friday PowerUP by Leanne Scott – Passive Income Superstars (eCourse) $147.00
A course jam packed with unique and lucrative strategy ideas, tutorials and the templates you need to have the most profitable November EVER
Content Creation (7 resources worth $1181.00)
⭐ Blog Post Shortcuts Make It Better 3-Pack by Karon Thackston (Templates) $27.00
Templates to inspire and empower you to write unique blog posts… Fast!
20 Editing Case Studies for Blogging Mastery by Todd Brison (eCourse) $97.00
Learn to edit better by watching these blog post breakdowns
Creating a Printables Business from Scratch by Gillian Sarah (eCourse) $247.00
Let Gillian show you how to create a printables business completely from scratch in only 2 hours!
💙 Nail Your Podcast Guest Pitch by Danielle Desir Corbett (eCourse) $397.00
Develop your winning podcast guest pitch strategy.
New Blog Post Creation Checklist Template & Training by Misty Dorman (eCourse) $17.00
Complete, digital checklist template of every task you do when creating, publishing, & marketing your new blog post (plus 6 quick training videos on how and why to do these tasks).
⭐ Online Course Jumpstart by Eb Gargano (eCourse) $297.00
Your complete step-by-step guide to creating and launching a successful online course IN JUST 8 WEEKS! (Plus get 14 bonuses, including Student Onboarding And Support, Creating An Affiliate Program and Selling After Your Launch).
Profitable Course Blueprint by Melissa Guller (eCourse) $99.00
The course creator's guide to launching a signature course with clarity and confidence.
Email Marketing (2 resources worth $84.00)
⭐ How to Add 100+ Email Subscribers Each Month for FREE by Kerry Beck (eCourse) $37.00
Discover how to consistently add 100+ email subscribers each and every month for free.
Start + Grow Your Email List by Mim Jenkinson (eCourse) $47.00
The complete plan to start and grow an email list of engaged and prospective buyers for your blog or business!
Getting Started (5 resources worth $727.00)
⭐ Become a Blog Boss by Lynne Caine (eCourse) $497.00
A no non-sense training course in blogging, that use a proven systematic and strategic method to get your blog up, running, profitable, and successful at the soonest possible time.
Blogging Ideas Toolkit by Gael Wood (eCourse) $59.00
You'll be ready to show up, shine your light and blog consistently with the Blog Star workshop and 100 idea generating prompts.
How to Build a Money-Making Blog by Izzy Matias (eCourse) $47.00
Learn the elements of a MONEY-MAKING blog so that you can approach blogging with MORE CLARITY and LESS OVERWHELM. Get access to 15+ lessons that show you how to set up a blog strategically so that you can start earning money.
💙 No BS Blogging Bootcamp by Faith Mariah (eCourse) $97,00
A behind the scenes look at the exact strategies Faith used to grow a mental health blog into a fulltime income.
The Blogger Fastlane: Create Your $5k/Month Blogging Business Plan by Becca Klein (eCourse) $27.00
Create a $5k/month business plan for your blog. (Even if you know all your readers by name or don't even have a blog yet!)
Marketing & Growth (5 resources worth $402.00)
Bundle Contributions 101 by Faith Lee (eCourse) $67.00
All the tips you need to contribute to bundles effectively to grow your business, email list and product sales!
⭐ Fast Track Your Blog Traffic: No rocket science to attract new readers, get more clicks and build up massive traffic by Arfa Nazeer (eBook) $35.00
The 100-page guide with fail-proof lessons to build up a powerful blog audience and attract thousands of page views.
How To Grow Your Blog Through Collaboration by Jessie Festa (eCourse) $74.00
Learn how to grow your blog faster and easier by collaborating with other bloggers & brands!
Outsourcing Success Plan by Cindy Bidar (eCourse) $99.00
You'll learn the pitfalls to avoid as well as the tried-and-true systems that make hiring and managing a team easy.
Purpose Driven Mompreneur Summit by Cara Harvey (Summit) $127.00
With Your VIP Pass you get lifetime access to watch the presentations, a digital workbook, MP3 versions of the summit AND an exclusive power pack of resources from our presenters!
Monetization (3 resources worth $1219.00)
💙 Buying Niche Sites To Earn Faster by HerPaperRoute (eCourse) $997.00
Savvy bloggers don't waste their time building niche sites from the ground up. We have a better strategy, and it's to BUY niche sites that are already established. In this training, you will learn why the buy-then-build strategy helps you and your blog earn and scale faster. You'll get aligned with what acquisition criteria matters most to you, to know how to pick the right niche site for your goals, and what to do to grow it once it's in your hands. Plus, by the end of this class, you will understand how to do proper due diligence when making offers on niche sites (learn what to look for, risks, and what to avoid).
Profitable Blog Workbook Bundle by Pat Servin (Workbook) $27.00
With the profitable blog workbook bundle you'll get clarity on how to get your blog to make money for you without confusion or overwhelm.
⭐ The Blog Sponsorship Boss: How to Start Making Money with Sponsored Blog Posts, Find and Pitch Brands & Get Paid Every Time by Lidiya Kesarovska (eCourse) $195.00
Your one-stop shop for anything related to making money with sponsored content as a blogger (from making your site irresistible to brands and joining marketplaces, to negotiating your rates and turning this into a regular income).
Legal & Finance (3 resources worth $169.00)
⭐ 23 Legal Mistakes to Avoid as Bloggers & Entrepreneurs by Amira Irfan, Esq. (eBook) $47.00
Are you a blogger or entrepreneur who wants to stay out of legal trouble? This ebook is packed with information on how to avoid the most common legal mistakes made by business owners.
Disclosure Template : Plug-and-play legal template for your disclosure page and notices by Lucrezia Iapichino (eCourse) $27.00
Plug-and-play template for your disclosures page and plug-and-play template for your sponsored and in-article affiliate links disclosure for your blog posts.
Privacy Policy Template by Michelle Murphy (Template) $95.00
Customizable privacy policy template that you're legally required to add to your website to protect your website visitor's privacy.
Planning & Organization (6 resources worth $118.99)
Blogging Course Planner & Tracker by Jae, Make Calm Lovely (Printable) $17.00
Do you sign up for numerous courses and forget about them, or start them and never finish them? The Blogging Course Planner & Tracker will ensure you never forget another course ever again! Set detailed study plans, track goals & progress & more.
Blogging Holiday Planner by Lisa Sharp (Pritntable) $11.00
Get your blog ready for the holidays.
Organized Business Systems Audit by Jessica Litman : The Organized Mama (eBook) $27.00
You need systems to keep your business afloat, so make sure your systems are working for you with The Organized Business Systems Audit.
Printable Blog Planner by Lori Walker (Printable) $17.00
Whether you are looking for pages to help brainstorm post and product ideas or social media posts, this is the blog planner for you.
Small Business Planner: The Business Plan You've Always Needed by Cody Berman & Julie Berninger (Printable) $19.99
This 33-page small business planner was designed to help take your small business to the next level through tracking, planning, and optimizing.
⭐ The Ultimate Blog Audit Plan: A Comprehensive Check-In For Your Blogging Business by Frances Vidakovic (eCourse) $27.00
A comprehensive check-in for your blogging business.
Tech & Design (8 resources worth $1065.00)
💙 Beyond Productive with Google Docs, Sheets, Forms, Slides and Photos by Dara Sklar (eCourse) $297.00
Go Beyond scratching the surface of these everyday free Google Tools (Docs, Sheets, Slides, Forms, and Photos) and turbocharge your skills & efficiency.
⭐ Confidently Canva by Karina Gafford (eCourse) $57.00
Master Canva and learn how to design social media graphics and printables.
Perfect Product Photos: Learn how to take perfect product photos on a budget by Robyn O'Brien (eCourse) $47.00
Learn how to create winning compositions that will leave your viewers desperate to click buy.
💙 Pocket Tech Coach by Sarah Crosley (eCourse) $282.00
A hub of easy-to-digest videos to help you get past your tech hurdle and back to work.
The Quickstart Guide to Being Ready to Build a Website by Gemma Louise Kimpton (eCourse) $111.00
This course aims to help you get your stuff together and be 100% ready to build a website that feels aligned, rock solid and future proofed, come rain, shine or rebrand.
Trello Essentials: How to Use Trello Like a Pro by Elizebeth Gidley (eCourse) $27.00
This course guides you through setting up 5 Trello boards to organize your business. This course includes these essential boards: Education Mapping, Map Out Your Goals, Create a Reference Guide, Store your Content Ideas and Monthly Site Audits. You can set these up yourself or you can grab the boards premade and make them your own.
⭐ Website in a Weekend: DIY Your Beautiful Website In 2 Days Or Less by Alison Reeves (eCourse) $147.00
Through this unique course focused on technical implementation and online marketing, you'll replicate a beautiful but simple website to make sure your business is present and legitimate from the start. You'll also learn online marketing basics!
⭐ Wonderful WordPress: From Clueless to Pro by Lisa van der Velde (eCourse) $97.00
The ONE course you need to set up your WordPress site correctly and confidently! Learn how to Configure Your WordPress Settings, Install & Customise A WordPress Theme, Create And Edit Your Pages & Posts, Create Your Headers, Sidebars & Footers, Secure Your Website, Update & Back Up Your Website, Get Your Site To Rank In Google Quicker, and more!
SEO & Traffic (5 resources worth $595.98)
30 Day SEO Challenge E-Book by Chrissy Carroll (eBook) $19.00
Get actionable steps to create consistent and sustainable organic traffic growth.
💙 Create an Optimized Blog in 12 Easy Steps by Nicki Ong (eCourse) $249.00
Introducing the only SEO course you'll need for your blog: Create An Optimized Blog in 12 Easy Steps. This course proves that you shouldn't even think about blogging unless you're going to optimize it for the search engines.
⭐ SEO Keyword Planner by Michelle Pontvert (Template) $100.98
Find the perfect keywords to show up in Google search and strategically plan out how to use them on your website.
⭐ The SEO Content Writing Course by Heather Ritchie (eCourse) $47.00
How to write blog content Google loves and get off page 17.
💙 Traffic Jam SEO Course by Sarah Arrow (eCourse) $180.00
Get on the front page of Google, no degree in business required.
Social Media (7 resources worth $259.00)
Canva Pin Templates for Lifestyle Bloggers (includes bonus Idea Pin template!) by Kate Ahl – Simple Pin Media (Template) $35.00
15 Canva pin templates for lifestyle bloggers, plus a bonus Idea Pin template! Works with both the free and Pro version of Canva.
Get Reel Today: Use IG Reels to Grow, Connect, and Convert by Monica Monfre (eCourse) $57.00
Show up on Instagram reels, repurpose the content and make sales consistently (and do it in less than 10 minutes a day!) with this mini course and caption templates.
Next Level Pin Designs by Nadalie Bardo (eCourse) $49.00
Everything you need to design next level Pinterest Pins for free in Canva.
Pitch Perfect Media Kit Guide by Daniella Schoeman (Workbook) $50.00
Pitch Perfect Media Kit is a step-by-step workbook guiding you to build your Media Kit so that you can land more travel partnerships/collaborations/sponsorships.
Reels Accelerator Pack: Everything you need to grow with reels this week! by Bree Pair (Template) $27.00
A kickstart and make creating and planning your reels even easier!
The Ultimate Make Money on Instagram Kit: Double your sales by showing up for 2,5 minutes a day by Marta Ostoja Kiedrzynska (eCourse) $27.00
A bundle of video training, templates and daily prompts to double your sales from Instagram stories.
⭐ The Ultimate Pinterest Growth Workbook by Lidia S (Workbook) $14.00
A workbook to help you grow your Pinterest Business Account in no time. Get Access to Daily Checklists you need to do in order to Grow your Account, Tips on Profile SEO Optimization & Much More!
Templates & PLR Content (7 resources worth $267.57)
100 Viral Quotes Images by Cecilie Aslaksen (Templates) $37.00
With 18 topics covered, and fully editable text and images, these 100 quotes can be used multiple times in all niches.
2023 Canva Dated Wall Calendar – PLR by Christie Love Etter (Template) $25.00
This is a 2023 Wall Calendar Template made in Canva, that is pre-DATED and EDITABLE. 18 Pages, 11 x 8.5 (landscape) with PLR rights.
💙 Easy Breezy Planners by Kate Danielle (eCourse) $67.00
Create Your own Planners to Sell. Create beautiful planners without spending all day in Canva.
Media Kit Canva Template by Prachi Gupta (template) $24.00
A 6-page Media Kit Canva Template to help you stand out from the crowd so you'll be ready for any monetization opportunities that come your way!
Self-Publishing Mastermind by Becky Beach (eCourse) $47.00
Learn how to repurpose your blog content into Kindle books on Amazon KDP.
Sleek Workbook Ebook Challenge Templates For Canva By Easy Templates by Jenn Summers (Workbook) $19.57
50 beautifully designed workbook pages in a consistent Sleek stylish design across all pages, everything you need to create business essentials in one kit!
The 65+ Pinterest Templates File + 3 Unique Bonuses by Lidia S (Template) $48.00
Edit and create Pins in a few Seconds in Canva, by just Dragging & Dropping. Make them Unique by Adding your Own Fonts & Colors – and they will be ready to go up on Pinterest in minutes!
GBTK 2022 BONUSES
*Early Bird*
Personalized Credit Card Processing Savings Analysis – The Pay Creative worth $200
The Pay Creative helps businesses maximize each credit card transaction by reducing processing fees. They provide free, ongoing support to ensure your payment operations are streamlined at every step of the transaction life cycle. They work as your merchant account manager and become part of the escalation team to ensure you are getting the level of service expected. The Pay Creative firmly believes that every business deserves to keep as much profit as possible from every credit card transaction.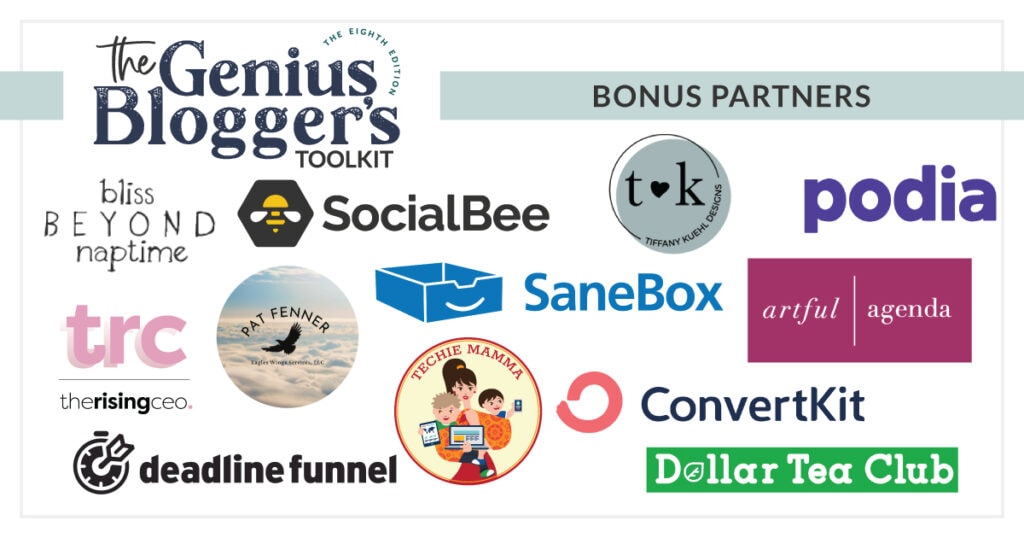 More bonuses included this year
3 FREE months of Artful Agenda plus a FREE Fall 2022 Cover & Sticker Pack – Artful Agenda worth $16.00
Artful Agenda is the digital planner that fans of paper agendas have been waiting for! It combines online functionality with the look, feel, and fun of a physical planner. Artful Agenda is also the only aesthetically focused digital calendar on the market that is compatible with Google, iCloud, and Outlook.
Access Artful Agenda on all of your devices! Your subscription includes mobile and tablet apps (available in the App Store and Google Play) and an amazing computer version, accessible via any web browser at app.artfulagenda.com.
The Bliss-Filled Mama's Three Month Biz Plan – Bliss Beyond Naptime worth $197.00
Kathy Stowell is a business coach for moms who coach moms. She helps her clients get clarity on their niche, create their signature offer that delivers tangible results to their ideal clients and implement a simple, organic marketing planet inspired by their unapologetic bliss.
1 free month – ConvertKit worth $29.00
ConvertKit is the creator marketing platform built for creators, by creators. As the hub for
creator businesses, ConvertKit centers its platform around your most important asset—your
audience. With simple yet powerful features, you can learn about, connect with, and sell to your audience with ease.
30-Day Extended Free Trial of Deadline Funnel – Deadline Funnel worth $99.00
Deadline Funnel is the number one online tool used by business owners to create unique, authentic deadlines in their online promotions and marketing funnels.
30% off any tea – Dollar Tea Club worth $15.00
Try delicious new teas from $1.00
1 free coaching session for first 25 redemptions and 25% off session redemptions after that – Eagles Wings Services LLC worth $95.00
Eagles Wings Services LLC enables creatives to soar in their giftedness. Through coaching and using their Virtual Assistant services, creatives and small business owners can get back to doing what they do best – share their message and grow their business!
3 months of the Mover plan – Podia worth $117.00
Your website. Your products. Your community. Build them on Podia. Thousands of people like you use Podia to build websites, sell courses and digital products, and host communities. Podia has all the tools you need as your business grows!
$25 credit – Sane Box Smart Email Cleaner worth $25.00
SaneBox is the all-in-one solution to email overload. It uses personalized algorithms to quickly learn your email habits and show your most important messages first, while filtering out the noise. Enjoy time-saving features such as automatic priority filtering, one-click unsubscribe, reply-tracking, company domain filters, snooze folders, and much more. Best of all, it works wherever you check email, on all clients and devices. Clean up your inbox today and keep it that way forever with SaneBox!
50% off for 3 months – Social Bee worth $118.00
SocialBee is a social media management tool that empowers its customers to share content across multiple social networks from one place: Facebook, LinkedIn, Twitter, Instagram, Pinterest, Google My Business, and TikTok.
Using such a tool, you're able to set a posting schedule, have content shared as planned, and then analyze the performance of your accounts.
3-month access to Mompreneur Mastermind – Techie Mamma worth $111.00
Techie Mamma's mission is to empower Mompreneurs to build and scale their businesses and create financial freedom. Techie Mamma provides coaching, training, templates & support to help Mompreneurs build and grow their business and live the lifestyle they want.
1-Month Trial to The Template Lounge Membership – The Rising CEO worth $37.00
The Rising CEO is a marketing education brand for creative entrepreneurs that offers courses, programs, and services as well as their signature design resource, The Template Lounge. The Template Lounge is a graphic design template membership for entrepreneurs, coaches, service providers, course creators, and more!
10% off any service – Tiffany Kuehl Designs worth $400
Small studio specializing in branding and website design for inspired female entrepreneurs who are ready to step up their game and take their business to the next level.

Last chance to buy it + exclusive bonuses
As I already mentioned, the bundle is only available for sale for a few days, and then it's gone! So when the timer below runs out, so does your chance to take the fast route to your blogging success – and that is to learn from bloggers who've already made it!
I'm hoping that this post answered all your questions about the 2022 GBTK – what's new, what's included, what bonuses you get and if it's worth getting it (spoiler alert – yes!).
If not, drop your question in a comment below!
I'm so excited for you to get your hands on all the wisdom and strategies that are in the bundle this year, including my blog post writing challenge and course!
And don't forget to email me at [email protected] with proof of purchase (or your order ID) to receive your $27 bonus in the form on my ebook sales page template on top of everything else that you get from the bundle.
The Genius Blogger's Toolkit 2022 – Contents, Exclusive Bonuses & Full Review