After months of working in secret, pulling all-nighters (and at times pulling my hair out because nothing seemed to get any closer to how I pictured it) and challenging myself to learn a new digital skill, I finally revealed what my secret project was: I opened an online gift shop for bloggers.
The shop is called Blogging Mode and it's a collection of practical, quirky and fun gift ideas for bloggers and entrepreneurs. I wanted to create products that would celebrate online creatives and empower them to step into the awesomeness of the work they do online.
To celebrate the launch of my shop, I am hosting this quick giveaway and awarding 2 lucky winners a $50 gift card (each) to use in the shop. To enter the giveaway, please read the guidelines carefully and use the form below to cast your entries:
Win 2 x $50 Gift Cards For Blogging Mode

This is a great opportunity to try some of the Blogging Mode goodies for yourself, or give your blog BFF an unexpected gift. Before you fill out the form above and cast your entries, please make sure to read the guidelines below to make sure you're eligible to win & you approve of the contest policies.
---
💎 Giveaway Guidelines & Regulations
To enter you must use the form at the beginning of the post to cast your entries before April 18th. Two winners will be randomly selected by the Gleam app and announced via a private email on April 18th.
The contest is open to worldwide participants, as long as you're over the age of 18.
All entries will be verified, so please make sure you complete the steps in the form. For all the entries that have the word "visit", you have to follow that account or page for the entry to count.
Unfollowing, unsubscribing or not completing the entries will disqualify you from the giveaway and a new winner will be chosen instead. I reserve the right to re-pick a new winner if I notice any violation of the rules or if the winners do not respond within 7 days.
Each one of the two winners will receive a $50 voucher that they can use on the Blogging Mode website. These gift cards are not transferable or redeemable in cash and they cannot cover any shopping fees. Winners must cover the shipping costs themselves.
These terms can be conditioned to change without notice.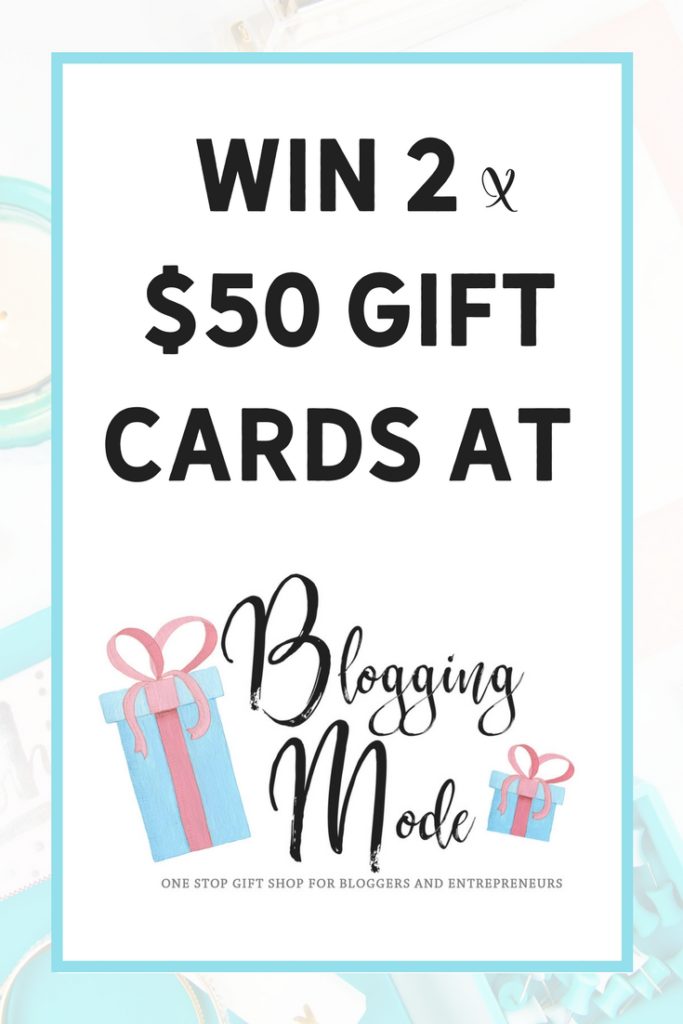 And since two winners will be picked, why not share this giveaway with your blogging buddies and double your odds? Good luck everyone!
---
Not a blogger yet but you've been contemplating starting a blog for a while? Don't wait any longer! Start your own blog today.