Why You Need Blog Hosting & How To Get It
When I'm hanging out in my favorite Facebook Groups for bloggers or chatting to people in my coaching programme about making money from their blog, the first thing I advise them is to switch from a free hosted blog to a self-hosted blog.
I often get asked, "Is going self-hosted really worth it? And is it even necessary if you're a new blogger?"
My short answer is "YESSSS!". If you're serious about blogging, it's not really a question – you should have a self-hosted blog from day one…or as soon as possible if you're already past day one!
If you're not sure what a self-hosted blog is, read my blog post on What Blog Hosting Is. And if you're ready to make the big step, you can go self-hosted for under $3 a month right now.
So, whether you're starting a new blog or you currently have a blog on a free hosted platform it's time to dive into the world of self-hosting. This post will guide you through why your blog should be self-hosted and I can guarantee that by the end, you'll be ready to make the switch.
Please note that this post contains affiliate links and any purchase made through such links will award me a small commission (at absolutely no extra cost for you). These funds help me feed my dog and keep this blog up and running. I only recommend products and services that I truly believe in and that I've used myself.
7 Reasons Why You Should Go Self-Hosted
---
1. You Have Full Control Over Your Blog
The primary reason that myself, and other bloggers, opt for a self-hosted blog (aka paying a company to host your website, instead of using a free service) is the level of control and ownership you have over everything you create.
From having your own domain name to being able to install plugins, use ads and customize your theme, the possibilities are endless when it comes to having a self-hosted blog. No matter what niche you are in or what type of website you hope to create, a self-hosted blog is suitable for you and you can make it look and operate exactly how you want it to.
Free blogs are great at the beginning, but you'll soon start to realize how much they limit your potential to customize your website's appearance, monetize your content or even own it.
If your blog is on a free hosted platform, for example, the platform owners can remove your content at any point if they feel it doesn't fit their terms of service. They are also free to place ads without your approval because they practically own your blog and they have a business to run. (And no, you won't get a cut of the ad revenue or any say about what type of ads are shown to your readers.)
In conclusion, free blogs are great if you're working on a school project, but if you're planning to run a professional blog or business, you need to go self-hosted. (And I'll explain how towards of this post, because you can actually migrate all your blog posts and comments, so you won't lose anything in the process!)
2. You Get To Decide How Your Website Looks
One of the main issues I have with free blogs is that they all look the same. Because you're building your website on someone else's terms, you only get to pick from a few design themes that they make available to other millions of bloggers out there, so they all end up looking the same. (And let's face it, no one ever said: "I'm so happy I went with this free theme for my blog.")
But when you go self-hosted, your customization options are endless!
WordPress.org has over 1,000 themes to choose from and all of the premium themes on there are fully customizable. In addition to the themes found on WordPress itself, you can also purchase premium themes from a huge range of awesome creatives or hire a designer to build your website from scratch. (Options that are not available to you if you're on WordPress.com for example.)
This means that you get to pick a website theme that fits best for you, you get to tweak everything about it (if you want to), and you can do all this without having to know how to code.
So, I guess that what I'm trying to say here is that owning your own website isn't going to require you to be necessarily techier, but it is going to give you so many more options to give your readers the best user experience possible.
3. You Get Access To Over 29,000 Plugins
Besides the large number of themes you can choose from, you can always install separate plugins to serve certain needs, and WordPress has over 29,000 plugins for you to choose from, most of which are free.
The functionality of your blog and therefore your readers' experience of your site can be vastly improved with a few key plugins. And, you guessed it, all of these plugins are only available on a self-hosted blog!
These plugins allow you to set up your site to look the way you want visually, without you having to mess with the code, but there are also a lot of behind-the-scenes plugins that help you build a better, faster site.
Take, for example, the sharing bar on this post. That's a plugin. My homepage – designed from scratch by me with the help of a free plugin. And my email newsletter sign up forms? Also added to my site with a plugin. Oh, and I make sure that my posts are SEO optimized with…you guessed it, a handy plugin!
These simple, but sometimes vital tweaks are not accessible to free bloggers, and therefore you are already missing out on traffic, subscribers, sales or followers.
4. You Stand Out Because You Look Professional
Another feature that comes with a self-hosted blog is a custom domain name, also known as the URL of your website. The good news is that when you go self-hosted with Bluehost, you'll receive a custom domain of your choosing for free (for the first year)!
For example, my custom domain name is www.TheSheApproach.com. If, however, your blog is on a free hosted platform such as WordPress.com or Blogger, the platform name forms part of your URL, like this: www.thesheapproach.wordpress.com.
Not only is this a telltale sign that you're running a blog on a free platform, but the long and bulky URL make any blog look like a hobby – and therefore unprofessional.
To give you a clue of why this would affect you, last month I launched an online gift shop for bloggers and I was looking for bloggers to collaborate with for my first PR campaign. I received over 200 inquiries and had to narrow them down to 20. I went, of course, with bloggers that were self-hosted, because they stood out to me the most.
This happens often in the blogging world, and when competition is so steep (which is pretty much always), you need to have an upper hand, because brands can be really picky about who they want to work with.
With a self-hosted blog, both your URL and website appearance look more professional and unique, and therefore, you stand out and you have a better chance of being taken seriously.
5. It Builds Trust With Your Audience + Brands
We've already established that going self-hosted is going to make you look more professional in the online space and it's going to help you stand out from the crowd.
But something that a lot of bloggers aren't considering is the fact that owning a professional website plays a huge part in getting the trust of your audience and the attention of brands or fellow bloggers you might want to partner up with.
Just like in real life, people only need a few seconds to look at you (or in this case, your website) and decide if they like you and if you're trustworthy.
People can tell right away when you're using a free hosted platform, or when you're self-hosted. And, if your potential partners, clients and customers can see that you aren't willing to invest in your blog, they're unlikely to take you seriously and trust you as a business. (Nevermind follow you, purchase anything from you or share your content.)
6. You Have More Opportunities To Monetize
Often free hosted blogging platforms limit how you can monetize your blog (if they allow you to at all). In addition to not being able to monetize your site, free hosted platforms often display ads on your site that you have no control over.
One of the main reasons why bloggers make the leap and go self-hosted, it's because they want a return on all the hard work they put into their websites and they are ready to make some money blogging. (Because, yes! It's possible!)
If you don't have a self-hosted blog, you are missing out on a whole range of options when it comes to monetizing your blog, and on some great opportunities to work with brands. (See the example in point 3.)
Even if you don't plan to become a full-time blogger, wouldn't it be nice to have some income coming in that will allow you to invest back into your blog, get a better camera, travel more or spend more time with your family?
Going self-hosted is super affordable, but the best part is that it ends up paying for itself because it allows you to start earning from your blog. (For example, I paid for 3 years of hosting and I made all my money back within the first 5 months of my blog launch.)
You can read more about monetizing your site here:
7. You Get More SEO Benefits
If you're a blogger, you must know how important SEO is for your blog's growth. A solid SEO strategy can put you in the front of Google results, therefore allowing you to have the opportunity to get discovered by people who are looking for you, without having to pay a dime.
If you want your blog to be successful long-term you need to work on your SEO strategy consistently from day one of your blogging journey. You can check out my 7 Key Elements Of An SEO Friendly Blog Post here to get started if you're not even sure what SEO is yet.
But what you need to know is that a self-hosted blog allows you to optimize your content for search engines in a much more efficient way. Google, for example, will put greater trust in a custom domain name and a private hosting company than in a free blog, which means that in their eyes, self-hosted blogs are always going to have better content and they are always going to rank higher.
Hosting companies such as Bluehost also have built-in SEO features that can really help you get discovered and take seriously by search engines in the long run, so this is another brilliant example of why this small investment in your blog be really profitable.
📌 PIN THIS POST FOR LATER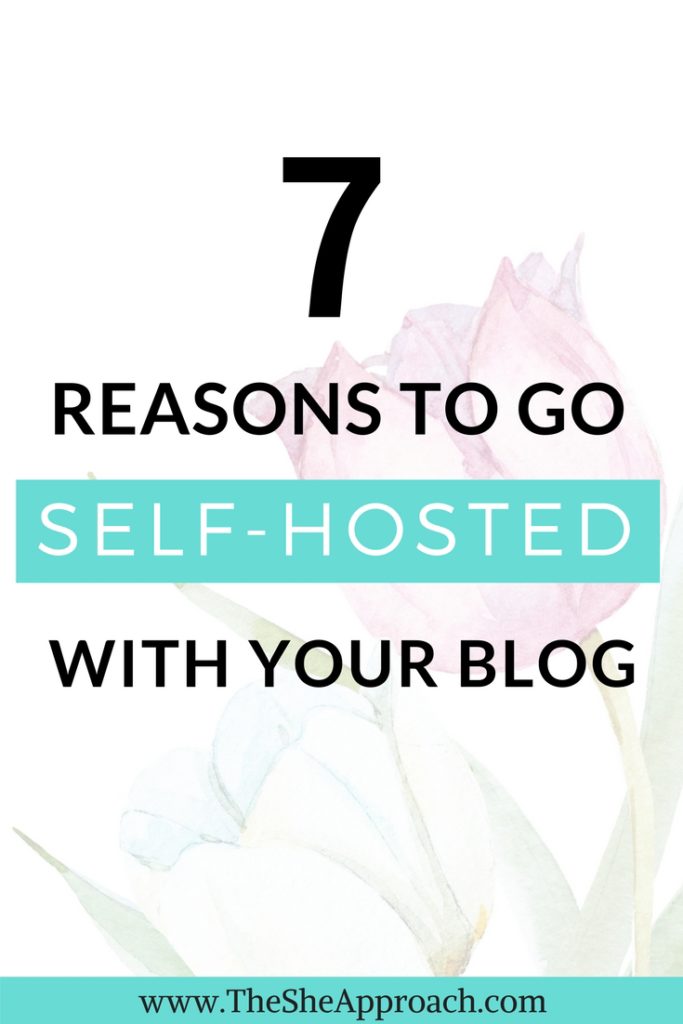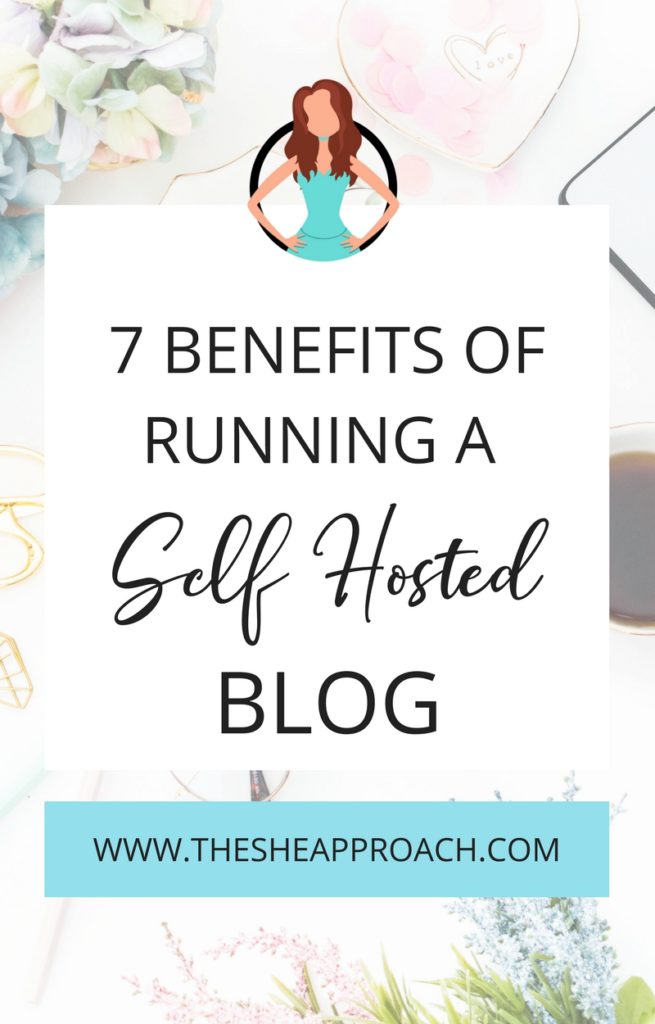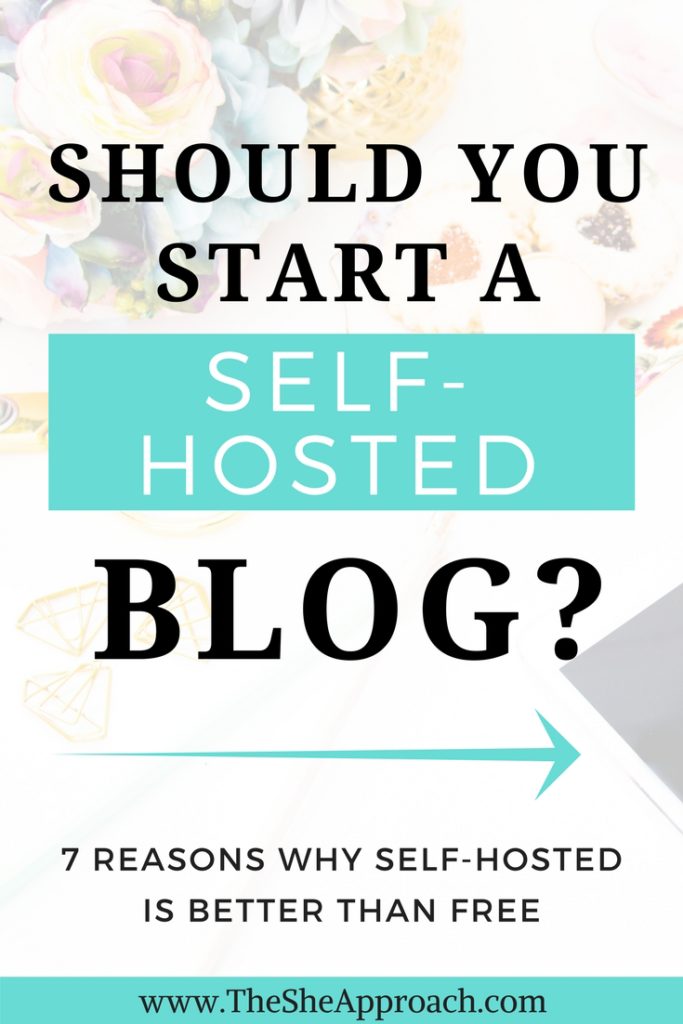 How To Go Self-Hosted With Your Blog
Convinced? Then what are you waiting for? Every day you go on without a self-hosted blog, is a day of missed opportunities. But the good news is that you can go self-hosted with your free blog in just a few easy steps.
There are two elements to having a self-hosted blog. The first is to find a host and the second is to choose a platform. As you might imagine, there are loads of options available for both. But don't worry, I've got you covered here!
The most popular, and the ones that I would 100% recommend are Bluehost for all of your hosting needs and WordPress.org for your blogging platform. (Trust me, I've done a lot of research!)
Assuming you already have a free WordPress blog and you want to go self-hosted with it, you can easily do so (without losing any posts, pages or comments) by following these steps:
1. Get Your Own Hosting + A Domain Name
As we already discussed, going self-hosted means that you are independent of any blogging platform and that you own the rights to your own website and do pretty much whatever you like with it.
A hosting company allows you to do all that by storing your website on their servers and companies such as Bluehost (I've been with them myself for nearly 2 years now and I highly recommend them!) also include a free domain name (aka custom website URL). So you can kill two birds with one stone and save some money in the process.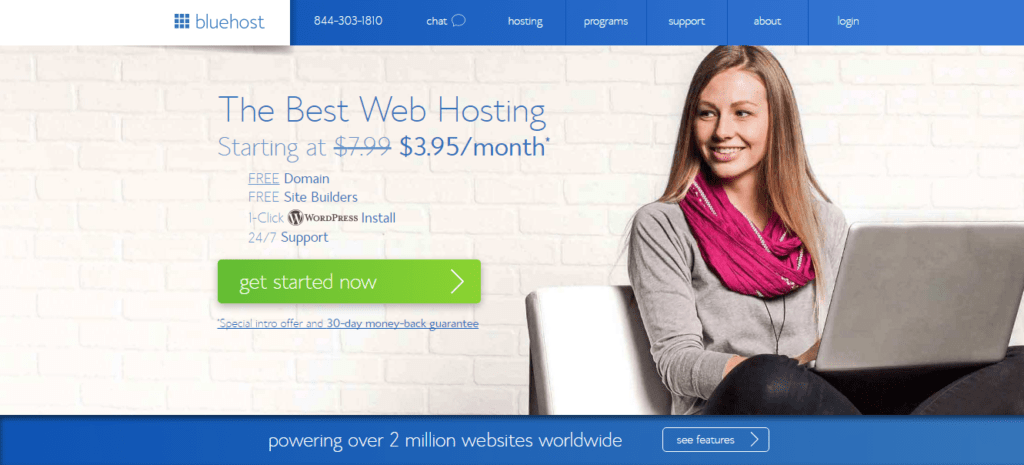 Bonus: Bluehost is offering my readers an exclusive promotion. Prices are dropped to just $2.95/month, for a limited time only! Get your blog started now.
2. Install WordPress
The next step you'll need to take is to install WordPress (org) as a way to manage your new self-hosted website. The good news for you is that Bluehost already included this step in their sign-up process and they do it all for you with just one click!
If you need help setting your blog up with Bluehost, or if you're starting a blog from scratch, read my tutorial on How To Start A Blog In 3 Easy Steps. You'll find all the info you need in there.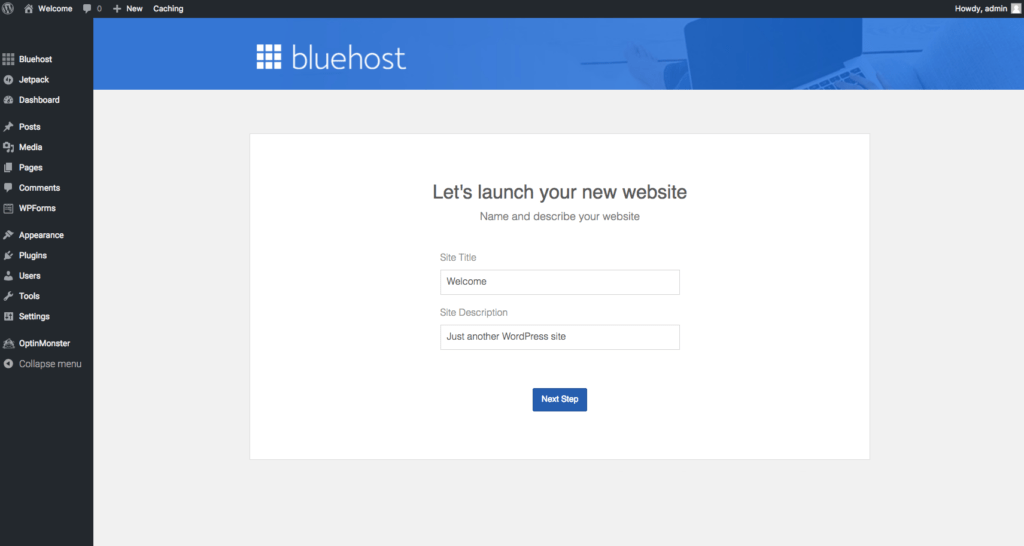 3. Export & Import Your Old Blog
Now that you have everything set up, it's time to make the big move! The first thing you want to do is to go into the Dashboard of your old, free blog and under the "Tools" section > "Export" (in WordPress.com – it might differ a bit on other platforms) you will find a button that says "Download Export File".
Make sure you select "All content", so this way, the file you download will contain everything that was on your old blog.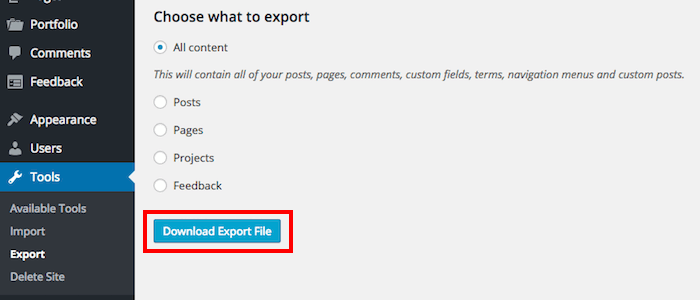 Once the file is downloaded, log into the WordPress dashboard of your new self-hosted blog and follow the same process, only this time go to "Tools" > "Import" > "Install Now" and select the platform you are importing from. (If your old blog was a WordPress blog, choose WordPress. If it was a Blogger blog, choose Blogger and so on.)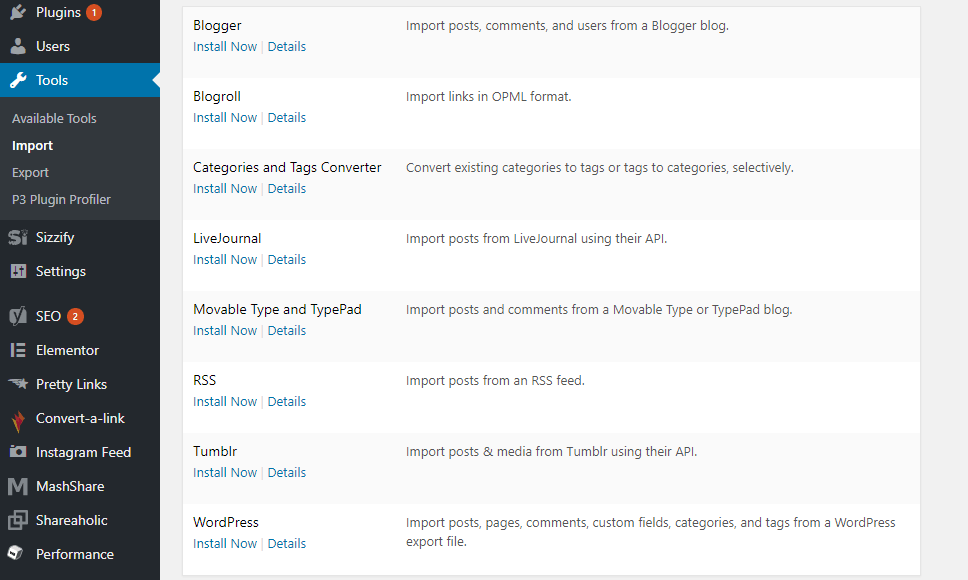 From here, you will be prompted to download a free WordPress plugin that will deal with the import, and all you're going to have to do is to select and upload the XML file you just exported from your old blog. (Stuck at this step? Here's a quick guide with more info on how to import your new website.)
And voila! Your new blog will be up and running and ready to be customized according to your needs.
---
If you've been blogging for a while and you're really passionate about it, why not go all in? Go self-hosted now for only $2.95/month, because if you're anything like me, you'll be even more motivated to stick with it after you invest a little bit in your website.
And once you've done that, a post that can be really useful as you prepare to take the next step into the blogging world is 12 Must-Do Tasks for the New WordPress Site Owner. Enjoy!
7 Reasons To Go Self-Hosted With Your Blog