How To Become A Well Paid Pinterest Manager
What would you say if you found out that you can make money pinning by working from the comfort of your own home? Because I'm here to tell you that it's possible and to reveal a legit way to make money with Pinterest.
Working from home, whether it is to make a full-time income or simply some cash on the side, it's becoming more and more of a reality, as online businesses thrive and new opportunities are created every single day.

Please note that this post contains affiliate links and any purchase made through such links will award me a small commission (at absolutely no extra cost for you). These funds help me feed my dog and keep this blog up and running. Learn more about it here.
From freelancers that go full-time, to VAs (virtual assistants) that want to supplement their income and bloggers that use their expertise to make money blogging, it's no secret that there are now, not one, but countless ways to generate an income online.
And Pinterest offers multiple ways in which you can earn money pinning. With over 175 million active users, Pinterest is one of the fastest growing social networks out there, providing countless opportunities for business owners and service providers altogether.
This post will show you exactly how you can use Pinterest to make money for yourself or to help others make money and get paid for it.
The great thing about making money online is that no diploma or higher-education is needed to be able to scale, price your services higher or make more money. However, in this case, there is a requirement that will influence your online earnings.
You Need To Master Pinterest First
To be able to successfully make money with Pinterest, you will need to master the platform first. You need to learn the ins and outs of how Pinterest works, know how to set up and grow an account there, how to drive traffic to a website through it and so on!
If you've been on Pinterest for a while, you probably know most of this. But if you're new, or you feel like there are things that you still need to learn to fill in the gaps of your expertise, I highly recommend doing your research or investing in a Pinterest course or ebook.
(If you want to become a Pinterest VA and ask people to trust you with their accounts, you need to know a bit more than the basics. And sometimes, you don't know what you need to know until you dive in deeper into this platform.)
If you're looking for some free resources to help you get started, check out the following:
But the reason why I recommend investing in something that can help you master Pinterest, it's because it will speed up your learning process (and save you hours and days of research, failed attempts, sweat & tears), which means it will improve your chances of getting paid quicker.
Look at this as an investment, because you will get a big fat return on this. (And you'll see exactly how in a minute.) But if you're ready to become a Pinterest expert (which is needed if you want to make any real money pinning), then I highly recommend the following resources:
After reaching over 11k followers on Pinterest (with a reach of over half a million), and getting 80% or more of my monthly traffic from Pinterest, I decided to trace back my steps to figure out how I did it, so I can help others replicate my success.
I've included everything I've learnt about Pinterest in the past few years (including the most recent updates + going in detail about how to read and understand your analytics so you can tailor my strategy to your audience) in my new ebook that is a must-have for bloggers and business owners who want to go in deep when it comes to understanding and mastering Pinterest.
This mini-course is a guide to manual pinning that blew my mind! I've been on Pinterest for years, but never crossed my mind to try out some of these strategies. Within 2 weeks of implementing what I've learned in here, my Pinterest views doubled, reaching 500k per month, and my blog traffic grew accordingly. Manual pinning is going to be an essential part of making Pinterest work for your and others, so I highly recommend getting familiar with what works.
Plus, you get to save money on Pinterest schedulers! (I still use them, because they save loads of time, but I incorporate manual pinning in there to be extra strategic.)
Admittedly, this course is a bit pricey, but it's the ultimate Pinterest course, and probably the only one you'll ever need to take. (Just look at the course outline! It covers everything you can ever hope and need to learn about Pinterest, and it's all in one spot!)
That being said, I truly believe that it's worth it because you can end up making the money back within a month, and secure a reliable income down the line.
If you're tackling certain Pinterest problems, this shop is an amazing resource! From custom pin graphics that you can grab for only $7, to checklists and other graphics templates that cost under $50, you can find everything you need to manage Pinterest for yourself or for clients.
A legit way to make money on Pinterest
So, if you made it here, let's assume that you're already a master in all things Pinterest, or that you're going to focus your attention on learning everything there is to know about it for the next weeks or so.
Now, how do you actually start making money pinning?
Well, I'm glad you asked because I'm going to reveal the best way to make a part or full-time time income with Pinterest.
💎 Become A Pinterest Manager / Virtual Assistant
The first way you can make money, working from home, and spending loads of time on Pinterest, is by becoming a Pinterest VA. A virtual assistant (VA) is a freelance worker that acts like an independent for-hire professional who provides a various number of tasks and services for business owners or bloggers who are overwhelmed and want to delegate certain tasks.
As a VA you can work location-independent from anywhere in the world, make your own hours and choose what clients you want to work with. It's a great way to get paid for your time and make some money on the side (or even start a full-fledged VA business) by leveraging your skills and knowledge.
New online entrepreneurs get started every day, and, in order for their businesses to get off the ground, they need help. Pinterest happens to be one of those essential traffic-driving platforms, that all businesses need, but that few have the time for.
Just to give you a little taste of what Pinterest can do for online businesses, I happen to get over 80% of my traffic from Pinterest (along with most bloggers out there), and Pinterest users are more likely to buy than those of any other platform, which means Pinterest can drive sales to any business that is selling anything online.
So, now more than ever, business owners prefer to hire someone to set up their Pinterest accounts and manage it, because they simply don't have the time to learn how it works and to stay on top of it. And that's where you come in.
A Pinterest VA serves the same purpose as a regular VA, but instead of having to master a ridiculous number of platforms and skills, you only need to master Pinterest. And once you do that, you can end up offering your Pinterest management services for up to $40 (or even more) per hour.
My friend, Kimi, for example, offers Pinterest Management services from $200 to $500 a month and charges up to $350 for an account set-up or makeover. (And I happen to know that she has been fully booked for the last couple of months!)
Another friend, Jessica, charges $40 per hour for Pinterest upkeep work and has packages that cost up to $200/month for scheduling pins.
Gina built an entire VA business from scratch, and within 6 months she was earning $4,000 a month, just by working part-time. (She has a great blog post where she explains how she did it. Read it here.)
And these are just a few examples of people that took their Pinterest expertise and started charging for it. While I don't offer this service anymore (I decided to offer coaching services instead), I was hired once at the very beginning of my blogging journey, and I easily charged $20 per hour for creating pins.
So not only is this a great way to make a full-time income online, but even as a newbie, you still get paid better than most part-time jobs out there. (And you get to do it from wherever!)
📌 PIN ME FOR LATER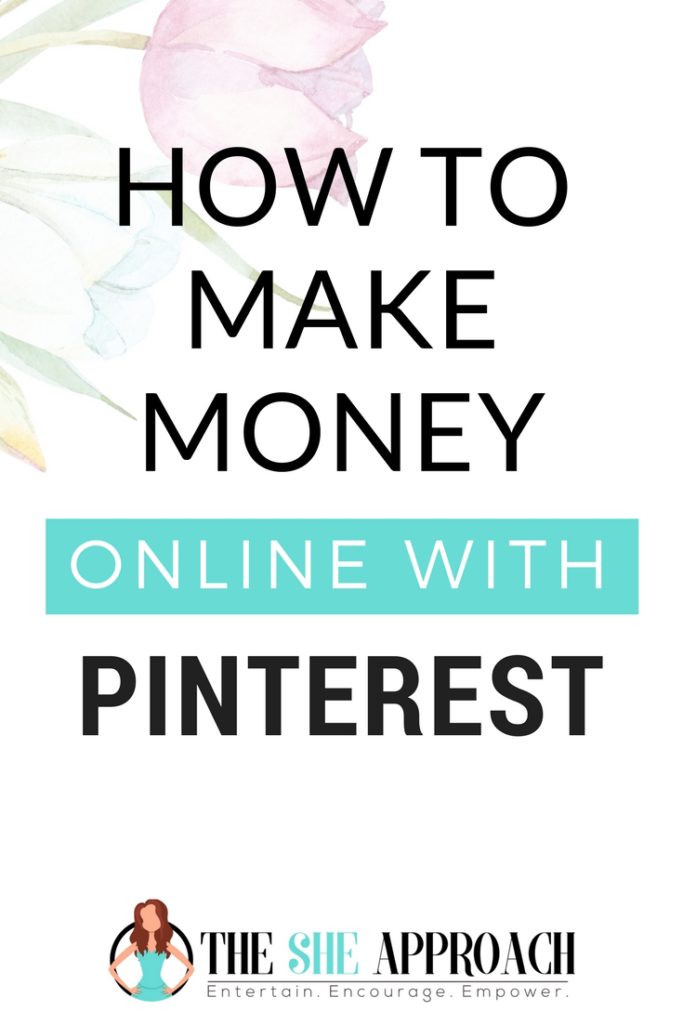 How To Become A Pinterest VA
If you love and understand Pinterest, becoming a Pinterest VA is a no-brainer. My friend, Kristen, and the one who introduced me to this concept in the first place, has a great blog post on this topic, that I highly recommend reading if you want to learn more: How To Become a Pinterest Virtual Assistant.
Kristen started off as a Pinterest VA in 2015 and she worked with all kinds of clients from bloggers to Etsy sellers, authors, spa centers, online shops, churches and more (this just goes to show how many businesses can really benefit from improving their Pinterest presence).
She got fully booked month after month and decided to become a Pinterest VA full time. (Again, another proof that this can actually work!) Because she started getting so many questions about how she did it, Kristen decided to partner up with another Pinterest VA, and create a course that outlined everything from her Pinterest strategies, to how she got clients and managed her workload.
The course, which I highly recommend enrolling in if you're reading this and thinking "this might be for me", is called Become a Pinterest VA TODAY! and it only opens a few times a year.
If you're on my email list for some time now, you probably heard me talk about this course before, because I truly believe that this is the best way to speed up the learning process and start a profitable business quickly.
In fact, past students of the course are reportedly making between $25 to $50 per hour offering Pinterest management services, which means they get to work from home, on their own terms and making up to $3,600 per month – while working part-time!
If you want to know how this is possible and you're willing to put in the work to learn the process, sign-up for the Become a Pinterest VA TODAY! waitlist! The course is about to open its doors and accept new students soon, and I happen to know that people who are on the waiting list get priority + a hefty discount that you don't want to miss out on!
If you're waiting for enrollment to open, but you're eager to get started, do scroll up and find out the free and paid resources that can help you get started with understanding and mastering Pinterest.
You can also download Kristen's Pinterest VA Prep Workbook here (it's free!) and find out what are the first steps you need to take in order to start selling your services as a Pinterest manager.
Or, if you already have that part figured out, read my guide on how to create your own website for under $3 a month because you will need a platform to showcase your services, packages testimonials + where potential clients can find and contact you.
💎 Make Money Pinning With Affiliate Marketing
If you don't want to trade your time for money, and you're looking for a way to supplement your blogging income or earn some cash passively, you can also make money pinning with Affiliate Marketing.
In fact, my first affiliate sale ever was made on Pinterest (<- and I share details on how I did it step by step in the blog posts I linked here) and Affiliate Marketing is the main way I monetize my blog now, so I know for a fact that it works!
If you have no idea what Affiliate Marketing is or how you can use it on Pinterest, take a moment to read the following blog posts I've written on the subject and check out the resources I linked to because they have helped me tremendously!
The process works something like this: you upload a picture of a bag for example along with your affiliate link > people click on the picture and get taken to the shop > they make an online purchase > you get a commision for that sale.
But there is also more to affiliate marketing then it meets the eye, so if you want to be sure that you're doing it properly (and not wasting time on creating pins for affiliate products that will never sell), check out the following premium tutorials as well:
If you've never used affiliate links on Pinterest before, this is the course for you! In fact, this is the training that helped me make my first $100 in affiliate sales and it's the reason why I become so obsessed with making money pinning. (It used to be an ebook, but now it expanded into a brilliant course!)
If you're just starting out with Affiliate Marketing and you need some guidance on making your first $1,000 in affiliate sales (along with learning about the legalities of using and disclosing affiliate links), this is the training for you!
It includes a list of over 500 affiliate programs you can join (that pay between 5% and 50% commision), case studies that give you an insight into how I did it, access to a private Facebook support group and much more!
If, however, you're already an Affiliate Marketing pro when it comes to your blog, and you just need help understanding how to create passive income with Pinterest instead (including the best practices for using affiliate links on Pinterest, what's the most profitable board you can create and much more), this is the training for you!
I actually paid full price for this myself (and it's super affordable for the value that it offers) and I doubled my affiliate sales coming from Pinterest within a few months.
---
Although it's going to take you more time to see real money coming in from affiliate sales (some programs have a payment threshold, so you need to reach $100 in commisions for example before they pay you), using affiliate links on Pinterest is a great way to leverage your time and start earning some money online passively.
Not to mention, that if you master this skill, you can raise your Pinterest VA prices and help your clients make money as well. It's a win-win!
Have you considered monetizing your Pinterest account in one of these two ways? Let me know in the comment section below! I'd love to hear your story.
How To Make Money On Pinterest (And Become A Pinterest VA)