This is not the first time I babble about the importance of getting started on your email list for your blog, business, online shop or pretty much anything else! In fact, you can read my entire post about why bloggers need an email list here.
When I wrote that post, my top recommendation for an email service provider was Mailchimp so I am writing this as an update since I recently switched from Mailchimp to Mailerlite and I cannot brag about it enough!
In the spirit of full disclosure, please be aware that this blog post features affiliate links. More about that in my Disclaimer page. But the beauty of these email providers is that they both offer free services until you reach a certain number of subscribers anyways.
Why I left Mailchimp

The reason why I decide to switch wasn't because I was unhappy. Mailchimp has its pros and for a first time user of any mailing service, it thought me a lot. I learned to manage the slightly chunky interface and design my email newsletters the way I wanted (although they didn't look very professional).
You can read the full list of PRO's and CON's in my previous blog post.
But it came down to the features such as automation and landing pages which were not included or at least not unless you upgrade your account. I was still trying to focus on growing my list and figure out a newsletter strategy and I didn't want to pay for services that were crucial to that at this point, where I am still building a relationship with my subscribers.
But all the other email providers that all bloggers rave about and have all the features I needed (such as Convertkit and AWeber) only have a free trial after which you start paying, no matter the amount of subscribers.
Not to mention that Mailchimp has some strict policies about the content you send out. For example talking about affiliate marketing or making money at home will raise red flags with them and cause you to lose your account and the list you worked so hard on building. And both of those were subjects I planned to approach on my blog.
💎 I WAS FACING A PROBLEM
I wanted an email marketing interface that will allow me to create opt-ins and offer things such as ebooks and printables in exchange for my reader's email address, an automation tool that will sent out emails immediately after they join with the promised ebook , the possibility to create landing pages and segment my list according to their interests, not to mention the ability to approach topics that Mailchimp frowned upon.
And I wanted all this for free…
---
Why I switched to Mailerlite
---

A few months into using Mailchimp, after I reached a certain number of subscribers, I gave up on searching for another email provider. Until Mailerlite started being recommended again and again in the Facebook blogging groups I am in. And I decided to check it out.
It didn't take long for me to make the switch from Mailchimp to Mailerlite (it took under three minutes to import my previous email subscribers) and I've been loving every moment since. Here are some features I think you would love as well:
💎 PROs
Free automation tool (you can send out automatic emails for certain situations)
You can customize everything
It's completely free until you reach 1000 subscribers
It's only £8 after that until you reach 2500 subscribers and £16 monthly until you reach 5000 (unlike Mailchimp where you start paying $30 after you reach 2000 subscribers and you can end up paying $50 while still in the 4000 subscribers mark)
You can send unlimited email campaigns (Mailchimp will only allow you a certain number for the free version)
You can create integrated forms (like the ones I have on the sidebar or in my blog posts), pop-ups or even create landing pages Super easy to use interface (took me one day to learn how to use everything)
Easy segmentation tools (you can divide your subscribers into groups and only send them emails you know they would be interested in)
They have split campaigns testing, custom workflows and more cool features that allow you to send the same email with two different subject lines to figure out which one has a higher open rate, or send emails twice if they weren't opened or even send different sequences of emails based on if someone clicks on a specific list or not.
Excellent customer service! They replied in 5 minutes and walked me through creating my landing pages step by step.
💎 CONs
I'm a big believer in writing balanced reviews (and all the other email marketing tools I recommended also had cons) but I simply can't find anything that would deter other or me from using it.
Based on other reviews I read, the only CONs that Mailerlite had in the past has already been taken care of (for example they didn't have an automation tool a few years ago) and they are constantly improving and evolving.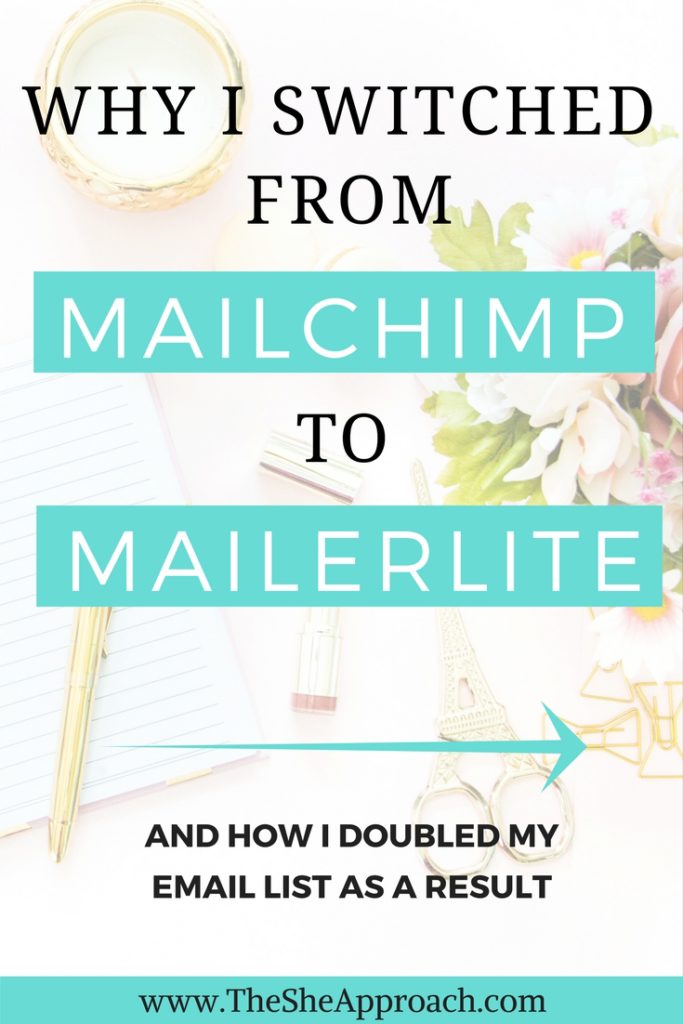 Did it make a difference?
While I have only been using it for less than a month, Mailerlite has already improved my email marketing game. Because I was able to create opt-ins and landing pages and offer value in return, my email list grew by 30% in a span of under three weeks. And all because I switched from Mailchimp to Mailerlite.
💎 UPDATE: In two months of using it I tripled my email list, started making affiliate sales and was able to create a free email course without having to pay anything yet.
An opt-in that had great success (got me over 200 new subscribers already!) is my Pinterest Checklist For Using Affiliate Links. For that I used a in-post webform (see an example below) and created a separate landing page as well.
---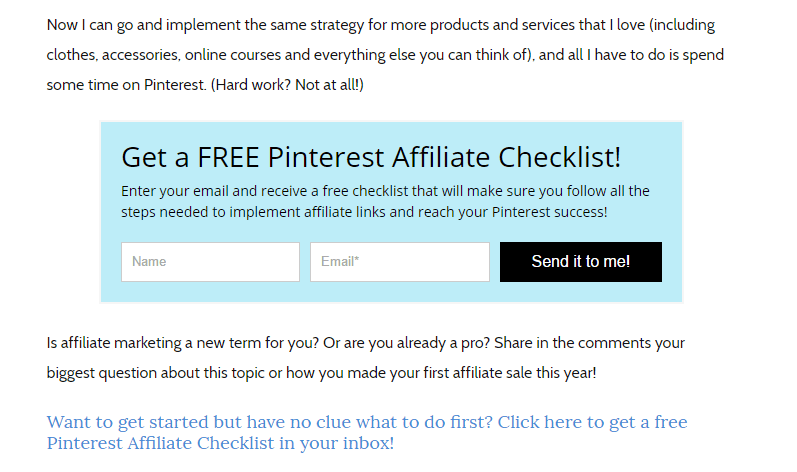 ---
The beauty with adding a sign-up form at the end of a post is that people who love what they read are going to sign up for more. You don't only get subscribers, you get people interested in your content!
Below is another example of a landing page I created for my resource library.
With Mailerlite I was able to customize their templates and create my own landing pages in less than 5 minutes. (They are super effective because there are no other distraction on the page and my conversion rate is through the roof because of that).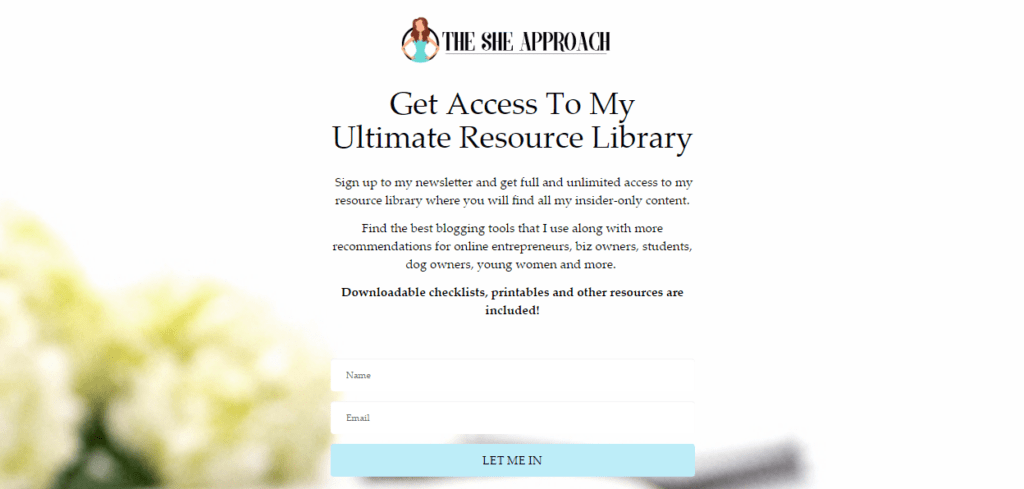 Not only that, but my emails look way more professional and I am able to send out automatic emails when someone joins my email list and I was even able to create an email course (see below) at no cost for me.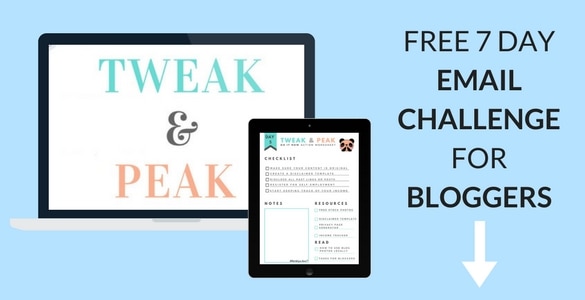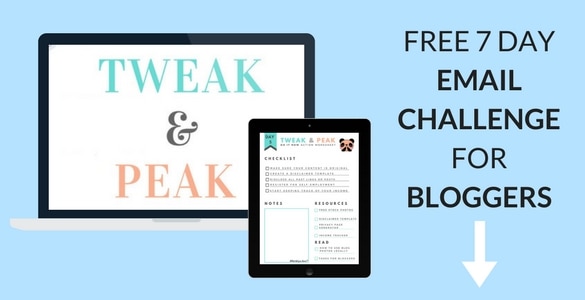 Bottom line, Mailerlite has already made a huge difference and I honestly recommend it to anyone who is looking to grow their email list.
The best thing about it is that you can test the interface until you reach 1000 subscribers and see if it suits your needs for free! Another favorite feature is the easy integration and plugin that allows me to add sign-up forms (like the one above) straight from WordPress once I created it on Mailerlite.

What email marketing provider do you use? Have you ever heard or considered Mailerlite? Let me know in the comment section below!