Amazon Associates Tips For Affiliate Marketers & Bloggers
Let's talk about the Amazon affiliate program! They are a great opportunity if you know how to use them, but have a few caveats that get bloggers kicked out often if you fail to follow the rules.
In this article, I'm sharing some DO's and DON'Ts that will keep you on Amazon's good side and help you increase your amazon affiliate earnings at the same time. Follow along or check out the Youtube video that inspired this blog post below:
Before getting started, remember to check out the updated Amazon's Operating Agreement here to keep up to date with any new rules. And keep in mind that this article contains affiliate links as well.
Amazon Affiliate Marketing DO's & DONT's For Bloggers
If you read Amazon's policy when you joined their affiliate program, but still can't quite make out what you are allowed to do and what could get you kicked out, allow me to break it all up into 5 best practices and 5 common mistakes!
1. DO MAKE 3 SALES IN THE FIRST 180 DAYS OF JOINING
This is essential in order to complete your affiliate process sign-up! The way that the Amazon Affiliate program works is that anybody can join and create an account and start promoting amazon products immediately.
But your account isn't activated and fully approved until you make your first three qualifying sales.
You do get 180 days from joining to make those sales, and if you don't you will get kicked out. (Not to worry, you can reapply at any time.) But don't join the program until you are ready to start implementing links on your blog website.
2. DO NOT FORGET TO REPLACE YOUR LINKS IF YOU GET KICKED OUT
Let's say you wrote a bunch of content and you have incorporated a lot of Amazon affiliate links on your blog, website, Youtube, and so on. But you didn't meet the minimum requirement of sales, and got kicked out of the affiliate program.
No big whoop! You re-apply and get reassigned a brand new affiliate account, with a new unique code. That means all your affiliate links need to be created and replaced!
If you still use your previous links, you won't actually be awarded commissions for them and they won't count as sales towards your new goal. So make sure to go back to all your older Amazon affiliate links and replace them.
3. DO INCLUDE THE REQUIRED AMAZON AFFILIATE DISCLOSURE
The second thing that you do want to do is to make sure you use the amazon required affiliate disclosure. Most affiliate programs are happy with you placing a general affiliate disclosure on the blog posts, pages or content where you feature affiliate links.
RELATED: How To Properly Disclose Your Affiliate Links
However, Amazon is a little more particular as they require you to specifically mention that you're an Amazon partner and that you earn from qualifying sales.
At the very minimum, you will need to include wording such as "As an Amazon Associate I earn from qualifying purchases."
4. DO NOT INCETIVIZE PEOPLE TO USE YOUR LINK
Because you can generally tweak your disclosures to sound a little more personal to your blog, affiliate marketers sometimes get creative and try to add a humanizing tone to their disclaimers.
There are no rules against this. HOWEVER, Amazon is very strict when it comes to language that incentivizes your audience to buy through your link.
Anything from cute disclaimers like "if you buy through my link, you help support my blog and feed my cat" or other incentives (like giveaways, bonuses or personal pleads) are forbidden to use in the same context as your Amazon links.
5. DO PROMOTE RELEVANT AMAZON PRODUCTS
If you want to earn money with Amazon affiliates, this is a must.
Just because Amazon sells everything, that doesn't mean you should place links or images on your blog for every single random product out there.
Instead, focus on picking products and offers that are relevant to your content and specifically relevant to your audience + the problem that you're helping them solve.

For example, you won't see me promote dog treats on this blog – although I made hundreds of affiliate sales for them on my secondary blog. It's all about context!
6. DO NOT ASK YOUR FAMILY TO BUY THROUGH YOUR LINKS
If you're thinking that using your own affiliate links to make purchases or asking friends and family to do so from their accounts is an easy way to earn some money, think again!
This is once again against Amazon's rules of service and it could get you kicked out. Not to mention that Amazon knows (don't ask me how – they are just able to track your connections and contacts…) and those sales won't even count.
P.S.: Don't worry – if it happens accidentally, you won't get in trouble. But if it's a repeat offense, your account could get flagged down.
What you can do instead is join support groups – for example, my free Facebook group for bloggers – and write a post in there saying that you need some help getting your first qualifying sales.
7. PROMOTE THE AMAZON BOUNTIES & OFFERS

If you want to boost your Amazon affiliate income, another best practice that you can do as an affiliate is to promote the Amazon bounties and various offers. For example, at the moment you could earn:
These offers and promotions often change, so be sure to check out the Promotion > Bounty Program tab for the newest updates. You'll also find your affiliate links in there for each offer.
The best part is that a lot of these free trials or baby/wedding registries are FREE for your audience to create, but you still get paid a fee! Win-win.
8. DO NOT DISPLAY YOUR AFFILIATE LINKS OFFLINE
You get to choose where you want to include your Amazon affiliate link, widgets and banners. But under no circumstances should you include any of those "offline" or on private pages, where Amazon can't trace back the location.
For example, you CAN'T include Amazon affiliate links in:
emails
PDFs
eBooks
online courses only visible to students
private conversations online
private Facebook groups
private pr password protected website pages
This is probably one of the most common mistakes that new Amazon affiliates make that get them kicked out, so be very careful where you share these links.
9. DO SHARE YOUR PERSONAL EXPERIENCE WITH PRODUCTS
Another thing that you do want to do is to share products that you personally love and share how they helped you. By incorporating your real-life experience and feedback, you're able to market products more authentically and eliminate the "spammy" factor that sometimes comes when we display affiliate offers.
Just like how it would feel if you're trying to share a product that you really love with a good friend.
10. DO NOT MENTION THE PRICE OF AMAZON PRODUCTS
What you DO NOT want to do is to share the price alongside that. Amazon has a very specific rule against their affiliates embedding the price of a product when you're promoting it.
You are not allowed to mention the price of products in blog posts, product comparison tables or anywhere else. This is done to avoid confusion, in the case that the product prices drop or skyrocket.

But there is a way around that! If you can update the price every 24 hours, and add a time-stamp of the most recent update, Amazon will let you include the price. Obviously, this would take hours to do manually every single day, but all you need is a tool or plugin that does this automatically.
Here are the two Amazon approved plugins that I love:
Lasso affiliate plugin – works for multiple affiliate programs but create especially beautiful Amazon product display boxes, featuring product prices, features and even the Prime badge!
AmaLinks – Amazon specific plugins for affiliates, allowing you to create stunning boxes, buttons and even comparisson tables to boost your affiliate earnings.
Both have a lot of other great features that work in line with Amazon's rules and regulations and will make your life a lot easier! Not to mention that they will improve your conversions.
11. DO CREATE AMAZON PRODUCT COMPARISSON TABLES
Adding Amazon affiliate links to your WordPress blog is not enough. If you want the make the shopping experience even more pleasant for your blog audience, you can create product comparison tables, and add your favorite Amazon products in there.
Help your readers compare their top choices at a glance, and multiply your chances of getting clicks and sales – especially in product round-up posts and gift guides.
If you want to do this for free, you can check out my tutorial above. Or better yet – try the AmaLink plugin and create customizable product tables especially for Amazon!
You can see AmaLinks in action below, in this beautiful display table that you can add to sum up your product choices and recommendations. And this also allows you to include the price as a feature!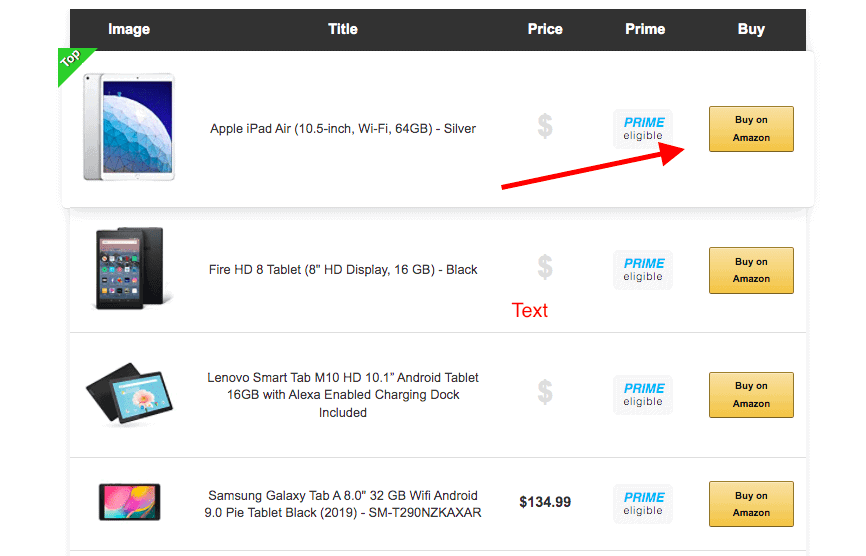 12. DO NOT CLOAK OR SHORTEN AMAZON AFFILIATE LINKS
Speaking of things that will get your Amazon associates account banned – make sure you do not do this one last thing that amazon absolutely hates! Do not use shortened or redirection links when creating your Amazon affiliate links.
For example for some of my other affiliate programs, I use a plugin to go from links looking like
"www.shareasale.com/affiliateidhere/174193051347184/moretext/83461341904"
to a short beautiful link like
"www.thesheapproach.com/tailwind"
But Amazon doesn't like you using any external software to cloak, shorten or redirect Amazon affiliate links. Either use them how they are or grab the shortened link they provide (don't use Bitly or other external tools!)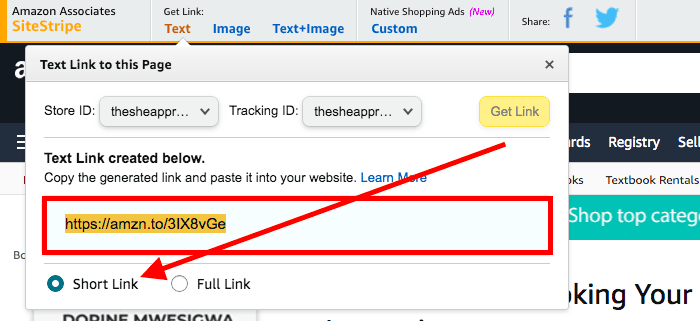 I usually use the full link in my blog posts, but in places where the link structure is visible to my audience, to make it look less spammy and easier to copy (for example in my Youtube video descriptions), I include the short link version that Amazon provides.
Stick to that and you won't get in trouble with them!
13. OPTIMIZE YOUR AFFILIATE LINK PLACEMENT & STRATEGY
Placing Amazon affiliate links and banners randomly on your blog is not against any rules. But it won't get you very far when it comes to earning consistent affiliate revenue from the Associate's program.
Instead, what you want to do is learn how to include Amazon affiliate links in different formats intentionally and strategically so that they are visible and useful to your audience.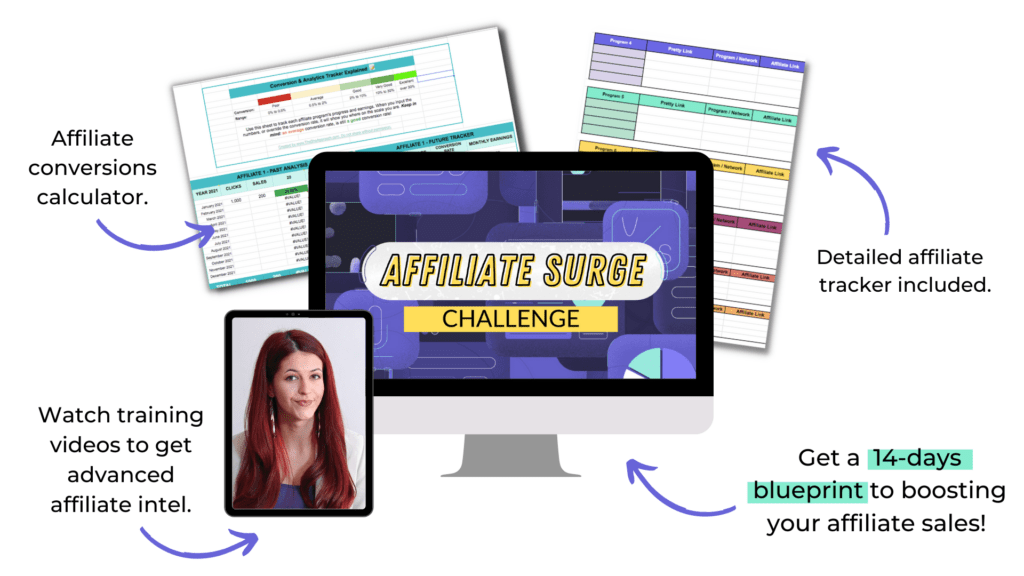 If you want to learn more tips (and see live examples) of tweaks I made on my blogs to grow my affiliate revenue, check out my 14-days affiliate challenge for bloggers.
Inside the challenge, you'll learn how to optimize the link placement, increase your clicks and conversions – all with the traffic that you already have. Because you can make more affiliate sales even if you're a small or new blogger if you know what strategies to use!
More Affiliate Marketing Resources For Bloggers
Found this article helpful, but still looking for more guidance or resources to get off to a good start in your affiliate marketing journey? Make sure to also check out:
Best Practices & Biggest Mistakes For Amazon Affiliate Marketers