Best Practices For Creating And Selling An Ebook (On Your Website + On Amazon)
In the last post, I broke down the exact steps you need to take to be able to write your first eBook in the quickest way possible. But for some of us, the writing is the easiest part – we do it all the time!
But when it comes to publishing our eBooks, having a successful launch or selling it as a passive product, that's where we struggle. (If only they could teach us that in school!)
After launching not 1, but 2 eBooks (among other digital products) on my website, and self-publishing my first ebook on Amazon Kindle as well, I learn a few skills, shortcuts and systems that you can use to publish, launch and sell your first ebook.
And that's what this post is about. But because creating an eBook and putting it out there is a multi-step process that I couldn't possibly fit in just one article, I created a 3 part blog post series on this topic that you can find below:
2. How To Publish, Launch And Sell Your First Ebook (you're reading it now)
And, to make things even easier and help you find all the tools, templates, examples and software you need to compose, format, edit, publish, promote and sell your eBook, I've created an eBook Author Starter Pack that you can get access to for free right now!
But, without any further ado (because if you're anything like me, you've already put off publishing your first eBook for way too long!) here is how you can publish your first eBook, have a successful launch and sell it to make a passive income blogging:
Also please keep in mind that this post contains affiliate links, and any purchase that is made through such links will award me a small commission (at no extra cost for you). I only recommend tools and resources that I truly love, use and otherwise offer as alternatives, because there is no one right way to launch an eBook. But here is how I do it:
Step 1: Choose Where To Publish Your Ebook
The first thing you need to do is decide where you're going to sell it. If you read part 1 of the blog post series, you should already have this in mind as you formatted your ebook, because different platforms usually require different formats.
You should also have a goal in mind (what do you want this eBook to do for you, your blog or your business?) as the positioning of your eBook needs to be strategic. In other words, your goals should guide your distribution.
To help you choose, I've broken down the two main options you can use to self-publish an eBook online:
A. PUBLISH AN EBOOK ON YOUR OWN WEBSITE
Here's the thing: to publish an eBook you don't need a traditional publishing agency. And that's good news because it means you get more control, and that everyone can do it – no matter the size of their following. (So don't wait until you become "famous" to write an eBook. If you have something to share with the world, do it now!)
I've launched multiple eBooks to a small audience successfully, and I did it all using my own platform – my blog. Here's what you need to consider if you are thinking of doing the same:
PROs of publishing an ebook on your website:
You can price it higher (from $15 to $50) in comparison with other marketplaces where you need to keep your prices low because of the competition.
You get more control. You can run sales, give discounts, have a more interactive and original format / design for your eBook (that can be a huge branding asset) and more.
You can collect email subscribers. This way you know exactly who bought your eBook and you're able to send them dedicated emails, or exclude them from future promotions.
CONs of self-publishing an eBook on your blog:
You get less exposure. This simply means that you will need to bring your own traffic, create your own leads and work a bit harder to generate sales.
You will probably have less credibility. Because everyone can do it, it doesn't mean as much as the traditionally published book. (But it still has the power to increase your expert status!)
B. PUBLISH AN EBOOK ON AMAZON

Another brilliant way in which you can self-publish digitally is by getting your eBook published on Amazon Direct Publishing Kindle.
With this in mind, your eBook needs to follow their requirements and you need to deliver it in a specific format. But it's not as hard as it seems, and everyone can create an author profile on Amazon!
PROs of becoming an Amazon published author:
You will get more exposure. Amazon is a huge marketplace that will allow you to tap into an audience that might not know that your blog/website exists. Your eBook is also going to show up in more search results (both on Google and Amazon).
You'll get more credibility. Because not everyone goes this route, and because Amazon is such a well-established and well-trusted brand, publishing an eBook on there will boost your reputation.
CONs of getting your eBook published on Amazon Kindle:
You will get paid less. Ebooks on Amazon are priced anywhere from $2.99 to $7.99 (depending on content, topic, length etc), out of which you only get paid 70%. (Usually, the volume of sales makes up for the lower price point, but it's a huge jump from being able to price your eBook at $20 or $30 on your own website.)
You'll have less control. From collecting email addresses to being able to design your eBook in more creative ways, these choices are not available to you when you choose to publish on Amazon. And you have to play by their rules.
---
Keep in mind that the two choices are not mutually exclusive. (Unless you enroll in KDP.) You can publish an eBook on both platforms, but you will need to make some changes when it comes to design and formatting, as well as pricing.
I explain all this in detail and help you make a choice best on your goals, in my eBook self-publishing course, Ebook Bestseller Bootcamp.
Once you've decided where to publish your eBook, it's time to get to work!
Step 2: Publish Your First Ebook
Once you've done your research, weighed out the pros and cons and made your choice, it's time to actually publish your eBook.
When publishing an eBook on Amazon, all you have to do is follow their instructions here. But if you've chosen to publish an eBook on your own website, you will need a software that can do the heavy lifting for you (processing payments, delivering the files, keeping track of your analytics and so on).
Here are a few platforms you could use to sell digital products, and especially eBooks:
Send Owl

– my personal favorite – from $9/month with no transaction fee

Selz

– free up to 5 products, $17/month and charges a transaction fee

Gumroad

– starts at $10/month and charges a transaction fee (also a bit outdated)

Sam Cart – starts at $49/month – worth it if you have other digital products for sale as well, as they come equipped with landing pages, upsells, an affiliate center and more
Thrive Cart – one-time payment and a lot of advanced features – this is what I use now
WooCommerce – free, but it slows down your website and it's not the best for selling digital products in the first place
My personal favorite platform and the one I currently use to sell my eBooks is Send Owl. They handle all payment methods (you can connect your Paypal and Stripe account to it and just see the money roll in for each sale), and because you pay a monthly subscription service, they take no transaction fees on your sales.
So, no matter how much you sell, you never pay them more than $9 per month – or whatever plan you are on. (Basically, you only have to sell 1 eBook each month to break even!)
They have some other amazing features such as the ability to recruit affiliates, offer upsells and discounts, and they handle all the analytics so you can keep an eye on how much you're earning each month.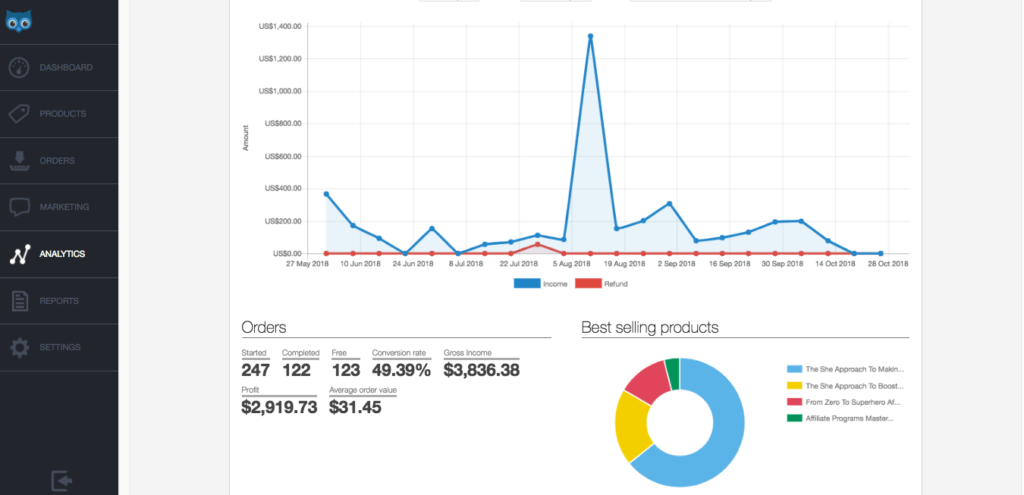 They also deliver the digital files via email to all the customers, offer you the choice to add your buyers to your email list, send updates of your eBooks when you make changes and much much more!
But all you have to do to publish your eBook with Send Owl is to create an account, create a product (set a title and a price), upload your PDF file (they support other formats as well) and tadaaa.
You are given links to allow your readers to add the product to cart or purchase it directly that you can now use on your sales page, within blog posts, or to sell to your readers directly (via email, social media and more!)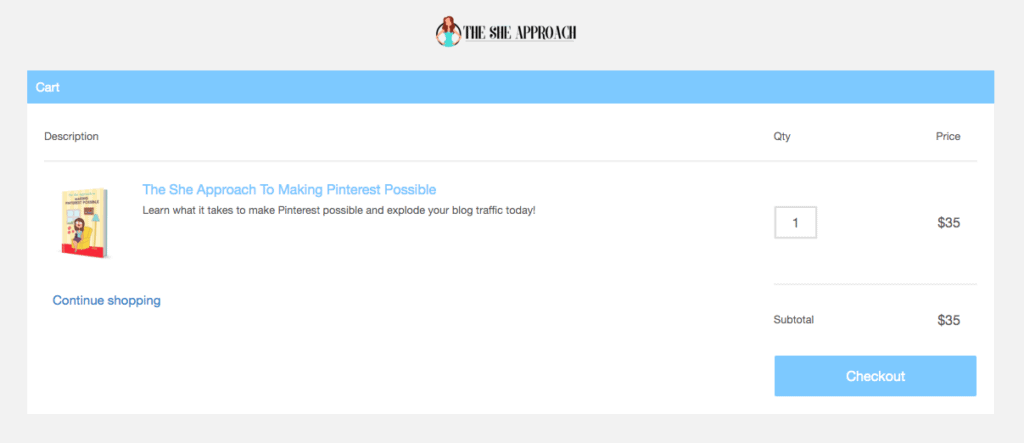 In conclusion, to be able to sell your eBook on autopilot, you need to use a software that will take payments and distribute the eBook file automatically to your buyers. When publishing on Amazon, they do all that for you.
But when you choose to self-publish on your own website, you need a 3rd party software to set that up. For new bloggers and first-time authors on a budget, I recommend Send Owl.
However, if you're looking for advanced features, and you're also planning on selling courses, programs or even subscriptions in the future, you might want to look into Thrive Cart or Sam Cart. They are specifically designed for entrepreneurs who've been at it for a few years.
Step 3: Create A Sales Page For Your Ebook
While some of the platforms listed above, such as Amazon or Thrive Cart, create sales pages for you directly, for other checkout options you need to get a little bit creative and create your own sales page.
A sales page is basically a separate page on your blog where you sent buyers to check out your product. You display the eBook (or digital product), explain who is it for and what it contains, add reviews, and, most importantly, you give your readers the option to buy it.
The reason why I don't like or recommend using WooComerce or Gumroad to sell eBooks is because their sales pages builders are very limiting, not allowing you to properly share what your eBook is about. And a crappy sales page is always going to cost you sales, no matter how great your eBook topic might be.
EXAMPLES OF GOOD SALES PAGES FOR EBOOKS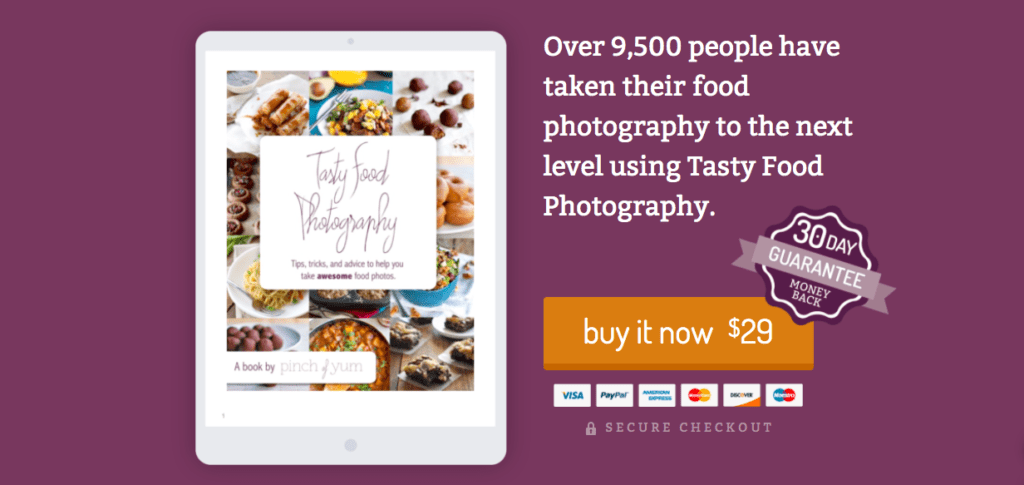 But here are a few examples of sales pages for eBooks that I absolutely love:
You can also check the sales pages I've created for my Blog Traffic eBook and Pinterest ebook. Even though they are blogging eBooks, you can still draw inspiration from them on how to structure for your sales page.
Creating a good sales page for your eBook is essential because that's how you're able to communicate with your readers what your eBook is about, why they need it, and what results they should expect to have it after reading it.
In case you have no idea where to start when it comes to building a sales page, from a technical perspective, you can read my tutorial on How To Create A Sales Page On WordPress For Free.
This is how I build my sales pages – all by using the free Elementor plugin.
Or you can get my Elemetnor eBook sales page template (that I modeled after my best-selling eBooks) to speed up the process and get a sales page up in minutes.
WHAT TO INCLUDE IN A SALES PAGE FOR AN EBOOK
And if you're not stuck on the tech side, but you want to make sure that your sales page converts, here are a few elements that every successful sales page has:
A visual representation of your eBook along with any other bonuses that you're including. So you need an eBook cover and a graphic of it, which you can easily create with Canva

or

buy ready-made templates from Creative Market.
A hook or a tagline. You need to be able to tell your readers what your eBook is about (and how it's going to help them) in one sentence. You usually add this at the top of the sales page to capture their attention.
A sales video. (Optional, but can be very helpful!) Record a video explaining your eBook, who is for, and the benefits they are going to get out of reading it.
Benefits and features of your eBook. Tell people more about your eBook. How many pages or chapters does it have, what other features should they know about, what is going to be different for them after reading it and so on.
Social proof and testimonials. Before launching your eBook, give out a few free copies to close friends or collaborators and ask them for a review or case study. Include those on your sales page!
"About you" section. Don't forget to explain to people who you are, why you're qualified to write an eBook about that topic and even share some of your personal experiences and struggles that you overcame.
Refund / FAQ section. Your sales page needs to answer all the potential questions that a reader might ask in order to guarantee your sale. So don't forget to add an FAQ section to answer those questions, explain your return policy or even explain your payment options.
Images and graphics. Because your sales page needs to take the reader through a journey (you are here, if you buy this eBook you will be here), you will probably end up having a lot of text on your sales page. To break that down and make it easier to digest, you will want to add some images, graphics and of course "buy now" buttons!
If you already have a sales page but it's not converting visitors to buyers, consider enrolling in Ebook Bestseller Bootcamp.
When you do, you will get access to my checklist of 12 elements every sales-page should have and an interview with a sales expert and copyrighter that's going to teach you how to use your sales page to tell a compelling story, instead of just trying to make a sale.
And there you have it! That's how you create a sales page for your eBook, that's going to single-handedly drive sales.
📌 PIN THIS POST FOR LATER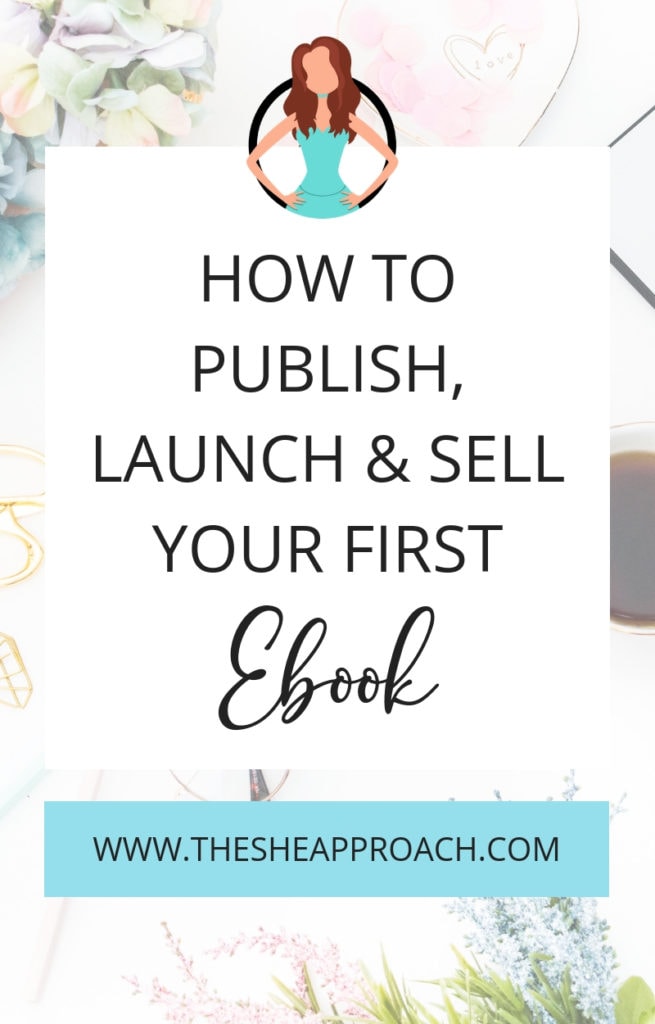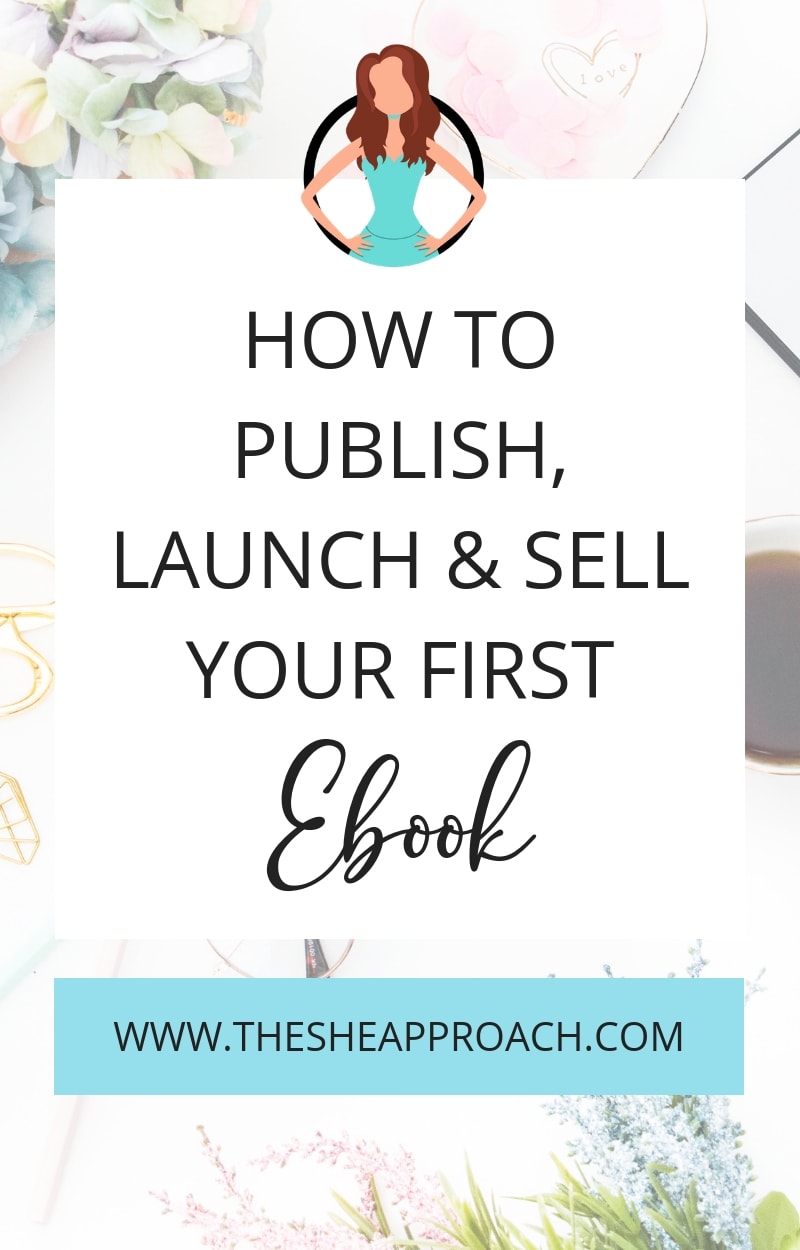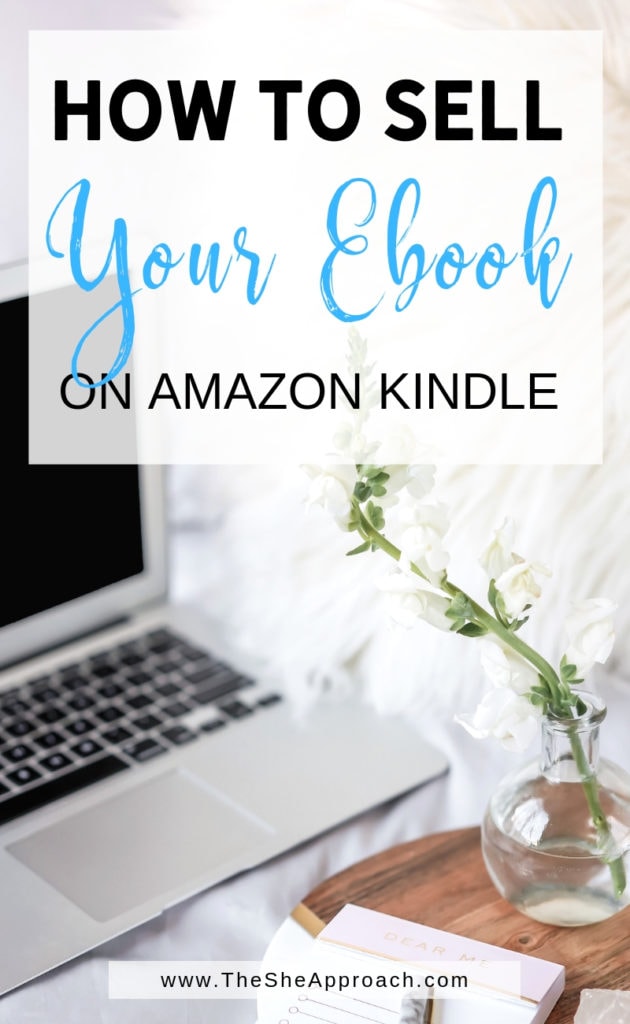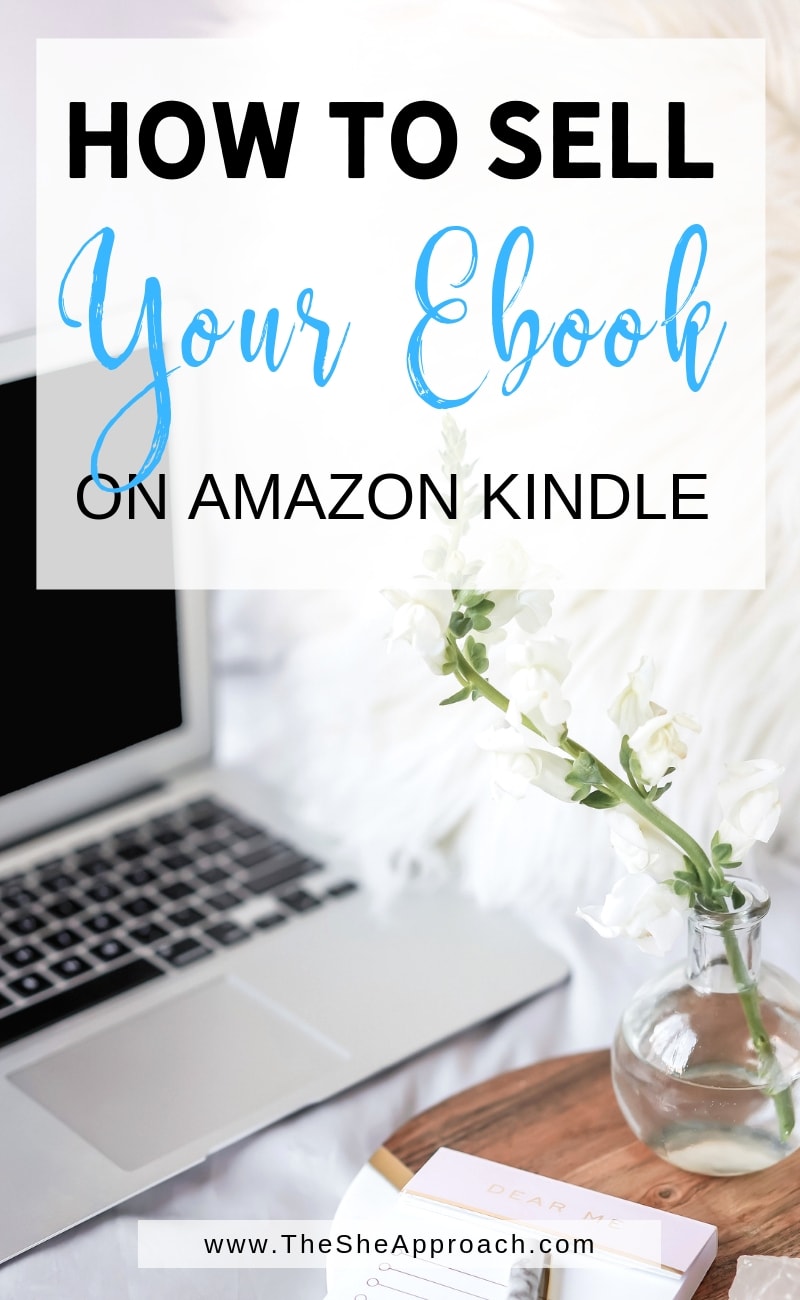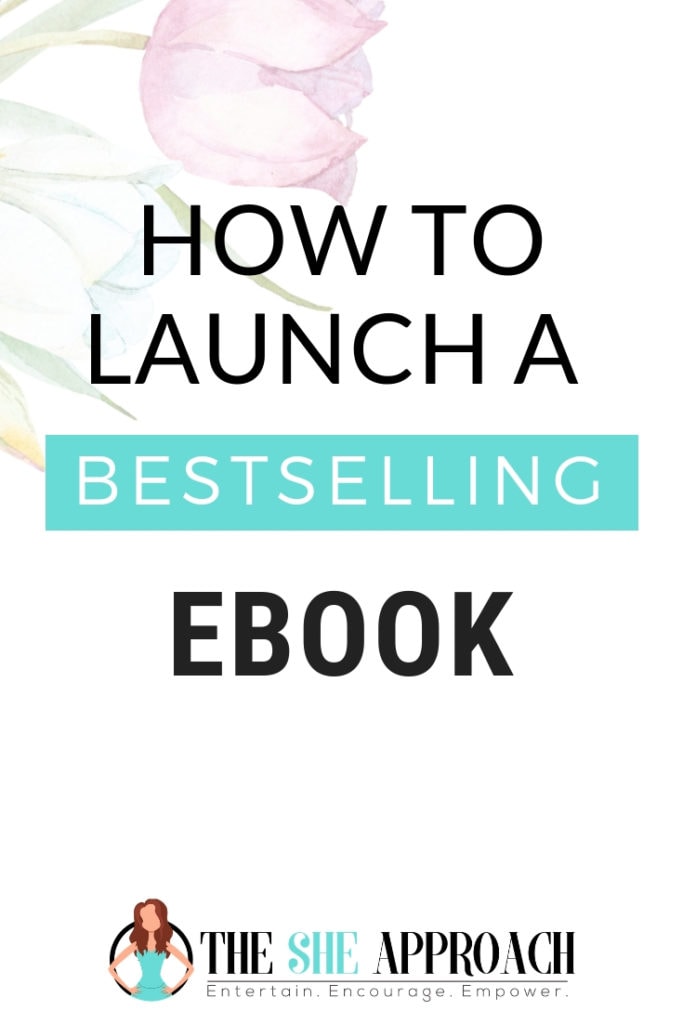 Step 4: How To Launch Your First Ebook
Once you've created your eBook and set up all the backhand processes that will make sure that it gets delivered to your buyers without you having to do anything manually (and once you've created your sales page as well), your next step is to plan the launch of your eBook and then publish it!
To help make this process easier, I created a few suggested activities that you need to do pre-launch and during the launch of your eBook.
PRE-LAUNCH ACTIVITIES FOR EBOOK AUTHORS:
Create buzz around the upcoming launch by telling your readers and your email list that you're writing your eBook. Include them in the process, keep them updated, give them snippets of what's going on to keep them engaged. (You're not a pop start. You can't just drop a new album overnight and expect everyone to buy it. You need to get your followers excited about it!)
Get reviews and testimonials. Before the launch of your eBook you will need to get at least 2-3 reviews to put on your sales page and use as part of your promotional content. So give out a few copies for free and follow up with people asking them to write a short testimonial.
Test out the platform you're going to use to sell the eBook. To make sure you're giving people the best experience possible when they buy the eBook, act like a customer and test out the checkout process. Make sure everything works properly to avoid any tech issues.
Set a launch date and establish a schedule for your launch. Plan things out in advance and set up a realistic date to get the eBook out. And remember, done is better than perfect!
Create promotional materials to use during the launch. Don't leave everything up to the launch week. Try to write your emails, promotional materials, and everything else and have those ready to go and scheduled if possible.
EBOOK LAUNCH TO-DO LIST:
Let people know about the launch! Write to your email list, shout it out from social media and create a lot of buzz during the launch period. (You can decide how long this is. I usually keep it around a week long.)
Offer an early bird price. The best way to promote your eBook during the launch week is to offer a discount and let people know that the price is going up soon. I generated over $2,000 in sales in the launch week of my last eBook by offering it at $15, instead of $35, which is what it's priced at now.
Ask your blogging friends to spread the news. Contact people you know if your field who have similar audiences as you and ask them to post something on social media, share a link or tell their friends about your eBook launch.
Send out 5-7 emails to your list. An email list is such a powerful tool when it comes to getting people to engage with you. Use it! Use different themes for your emails, offer value and drive people to the sales page.
Post on social media, do Facebook or Instagram lives, host a free webinar. You need to get in people's feeds and tell them about your eBook!
If you want even more information about how to have a successful eBook launch (because there is only so much I can write in bullet points) check out this amazing post on The 8 Elements Of A Successful eBook Launch.
And there you have it! That's how you self-publish your first eBook and have a successful launch. If you're looking for more tools, tips and support, be sure to access my free Ebook Author Starter Pack below:
But what happens after that? A mistake I see a lot of eBook authors make is the fact that they stop earning money once the launch is over and the buzz dies down.
How do you keep eBook sales rolling in, in order to make consistent passive income with your digital products?
To find out how to generate passive income with your eBooks all through the year, make sure you check out the third part of the series where I'm going to teach you to do just that!
Become A Bestselling Self-Published Author Today

Are you overwhelmed by all this information and you need a step-by-step guide to writing, creating and launching an eBook that actually sells?
If that's you, I invite you to check out my signature video course – Ebook Bestseller Bootcamp.
EBB is the ultimate eBook self-publishing course for bloggers & entrepreneurs who want to triple their impact and boost their income while doing it.
The course has over 30 video lessons and nearly 10 hours of video content, and it's going to teach you everything you need to know about topics such as:
How to manage your time wisely and write an eBook quickly
How to structure an eBook so that it's easy to follow along for readers
How to design an eBook and create a memorable eBook cover
What to price your eBook
How to self-publish on Amazon
How to create a sales page on your own website
How to market your eBook and get sales even when you're not working
How to work with affiliates and get others to recommend your eBooks
How to run flash sales and offer upsells to increase your eBook sales
And that's not all! When you enroll in EBB, you also get $500 worth of bonuses meant to give you shortcuts and help you launch your eBook successfully along with 5 expert interviews. See the full course contents + the list of bonuses here.
Frequently Asked Questions About Self-Publishing eBooks
Still have questions? It's alright – I got you! Check out the FAQ, and if your question remains unanswered, post it in the comment section below.
---
How do you make an eBook and sell it?
Creating an eBook is easy, but it's a lengthy process. You first have to write the eBook and then package it as a PDF, getting it ready to be delivered to buyers. Then you want to use a third-party software to take the payments and handle the digital deliveries. (I like Send Owl.) Once you set that up, your eBook is ready for launch and you can start selling it online.
---
How do you publish an eBook for free?
If you're on a tight budget, you can publish an eBook for free on your own website by using WooCommerce or Paypal buttons. You can also use free tools such as Word and Canva to write and design your eBook into a PDF.
You can also create free sales pages using Elementor.
---
How much does it cost to publish an eBook on Amazon?
Publishing an eBook on Amazon and selling in on their platform is free, but they do keep 30% of royalties. You can upload unlimited eBooks and paperback books as well, for which they charge a production fee (which will depend on the size of your book and number of pages).
---
How much should my eBook cost?
Usually Amazon eBooks are priced between $2.99 and $9.99, but you can sell an eBook on your own website and price it anywhere between $10 and $40.
How much you charge for your eBook should depend on what's included, the value it offers, the niche you are in (business books tend to be higher priced than recipe eBooks for example), what your competitors are charging, and your overall expert status.
I've started my eBooks as low as $15, and in time I've updated them, added new information and bonuses and now my best selling eBook is also my most expensive one – priced at $35.
---
Can you really make money with ebooks?
Yes! But publishing an eBook doesn't mean that you're going to automatically going to start making sales, and making money with it. You have to learn to market your eBook and you need to work on growing your audience as well.
Even if you end up selling only 3 copies of a $15 eBook per day, you would still be earning $1,350 in passive income per month and over $16,000 per year. Now imagine if you publish multiple eBooks!
If you want a proven system to follow for publishing and selling a profitable eBook, I share everything you need to know as a first-time author in my Ebook Bestseller Bootcamp course.
---
Do you need a website to sell an eBook?
Yes and no. If you use platforms such as Amazon or Thrivecart, you can sell your eBooks on them without needing a website or blog of your own.
But for the best results and a successful eBook launch, you'll want to have a readership and an email list to promote your eBook to. My Amazon eBook went nr.1 in the month I launched it because I was able to promote it via my blog, and get a large number of pre-orders that way.
A website will also allow you to design a better sales page, and use your articles to draw people in. So I highly recommend starting a blog first.
YOU MIGHT ALSO WANT TO READ:
Article Last Updated: June 2023
How To Publish, Launch And Sell Your First Ebook