Free Landing Page Templates for Bloggers
Want to build beautiful landing pages in WordPress for free to showcase your digital products, grow your email list or offer readers a personalized experience? This tutorial will show you how I create free landing pages in WordPress with no coding skills or previous experience needed.
As a new blogger, unfamiliar with the existing tools out there and unwilling to pay hundreds of dollars each month on resources I barely understood, I found myself early on looking for alternatives to services such as Lead Pages, that that will allow me to build beautiful landing pages in WordPress for free. And I found the perfect one!
But before I go into detail about how I build these landing pages (and the resource that helped me get started), allow me to share more about what landing pages actually are and why they are so important to bloggers.
Please note that this post contains affiliate links and any purchase made through such links will award me a small commission (at absolutely no extra cost for you). These funds help me feed my dog and keep this blog up and running.
What Is A Landing Page
A landing page is described as a web page which serves as the entry point for a website used during promotions and marketing efforts (hence the term "landing" which suggests that visitors first land on that page, rather than your homepage).
These pages are standalone parts of your website, build for very specific reasons (we'll go over all the types of landing pages in just a bit so you can see what the clear objective is for each).
In order to avoid distractions and only lead people to take the desired action for which you created the page (for example, if you have a sales page you want to have more sales, or if you have an opt-in page, you want to get more email sign-ups), landing pages need to be separate from your website and build without irrelevant elements such as a navigation bar, a sidebar or other factors that do not serve your ultimate purpose.
Basically, to ensure that your visitors are not distracted from the conversion goal that you set for that landing page, you want to eliminate any possible reasons why people would click away instead of taking action.
Landing pages are amazing marketing tools that increase conversions, which simply means that if you have a sales page, a larger percentage of your visitors will actually make a purchase.
If you were trying to sell a product within a blog post, for example, 30% of the people who read the post might skim through it at miss the link you had for the product, other 20% might get distracted by something in your sidebar and click away and so on. And just like that, you lose half of your potential buyers.
Landing pages allow bloggers to increase their conversions so that they capture a bigger chunk of their blog visitors and based on their desired results, they can grow their income, their email list or more.
How Can Bloggers Use Landing Pages?
Landing pages are not just techniques used by online marketers, but they also work for bloggers and small business owners. They can be used in a multitude of different ways and can achieve results in a spectrum of areas.
I, for example, find new ways to use landing pages every day and I know that they can be an invaluable tool for bloggers because they have been instrumental in helping me increase my income and even traffic.
You might be reading this with a clear idea of what type of page you want to create, but just in case you stumbled across this post and you're not sure how landing pages can serve you, here are a few different types of landing pages that bloggers can use:
1. SALES PAGES FOR DIGITAL OR PHYSICAL PRODUCTS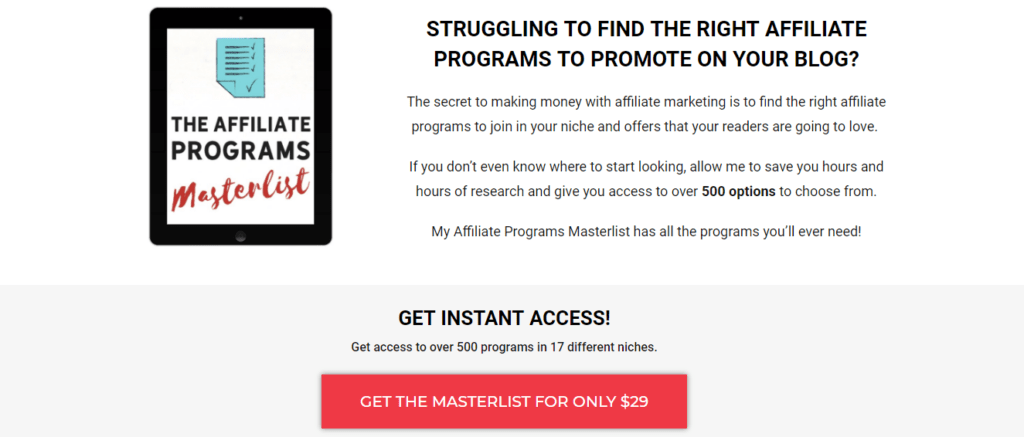 One of the very first ways that I used a landing page for my own blog was to sell my first ebook. Whether you have a digital or physical product for sale, you need a platform to showcase it on – a page where you can send potential buyers to.
You come across sales pages every single day – whether it's an Amazon product, an online course or an essential oils kit. Anyone who is selling anything online needs a landing page to do it, and you do too!
If you want to know how these would look for bloggers, check out the sales page I created for my ebook or the sales page I created for my blog coaching services (because yes, even if you sell a service and not a product, you still need a sales page).
The best tools to help you build sales pages:
2. OPT-IN PAGES FOR EMAIL SIGN-UPS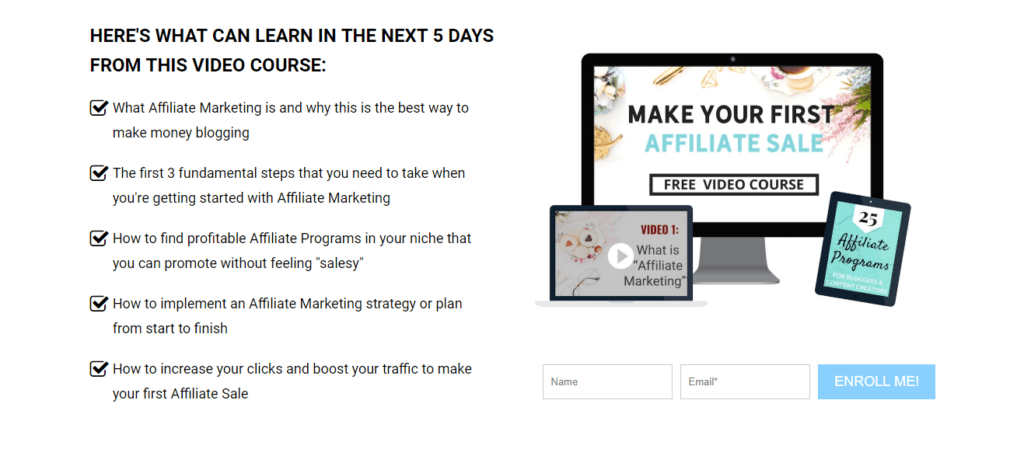 Opt-in pages have as the main conversion goal to get people to sign up for something and join your email list. (You already know that I feel really strongly about why bloggers need an email list, and capturing those email addresses is an essential part of that!)
Sending people to an opt-in page increases your chances of getting them to sign up for your email list because they don't have to search for the opt-in form (or read the whole blog posts to find it at the bottom) – it's already waiting for them!
Opt-in pages are also a great way to showcase your content upgrades or promote any webinars, free courses or challenges you might have. Because in order to get people to give you their email, you have to give them something in return.
You can see live examples of this by checking out the page I created for my free email course, or one of my content-upgrades opt-in pages for my freebies.
The best tools to help you build email opt-in pages:
Mailerlite (the email software I use and LOVE!)
Convertkit (an alternative that helps you build sign-up boxes and pages)
3. TRIPWIRE PAGES
If you're selling any kind of products that are higher priced, your audience might be reluctant to purchase if they've never bought anything from you before. It works the same in real life. If you bought a pair of shoes from an online store before, and you were happy with them, you are much more likely to go back to their website and purchase something else in the future.
So, to accelerate this buyer/seller relationship and build trust with your potential buyers, ideally, you need to sell them something worth less than $30 before you try to sell them something worth $300.
And that's exactly what a tripwire is in the marketing world – a stepping stone product, that's lowered priced (or heavily discounted), to get people comfortable with buying from you.
Tripwire pages are usually set up to work passively and appear after someone signs up for one of your freebies. They present people a limited time offer to buy one of your products at a discounted rate. If people buy, they are entered into a sales funnel that will in time, offer them one of your higher-priced products.
And because they saw how amazing your $30 dollar product was, they will be much more confident to spend a larger sum later down the road.
I could write an entire blog post about this topic (and I probably will), but in conclusion, tripwire pages are great for showcasing your products to new blog visitors and strategically selling to them in a way that builds trust and turns them into loyal buyers.
The best tools to build tripwire offer pages:
4. OTHER LANDING PAGES PAGES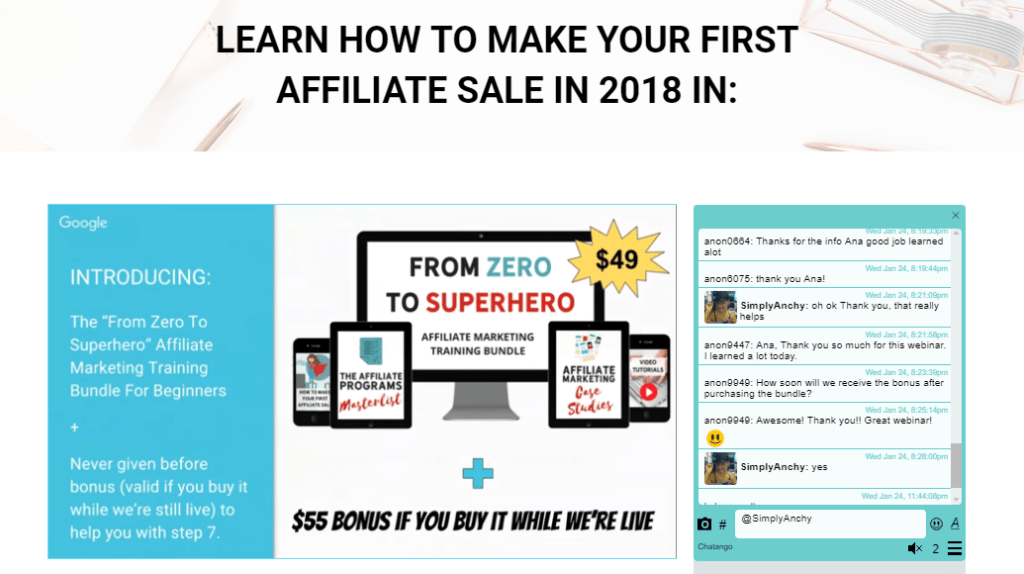 Bloggers can use landing pages in a multitude of ways, based on their custom needs and goals. Other examples of landing pages would be:
Blog or Website

Homepages

Thank You Pages

Confirmation Pages

Webinar Pages

Upsell Pages
Lead Capture Pages
And so much more!
I've created landing pages to deliver my freebies, to host my digital products or webinars, to create my homepage and even to host my video courses (I have a 5-day video course, and to ensure that it looks professional, I created a different page for each day where I insert the video).
I'm sure, that as you're reading this, you might be thinking of some ideas that you can create landing pages for yourself. And if what's stopping you if the fact that you think you need coding skills, or to pay for a crazy expensive program, I'm here to deliver some good news. You can build custom landing pages in WordPress for free!
📌 PIN ME FOR LATER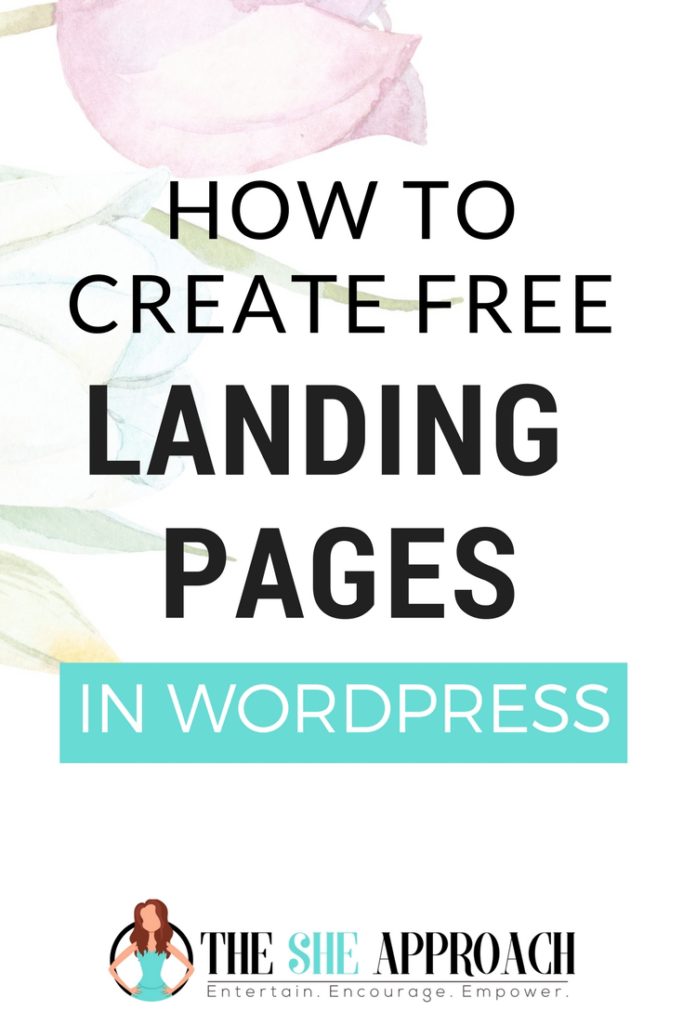 How To Create Free Landing Pages In WordPress?
As I was researching ways to create custom-build pages in WordPress, I was disappointed to find out that the only alternatives out there charge a ridiculous monthly fee, that I couldn't afford (or justify) as a new blogger.
Instead, I found two more affordable options.
But if you want to stick to WordPress, you can use a custom page builder plugin like Elementor instead. I'll show you how I use it to create my pages next.
When I started doing some digging and I came across these Landing Pages Templates for WordPress that were specifically created for bloggers. For a one-time fee, you would get 7+ customizable templates (+ video tutorials on how to set them up) that allowed you to create beautiful pages on your blog, without needing to know any code – the dream of any non-techy blogger.
I loved the idea of creating pages with a drag and drop function, and because I am not a web designer and I didn't even know where to start to structure a landing page, these templates were my ideal solution.
I jumped at the chance to purchase these when they first came out and I've been using them ever since. In fact, all the pages that I listed above as examples were created using these templates!
And I can honestly say that I love them! Not only have they saved me tons of time (I've tried creating pages from scratch, but it took me so much longer) but they allowed to me discover a new tool, that you can use for free, even if you decide not to grab a copy of the templates.
Because after all, I did promise you that you can create landing pages for FREE on your WordPress blog. And that is still possible with a WordPress plugin and a free page-builder called Elementor.
How I Use Elementor To Build Free Landing Pages In WordPress
To start using Elementor on your WordPress blog (please note plugins are only available for self-hosted WordPress blogs) all you have to do is go to Plugins > Add New > Search for "Elementor" > Install > Activate.
Once you do that, every time you want to add a new page or post, you can select the option to create it with Elementor. I only use Elementor to create pages, but for this post, it looks something like this:

Once you do that, make sure to go to the settings icon in the corner of the sidebar, and where it says "Template" select "Elementor Canvas" to get a blank page where you can start building your own landing page (as I did for my email course below) or where you can insert a pre-existing template.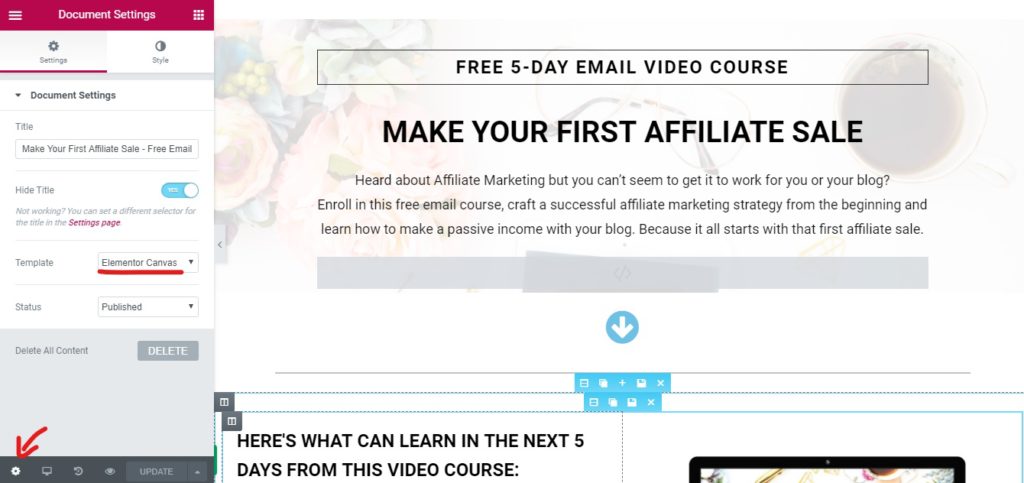 This is the part where the Landing Page Templates come in for me.
I simply insert one of their templates on the page, and I change the text and colors. Sometimes, if I'm feeling creative, I'll add new elements and make changes to the order or structure of the page. As you can see below, it's all drag and drop.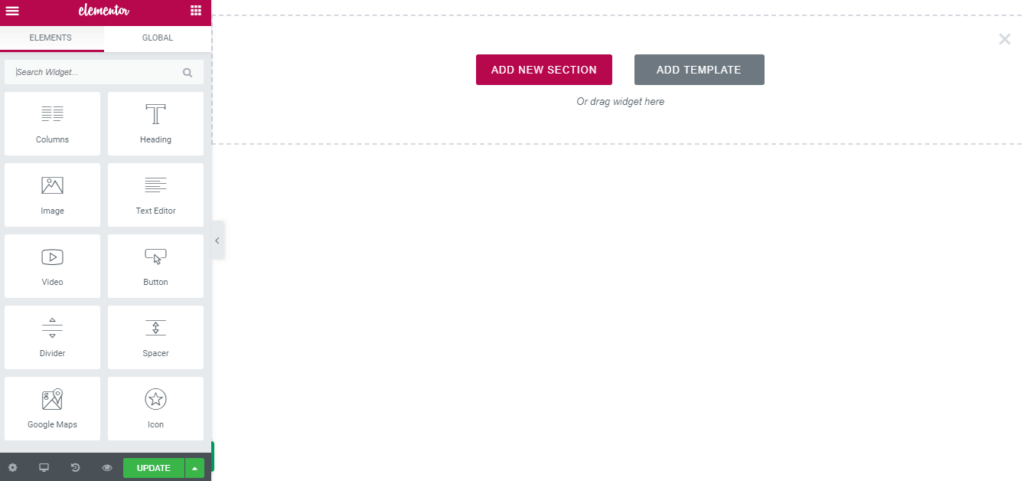 You start by adding sections and splitting them into columns. Then, you select what element you want to add and drag them into the chosen section or column. It's that simple!
Elementor has a bit of a learning curve, but if you play around for a couple of days, it's impossible to not figure it out. When I started out, I Googled and watched a few tutorials to get familiar with the settings, and I was able to create my entire homepage from scratch in less than a week.
If you're looking to learn more about how to navigate Elementor once you have it installed, this video was instrumental in helping me build my homepage and the WPCrafter Youtube channel has numerous tutorials on Elementor that are brilliant!
In conclusion, if you're looking to create a free landing page on your WordPress blog, but you can't afford the monthly cost of a premium service, this DIY option is not only affordable but ideal!
And if you're completely new at using page-builders and you want structured templates to start you off (and save you loads of time), I still recommend giving Strikingly a go instead!
How To Make a Free Landing Page Explained