Top 2022 Best Laptops And Tablets For Blogging, Podcasting & Vlogging
Finding the best laptop, as a blogger, can be a daunting task. Figuring out what to look for, the fairest price to pay, or even which laptop has the best quality can seem never-ending, since there are so many options.
Not only do you want to have a laptop that is fast, dependable, and sturdy, you also want to know that your investment will be going to one that is attractive, lightweight, and completely functional.
As a blogger, you need a laptop that will enhance your abilities to create graphics, write blog posts, edit your site, and overall succeed as a business.
To make this process easier for you, I have narrowed down 9 of the best laptops for bloggers. This post will give you the pros and cons of the best laptops you can buy, to help you make the absolute best decision for your business.
Why You Need a Dependable Laptop For Blogging
If you have ever had a laptop crash on you in the middle of a project, without automatically saving your information, you most likely know how important it is to have a dependable laptop.
Likewise, having a computer that takes years to save creates an equal amount of stress and aggravation.
One of the great things about 2022 is the technology. We have access to all kinds of information and business hacks at our very fingertips. Laptops, being one form of this technology, can be an absolute lifesaver when blogging.
Even though most of the price tags can seem like a bit of an investment in the beginning, purchasing a dependable laptop can save you a heap of time, money, and stress in the long run.
Quick note: This post contains affiliate links. This means I may earn a commission should you choose to make a purchase using my link.
A laptop will allow you to write pretty much whenever and wherever, create wonderful graphic designs, and automatically saves all of your information as you go. That way, you can stop and start your work anytime you see fit without having to remember to back everything up.
Not only does a laptop allow you to be a better blogger in general, it is also easier to keep up with your analytics, statistics, emails, and collaborations on a laptop rather than a phone.
Making sure that your laptop is high quality, reputable, and built with a powerful processor is clearly a necessity because having one of the most dependable laptops will definitely make your blogging journey significantly simpler.
9 of the Best Laptops for Bloggers in 2022
So, without any further ado, here are the best laptops for blogging, vlogging or podcasting that are on the market, and that are highly recommended by bloggers all over the world:
1. Macbook Air 13 – Most Dependable Laptop For Bloggers
If you are already an Apple fan, the Macbook Air 13 could quickly become your best friend. Although the price tag is fairly high, this lightweight laptop has a 12 hour battery life and perfect for working on the go.
If you are already an Apple fan, the Macbook Air 13 could quickly become your best friend. Although the price tag is fairly high, this lightweight laptop has a 12 hour battery life and perfect for working on the go.
This is the exact laptop I own (and had for 3+ years), and that I use to run multiple blogs and online businesses, and I don't have enough good things to say about it!
With its 13-inch Retina display, the newest Macbook Air is also quite attractive. Not only is it aesthetically pleasing, this laptop also has 8GB of RAM and a quad-core Intel Core i5 processor.
The best part? If you try to use recycled materials as much as you can, this laptop can help you continue to do so. Available in three different colors and two different storage options, this laptop is also made from 100% recycled aluminum.
When it comes to flaws for this blogging laptop, there are only a few. Primarily, we do not like that this choice has no USB-A ports. Even though you can use this adapter, it is a bit of an inconvenience. Otherwise, it's a great option.
Mac laptops in general, also come build with extra apps and functionalities that allow for building presentations and power points, recording and editing video and audio files, writing notes and so on, which make mundane blogging tasks a lot easier.
---
✅ PROs:
Dependable & durable
Lightweight at only 2.75lbs
Three different color options
Touch ID
12-hour battery life
---
2. Acer Aspire 5 – Best Cheap Laptop For Blogging
Next up: Acer Aspire 5 – a great option if you are on a budget and you're looking for blogging laptops with very affordable price tags.
This laptop is also a great choice for new writers, and bloggers who are just starting out.
Even though it is on the cheaper side, this laptop is built with a 10th Generation Intel Core i5 processor, 8GB of RAM, 512GB of SSD storage, and 2GB of NVIDIA GeForce MX250 for graphics. (NVIDIA GeForce MX250 decreases the likelihood of lagging when running multiple tabs, apps, or browsers.)
Another perk of this little 4lb laptop is that it has a long 10-hour battery life and USB ports.
If you're looking for an affordable laptop for writing blog posts, I also recommend looking at the Amazon Renewed section of refurbished laptops.
---
✅ PROs:
Very affordable option
Good processor
USB ports
⛔ CONs:
Loud fans when running
Low storage
---
3. Dell XPS 13 – Best Laptop For Just Writing
Another hot laptop choice for bloggers is the Dell XPS 13 laptop. Not only is it affordable, but it is also lightweight, touchscreen, and very powerful.
This is the know-best computer for bloggers, authors, writers or students.
With its 8GB of RAM, 256gb of SSD storage, an 8th Gen Intel Core i7, this laptop has a very sharp 13.3" screen.
Which means you get a good display, touchscreen technology and a compact laptop – all in one mighty machine.
Although this laptop does not have a USB-A port, you can get this cheap adapter to solve that problem.
---
✅ PROs:
Lightweight at only 2.7lbs
Powerful hard drive
4k Ultra display
---
4. Macbook Pro 13" – Best Laptop For Entrepreneurs
Of course, we also have to include the powerful Macbook Pro as one of very best laptops for running a website, writing, and blogging.
Even though you may prefer a laptop besides a mac (like many of the others listed), Apple clearly gives some amazing choices, in terms of quality.
As with most of their products, the Macbook Pro is not a cheap laptop option. But, it still comes highly recommended and it's an overall good laptop for digital nomads and online business owners.
As far as the specs go, this laptop has a 2.3GHz 8-core 9th Gen Intel Core i9 processor, your choice of either 16GB RAM, and 1TB of SSD storage. Even with its power, this Apple laptop has a 11-hour battery life and only weighs 4.3lbs.
Moving on to the aesthetics of the Macbook Pro, you can choose between either a 13" or 16" model, but we are focusing on the 16" even though it is slightly more expensive.
With this choice, you also have a couple different color choices. You can choose either silver or space gray.
This laptop is another top choice for vloggers, video editing, and content creation. But, it, unfortunately, doesn't have a USB-A port. You will need an adapter like this.
---
✅ PROs:
16" Retina display
Customizable touch bar
Touch ID
Good storage space
⛔ CONs:
Pricey (but worth it)
No USB-A ports
---
5. Lenovo Flex 14 – Best Laptop For Content Creators
The Lenovo Flex 14 tablet laptop is a great choice for bloggers on a budget. Made with a very compact design, it doubles as a touchscreen tablet and full laptop, with a 10 hour battery life. This laptop also comes with a USB-A port, which is a great feature that many brands are straying away from.
This laptop has 12GB of RAM and 256GB of SSD storage, with an AMD Ryzen 5 processor. When compared to Intel Core i5, the Ryzen 5 definitely performs better.
I also want to add that the Lenovo Flex 14 also comes with a free compatible stylus to make it easier for you to work on the touchscreen display. This may not be a huge selling point, but if you are a content creator, it can definitely up your design game.
---
✅ PROs:
Affordable price
AMD Ryzen 5 processor
Touchscreen
Comes with stylus
Doubles as a stand-alone tablet
USB-C port
⛔ CONs:
Can't charge on USB-C
Not necessarily lightweight at 3.52lbs
---
6. ASUS Zenbook 13 – Best Laptop For Podcasting
Another one of the best cheap laptops for blogging or podcasting, that you need to consider the ASUS Zenbook 13.
This laptop comes with about 10 hours of battery life, a USB-A port, 8-16GB RAM, and a 10th generation Intel Core i5-1035G1 Processor.
Not only does this laptop have a 13.3" full display, but it can transform into a tablet as well if you have limited working space. So, this lightweight laptop can be perfect for bloggers who are constantly on the go.
As one pleased Amazon reviewer put it, this is the best choice for a laptop that is "something with the most power in the smallest size and at the lowest cost".
---
✅ PROs:
Only 2.45lbs
Has USB port
Affordable
Fast startup
⛔ CONs:
Not many color options
Said to run hot and loud
Performs slower than its competitors
---
7. Dell XPs 15 Laptop – Blogger's Choice
Since we mentioned the Dell XPS 13, it was only right to include the Dell XPS 15 as another powerful laptop choice & bloggers' favourite.
At almost double the price of its relative, this is the best laptop for vloggers. It has a 15.6" Ultra 4K display screen that can transition between touchscreen and not.
It has 16GB of RAM and 512GB of SSD storage, with the 8th Gen Intel Core i7 processor.
If you choose this laptop, make sure to get an adapter because it does not have a USB-A port. Although this may not be the best option for many bloggers, it could be the most dependable laptop for bloggers who regularly create video content for any of their platforms, if you can settle the USB situation.
---
✅ PROs:
4K Ultra Display
4gb Nvidia GeForce 1050ti dedicated graphics card
Touchscreen option
Sturdy
⛔ CONs:
Heavier weight at almost 9lbs
No USB-A port
Pricey
---
8. Samsung Chromebook Plus V2 – Best Affordable Laptop
For all of my Samsung enthusiasts, do not worry. I got you covered! This Chromebook is a very affordable laptop for bloggers on a budget. It is actually the cheapest laptop on this entire list.
You can quickly transform this from a laptop to a fully functional tablet with the stylus included.
It is built with a 12.2" display screen, 4GB Ram and 64GB eMMC. This laptop also has both USB-A and USB-C ports.
The Samsung Chromebook Plus V2 is seemingly the cheapest and best laptop for writers and bloggers.
---
✅ PROs:
Comes with Samsung stylus
USB ports
Fast processor
⛔ CONs:
Keyboard is not backlit
Not a ton of storage
---
9. Microsoft Surface Laptop 3 – Best Underdog Laptop
Last, but definitely not least, is the Microsoft Surface Laptop 3. Microsoft has brought serious heat to the world of laptops.
Staying at a pretty affordable price, it ranks right up there with Apple products. This means that if you are looking for the best laptop besides a mac, here's your best option.
It has a 10th Gen Intel dual-core i7 processor, with 8GB of RAM and 256GB of SSD storage.
At its sleek design and only 2.7lbs, the Microsoft Surface can travel with you anywhere and you will hardly tell that you even have it with you. This makes it another winner for travel bloggers, or even business owners who like to work in various places.
Along with its 13.5" display, it has a resolution of 2256 x 1504 pixels and customizable color variants.
---
✅ PROs:
Lightweight at only 2.7lbs
Has USB port
Touchscreen
---
PIN THIS POST FOR LATER 📌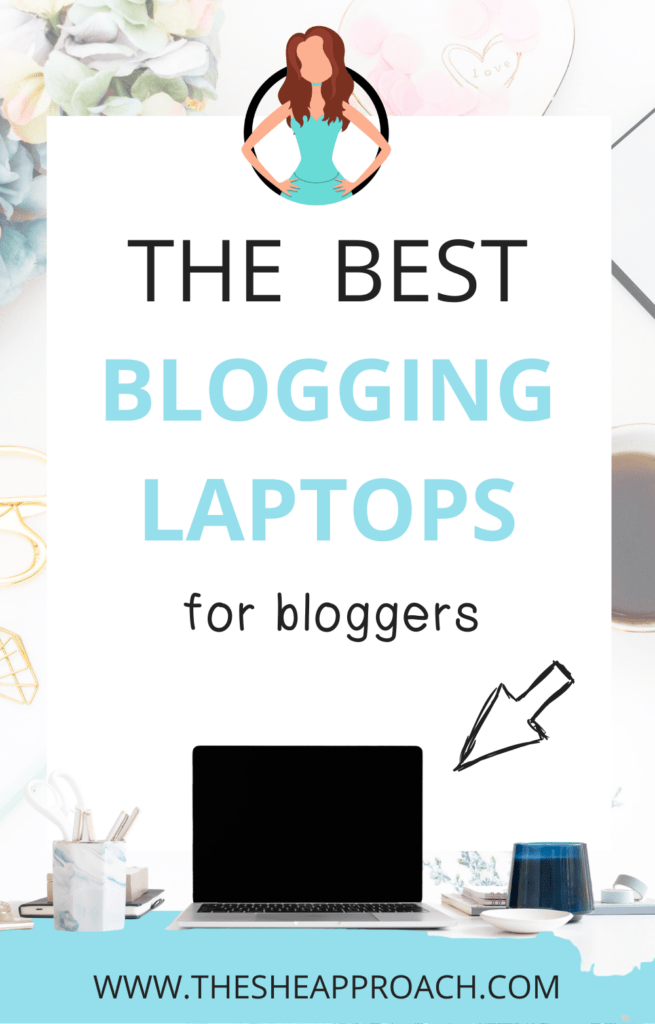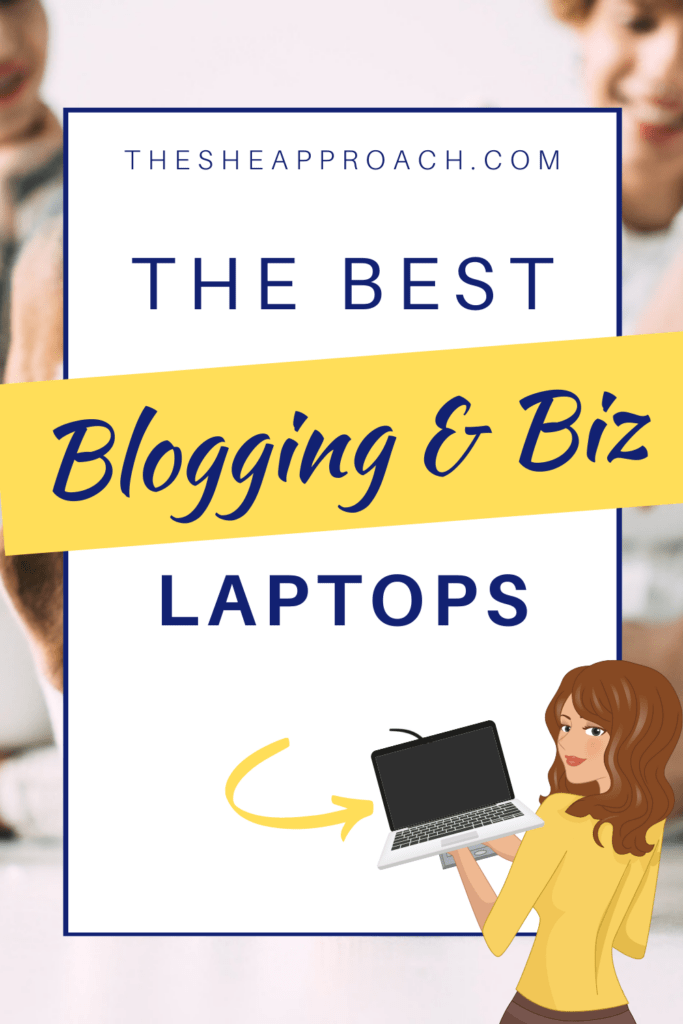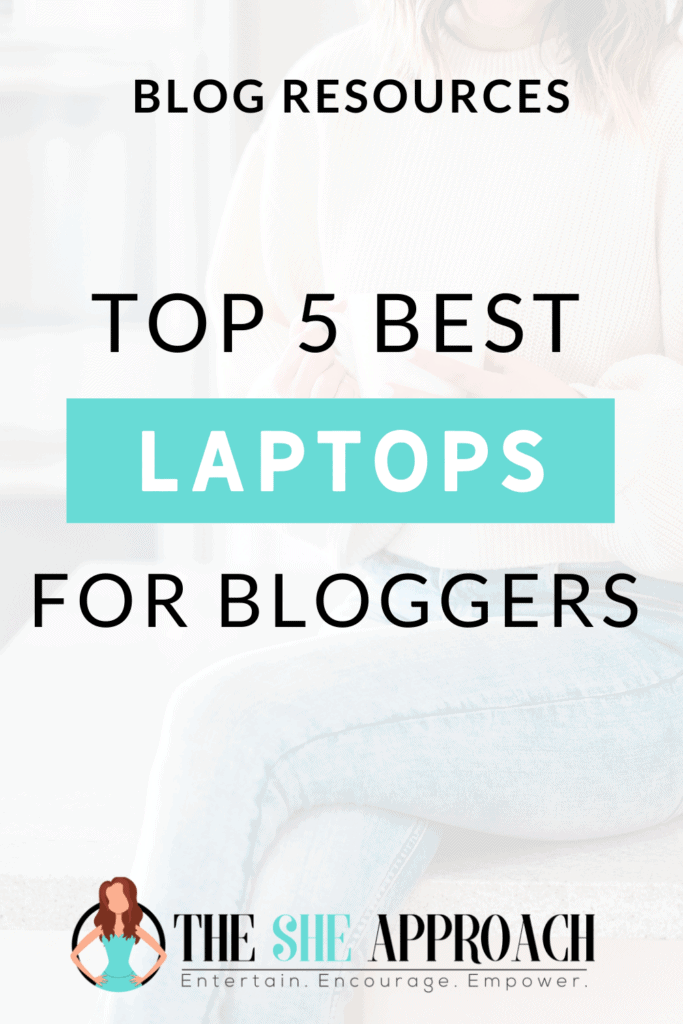 3 Of The Best Tablets for Bloggers, Vloggers & Podcast Hosts
Although most bloggers prefer a laptop, you may want to use a tablet for some of your extra blog work.
Especially if you are creating and posting graphics for your posts or social media, a tablet can be your best option. When creating Pinterest pins, editing pictures, or even drawing templates, a tablet allows you more accessibility as far as zooming in on details. (If you want to learn more about mastering Pinterest, check out this eBook.)
Also, if you like using talk-to-text, having a tablet is significantly easier to carry around when compared to a full laptop.
Even though a tablet is not necessary when blogging, here are our top 3 picks for the best tablets for bloggers.
1. Microsoft Pro x – Best Blogging Tablet
Although it is a bit pricey, you really can't beat this tablet, especially if you prefer using non-Apple products.
It has a 13" display with tons of storage and a 13 hour battery life. This tablet also weighs less than 2lbs, so you can easily take it with you on planes, car rides, or even the local coffee shop.
Amazon reviews have it down as "Excellent for productivity!" as well, making it the perfect device to use on the go.
---
✅ PROs:
Great 13″ screen, A4 paper size
Fast (using native ARM software)
Fanless
Excellent pen
Excellent backlight keyboard
⛔ CONs:
Not compatible with 64-bit software
---
2. Apple Ipad Pro Tablet For Bloggers
If you are an Apple fan, this tablet or the next one will be perfect for you. This tablet can compare to Apple Macbooks and it will fully connect to your other Apple devices as well. That is insane, right? Regardless, it has a battery life of about 10 hours, wi-fi and cellular options, and a high amount of storage.
Amazon reviews highly rate this tablet as well, praising that there is "no lag running adobe photoshop" or other photo/video/audio editing software, making this an ideal tablet for YouTubers or podcasters as well.
---
✅ PROs:
Portable and powerful
High-resolution display
Plenty of space
Smoother writing
Not overpriced
⛔ CONs:
No HDR10 or OLED
No 3.5mm jack
---
3. Apple Ipad Mini – Portable Tablet For Biz Solopreneurs
If you think the Apple Ipad Pro is a bit too big but love the functionality otherwise, I suggest you look at getting the Apple Ipad mini instead.
It is much smaller than the pro tablets at only a 9.7" display, but it is very comparable in speculations, and great for work while traveling.
Reviewers are raving about it being the "best iPad I've owned" and bloggers are loving it as well: "It's blazing fast, apps and interface run smoothly, I use the Pencil and Notes daily to free-write. This is a worthy investment."
---
✅ PROs:
Processor is ridiculously fast
Good size body with easy grip and hold
Amazing screen quality
⛔ CONs:
Screen size can hampered by the bezels
---
Best Affordable Blogging Laptops Concluded
If you need a new laptop for your 2022 blogging business, these are the best laptops for writing, creating content, and keeping up with your business.
Remember that you are shopping for the best blogging laptop, so you need to know what exactly you are looking for, details of your choices, and do not settle if you do not have to. You can find the best laptop for blogging with patience and research. But, you don't have to make it harder than it needs to be.
To ensure you make the right decision, don't forget to consider the amount of storage, capabilities, weight, and even size of each laptop you are considering. Be sure to save this article, so that you can easily compare your options.
If you are looking for the best overall blogging laptop, you can't go wrong with any of the choices listed in this post. I hope I have made your laptop shopping process a bit easier!
Let me know in the comments below which laptop you decide to use for your blogging business.
Q: Do I need a laptop or tablet for blogging?
Although you can use a desktop or phone to blog, having a tablet or laptop, like the ones previously listed, will provide you the ease of blogging and writing anywhere you go.
But, you can start a blog with pretty much any source of technology you already have. Check out this post to start your own blog.
Q: Are there great blogging laptops besides Macs?
If you aren't a fan of Apple and their operating system, and you're looking for the best laptop besides Mac, I listed a few worthy options above. Although they have some amazingly high-quality products, there are many other great options of laptops for writers, bloggers, and vlogging. Such as the Dell XPS 13 laptop or the ASUS Zenbook 13.
Q: Can I find the best laptop for blogging on Amazon?
You definitely can. Actually, all of the laptops and tablets for blogging and writing in this article can be found on Amazon. That way, you can get that quick shipping and start writing in no time.
More Blogging Resources & Tips:
Best Laptops For Bloggers & Entrepreneurs – Top 2022 Laptops That You Can Blog On