Best Business Books Of All Time That Every Blogger & Online Entrepreneur Should Read
If you're serious about blogging or about running your own online business, then you probably want to soak up as much wisdom, good tips and best practices as you can.
Learning from those who have been there before us is a great way to educate ourselves, stay motivated, get inspired and reach our goals faster.
And there is no better way to do that than by reading books.
Since the beginning of this year, I have been religiously reading 3 books a month and Amazon has quickly become my best friend when it came to hunting, ordering and reading more books.
And so, I decided to put together a quick list of popular business books that every blogger should read. Most of these books I had read personally, and they made the cut because they really inspired me, but there are a few in here that are still on my to-read list.
Please keep in mind that this blog post contains affiliate links and any purchase made through such links will result in a small commision for me. But I truly recommend these books because I know they are going to improve your blogging business!
Without any further ado, let's get started with the best business books for entrepreneurs of all time (in my opinion and in no particular order)!
Best Amazon Business Books For Bloggers
---
1. You Are a Badass at Making Money
You Are a Badass at Making Money: Master the Mindset of Wealth by Jen Sincero is a riveting read that goes well beyond the usual "you-can-do-this / just-believe-in-yourself" mindset and inspirational nonsense that we usually come across in books with such a daring title.
Not only has the author actually lived through everything she teaches in this book, but she gives practical advice on how to make more money (either in your current business or by changing your life if that's what it takes) and how to overcome money blocks (that you probably don't even realise you have).
If you're someone who doesn't have a good relationship with money and with your finances but you want to use your blog or business to create a better life for yourself and your loved ones, you're going to love this book!
Speaking of the best Amazon books for entrepreneurs that are out there, this is definitely in my top 10 books of all time!
---
2. Deep Work by Cal Newport
Deep Work: Rules for Focused Success in a Distracted World by Cal Newport is arguably one of the best Amazon books for entrepreneurs and bloggers that want to get a lot of work done.
In a world where our to-do list never ends and we always want to be moving on to the next great thing or project, this book will bring you down to earth only to give you practical advice and a strategy for being productive to a whole new level.
From learning how to avoid distractions, to accomplishing great things in your professional life and all the way to regaining your free time (while still getting more done than the average person), this book has opened my eyes to a often asked question about productive people: "How do they do it all?".
If you want to regain the ability to concentrate deeply on a single idea, task or project, do more in less time and learn how to avoid distractions (in a world where we're addicted to our phones), then you need to read this book!
---
3. The 4-Hour Work Week
The 4-Hour Work Week: Escape the 9-5, Live Anywhere and Join the New Rich by Tim Ferriss is a practical roadmap filled with resources, tips and strategies to help you take advantage of the times we live in.
From automating your business model, to cutting your work hours in half, earning passive income and outsourcing your day-to-day tasks, this books is proof that with the right strategy and mindset, you can create the lifestyle you want.
And if there's anything that Tim Ferriss knows about, it's how to create a dream lifestyle. I highly recommend some of his newest books as well such as:
---
4. Big Ideas… For Small Businesses
Big Ideas… For Small Businesses: Simple, Practical Tools and Tactics to Help Your Small Business Grow by John Lamerton is a marketing pot of gold that's going to help you grow, market and expand your business (or blog).
An interesting and inspirational read for bloggers and entrepreneurs, this ebook leaves you prepared to tackle your work tasks strategically, so you can get the most out of your time and money.
Find out what are the ingredients for success and how to use them in favor of your online business!
---
5. Entrepreneurial You by Dorie Clark
Entrepreneurial You: Monetize Your Expertise, Create Multiple Income Streams, and Thrive by Dorie Clark is a classic tale of modern economy and how you can thrive in it. And living your best life, sharing your expertise with the world and creating multiple income streams so you don't have to worry about money sounds pretty romantic to me.
Even if you love your current job or career, this book will show you why it's foolish not to consider starting a side-hustle. But it's also going to show you how!
I thoroughly enjoyed listening to this as an audiobook a few months back as part of a business mastermind and book club, and I highly recommend it. If you're looking for a business book that will inspire you to take your blog and turn in into a profitable online business, you need to order this today!
---
6. The Idea in You by Martin Amor
The Idea in You: How to Find It, Build It, and Change Your Life by Martin Amor & Alex Pellew is the best book for aspiring entrepreneurs and people who are stuck with a great strategy from all the other business books they have read, but no ideas.
This book is "a bulletproof system for finding the right idea and shaping it into a success" and it's filled with inspiring case studies that show original business models (how they started, how they overcame struggles and how they manifested into unique businesses) and profitable schemes that started from a simple idea.
If you need proof that you can make money from your passion, this is the book for you!
---
7. Eat That Frog! by Brian Tracy
Eat That Frog!: Get More of the Important Things Done – Today! by Brian Tracy is one of those books that I've heard so much about that I actually started implementing before I even read it.
If you're struggling to master your to-do list and you always end up procrastinating on important tasks, this book is going to be a catalyst for change.
Along with more tips on how to organize your day and get things done faster, this book is a strong competitor for the best business book of all time and it's a must-read for bloggers and online entrepreneurs that can't seem to advance in their fields without sacrificing their free time.
---
8. Jab, Jab, Jab, Right Hook
Jab, Jab, Jab, Right Hook: How to Tell Your Story in a Noisy Social World by Gary Vaynerchuk is a must-read book for bloggers that are trying to grow an audience and a loyal readership and for business owners who need an online community.
This book is a blueprint to social media marketing strategies that really work because they allow you to connect with your readers and clients while differentiating yourself from the competition.
If you've been following Gary Vaynerchuk on social media, you must know that he practices what he preaches and even his 30 seconds advice replies on Instagram have the power to change people's businesses for the best.
His most recent book, Crushing It!: How Great Entrepreneurs Build Their Business and Influence is another amazing read if you're a business owner or a blogger looking to grow your influence.
---
9. The Coaching Habit
The Coaching Habit: Say Less, Ask More & Change the Way You Lead Forever by Michael Bungay Stanier was recommended by Pat Flynn as the top book he read in 2017 and I can see why.
From practices you need to implement in your own coaching business to coaching team members and employees to work more efficiently and do creative work by themselves, this book is a must-have for business owners that run a team or for online coaches and consultants of any kind.
Not to mention that you learn a thing or two about implementing good habits into your routine as well.
In conclusion, this is definitely one of Amazon's best books for digital entrepreneurs.
---
10. The Miracle Morning
The Miracle Morning: The 6 Habits That Will Transform Your Life Before 8AM by Hal Elrod is one of the world's top-rated self-help books but it doubles down as one of the best business books of all time as well.
For people who work a full-time job and try to grow their blogs / businesses at the same time, this books is a must read because it will teach you how to use your free time to leverage and grow your income.
From inspiring you to get things done, to showing you the 6 revolutionary habits that you need to be doing each morning, this is a must-read for changing your life, one morning at a time.
---
11. Big Magic: Creative Living Beyond Fear
Big Magic: Creative Living Beyond Fear by Elizabeth Gilbert, although not officially classified as a business book, is a must read for bloggers and entrepreneurs.
Speaking on the topic of creativity, ideas and making your ideas happen, this book is a catalyst for trusting your business decisions, coming up with awesome projects that can propel your blog forward while setting you apart from the rest.
In the same time, it also gives advice on how to deal with criticism or feedback, thinks that all creative minds have to deal with when it comes to putting their work online.
This is definitely one of the best Amazon books for bloggers and content creators and of my favorite reads this year (and top 20 of all times).
---
12. To Sell is Human
To Sell is Human: The Surprising Truth About Persuading, Convincing, and Influencing Others by Daniel H Pink is a guide to selling – selling your brand, your ideas, your products and your services.
Whether you are a blogger or a business owner, if you want to grow your community and make more money online, you have to do one form or another of selling. Promoting your blog posts on social media, trying to get people to buy your digital products or selling your VA services, all have that in common.
So if you want to get better at selling, without getting more salesly and alienating your audience, then you need to get this book!
---
13. How To Make Money Blogging
How To Make Money Blogging: How I Replaced My Day Job With My Blog by Bob Lotich is a great guide to starting a profitable blog or making money of your existing one.
From the strategies that you need to use, to the mistakes you need to avoid, this book will take you through how Bob became a full-time blogger and beyond.
Although not a business book, this book might be the difference between you treating your blog like a diary vs treating is like a business.
---
14. Make Your Bed by William McRaven
Make Your Bed: Small things that can change your life… and maybe the world by William H. McRaven shares the 10 life-changing principles that the author learned during his 37 years as a Navy SEAL.
The book is built on the challenge to begin each day with a simple task (making your bed) and I found out about it from a viral video of the author explaining how this simple task can change your life.
If you want to find out how, and you want to find the motivation and discipline to show up as your best self in your business each day, this book is for you!
---
15. She Means Business by Carrie Green
She Means Business: Turn Your Ideas into Reality and Become a Wildly Successful Entrepreneur by Carrie Green is a book written especially for women who want to thrive online and build their own digital empires.
This book is full of tips and exercises to inspire you and get you in action, so you can start and grow your business starting today!
Honest, realistic and practical, She Means Business is one of those business books for bloggers that you don't want to miss out on.
---
And there you have it! This is my list of the best business books for online entrepreneur and bloggers (in no particular order), and they all can be found on Amazon, either in digital format, paperback or even audiobooks.
You can find more books below, and pick your favorite. In fact, I have a little challenge for you.
Making time to read is not always easy, but one way to keep motivated is to set a goal for yourself. So decide how many books you want to read each month, and start today!
And just in case you need more motivation to read more, check out this post by the Business Insider about 10 benefits of reading for your business.
Have you read any of these books? Leave a comment below and let me know what's the best business book for bloggers in your opinion, which of these books have you read and which you're planning to read next!
📌 PIN THIS POST FOR LATER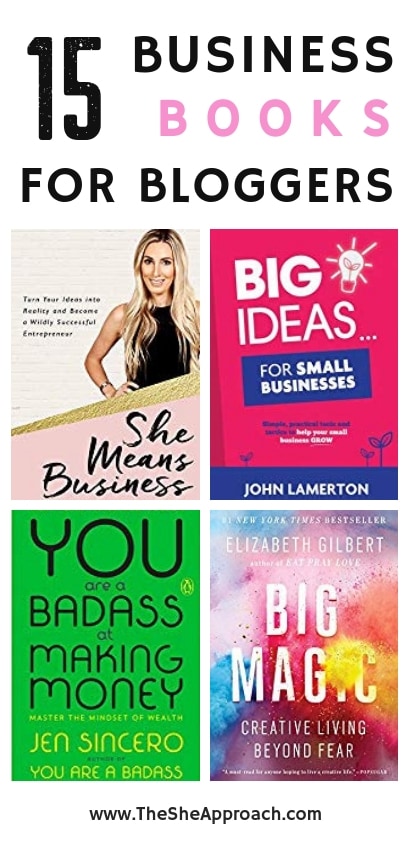 Best Amazon Business Books For Bloggers & Entrepreneurs