How To Turn A Tik Tok Viral Video Into Website Traffic
No doubt you've heard of TikTok – a friend has probably shown you a funny video, or you've seen your 12-year-old niece recording herself doing the Dougie.
But as a blogger or marketer, have you considered using TikTok to explode your blog traffic?
If the answer is no, you're missing out. And that's why I invited Spencer from Buildapreneur to speak about his experience and success with mastering the TikTok platform. In his own words:
A few months ago, I challenged myself to commit to TikTok for 60 days. The results I got blew my mind.
Not only did my blog traffic explode, but so did my email subscribers, Youtube subscribers, and most importantly, my revenue.
Since starting that challenge, my TikTok following has grown to over 350,000. And now, I'm convinced that TikTok is one platform bloggers shouldn't ignore.
Today I'm going to share the steps I took to create viral TikToks and what I learned about making the most of the platform.
And no, you don't have to do silly dances or record videos of your cat to see success. Here's what to do instead.
Getting Started: Setting up Your Account and Preparing for Your First Video
1. Download TikTok and Create Your Account
TikTok is a mobile app, so the first thing you need to do is download the app and create your account.
TikTok gives you a choice between a personal account and a business account. (More on the difference in a minute.)
When you first create your account, it will automatically be a personal account.
The benefit of the personal account is that it gives you a much richer song library. (Some sounds are not approved for commercial use.) However, at this time, not all personal accounts will let you share a link in your bio.
You'll be able to see if you have the link in the bio option when you set up your profile. If you have that option, you'll see a "website" link space underneath the Instagram and YouTube fields.
If you do not have the option to add a link to your website, you'll need to switch to a business account. However, since business accounts come with analytics, I recommend switching to a business account anyway.
Here's how to create a business account on TikTok:
On your profile page, click the three dots in the top right-hand corner.
Click manage my account.
Click switch to a pro account.
Answer a couple of questions about your business.
Now you can edit your profile to see if you have an option to link to your website.
2. Set up Your Profile For Your Ideal Viewers
You already know the type of people you want viewing your videos, so when you set up your profile, optimize it for your target audience.
There's not much to setting up your TikTok profile. Here's what to do:
Create a username (Ideally, your blog or business name, if available.)
Add a profile pic
Include a short bio
Link to your Insta, Youtube, and Website.
Setting up TikTok is just like setting up your Instagram profile. If you have a good Instagram bio written, you can use it on TikTok too.
3. Find Popular Influencers in Your Niche
Using the search bar, search for hashtags in your niche. These searches will lead you to popular videos. When you find videos you like, check out the creator's account to see if they consistently produce TikToks in your niche.
Alternatively, you can search for bloggers or brands you already know and who are generally popular with your audience. See what type of videos these bloggers produce.
4. Spend an Hour Watching Top TikToks in Your Niche
After you've found some top influencers in your niche, spend at least an hour watching their videos and looking for patterns.
After watching other TikTokers in my space, I had a few realizations: 1) In my niche, the word "side hustle" was likely to cause a video to go viral. 2) Music from the trending tab increased the video's chance of going viral. 3) Videos that did well had a captivating hook in the first 5-10 seconds.
The phrases that go viral in your niche will be completely different. Pay attention to the most popular words, the music, and exactly HOW popular creators in your space position their hook and call to action.
5. Look for Patterns and Plan Your First Video
Once you have your research done, it's time to plan out your video.
Take what you've learned from similar influencers and twist it to work for you.
Start by using some of your most popular blog posts. Make a few scripts and boil them down into 60 seconds or less TikTok videos.
For example, I used a popular post I had written – 97 Lucrative Side Hustles– and broke it down. This one blog post gives me 97 different TikTok video ideas.
You can repurpose your old content in so many different ways.
If you're a blogger sharing info, this might look like talking over screenshot backgrounds.
If you're a food blogger, this can be showing how an easy recipe comes together.
If you're a home decor blogger, it can be you showing the different ways you used paint to transform your home.
You can choose to show your face and talk through the video or just use text and music.
The options are endless.
Make your TikTok a similar length and structure to the ones that go viral in your niche. This will increase your video's chances of performing well.
6. Make Sure Every TikTok has a Clear Call to Action
Your videos should have a call to action at the end. Using the link in your bio, you can point viewers to related blog posts, your email list, or your YouTube channel.
I completely messed up when I first started making videos and didn't have a call to action, link to my website, or even my YouTube channel linked up. Because of that, I reaped minimal benefit from my first few popular videos.
Eventually, I wised up and now make sure that there is always a call to action with an appropriate link.
Remember: You're not trying to go viral on TikTok for nothing – without a call to action, there's no point in growing your TikTok following.
TikTok only allows you to have one link in your bio, so you'll need to change the link based on where you want your traffic to go.
If you're not into the idea of always having to change out the link, you can create a free LinkTree account and host multiple links.
Here's an example of what LinkTree looks like:
As you can see, I currently only have one link on my linktree account. However, if you're promoting multiple offers or resources in your TikTok videos, you can add them all under your LinkTree page.
Extra Tips for TikTok Growth and Traffic
1. If a Video Goes Viral, Keep the Link up for a Week
If one of your TikTok videos starts to go viral, keep the call to action link in your bio for 5-7 days. You will see the most traffic in the first week.
Make sure your call-to-action link is set up correctly.
If you want YouTube subscribers, your link should point to your YouTube channel. If you're going to grow your email list, you should point traffic to a freebie sign-up directly related to the video.
2. Do a video a day for that whole week
Take advantage of viral TikToks by doing one TikTok per day for an entire week. These videos will naturally get more traction and views.
Make these new videos loosely related to the viral video since you'll already have your call to action link up.
3. Have Fun with Your Videos
Unless you're blogging about funeral services or climate change, you don't have to be serious all of the time.
Have fun with your TikToks. Use the popular filters and features. Be silly. It's okay to let your real personality shine through.
4. Focus on the First 6 Seconds of Your Video
TikTok viewers are going to make immediate decisions on whether or not they'll watch your video all the way through.
You have about six seconds to convince them to stay. Use those six seconds wisely.
Come up with a strong, attention-grabbing hook for every video you create. Write it out if you need to. In fact – write a bunch of different versions and then pick your favorite.
5. Use Trending Music
While you might be tempted to add only the music you like to your videos, it's best to choose music from the trending tab. (Even if it isn't always your favorite.)
TikTok is more likely to push your videos out when you use trending music.
6. Think About the End Goal
You can use TikTok to reach many different types of blogging goals. This is why it's essential to think about your end goal before creating your video.
Here are some different ways to use TikTok to increase your revenue. Consider these when creating your calls to action.
Grow Your Email List – If you want to grow your email list, you can create opt-in freebies that coordinate with your videos. Use a landing page to host your email sign-up offer, and then put the landing page link in your bio and mention it in your call to action.
Increase Affiliate Revenue – There are a couple of ways you can use TikTok to increase affiliate revenue. First, you can sendTikTok traffic to your email list and then put those subscribers in a funnel.
Secondly, you could point TikTok traffic to a blog post that contains affiliate links for the product(s) you've featured in your TikTok video. To get the most out of this, try to find high-paying affiliate programs in your niche.
Grow YouTube Subscribers and Revenue – If you prioritize your YouTube channel over your blog, send traffic to YouTube videos. Make sure you encourage viewers to subscribe to your channel. You'll end up increasing both subscribers and YouTube ad revenue.
Grow Your Instagram Following – If you're trying to grow an Instagram following, direct traffic to check out your Instagram stories or highlights for the information they're after.
Sell Your Book or Course – If you have an ebook or course for sale, point TikTok viewers to the sales page or get them on a funnel that will lead to an eventual sale of your products.
Gain Sponsors – If you're able to grow your TikTok following, you can also find brand sponsors for your videos. While this hasn't been a priority, it could be a solid goal for the right blogger.
Heck, if you get big enough, you can even get paid directly by TikTok through their Creator's Fund. According to Forbes, TikTok put a whopping 2 billion dollars in this fund in June of 2020 to supply bonuses to top creators.
The Results of My TikTok Challenge
At the end of my 60 day TikTok challenge, using the tips I shared above, here's what I achieved:
Tripled the amount of monthly YouTube subscribers I got – from about 1,500 to over 5,300 per month.
Doubled income from YouTube ads.
Added 871 new emails to my email list.
Earned approximately $500 in affiliate commissions.
I also gained almost 5 million views on TikTok and, at that time, had grown my account to around 100,000 followers. It's only grown from there, and I've now amassed a following of over 350,000.
This was all done on a new account.
I'm not showing you these numbers to brag but to show you the potential of committing to TikTok. You don't need to bring a big following from somewhere else, and you don't need to be a teenage girl to find success.
If you make a plan and stay consistent, you're bound to see results.
📌 PIN THIS POST FOR LATER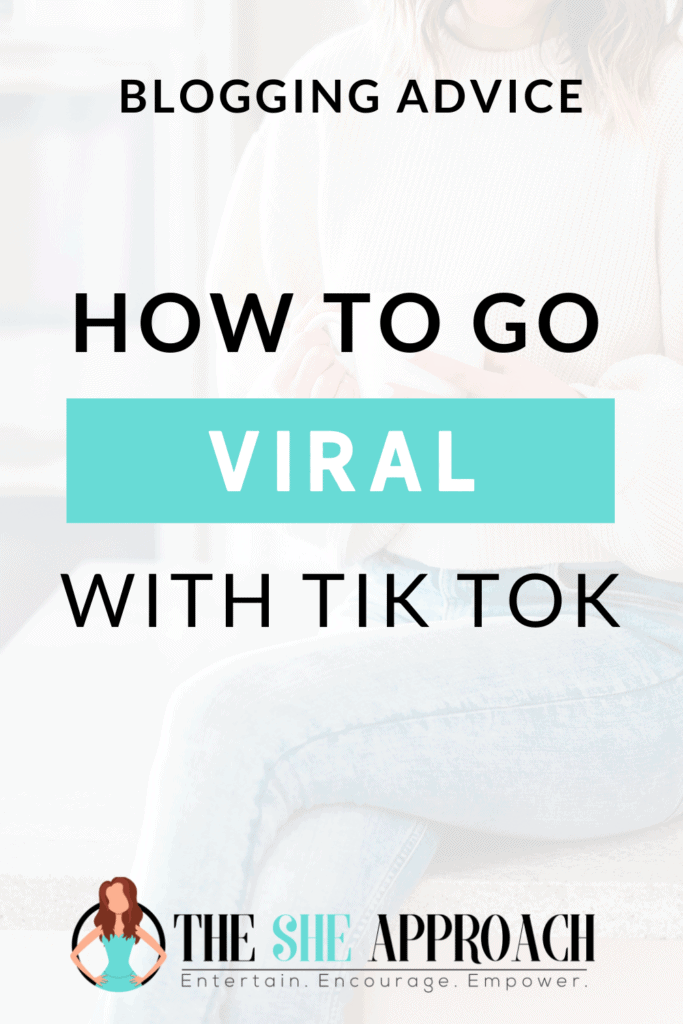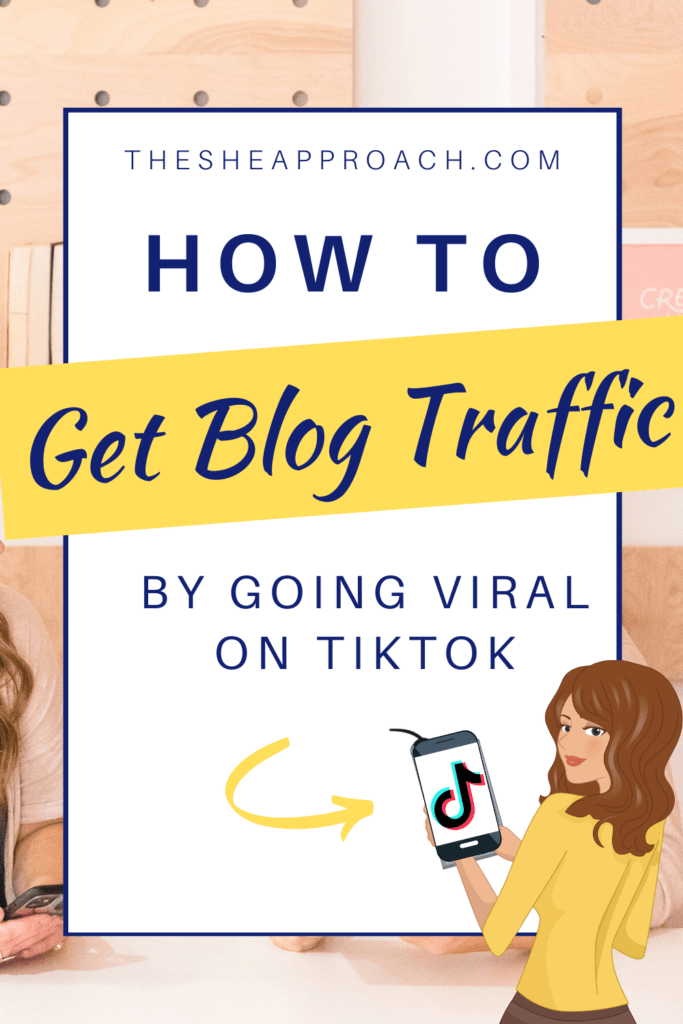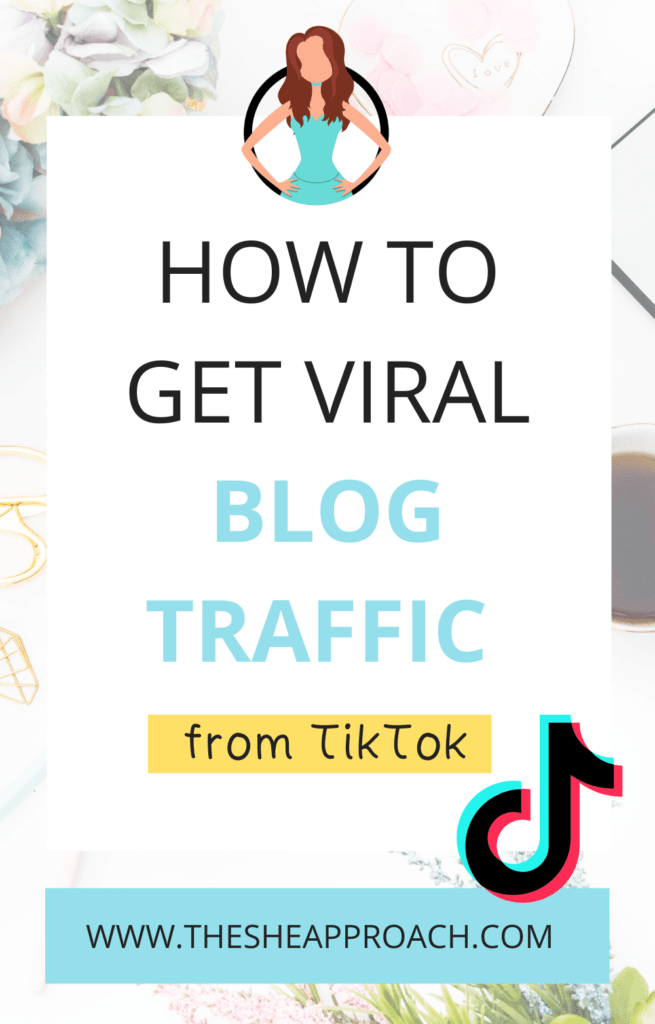 If You Want to Explode Your Traffic, Give TikTok a Try
As of January of 2021, TikTok had 689 million active users. And no, they aren't just preteens lip-syncing to Kesha songs.
Regardless of your niche, a good portion of your audience is probably already on TikTok or will be soon. This presents a massive opportunity for blog traffic and increased income that many bloggers and marketers have failed to capitalize on.
Now is the perfect time for you to get started and grow your blog and brand with TikTok.
Read more blog traffic tips strategies:
How to Drive Website Traffic Using TikTok Viral Videos