5 Secrets To Making Sales With An Etsy Shop
Transforming your Etsy shop into a full-time job can be a full-time job in itself. But just like in life, the amount of time you invest is proportional to your success.
The difference is that when it comes to Etsy, investing time in the wrong areas of your shop can turn out to be unrewarding and downright frustrating.
After intensive research and some experimenting of my own, I put together a list of TO DO's that will optimize your Etsy shop, and inevitably boost your sales. The trick is you have to find out what is missing from your own shop or what needs improvement and focus on that.
To get started, once you made a plan (Where do you want to be with your shop in a month? How do you want it to look in 6 months? What do you hope to achieve in a year from now?) you can come back and read this post.
And hopefully, these tricks and tips will help you prioritize your tasks because we all know how much is actually involved in getting an Etsy shop running.
Before I get into it, in the name of full transparency, please note that this post contains affiliate and sponsored links and any purchase made through such links will result in a small commission for myself. But this does not influence the amazing resources mentioned here, a lot of which I personally use and pay for.
How To Have Success With An Etsy Shop
So here is all you have to know and all that you have to do in order to own a successful Etsy shop:
💎 DO YOUR RESEARCH
If you want your Etsy shop to be a successful business you have to treat it like a business. That means finding all you need to know about the waters you are about to dive in.
You should start with product research. Get inspired and find viable product ideas that you can manufacture and sell. Find all you need to know about the market and the demand in the category of products you are planning to sell.
Consider investing in your research process as well. Books like Etsy Empire (which was recently updated in 2022) or The Idea In You can help you understand how Etsy works and can fast track your learning and creative process.
Then go ahead and check the competition. This is a vital part of running a business, and it was one of the key factors of Sam Walton's success. And he must've done something right because Walmart is the world's largest company by revenue and the most profitable retailer in the U.S.
So start browsing Etsy and pay attention to how other conduct their shops, focus on their products, prices, photos, shop appearance and so on.
An easy way to do this is to use a tool like Koalanda for competitor analysis. It provides invaluable data for the top sellers in each country and category, unlimited sales history for every single shop, and a detailed breakdown of the keywords used in each shop.
This isn't about stealing people's ideas. I do not encourage you to go out and copy everything they do, but as Sam Walton said "You can learn from everybody". So study them and figure out what they are doing right, and avoid doing things other do wrong. It's as simple as that!
💎 PAY ATTENTION TO YOUR ITEMS
Once you've done your research, it's all about the products. When posting a product you must watch out for these characteristics:
Quality
Appearance
Description
Policies

Price

Packaging

Tags and Categories
The QUALITY of your handmade items is of great significance and excellent quality goes a long way into turning your little shop into a business.
So make sure you offer your customers the best version of your products. Do not ship items that have malfunctions (double check before sending!), no matter how small, or that can deteriorate unusually fast. As long as you put some effort and passion into creating the things you are going to sell, you shouldn't have any problems in this area.
Packaging is another important aspect of your products and you should not neglect it. Do not send a beautiful item in a pity worthy wrapping. You do not have to go over the top with it, but as long as we live in a "judge a book by its cover" mentality time zone, you will have to put some effort into the appearance of the packaging, because it is after all the first thing your customers see.
The packaging will ultimately depend on the items you are selling, but you should consider investing in this area as it will bring added value to your sale and will protect the item while it's being shipped.
Appearance is not only important once the customer receives the order, but its one of the reasons why they ordered it in the first place. Therefore, the photo you use for a product can make or break your sales.
READ MY POST ON HOW TO TAKE PRODUCT PHOTOGRAPHY LIKE A PRO
How To Improve Your Etsy Product Photos
Based on the research you did earlier you should already have some ideas in this domain. But just in case you are running out, here are some tips:
Find inspiration where you can regarding the background, the position of the product and the angle from which you are taking the photo. Use a background that will make your item stand out. Do not always resume to a simple, white one though.
Make sure your photos are clear and do justice to your products. If you do not have a decent camera, then borrow one. Do not post blurry pictures! A good camera is a great investment that will surely pay off.
Use relevant props but do not let other objects steal the focus. Use your surroundings to put your product in a spotlight. Using models (for clothing or accessories) can also give your customers a good idea of the dimensions and proprieties of what they are planning to buy, thus increasing the chances of a sale.
Make sure the lighting is good. Scratch that. Make sure your lighting is excellent! Use natural light when possible. But we do recommend using a light box or edit the pictures if needed. You have to post good quality pictures without altering the main traits of the product, but you still have to show your products in their best light (see what I did there).
Be creative. This is one of the areas where you can go crazy, have fun, and experiment. Let your personality show and don't be afraid to try new things. Make sure you include at least 2 pictures for each product, showing off different angles or uses for it. It makes the buyer feel more secure in acquiring something from your shop.
Last, but not least, if you can't narrow the pictures down, ask for the opinion of a friend who has a history of online shopping (so pretty much anyone). Ask them if they would click on the product if they saw a certain photo. Get a sense of what captivates people's eye and makes them want to know more about what you sell.
💎 HAVE GOOD ETSY PRODUCT DESCRIPTIONS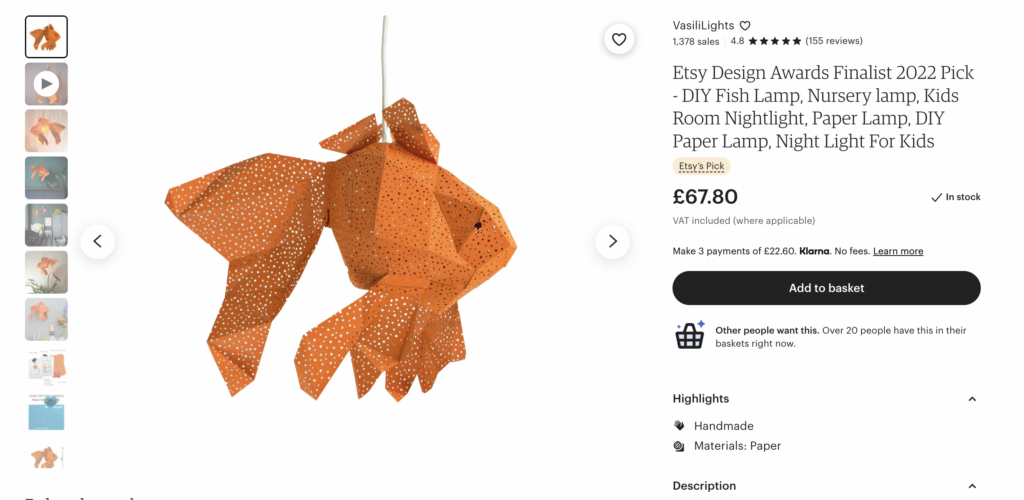 This leads us to the description of the product, a thing that you don't want to neglect. A description should be two things: creative and informative.
Describe your products with feeling! Let your passion for creating new things show and people will find your items so much more interesting. Everyone loves a good story. So give them one! A tip for writing a good description I found online was: "describe it as you would do it for a blind person". Next time you are in a funk and you are lacking inspiration just try that.
But the most important part is giving relevant information about what you are selling, so people know what they are buying.
Including all the details about the products in the description (size, color, use, instructions and other characteristics) can save you time and money in the long run by avoiding returns caused by misunderstandings, because no matter how accurate your pictures are, they can still happen.
💎 AVOID MISUNDERSTANDINGS
To avoid misunderstandings altogether keep your customers informed about all aspects of your business. A good place to do that is in the Policies section of your shop, designed especially for this.
From payment methods to shipping ones and return policies include anything relevant to the way you conduct business there. These will appear on every single listing you own, so make sure it includes everything there is to know about what methods of payment you accept, how fast you ship, from where and how much will it cost, and don't forget to set guidelines about returns and refunds.
💎 MAKE YOUR ITEMS EASY TO FIND
When posting a new listing you obviously want people to see it, so take some measures to make sure they can find it first. The first thing you can do is complete the category and tags sections of your listing. Choosing a category is a requirement on Etsy (you can't post an item without selecting one) and all you have to do is choose from a drop down box of options. Tags are optional, but they are not any less important.
You are allowed to write 13 tags which serve as keywords. The more tags you write, the more chances people who look up those words will find your listing.
So my advice is that you use them all, and use them wisely. Write details that are relevant to what you are trying to sell, preferably words you haven't already used in the title. Think about what you would type in the search box if you were looking to buy a product similar to yours. Allow your shop to have more search results and therefore more opportunities for sales.
💎 PROMOTE YOUR LISTINGS
While we are on the topic of creating traffic for your shop, you must know not to neglect social media and self-advertising. In order to get others to believe in what you do and support it, they must know about it. So share your shop on your social media platforms regularly but avoid spamming your friends.
My advice is that you find that one platform that works the best for you, and focus most of your attention on that. A blog for example is a great way to showcase your products, share the story behind them and get people excited about what you create.
If you would rather invest your time in making the products than advertising them, I recommend getting bloggers to review the products for you. There are a lot of blogs out there who wouldn't mind writing a post about your shop in exchange for free samples.
I believe that is small price to pay for some lovely advertising. But do not expect bloggers to come to you. Blogs are not hard to find and they all have a "Contact me" section. So do just that. You won't regret it.
Alternatively, you can try using Pinterest to promote your Etsy products as I outline in this article, or as you can see it described further in this helpful video:
💎 PRICING YOUR ETSY PRODUCTS
The price plays a big part because for some people it is all about the money. So how do you determine what is "the right price" for a product? Well, that does not exist.
The quote "I took a calculated risk but, man, I was bad at math." applies here. What I'm saying is take a risk because there is no perfect price. But your math must be good enough to determine an appropriate price range. To do that you have to take under consideration the cost involved in creating the product, such as the cost of the materials you used and the cost of your labour.
Make sure that if your costs increases, the price increases as well to prevent your profit from decreasing. It is simple math.
You can always keep an eye on the competition and check out their prices in order to get an idea and find some guidelines. But whatever you do, do not engage in a price war! If your competitors lower or raise their prices, do not do the same to match them. That works for big retails stores such as Walmart but when it comes to small businesses, you do not want to compete on price alone. So focus on providing more value rather than lower prices.
Because the truth is that people spend money on what is important to them. It has nothing to do with what they can afford.
So be reasonable, but be daring. Decide what your work is worth and don't be afraid to ask for what you deserve, as long as you don't get greedy.
💎 GIVE EXCELLENT CUSTOMER SERVICE
Once you got all that figured out, and orders start coming in, the way you treat your customers will determine the outgoing of your shop. That is why excellent customer service is the key to your success.
I read somewhere you should conduct business as if you could never get another new customer — your only chance of prospering was to turn existing customers into repeat customers.
So my advice is to treat each customer as if you want him or her to be a repeated customer, to come back, to recommend you to others, to leave you good reviews. You need that in order for your business to grow.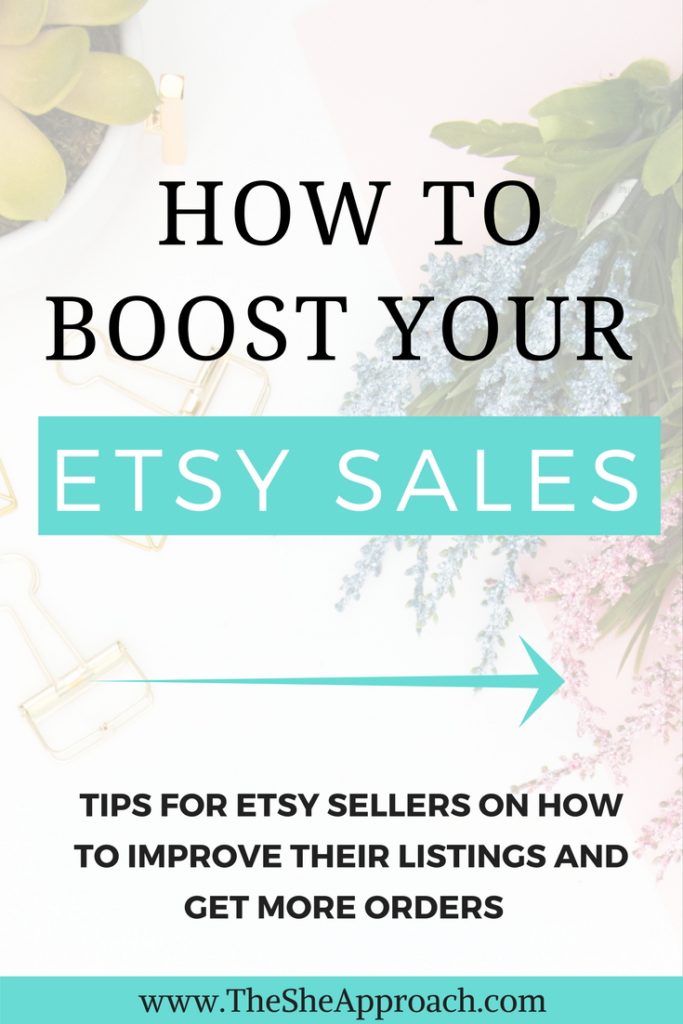 So how do you offer an excellent customer service you ask? Start by answering questions and messages quickly. If you take too long to answer, they could use that time to find another product, and Etsy is full of opportunities.
Proceed by answering all of their questions in a friendly matter, even though the answers might be included in the description or shop policies already. Resolve any problems that they might have and remove any doubt, creating a bond with your potential clients in the meantime.
Having a friendly return policy and dealing with negative reviews is a big part of trying to build up trust with your clientele. Contact people who leave negative reviews in a professional and apologetic manner. If there is something you can do to improve their experience (a refund if it's your fault, a new product if the one you sent was faulty and so on), do it!
They might just change their review. If not, reply publicly to their review, so other can see you tackled the issue. Again, use a professional and friendly language.
One thing you can do to keep a good communication with your customers is to send them a message when their item is dispatched, and check in once it arrives to make sure they are satisfied. You can use this opportunity to remind them kindly (without sounding forced) to leave an honest review.
Thanking people for good reviews is a good way to show your appreciation. A great tip for wanting them to order again is to offer a discount on their next order.
Whether you use this as an excuse for a discount or any other (such as holidays), promotions are always a good idea. Etsy allows multiple coupon codes in the form of percentage discounts, fixed discounts or free shipping coupons and in the long run, you have more to gain than to lose.
💎 BE CONSISTENT
Last but not least, you must be persistent. You can't expect hundred of orders to come in overnight, and everything to take off suddenly, bringing huge profits. This is something that will take time, and effort, much more than it will need luck.
Persistence is the most important factor of success in any business. And as you go along, you will learn to navigate the waters of online shopping platforms and you will improve and you will succeed.
As Sam Walton put it: "Commit to your business! Believe in it more than anybody else!"
So be brave, be inspired, be committed, take risks and put in the work. And you might just become the proud owner of a successful online shop.
If you are already on Etsy, feel free to share your shop in the comment section below and tell us if there are any other factors that you think are important in order to run a successful shop, or if there is anything you are going to change after reading this.
And feel free to share your favorites boutiques or your opinion on what makes a great Etsy shop. Looking forward to reading your comments.
You might also find helpful:
How To Boost Etsy Online Shop Sales Organically