How To Make Money As A Blogger – Detailed Blog Income Report
Let's talk about money! One of the questions that I get asked the most when I tell people that I'm a blogger – besides the "what do you even do on a day-to-day basis?" is how do you make your money?
Over the course of my blogging career, I've made a point to be very transparent with how much money you can actually make blogging, where it comes from and so on in order to help bloggers follow the same path or avoid the mistakes that I've made.
In this blog income report, I'm going to break down how I made my first $200,000 blogging. I've actually hit this milestone back in November 2021, but I'm running a little bit late with posting these income reports.
If you're new here and want to find out how I got here, read my other income reports first:
As you can see, I've been posting these income reports ever since i made my first $100 blogging, and it's been so fun to keep up the tally and share the details.
In fact, I've recently started filming my income reports as well, and you can find me talk you through it all in my Youtube videos:
And for my regular disclaimers, keep in mind that:
This is revenue generated by my blogging business, and not all of it is profit.
But it is money that actually landed my Paypal/bank account!
It doesn't include expenses to run the blog, or taxes paid on that income.
Still – it's my full time income and I think running a blog is such a cool business model.
I converted all my earnings to US dollars to make it easier to track and report to you.
This post contains affiliate links for products and tools I love.
And now let's get to what you came here to learn!
How I Made My First $200,000 as a Blogger
Every since I made my first dollar with this blog, back in 2016, I've been keeping track of my blogging income and exactly what helped me generate it. At the end of each month, I input the figures into my blog income and expenses tracker for accounting and analytics purposes.
And during income reports just like these, I analyse my earnings in detail and break it down. So here it is:
💎 Affiliate Marketing Sales: $77,550
(+ $15,624 since the last income report)
Out of the $200,613 generated by my blogging business, a big chunk ($77,550 to be exact) has been made through affiliate sales. And I'm not counting other 5k+ in earnings that I've been paid since November 2021.
This is all affiliate income based on different partnerships and promotions that I host on my blog on my email list and other social media channels. Although the bulk of my affiliate sales come from my blog and my email list.
I also include affiliate inks in my eBooks, courses and masterclasses where relevant, where I teach my students to use certain tools (like the Lasso plugin – one of my favourite affiliate display boxes).
What's really interesting to me in my affiliate journey throughout the last few years, is that even if my blog traffic hasn't gone up massively over the past few years, my affiliate income has consistently increased. This is just a sign that when you do affiliate marketing correctly you can earn quite well with it without needing a huge audience or huge amounts of traffic.
And that's why I think affiliate marketing is one of the best places to get started with if you have a blog an want to monetize it, because you don't need a huge audience to have it pay off.
If you want to find out exactly how I did it, and how I went from earning only $6,000 per year in affiliate income to $20,000 last year – generated from affiliate revenue alone, with virtually the same traffic then check out my Affiliate Surge Challenge.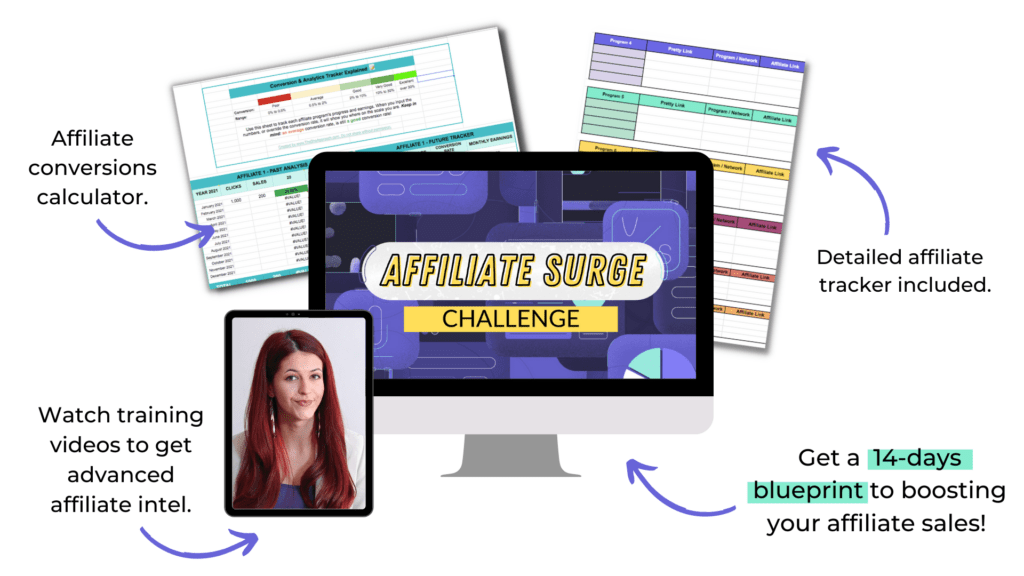 This is a 14 day challenge designed to help you increase your affiliate income, if you've been stuck at earning under $500 a month. This brand new affiliate training is geared towards intermediate to more advanced bloggers and I'm sharing a couple of my best guarded affiliate marketing secrets to my challenge participants and students in there.
Save your seat before December 1st, and you will also get:
Early bird pricing with a $20 discount.
My list of 770+ high-paying affiliate programs (usually $29) included for free!
Live support and feedback on your affiliate attempts so far.
But here's a free affiliate marketing tip for you – pick your favourite affiliates and champion them. About 80% of my affiliate income came from only 20% of the products and brands I was promoting. Don't overcomplicate it – just stand behind the brands that you love and do it often.
For more affiliate marketing resources and tips on how to get started:
💎 Ebooks & Digital Product Sales: $89,825
(+ $21,947 since the last income report)
Next up is my digital product sales income. This is a combination of ebooks, courses and challenges that I sell in my blogging shop and the revenue generated by them has been another huge source of income for me, and something that has outperformed every single income source out there so far.
This is why i'm such a huge fan of creating digital products and selling them! Because you only create them once and then once you incorporate a few marketing strategies, it's more or less passive! There's no limit on how much you can sell!
RELATED POST: How To Make Passive Income By Selling Ebooks
A couple of my digital products that have done really well lately have been:
While creating new digital products to add to your library is important, what I actually contribute my success for in this category is to optimising the sales, funnels and checkouts for my existing products.
One of the tools that helped me increase my digital product sales was actually Thrivecart, which is a cart and checkout software. I recently moved all my digital products courses over to them and it has been a game changer for my conversion rates!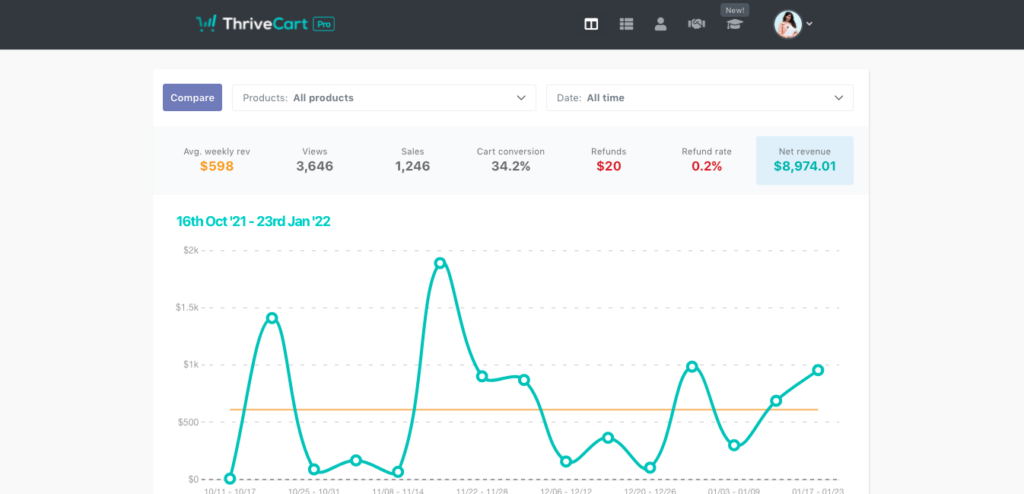 So more people that showed interest in my eBooks or digital trainings, actually ended up actually finalizing the transaction. My average cart value has also gone up, because Thrivecart offers a bump offer feature.
So if someone is looking to buy eBook A, I can offer a discount for eBook B and let them buy both with a single click.
Thrivecart has a bunch of cool features for online business owners, but what convinced me to switch to them is their Learn platform – which is a course hosting feature and student hub. It's the equivalent of Teachable and other student platforms, except you don't have to pay anything extra! It's all included with your Thrivecart lifetime membership.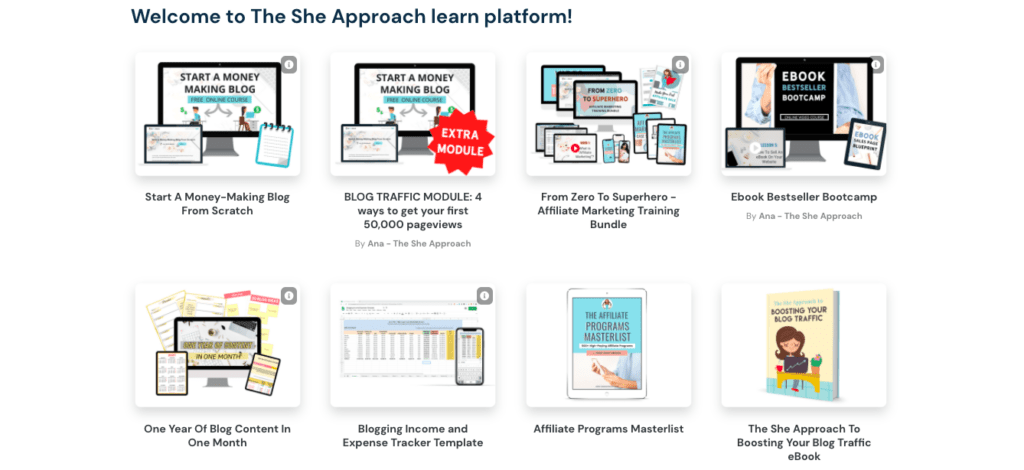 If you want to check them out – now's the time. They have a lifetime offer active now – which means you only pay for them once, and you never have any monthly fees ever again!!
It was a little bit scary converting to them since it was a bigger chunk of money than I usually pay for these tools – but i'm actually saving money in the long run! I used to have to pay for an online course hosting platform which is about $60 a month + another platform (Send Owl) to sell my ebooks. (So I was paying nearly $1,000 per year…)
P.S. I still love Send Owl for selling eBooks or small digital products, but if you plan to add courses or want better conversions for your digital product sales, I would recommend moving to Thrive Cart earlier than later.
💎 Blog Coaching Services: $29,367
(+ $12,440 since the last income report)
On the side of my blog, I actually offer blog consultancy and coaching services. That means I work one-on-one with bloggers and content creators, to help them improve their blogging businesses.
I only started offering this service a couple of years ago, after I had great success with my own blog and to date I have coached over 50 women and bloggers.
This allowed me to test a bunch of my blogging strategies on different niches and it was super valuable to see what works universally and what strategies needed tweaking based on the kind of content you create.
Last year, I got a little bit more serious about my coaching services and wanted to improve the client experience. So I invested in Honeybook – a client management software. And I love them so much!
Offering services in general is such a great way to boost your online income. You can offer any sort of services from in-person services like photography, videography, to virtual assistant services and even make it more specific.
For example you can become a Pinterest virtual assistant and offer Pinterest management services, alongside social media and blogging.
For example, if you already run your own blog and you know the ins and outs of what it takes – you can offer blog management services to other bloggers out there, who need extra help.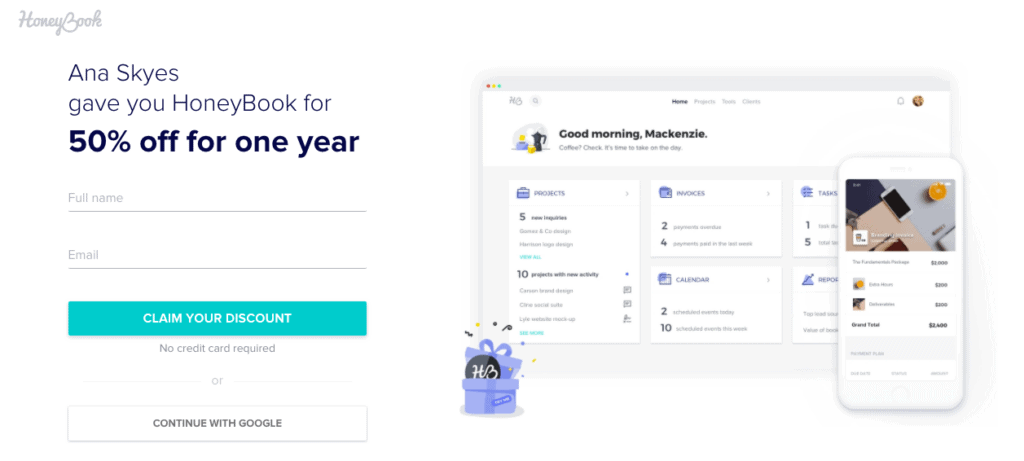 If you want to do that and keep it professional, keep everything organized and be able to offer and handle contracts, book calls, accept payments, get paid and manage client messages – you can do it all using one tool only – Honeybook.
Get 50% off your entire first year with my discount link. You'll get a free trial first, so you can test them out and once that ends you get 50% off your whole first year so it will help you get started. And you only need one client to be able to pay it off!
Want to scale your blog instead? Reach out and book a free discovery call with me.
💎 Ad Income: $2,147
(+ $265 since the last income report)
Moving on to ad income – I made $2,147 with ads on my blog. This only includes blogging ads because at the time of I'm writing this article, I'm not yet monetised on my Youtube channel. (Although that is a goal for 2022!)
The reason why I don't make that much money with ads on my blog is because I have consistently prioritised my own products and affiliate links over ads. And I think it shows.
Instead of adding too many ads per page, and scaring my visitors off with pop-up ads, I want their attention to be on the actual content. Like I said, I've been able to scale my income with virtually the same traffic just by improving my affiliate marketing strategy, rather than focusing on increasing the traffic alone.
That's not to say that ads are bad. If you have one of those niches that does very well traffic wise, then implementing ads on your blog is such a great way to make passive income. It literally requires no extra effort on your part other than the setup.
If you're curious, I started with Google Adsense as my ad network and then I moved over to She Media. There was also a period of time during this income report that I stopped all ads during that transition.
💎 Sponsored Income: $1,284
(+ $0 since the last income report)
This is another one of those categories where I will accept sponsored cooperations, but I just don't chase them. I also don't accept brands that are not a good fit for my blog or readers, so I haven't done any extra sponsored work since my last income report.
In other exciting news, I had my first sponsored Youtube video, but the payment for that will be included in the next income report since it occurred late November, when I had already reached the 200k mark.
💎 Freelancing: $440
(+ $0 since the last income report)
I have made $440 on freelancing and VA work this was back in my first year of blogging, when I decided to offer a Pinterest management service for a while. If you look at my previous income reports, you'll find that this is the exact same number since that first year.
And it all comes from one client. While offering service isn't for me, becoming a Pinterest VA is a quite well paid job, and in demand right now!
This brings the total to:
---
TOTAL BLOG EARNINGS: $200,613
TIME ELAPSED SINCE BLOG LAUNCH: 5 YEARS
---
Blogging Income Report Findings
And this is how I make money blogging! On average, I generate anywhere from $4,000 to $9,000 a month, but these income reports are a much better way to track my progress since for some payments I do the work months before I actually get paid. It's just the nature of blogging.
With your support, I'll continue tracking my journey and talking about what worked and what didn't. Is there anything that surprised you about my breakdown? Let me know in the comment section below.
But I hope this was helpful! As noted, this is only the income I generated with my main website – The She Approach – and doesn't include income generated by my side blogs or other businesses.
And while I make a full time income with this blog, I don't run this blogging business full-time, because I am currently dedicating time and resources to my other side projects as well.
But if your question was if you can live off of blogging income – the answer is yes! But not at first. It took me about two three years to get to a point where I could blog and live off my blogging income.
And that might be quicker or slower for you depending on your circumstances, education and niche!
That's why i'm so passionate about sharing these income reports with you – so you can get to where I am faster, or even surpass me, like some of my blog coaching clients did!
Read more on how to make your blog your business:
Blogging Income Report From An Honest Blogger – $200,000