Tailwind Create Tutorial – How To Create Multiple Pins At Once
If you are stuck at your computer for hours on end trying to create fresh pins to post on Pinterest throughout the day, week, or month, you're doing it all wrong. There's a better way to make Pinterest pins fast, and this article will show you how.
Since social media is taking over the world, these platforms can benefit your business greatly. And, overall, Pinterest has proven to be one of the most successful ways to grow your blog and drive website traffic. But, do you really need to be posting content all the time?
Being one of the fastest growing social media platforms, Pinterest has an audience of over 300 million people. A user amount of this size makes Pinterest a wonderful way to increase traffic to your blog.
But, this means there are millions of people posting links to their blogs and businesses, while Pinterest has to decide what it wants to show. So, how much work do you really need to put into this social media platform, to see it payoff?
Whether you are a content creator or a business owner, this platform can be your goldmine, if you know how to use it correctly.
This post contains affiliate links. This simply means that if you make a purchase, I will be awarded a small commission, without any extra charge for you.
That being said, one of the best ways to get higher engagement on Pinterest is by creating and publishing new pins to your account consistently, that link back to your blog posts and products.
But, in reality creating new pins every day, for every blog post, can be extremely exhausting.
Lucky for you, you're in the right place if you're trying to find the fastest way to create new Pinterest pins in bulk.
Why do you need to create and publish fresh pins?
There are over 3.6 billion people using social media platforms all over the world. It'd be crazy not to use this to your business' advantage.
But, how do we know what to do to gain traction to our blogs? We have to learn (and play) the platform's algorithm.
An algorithm is seemingly how Facebook, Instagram, Twitter, and even Pinterest decides what shows up on our (and others') feeds. This is how you reach more people and overall grow your audience.
There are many different parts that play into algorithms, though. For example, an algorithm may pay attention to follower count, engagement, use of new designs, etc. But, each part of social media has different algorithms.
Since Pinterest is included as a social media platform, it's vital that we learn its algorithm, and then use it to our benefits.
Pinterest has been constantly updating and evolving its platform to keep up with (or exceed) other social media networks like Instagram, Facebook, and Twitter.
Although it still has less members than some of its competitors, Pinterest has proven to be one of the most effective ways to gain traffic to your blog. In fact, most bloggers start out using Pinterest before going to other networks.
In the past, repins have been said to be the currency that determined a pin's success. Course instructors told us to repin 10-30 pins each day at various times. We were also instructed to create fresh pins that linked to our own blogs whenever we had a new post.
But, in March of 2020, we found out that Pinterest actually prioritizes fresh pins. Talk about a news flash!
In their own words: "We encourage creators to continue to post high-quality, inspiring ideas to see what resonates with their audience on Pinterest. […] Pinterest encourages creators to publish new, original content on a regular basis as the best way to build an audience on Pinterest. We are making updates to prioritize new Pins over already-Pinned content and we encourage new publishing over Saving others' or your own already-pinned content."
This means that Pinterest is looking for fresh pins from content creators and business owners, rather than repins of older content. (Which is smart for their platform because we, as consumers, would prefer to see fresh content rather than repetitive content.)
This information offers us precious insight into what Pinterest wants to see from us as account owners, for our content to be shown to followers and recommended to others.
By paying attention to the "fresh pins" rule, we can guarantee a bigger distribution and reach for our pins without having to constantly repin old content.
To gain traction and get more traffic to your Pinterest account, you should ideally be creating and publishing at least 1-2 fresh pins every day.
You can create different pins for old or new blog posts, but you want the pin itself to be fresh.
Now, I know what you're thinking. So, we don't have to constantly repin old content anymore, but now we have to have a ton of our own content to keep up with the new algorithm?
No worries here. We're introducing a new way to create multiple pins at once to save your time, energy, and money!
How to Make Pinterest Pins Fast
Since Pinterest is prioritizing fresh pins, you need to be able to create fresh pins fast. If not, you'll feel like you are constantly working for this platform.
To be publishing 1-2 fresh pins a day, you need 7-14 pins for each week (ranging from 30-60 per month). But, you should also be posting 3-4 new pins for each new article that you publish, directly after publishing.
If you create pins one at a time, you will get overwhelmed by this super consuming task. So, we've got a solution to speed up the process, batch create pins, save your time and overall be more efficient.
Create Pinterest pins in bulk with Tailwind Create
The quickest and most effective way to create multiple pins at once is to use the Tailwind Create batch pin design creation tool.
Tailwind Create is one of Tailwind's newest tools (the Pinterest approved scheduler that I use). It generates tens of ready made pins based on your preset preferences in seconds!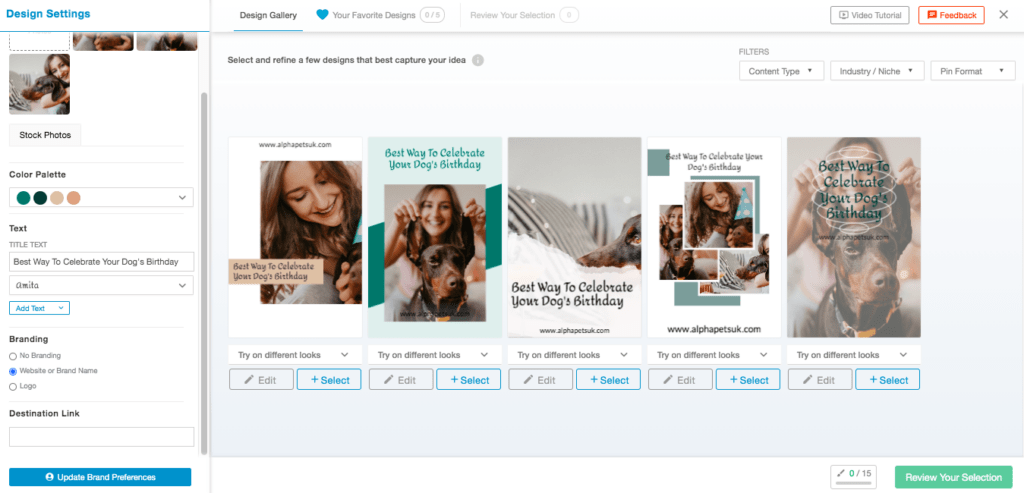 The best part? Your hands-on work is very minimal. All you have to do is:
Write out the title of your pins. Make sure that your titles are related to the pin and its link.
Choose your personalized branding font, colours, and logo. They have pallets to make this easier on you, but you can set your designated fonts, colours, and logos here. Tailwind Create uses these to create personalized pins that are right on target with your brand. And, if you decide to change your branding designs, you'll always be able to change and edit these options.
Upload your background photos. Your background photos need to be what you want your audience to see. These photos should work nicely with your fonts, logo, and colour pallet. That way, your designs don't clash in the end.
Upload your logo. This is optional, but if you have a set logo in your branding palette, you shouldn't have to upload another one. You can choose to display your logo along with your URL link, or just have the link itself.
Then, you're done and fresh pins will be generated in seconds! Seriously, could that process be any easier? You can see in in action here:
Another cool tip about Tailwind Create is that you can still edit pins individually for a more customized look, if you aren't completely satisfied with all of the automatically batched pins.
On the flip side, if they all turned out great, you can automatically schedule it directly to Pinterest from Tailwind and Tailwind Create.
But you don't need to be a paid Tailwind user to use this feature! All you need is a free Tailwind Create account.
How much does Tailwind Create cost?
You can create up to 15 designs per month for free with Tailwind Create.
Yes, you read that right. 15 FREE designs per month!
They also have paid plans if you are needing to create more than 15 different pins per month. For just $12 a month, you can create 30 designs per month. Then, for $24 a month, you can create up to 100 new personalized pins per month. And so on.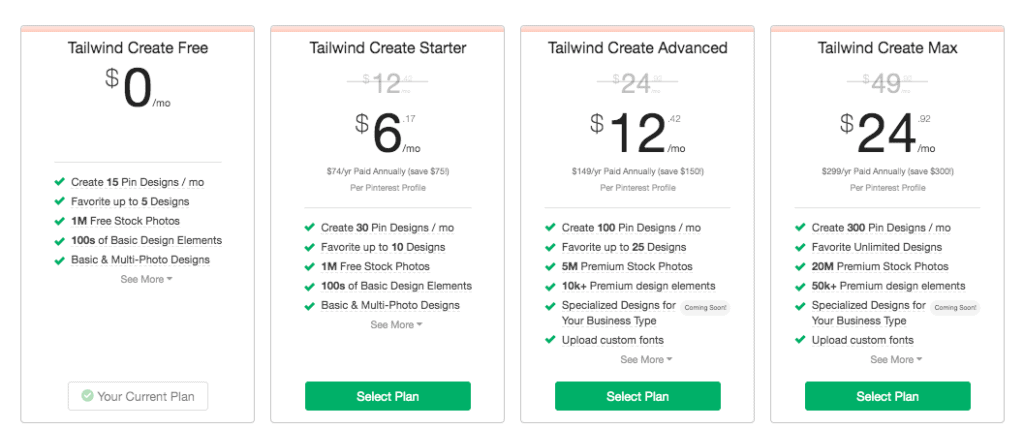 And if you upgrade before Jan 31, 2021, you can lock in 50% off any Create plan for life!!
Simply go to your Tailwind Account Settings > "Add A Tailwind Create Power Up" to take advantage of this deal.
Tailwind Create also gives you access to over 1 million free stock images for you to use, without needing to upload your own. This is a huge perk, since finding the right stock images for free can be challenging at times.
Depending on your needs, how many websites you run and how many pin designs you want to create, there's a plan for everyone!
But I recommend to get started with the free plan, see how you like it, and then pay yearly for one of their other plans to save even more!
Is Tailwind Create Power Up worth it?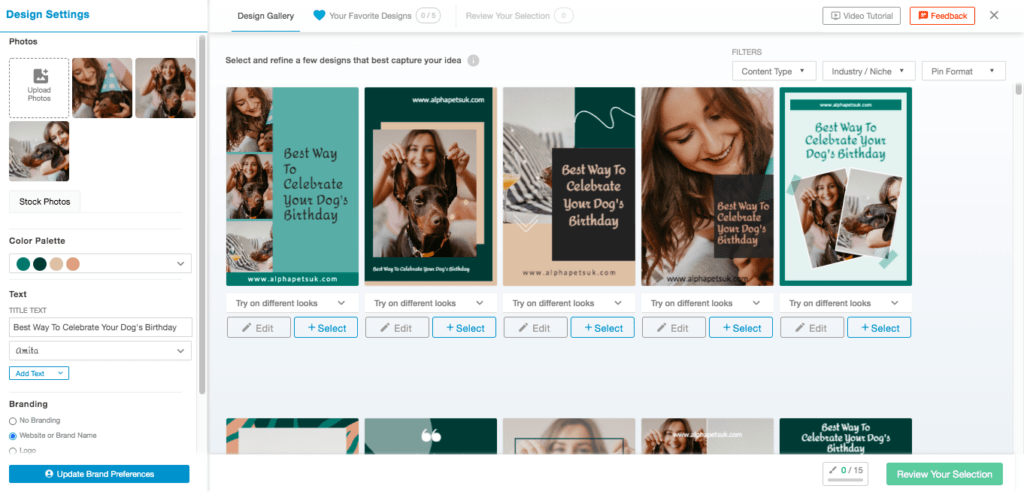 Any of the Tailwind Create options are absolutely worth it. But, to get the most bang for your buck, I highly recommend upgrading to their $24 plan. That way, you're able to very quickly batch over a month's worth of content within a matter of hours.
Not only has it saved me time, but it saves me money.
For example, I pay my VA to create fresh pins for me and have also paid up to $30 for 10 Pinterest templates. (Which is more than what I pay for a month of Tailwind Create.)
But, Tailwind Create eliminates the need for both. I can quickly do it myself, and so can you.
All in all, Tailwind Create is by far the fastest way to create new pins.
2 Other Ways You Can Batch Create Pinterest Graphics
Although Tailwind Create is an actual life saver, there are a few other ways to create beautiful Pinterest pins. So if you've tested it out, and decided it's not for you, here are a few other ways to batch create pins fast:
1. Create your own new pins using free Canva templates
You can use Canva to create fresh pins. Canva is a mobile app and desktop site that allows you to create graphics for various outlets. One of these outlets is Pinterest.
On Canva, you will be able to search through pre-made pin designs. Once you find a couple you like, all you have to do is personalize them to your business and brand.
Here are some free Pinterest Canva design templates to get you started. They aren't as unique as Tailwind Create options, but they are a good stepping stone if you've never designed your own before.

2. Purchase pre-made Pinterest pin templates
If you want to stand out a little more and create unique pins designed by actual graphic designers, I recommend buying a few Pinterest templates instead. (Creative Market has a ton of different ones you can choose from.)
These are pin designs that other people have created. All you have to do is change the text and add in your own photos. But the difference is that millions of free Canva users don't get access to them as well. So it will be easier to stand out.
The idea here is that you buy these templates pack once, and then you are able to use the same basic design, and adjust it for each article or page you want to promote, to keep creating fresh pins.
I actually offer 15 free Canva designs as a bonus for those who grab a copy of my Pinterest eBook. This eBook gives you everything you need to make your Pinterest strategy a success, from setting up your account, to automating your pinning and everything in between.
And it even has a full chapter on how to brand and design your pins so that they are click worthy and have the potential to go viral.

Overall, the strategy is simple.
You need to buy or create a few templates that you love. Then, you will want to batch create more pins. To do this quickly, use your templates to create 1-4 different pins for all of your articles and blog posts to start off with.
In time, you can continue to create more new designs for older pins.
I have a combination of both pins I designed from scratch and templates that I bought over the years, and I have them all saved in a spreadsheet with a visual and the Canva link to quickly access them.

If you're curious about how I keep track of all my designs, and which ones I've used for which blog post, I explain it in detail and I help you create an effective system for your own account in my Pinterest eBook.
QUICK TIP: If you're brand new to Pinterest, you only need 3-6 designs to start off with, but you will want to add to these in time, as Pinterest trends change, and you don't want to be to repetitive over the years by posting the same designs.
Once your fresh pins are created, save or schedule them accordingly. By then, you'll be set for the next few weeks.
If you have tried using Canva but seem to struggle coming up with pin designs, I highly recommend for you to at least try using Tailwind Create as an effective Pinterest bulk upload tool.
But these two methods also work if you have the patience and the creativity needed.
If you want to learn more about the elements of a stunning Pinterest template, be sure to give this article a read.
How to Batch Create Beautiful Pinterest Pins Summarized
Learning how to create multiple pins at once can save you so much time and money, while skyrocketing your business.
If you want to grow traffic to your blog, you need to be using Pinterest. In order to use it effectively, it is crucial that you post 1-2 fresh pins each day.
By using Tailwind for a Pinterest bulk upload tool and Tailwind Create to batch create Pinterest graphics, you'll be able to create multiple pins at once and then immediately schedule them to publish on Pinterest as fresh pins.
Pinterest doesn't have to take hours out of your day anymore.
Remember to be consistent with publishing new pins made from Tailwind Create. Since they have an abundance of stand-out templates, it's the most effective way for you to quickly create pins in bulk.
📌 PIN THIS FOR LATER 📌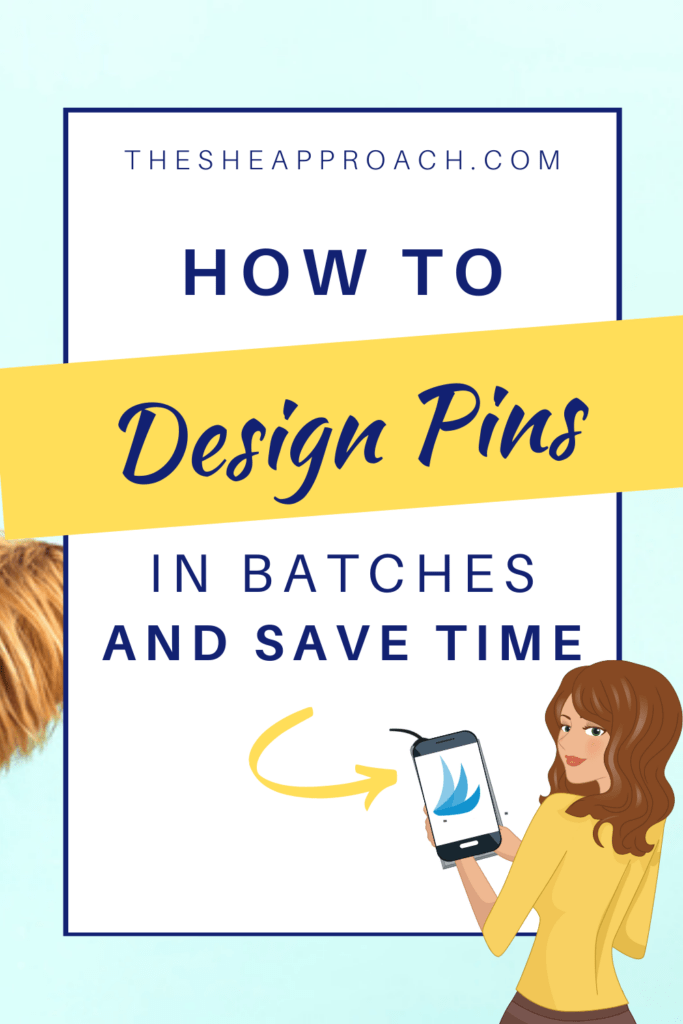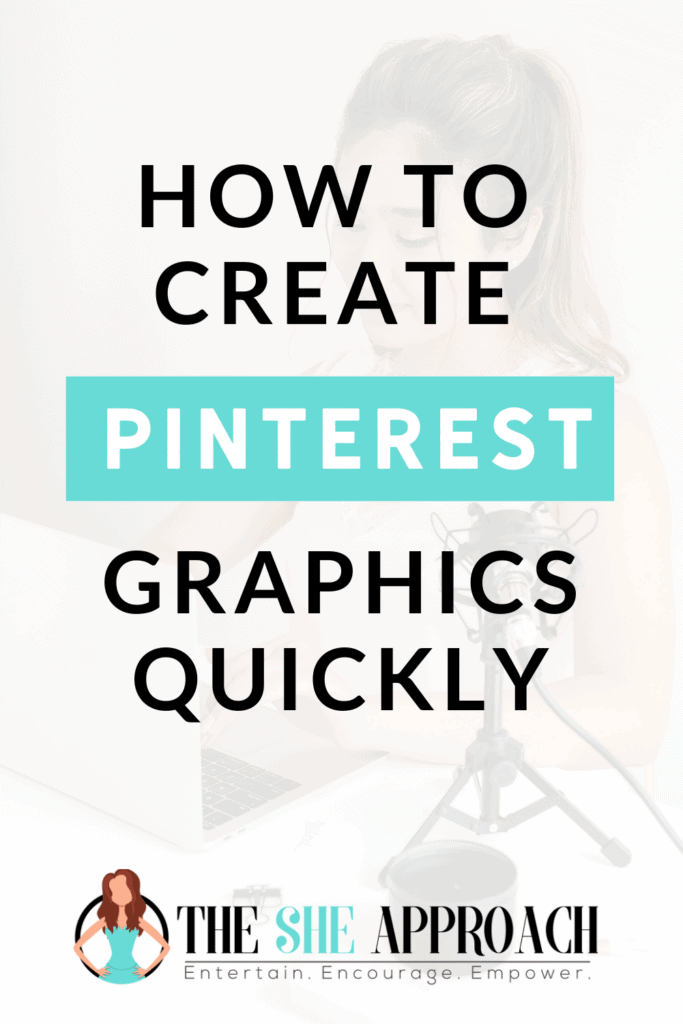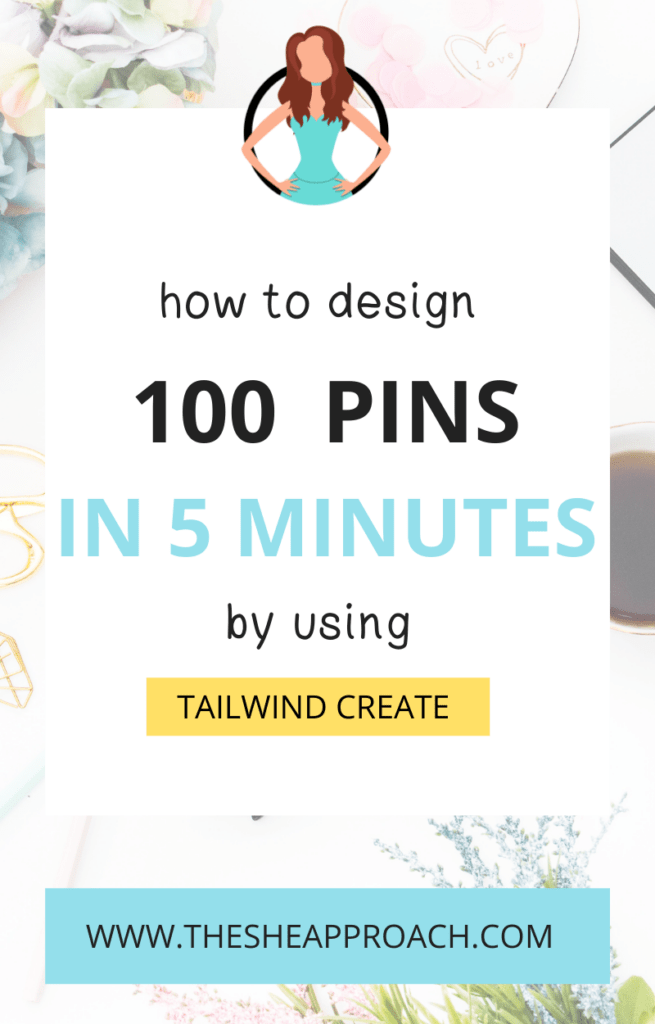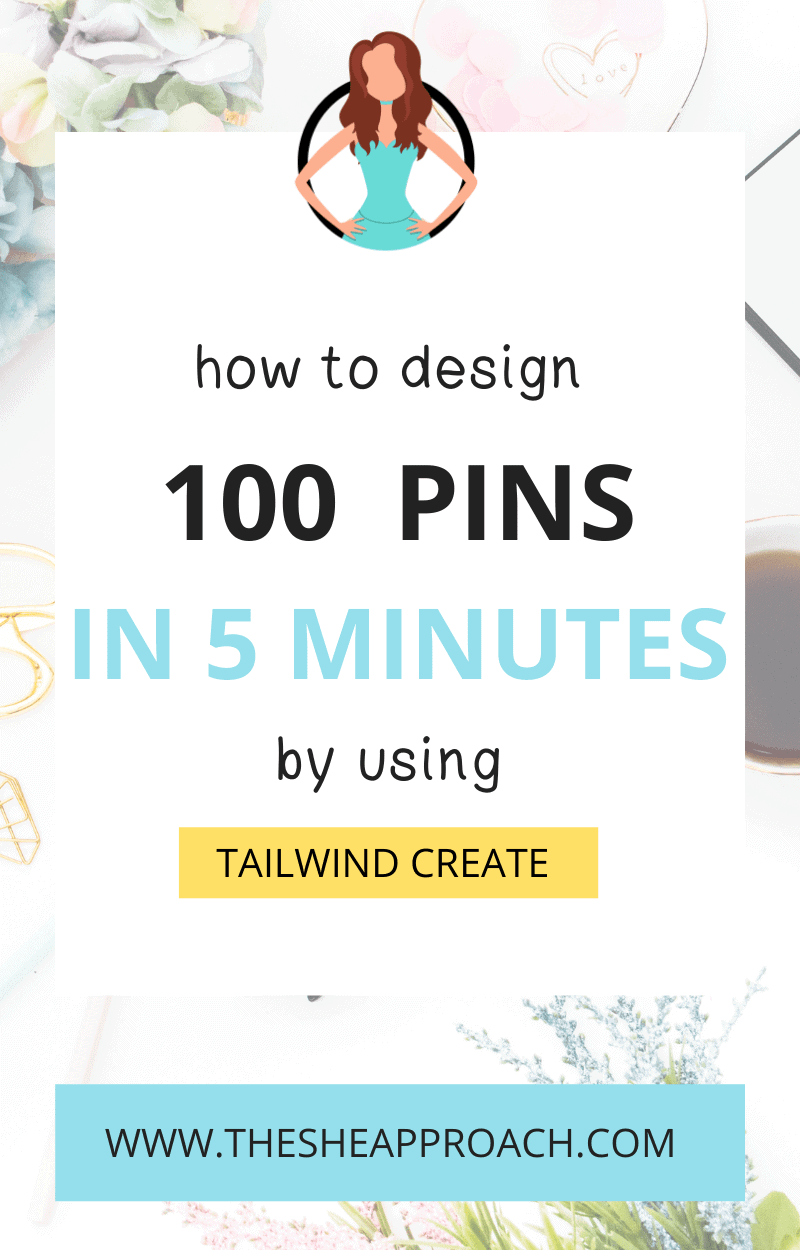 Q: Do I have to use Pinterest to grow my blog?
You don't have to use Pinterest to grow your blog, but it will definitely help you out. Other than search engine optimization (SEO), Pinterest is definitely one of the best ways to increase your blog traffic. Since it can take 6-9 months to begin to see positive SEO results through Google, Pinterest is a great marketing tool to use in the meantime, and after.
Therefore, if you haven't already gotten a business account on Pinterest (which allows you to see insights and gives you priority over personal accounts), I highly recommend doing so.
Q: Which Tailwind Create plan is best for me?
It really depends on how many fresh pins you want to create each month. You can choose to create a maximum of 15 pins per month for free, 30 pins per month for $12, or 100 pins per month for $24 (best value).
You can also batch create pins using one of the bigger plans, then downgrade until you need it again. But, if you are not completely sure you want to pay for this tool, I highly recommend starting with the free Tailwind Create plan to try it out.
Q: Can I use Tailwind Create to schedule my fresh pins?
Tailwind Create, itself, is not a pin scheduler. But, it is a product of Tailwind, which is exclusively a social media scheduler.
Using Tailwind and Tailwind Create together is the fastest way to design and schedule stunning pins, as it allows you to set intervals for your pins, spacing them out to respect a consistent pinning schedule.
But a free Tailwind account and a free Tailwind Create account are two separate things.
So if you decide you want to manually upload your pin designs to Pinterest right after you create them with the Tailwind Create add-on, all you need is a free Tailwind account to be able to schedule and automate your pinning.
Q: Where can I find the best Pinterest pin templates?
Lucky for you, I created 15 free pin templates that come as a bonus with my Pinterest eBook. Not only will this allow you to immediately begin creating new pins, but this eBook also teaches you how to optimize your Pinterest SEO and helps you convert your pins to clicks.
Other great marketplaces to hunt down pin templates on are:
Q: Are Pinterest templates hard to use?
Pinterest templates are actually insanely easy to use. Since they are pin designs that are already created, all you have to do is personalize them to fit your brand. These pre-made designs will have boxes for your text and pictures, so you can make sure your new pins are exactly what you need them to be.
Also, if you find Pinterest templates that you like, but aren't really on par with your brand, you can change the colors and fonts during your pin making process.
Although Tailwind Create is the fastest way to create new pins (they generate up to 50 new unique designs in seconds), using templates can still help you create Pinterest pins fast.
Read more Pinterest and Tailwind tutorials:
How To Make Pinterest Pins Fast: Using Tailwind Create To Batch Design New Pins Quickly