Highest Paying Affiliate Programs & Networks For Bloggers Of All Niches
If you've read my blog before, you must know that I am an avid fan of affiliate marketing and especially of high-paying affiliate programs for bloggers. But how do you find companies with affiliate programs that accepting beginner bloggers? Read on to find out.
The thought of making passive income while suggesting products or services you love to your readers baffles me even now and I think it's a brilliant way to monetize your blog (or even your social media platforms).
In fact, affiliate marketing is the main source of income that comes from my blog and in my first 7 months of blogging alone, I have earned over $500 in affiliate sales.
2020 update: out of the first $100,000 I've earned blogging, a whopping 42.9% was through affiliate sales from a handful of affiliate marketing sites.
---
💎 MORE AFFILIATE MARKETING TIPS
---
They are a lot of bloggers out that that earn anywhere from $500 up to $20,000 per month from affiliate sales alones, but I want to use this post to talk about my own experience, faults and findings, because it was a bit of a learning curve for me at the beginning, which is why it probably took so long to achieve the results I was hoping for.
Hopefully, this post will inspire you to revise your affiliate marketing strategy, help you get started by finding affiliate networks that are suited for your content and give you an insight into what worked for me.
Please be advised that this post also contains affiliate links and any purchase made through such links will award me a small commission, at no extra cost for you.
How To Get Started With Affiliate Marketing
Before I start sharing absolute favorite affiliate programs and networks that bloggers can use to monetize their website, here are a few tips to get you started and put you on the right path:
The first thing you need to get started is a blog. Affiliate networks only tend to accept people who have their own platform (even if they allow you to share affiliate links on social media as well), so it's important to have a blog up and running when applying to join an affiliate program.
You can read my tutorial on How To Start A Money Making Blog to find out what are the three easy steps you need to take to launch your first blog this week!
Because if you want to be accepted into the top paying affiliate programs, and monetize your blog long-term, you need a self-hosted blog (not just a free WordPress one!).
Once your blog is up and running, here are a few other resources that will help you get started with affiliate marketing right away:
Take my free Make Your First Affiliate Sale email course to understand the basics of crafting a successful Affiliate Marketing strategy.
Read my post on My Affiliate Marketing Fail & What I Learned From It to know what mistakes to avoid when starting out.
Make a list of products and brands that you have already mentioned on your blog and that you would honestly recommend to your readers.
Don't join every affiliate network and program out there. Start with those that include the products and services you have mentioned on your list, and slowly expand from there.
Don't treat affiliate marketing as ad display. You can't just slap a banner on your sidebar and expect sales. (That's what I did for my first few months of blogging and it got me nowhere.) You have to share your own experience with those products and create content around them.
Choose a few key products, shops or services and mention them often in your blog posts (where it's relevant). Talking about them once is not enough. Let your readers know how much you actually love the things you recommend!
Don't forget to disclose! It is required by FTC regulations that add a disclosure on the pages and posts where you have affiliate links. Grab a free disclosure templated from my resource library.
Get creative when promoting your affiliate links! Grab a copy of my Affiliate Marketing Training Bundle and learn how to rock affiliate marketing even if you are a complete beginner!
📌 PIN THIS POST FOR LATER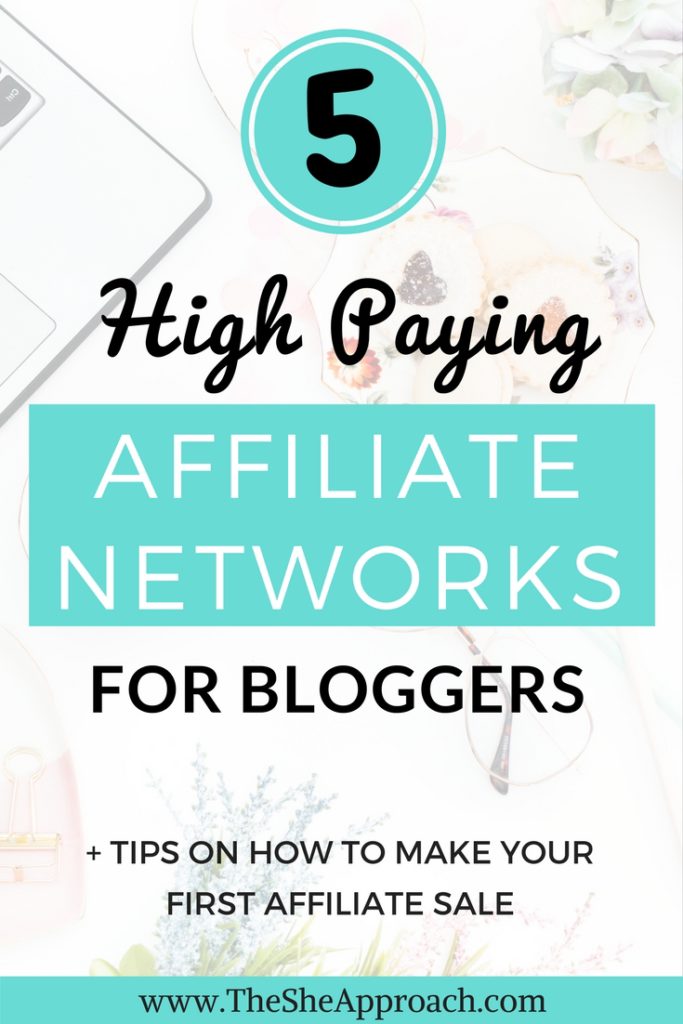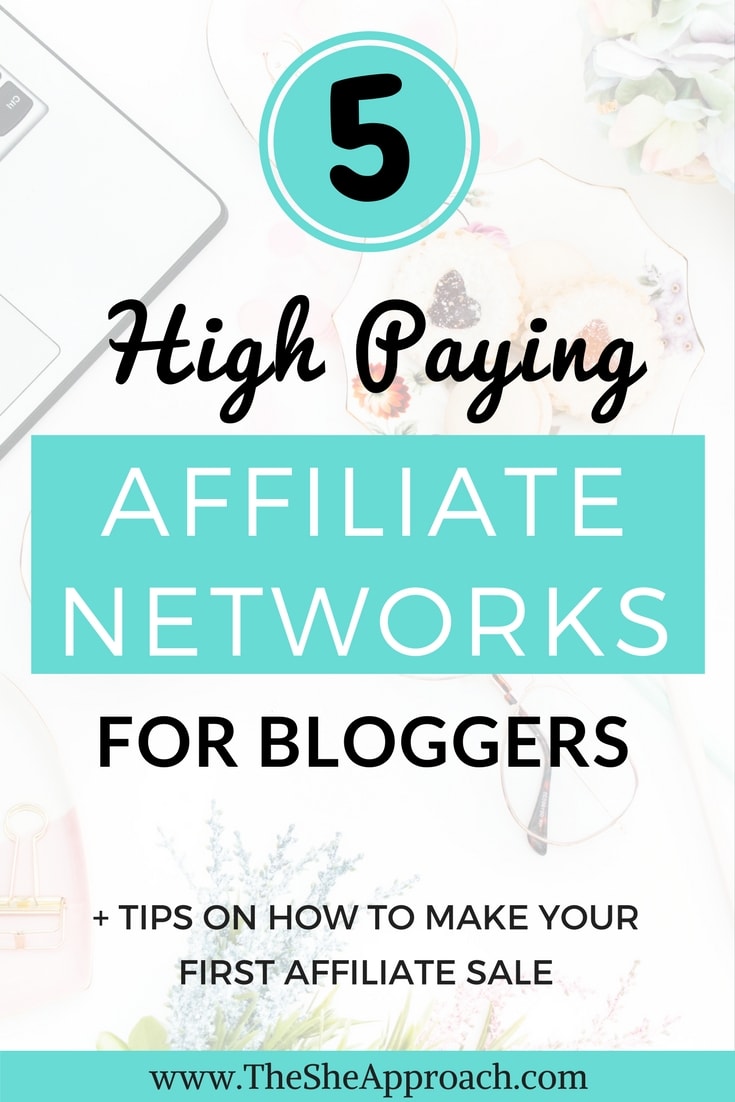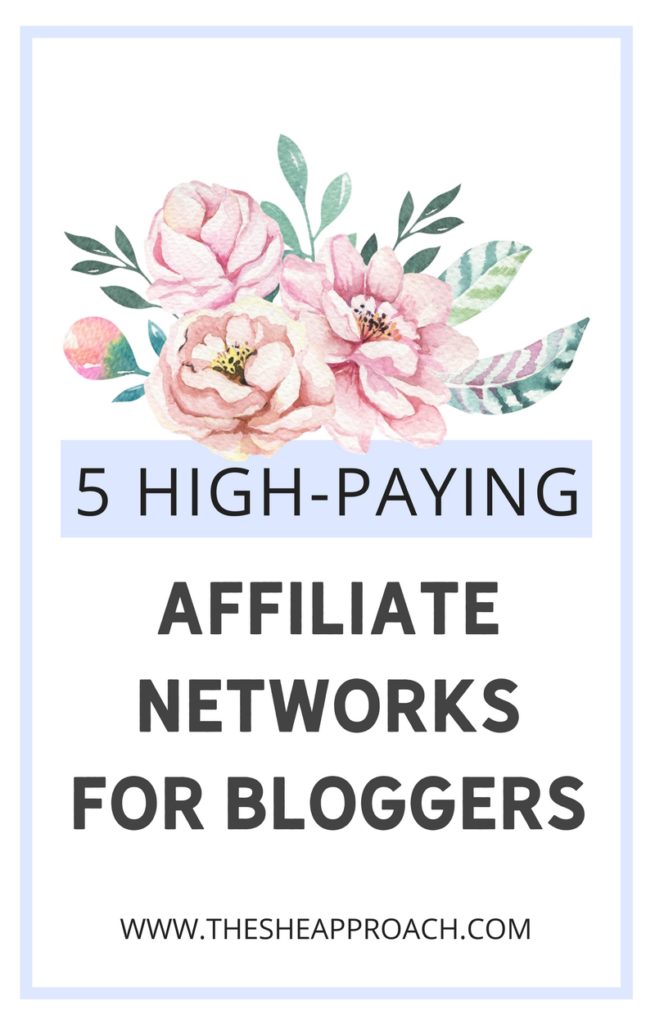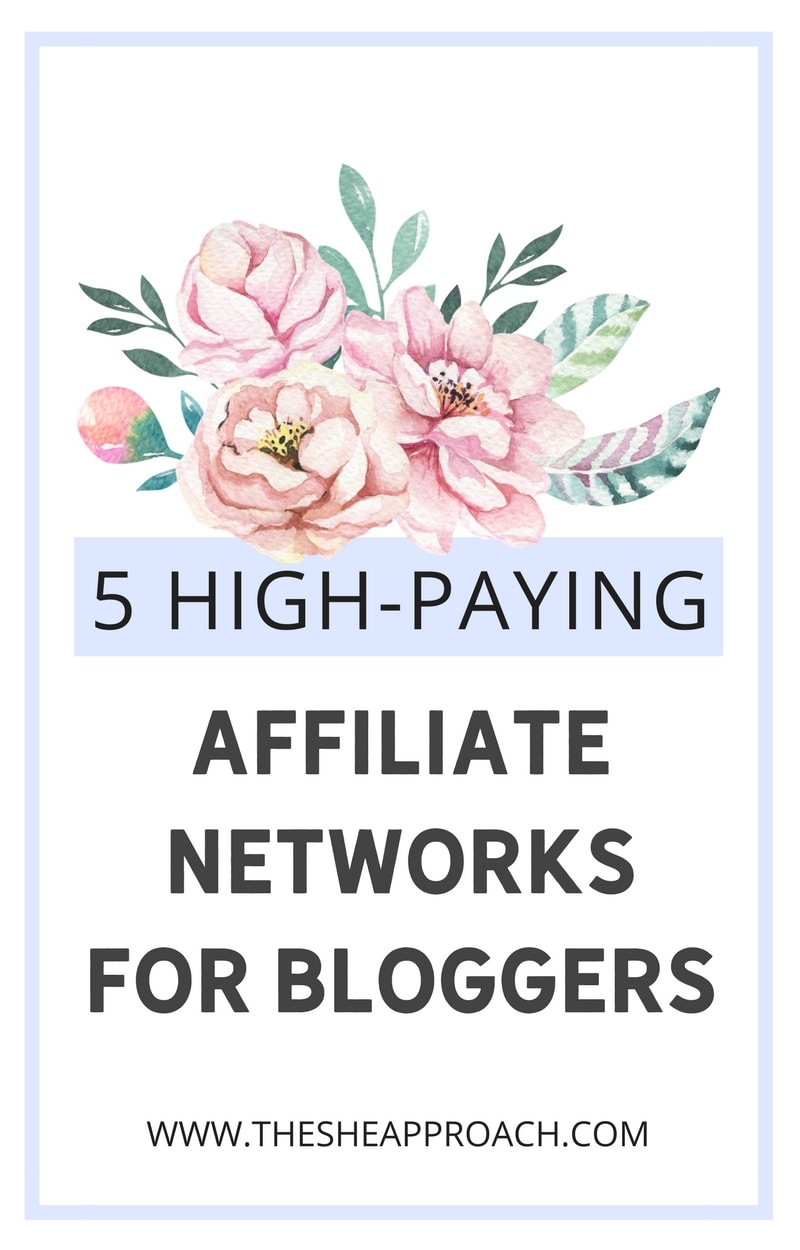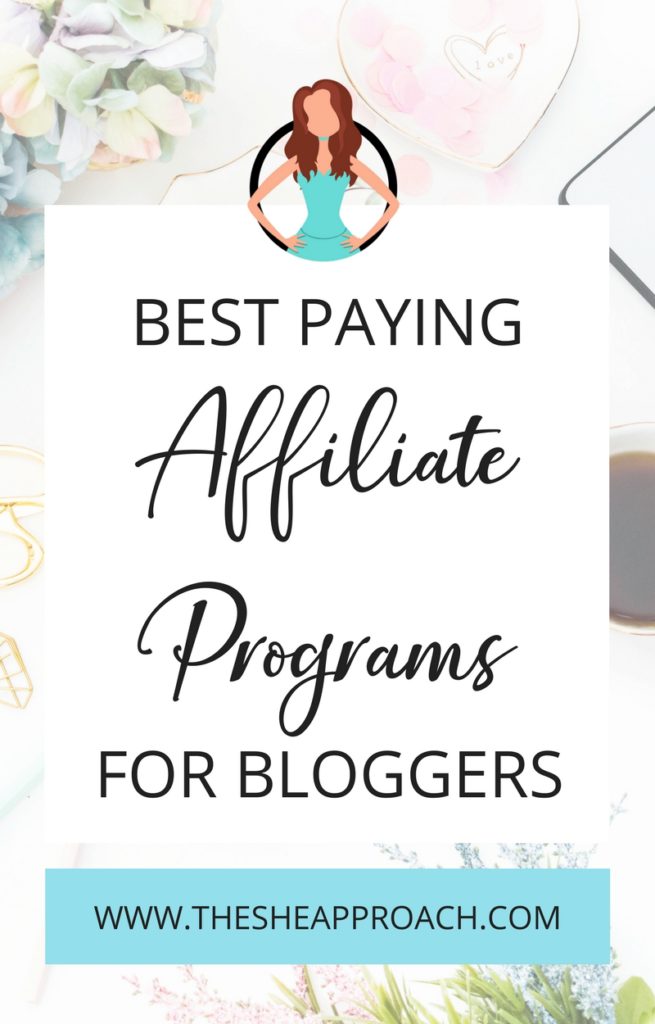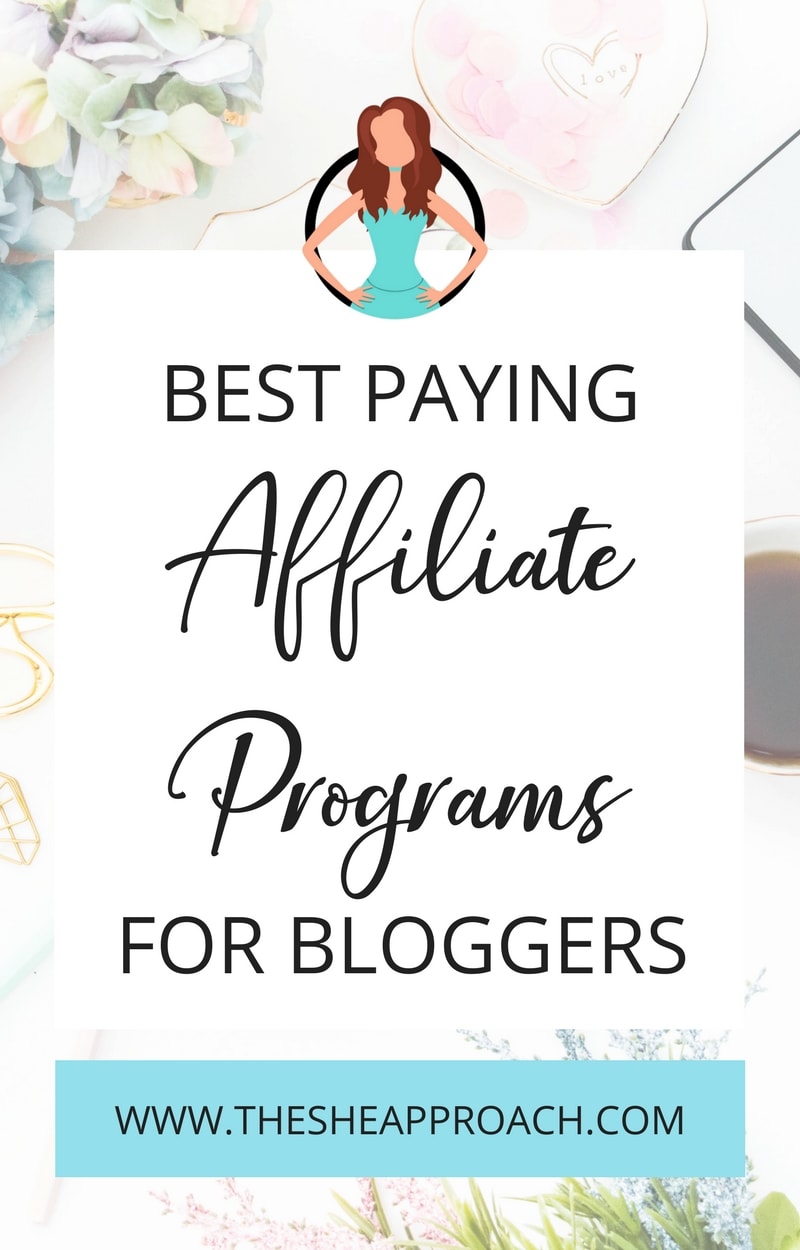 5 High-Paying Affiliate Networks For Bloggers: Best Affiliate Programs for Beginners
There are a lot of affiliate programs out there, and in time you can expand and join more. But for now, choose a few that are relevant to your content and start testing out a few different strategies to see what works for you and your audience.
You'll want to join a mix of affiliate networks (which are umbrellas for multiple smaller affiliate programs – such as AWIN and ShareASale) and individual affiliate programs (that are stand-alone programs where you sign-up to promote a particular shop/brand).
Here are a few of my absolute favorite high-paying affiliate networks and free affiliate programs for bloggers!
(As a rule of thumb and a point of reference, physical products will earn you between 3% to 12% of the sale while digital products can give you a commission anywhere from 20% – 60%.)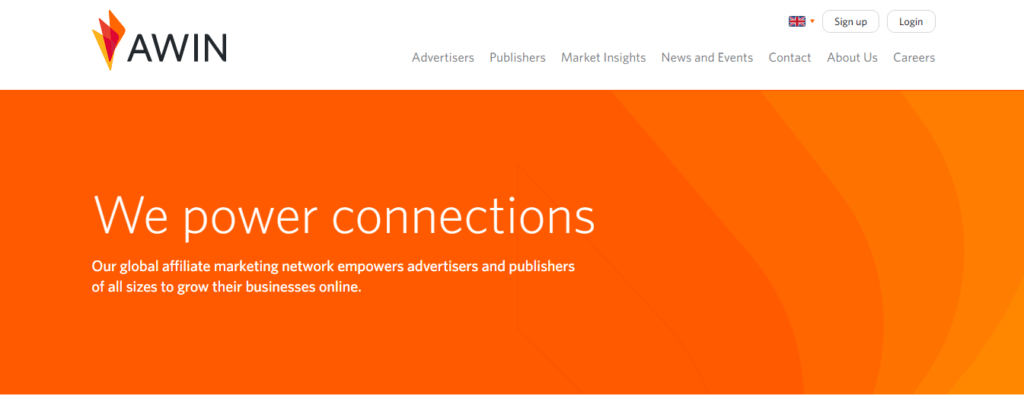 Previously known as Affiliate Window, AWIN is one of my top earners in terms of big affiliate networks. With access to merchants such as Fiverr, Etsy, Paperchase, Misguided, ASOS, Swagbucks, John Lewis and more, AWIN is a reliable network that works seamlessly with my blog.
One of the reasons why I recommend it to all those who get started with affiliate marketing is because they have a WordPress plugin that automatically transforms all your links into affiliate links (once you get accepted to individual programs). So if you've been blogging for a while and linked to any of their advertisers before, you have to install the plugin and your blog is instantly monetized!
With access to over 6,000 advertisers that cover all the possible niches, it's impossible to not find something to promote on your blog. The only catch is that they require a $5 admission fee (that you get back with your first payout).
This is one of the affiliate networks (besides the individual ones) that I earned the most with, so I highly recommend it for all content creators! They also have recently sped up their payment process which means you will get paid quicker once you meet the threshold!

---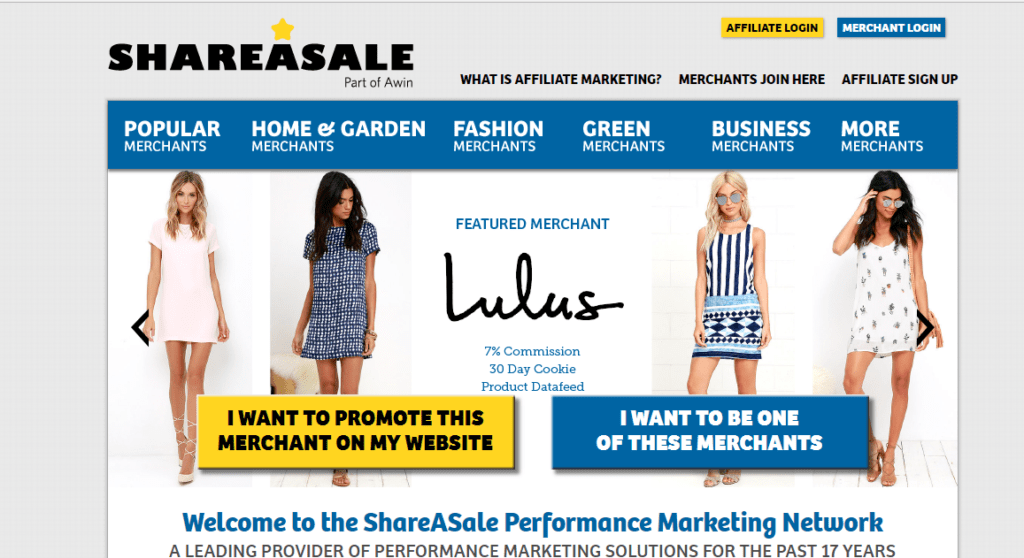 One of my best performing affiliate networks that is on top of the affiliate marketing chain, is Share A Sale. I personally make between $1,300 and $2,000 per year with them alone, by promoting 4 or 5 programs that I love.
Over 1,000 of these merchants are exclusive to Share A Sale, which means this is the only program you can use to promote them. I also love that they have access to a large selection of digital products and services, which is perfect for my type of content.
Once you've sent in your application, and got accepted, you can go in and individually apply to over 4,000 different merchants.
Here are a few of the high commission affiliate programs that you'll want to get into:
These are just a few examples, but no matter what you blog about, you will find something here that your audience will want to buy!

---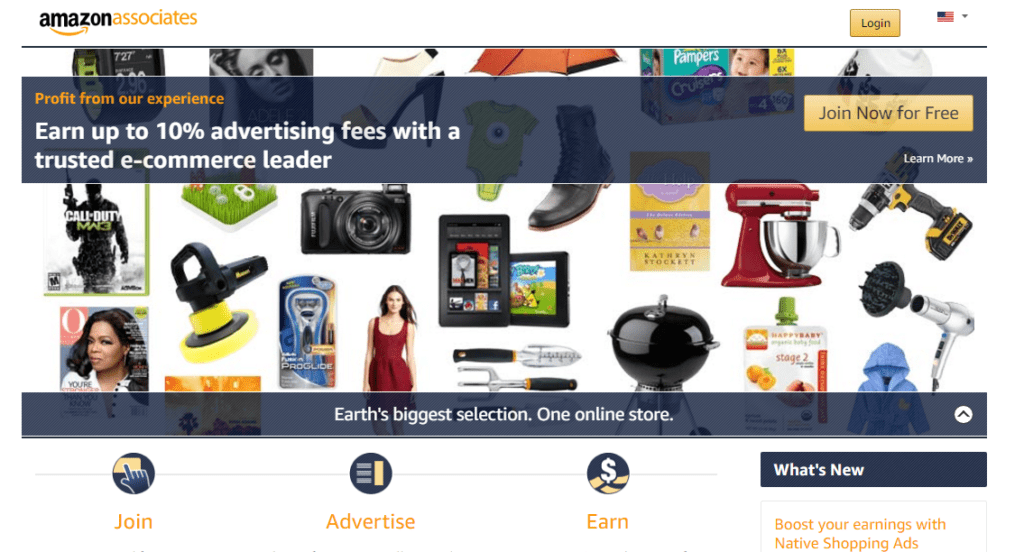 Amazon has one of the top affiliate programs out there for two simple reasons: they have every product you can ever think of and they are already one of the most trusted brands out there.
For bloggers who want to become affiliates that means two things: no matter what you blog about, there is a 99% chance that you will find something relevant on Amazon to promote and you have a bigger chance of making a sale because your readers already trust Amazon as an online shopping retailer.
While Amazon doesn't offer a crazy high commission, they offer a commission for any and every product bought through your link (even if you didn't directly link to it).
That means if someone goes to Amazon through your link and fill up their basket with $100 worth of goodies, you get a cut of that entire sale, even if that person didn't end up buying the product you initially linked to.

---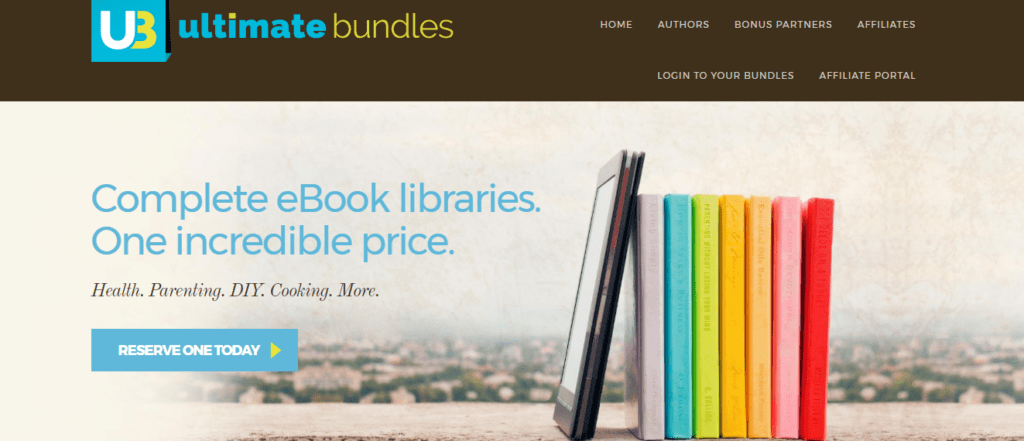 This is by far one of the best things that was invented! Ultimate Bundles offers a collection of online resources at crazy good prices, and not only do you get a discount for those when you sign up to become an affiliate, but you actually get 40% of every sale you refer.
(Did I mention that if you make 5 sales, you get your bundle for free or a refund for the one you bought and that they regularly hold giveaways to give their affiliates extra incentives?)
Some bundles are open for a limited amount of days each year, which really boosts up your chances to promote them and sell more, while others are evergreen (available all year long).
You can promote bundles such as the Ultimate Photography Bundle, the Ultimate Homemaking Bundle and my personal favourite: the Genius Blogger's Toolkit – truly a unique affiliate marketing opportunity.
They also have some flash sales for photography, cooking, homemaking, business or organization bundles that you will be the first to know about as an affiliate.
Odds are that your audience is interested in at least one of these awesome and affordable bundles, so apply to become an affiliate and start making money all year round!

P.s. My absolute favourite bundle is the Genius Blogger's Toolkit that I highly recommend picking up for yourself if it's on sale. It has a lot of resources that can help you improve your affiliate marketing strategy and it's so worth the one-time payment!
---

In my own experience with affiliate marketing, I first started to see bigger results when I joined smaller & individual affiliate programs. Based on this and with the occasion of putting up my How To Boost Your Blog Traffic ebook for sale, I decided to launch my own affiliate program.
Since then, I have launched a few more products (check out my shop) that anyone can start promoting in exchange for a cut (35% to be exact) of each sale. If you promote my Affiliate Bundle, for example, you will get paid $20.
No threshold and no waiting! (No matter if you make $20 or $200 in sales, you get paid on the 1st of the month, every month!) I also have resource waiting for you such as Pinterest graphics, sidebar ads, social media banners and email templates that will make promoting my products so much easier.
If you blog about blogging and share tips with your audience about how you run your own blog, this is a great opportunity for you! And I would love to have you on my team!

---
Are you ready to tap into affiliate marketing and monetize your blog and social media accounts? Sign up to the high-paying affiliate programs and networks mentioned above and start earning today!
Or if you're looking for more ideas, fill in the form below to get access to my private list of 25 best affiliate programs to make money for bloggers!
Can't seem to find what you're looking for?
If you read this post and you didn't find at least 5-10 new affiliate program to apply to that are relevant to your blog topic and niche, I have something special for you. I know first hand how important it is to find affiliate offers to promote that your audience would actually be interested in.
And sometimes, to do that, you have to spend days and weeks hunting and searching for affiliate programs in your own niche. (And trust me when I say that some of them are impossible to find because they are not public knowledge.)
So after countless emails from mom bloggers, faith bloggers, people in the finance niche and even lifestyle bloggers, I decided to create something that would make finding & joining affiliate programs much easier for all bloggers, no matter what topics you write about. And that's how the Affiliate Programs Masterlist came to life.
What is the Affiliate Programs Masterlist?
The Affiliate Programs Masterlist is a database of over 600 affiliate programs in over 19 blogging niches, categorized by topic (so you can easily find exactly what you're looking for), type and commissions, so that you won't have to go looking for other affiliate networks or programs to join ever again.
I spend a few good months gathering info about the best affiliate marketing companies and other affiliate opportunities (including referral programs) and I created a database that you can get access to all of it in one place.
> GRAB YOUR AFFILIATE PROGRAMS MASTERLIST HERE
The masterlist also includes direct links that you can use to apply to these programs directly and a free tracking sheet so that you're organized from the start.
If you have any questions about affiliate marketing or the networks I specified above, leave them in the comment section and I will get back to you! But by now I hope you found the best affiliate marketing programs for YOU!
Until then, check out this post on how to increase your affiliate income by one of my favorite affiliate marketers out there.
What is an affiliate program and how does it work?
An affiliate program is an opportunity for bloggers, marketers and influencers to join forces with a brand, shop or company. Once you've joined, the advertisers uses a tracking program to allow you to earn a cut of the sales you bring in.
What are the most popular affiliate marketing networks?
Besides the ones named here (AWIN, ShareASale and Amazons Associates), other popular affiliate networks are Flex Offers, Impact Radius, Commission Junkie and Ratuken Linkshare. I advise joining these only if specific programs that you want to promote are a part of them, to avoid overwhelm.
How long does it take to make money with affiliate marketing?
This will depend on the size of your audience, your strategy and means of promoting your affiliate links and a few other factors.
As a newbie blogger, it took me 7 months to make my first $500 from affiliate sales. In the next 3 years, I've earned $40,000+ on top of that through lucrative affiliate partnerships.
But that was with little guidance. My hope is that this article, as well as my other affiliate marketing trainings, prove useful in helping you get to where I am a lot faster.
Article last updated: September 2020
Best 2022 High Commission Affiliate Programs – Top Affiliate Marketing Sites For Beginners