If you've been following my blog, you must've seen that for the past year I've been obsessed with Affiliate Marketing and how you can make money with your blog (no matter what niche you are in). That's why I think that this tutorial on how to become an Etsy affiliate partner can be of benefit to you.
The amazing thing about content creators (aka bloggers) is that we have all the tools we need to sell to our audience without really selling. That's the magic of affiliate marketing and why I think it's a great way to monetize your website.
WHAT IS AFFILIATE MARKETING
If you're new to the concept, affiliate marketing happens when you send traffic to online shops using a unique set of links and as a reward, the store pays you a commission for each sale that you send their way.
For bloggers that share products or recommend services on their blogs often, this is a great way to talk more about things they actually love and use and get paid for it without having to wait to be super-bloggers to have paid sponsorships with those exclusive brands.
If you want to know more about Affiliate Marketing, I've written an entire post about what you need to know as a beginner and it's going to teach you How To Make Your First $1000 In Affiliate Sales.
If you're convinced that this is the best way to make money with your blog but you need a bit more guidance to get started, I invite you to enroll in my Zero To Superhero Affiliate Marketing Training. I created this bundle especially for those bloggers who are starting to look more into Affiliate Marketing and they want a shortcut to success.
(It initially took me 4 months to make my first affiliate sale – you can find out why here – but you can start making sales this month if you have the right tools and strategies! And that is exactly what I provide in my training bundle above.)
WHY BECOME AN ETSY AFFILIATE
But this post is not really about how to make money with affiliate marketing & it's rather dedicated to joining a specific affiliate program – the one for Etsy. Because yes! You can start getting paid for linking to pretty much everything on Etsy.
Here are four reasons why you should want to join Etsy's affiliate program:
They have something for everyone
When it comes to finding the right affiliate programs for your blog, we often neglect to look deeper into some of the online shops out there.
For example, as a business blogger, you might not even consider becoming an Etsy affiliate, but I could name 10 products off the top of my head that your audience would love that can be found on Etsy (printables, quotes, planners, web design themes, stock photos, media kits, office desks, personalized gifts and much more).
Same goes for every other niche! Etsy carries a wide selection of custom-made products, so whether you shop for there yourself or not, there's always something that your audience would love (and thank you for bringing to their attention) that can be found on Etsy.
They are very well-known and trusted
When promoting anything on your blog, you have to put in some work to build trust with your audience so they believe in your recommendation. It's just the way it goes! If you link to a website people never heard of before, the chance of you making loads of sales is pretty much impossible.
But because Etsy is already such a well-known platform, that trust already exists. No one hesitates to insert their credit card information on Etsy. In fact, chances are that they already have an account and they are loyal customers.
All you have to do is get people to their website. (They have a 30 days cookie period which means that if someone clicks on your Etsy affiliate link today, buys nothing, but goes back to Etsy in 2 weeks time and makes a purchase, you still get a commission for that).
So if you get people to click over through your link and you give them a few product recommendations that you know can solve their problems, you're going to be golden!
They have good commission rates and great bonuses
The Etsy affiliate program offers 5% commission for existing buyers and 8% for new buyers (people who haven't created an Etsy buyer account yet). Those rates alone are pretty good but what I enjoy most about being an Etsy affiliate are their competition and bonuses.
Once you join the Etsy affiliate program (I'm going to show you exactly how to do that in a moment), you will be added to their email list. So not only do they send suggestions and tips on how to increase your earnings with them, but they actually incentivize their affiliates by offering gift cards or cash bonuses.
At the moment, they are giving a £10 bonus to everyone who creates a Christmas gift guide that contains at least 8 Etsy products and you get entered into a draw to win 3 x £250 bonuses.
They host these type of competitions through the year (they had a similar one around Halloween), giving you a great chance to boost your earnings and create profitable content at the same time!
---
📌PIN ME FOR LATER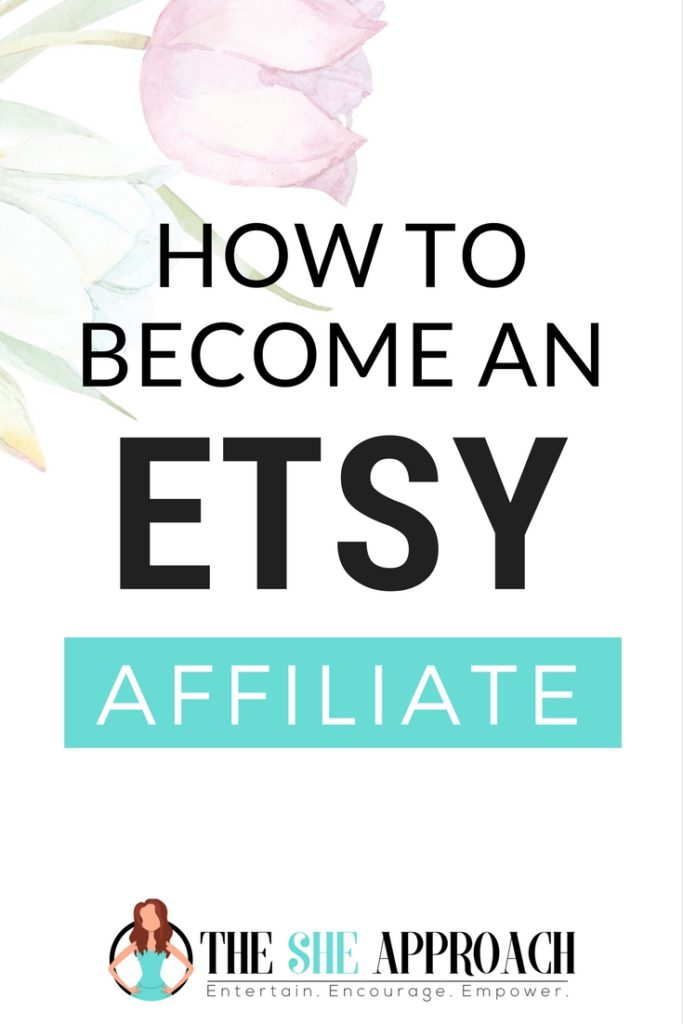 So just to recap, Etsy is a great place to find relevant products to promote to your audience, they are already trusted and they offer great incentives for their affiliates. Why wouldn't you want to join their affiliate program?
In case you do, but you just don't know how, stick around! Because this post is exactly about that!
HOW TO BECOME AN ETSY AFFILIATE
If you're convinced and you're ready to sign up, the process is really simple.
The first thing you need to do is register for an AWIN account. AWIN is the affiliate network that runs their program which simply means that they are using a third-party app to find, register and keep in touch with their affiliates.
So after you register, you will go to your AWIN dashboard to look at your statistics, get your links and get paid. You can also use this network to join thousands of other programs under the same account, so I highly recommend signing up with them.
Although the registration is free, you do get charged a $5 fee so they can verify your account. (They do so to rule out spammers But don't worry! You get the money back with your first payment. I can vouch for it.)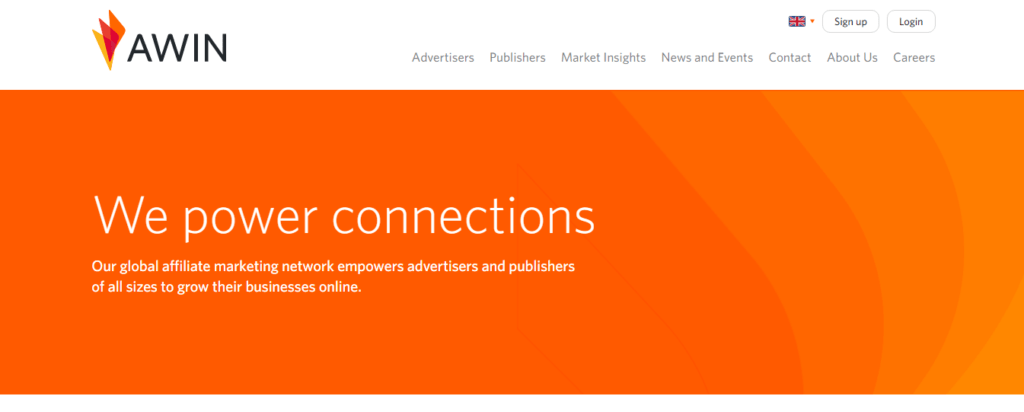 To begin, simply click on the "Sign Up" button in the corner and fill out all the required details. They will ask you a few things about you and your blog, and the entire process is quite straightforward.
Make sure to fill out everything that you need to so you can start using your account right away. If you already have an account, all you have to do is log in.
The next step is the important one: you need to actually apply to become an Etsy affiliate.
All you have to do is go to Advertisers > Join Programs > search and select "Etsy" > click "Join Program". The results will look something like this:

To join, you can click on the little "+" sign or click on the name of the program to know more and click on "Join Program" from the sidebar.
Don't forget to add a little note about how you're planning to promote Etsy on your blog to increase your chances of getting accepted. They accept 98% of the people who apply anyways, but by writing a few sentences, you can set yourself apart from other applicants and get approved faster.
And voila! You're an Etsy affiliate!
A little note: As you can see, Etsy has an affiliate program in different countries but you only need to apply to one! I applied and got into the UK program and freaked out when I saw there was a US program because I thought I needed to be in that as well to be able to use US affiliate links. But you don't! (Which is why they rejected me. haha.) Once you're accepted into any of their programs, you are free to link to ANY and EVERY listing out there, no matter what country the seller or customer is for and you will still get paid.
This process only takes about 5 minutes to do and you should get your approval notification within a few days. Ready to get started?
Once you're approved, you can start using your unique links right away. But one of the reasons why I love being part of the AWIN network is because they have this super simple to set up WordPress plugin that automatically transforms all your past links (for merchants you apply to) into affiliate links.
That means that if you've been blogging for 3 years and you have at least 50 posts where you linked to an Etsy product, instead of manually having to go in and create a unique link for each, the plugin does it automatically for you.
So every time I post on my blog now and I link to an Etsy product or listing, I simply copy the Etsy link and the plugin does the rest for me. How cool is that!
If you're unsure about how to find and use your affiliate links in the AWIN dashboard or how to insert them in your blog post, I have a video tutorial on AWIN included in my Affiliate Marketing Training Bundle along with other tips and resources to help you become an Affiliate Marketing superhero!
And did I mention that my Affiliate Programs Masterlist has over 500 recommendations of programs that you can join, separated by niche and the affiliate network they belong to?
So if you're ready to kick things off with Affiliate Marketing this year, be sure to check out the resources above or check out my other posts on this topic: