7 Steps To Create a Profitable Digital Product Suite For Your Blog
If you're a blogger and have the long-term goal of creating multiple streams of passive income (and who doesn't want that) then you might want to read this post.
You see as with everything in business, multiple passive income streams start with a plan. But sometimes you cannot plan these things out because you're either not aware of the whole picture or know enough about the subject to create a plan in the first place.
And this is what I want to give you today.
An outline and a plan to create passive income streams with digital products.
A plan to see the whole, bigger picture of what is available to you as a blogger so you can monetize your blog to new crazy heights to reach your ultimate income goals.
Excited!
So let's get started.
Making Passive Income With Affiliate Marketing
I'll start this 'plan' with affiliate marketing, because as a blogger affiliate marketing and blogging go hand-in-hand.
Ana has a whole section on affiliate marketing where she not only covers the basics, but she also goes deep into various areas of affiliate marketing.
But, just in case you haven't read any of her affiliate marketing articles yet, here's a brief summary of affiliate marketing.
Affiliate marketing is where you promote other peoples' products (with a unique ID link) and when someone buys the product you recommended, you earn a small commission.
I like to compare it to Avon in the real world. If you're an Avon rep and you sell Avon products, you get a commission for the products which you have sold.
Affiliate marketing is the same but in the online world.
Affiliate marketing is a life-saver for bloggers because it's one of quickest and easiest ways to make money with a blog.
For this reason, you should include affiliate marketing in your monetization plan. Make this your first passive income stream.
Passive Income Stream #1 = Affiliate Marketing
Hold on to this thought for now, I'll explain more later.
More affiliate marketing resources:
The Importance of Digital Products
Next in line is digital products.
Affiliate marketing is amazing, but you're relying on other peoples' products in order to earn money. Therefore I believe that you also need to create your own online 'assets' for long-term reliable and stable income.
Also, you'll be earning 100% of the income from your own digital products as to that of say 20-40% of other peoples' digital products. For affiliate tangible products the commission rates are lower, such as 3% – 10% for example.
A Match Made In Heaven
I'm talking about the powerful combination of affiliate marketing and having your own digital products.
You will see many successful bloggers and solopreneurs who earn $xx,xxx per month (Ana is one of them) and that they're doing this through the combination of both affiliate marketing and creating and selling their own digital products.
The trick is to find affiliate products which compliment your own digital products but are not in direct competition with them (that would just be silly).
This way you're giving your readers, subscribers and potential customers a choice to what they can purchase to help solve their particular problem at any given time.
Enter the digital product suite…
What Exactly Is a Digital Product Suite?
In my view, a digital product suite is where you sell at least three different digital products on your blog or website.
Examples of digital products:
Printables & worksheets
Online courses
Monthly subscriptions
Monthly membership sites
These three products will be on different topics or at least on different angles of the same topic to answer very specific questions/solve problems for your readers.
These three different topics must still be in the same niche however. For example:
---
Different topics, same niche (Parenting/Family)
Digital Product A = Printables to keep you on track with planning family dinners.
Digital Product B = An ebook on how to organize and declutter your home.
Digital Product C = A paid membership and support community to parent toddlers.
---
Same topic (Family Meals), different angles:
Digital Product A = Printables to plan out family dinners.
Digital Product B = Printables & ebook on how to plan out family dinners including recipes.
Digital Product C = Monthly subscription of family dinner menu's + shopping lists.
Sometimes finding the topic for your digital product comes easily and naturally but it can also be the biggest hurdle for some, and you need to get this right; right from the start.
I have an article on 67 digital product topic ideas to give you inspiration to find your digital product topic.
And if you want to learn why Ana loves creating & selling eBooks as her digital product of choice, check out her tutorial on generating passive income with eBooks.
Creating Multiple Passive Income Streams
So your digital product suite could look something like this:
Passive Income Stream #1 = Promoting one affiliate product.
Passive Income Stream #2 = Digital product: Printable worksheets.
Passive Income Stream #3 = Digital product: 'How To' ebook.
Passive Income Stream #4 = Digital product: Online course.
---
Also note that you don't have to create an online course or a membership site if you don't want to. Some people just aren't good with video or even recording their own voice. If this is you, then your digital product suite could just consist of a variety of PDFs i.e. printables, worksheets and ebooks.
There's no point in stressing yourself out to create videos for an online course if that just isn't you. Go with what fits in best with your personality and what you feel the most comfortable doing.
So there's your outline and plan for creating multiple passive income streams for your blogging business.
This could be your 'bigger picture' and monetization strategy for the next twelve months.
Some Digital Product Monetization Formulas
I admit that creating and selling digital products is not the easiest of tasks, but if you keep reminding yourself that you only have to create these products once and each one will sell automatically 24/7 for months or even years to come – then surely that is inspiration to keep you going (well, it is for me!)
How Much Can You Earn With Digital Products?
So here are some scenarios to give you an idea of how you can reach your passive income goals with a little digital product suite.
3 ebooks selling at $27 each. Sell a total of 40 per month = $1,080
3 ebooks selling at $47 each. Sell a total of 20 per month = $940
1 printable PDF bundle selling at $17.
2 ebooks selling at $37 each.
2 ebooks selling at $47 each.
1 online course selling for $297.
I could go on and on with all these 'hypothetical' scenarios, but I hope you can see what I'm trying to show you and see what's available to help you reach your income goals.
And don't forget about affiliate sales. Hopefully you would be making at least $500 per month from a really good affiliate product.
The 7 Steps To a Multi-Figure Digital Product Suite
So this is the outline to create each digital product passive income stream:
#1 Find your first digital product topic idea.
#2 Create new customer avatars and validate your idea.
#3 Create your digital product.
#4 Set-up sales processes.
#5 Create your lead magnet.
#6 Create your automated email sequence (sales funnel).
#7 Fill your funnel (digital marketing techniques).
Note: At the end of this post I'll give you a link so you can download a free printable of these 7 steps but with more detail included.
Automation Is The Key
If you want to be able to create 100% passive income then you need to know how to automate the whole process.
Yes, you'll still need to carry out your chosen marketing techniques, but by creating automated passive income means that you can make sales even if you're on vacation or while you're asleep.
And putting together automated systems in the key.
Automated systems include digital delivery, shopping carts and automated email sequences – what I call passive income funnels!
If you put in the automated email sequences (sales funnels) then you have created a 'set it and forget it' passive income steam.
Pin Post For Later 📌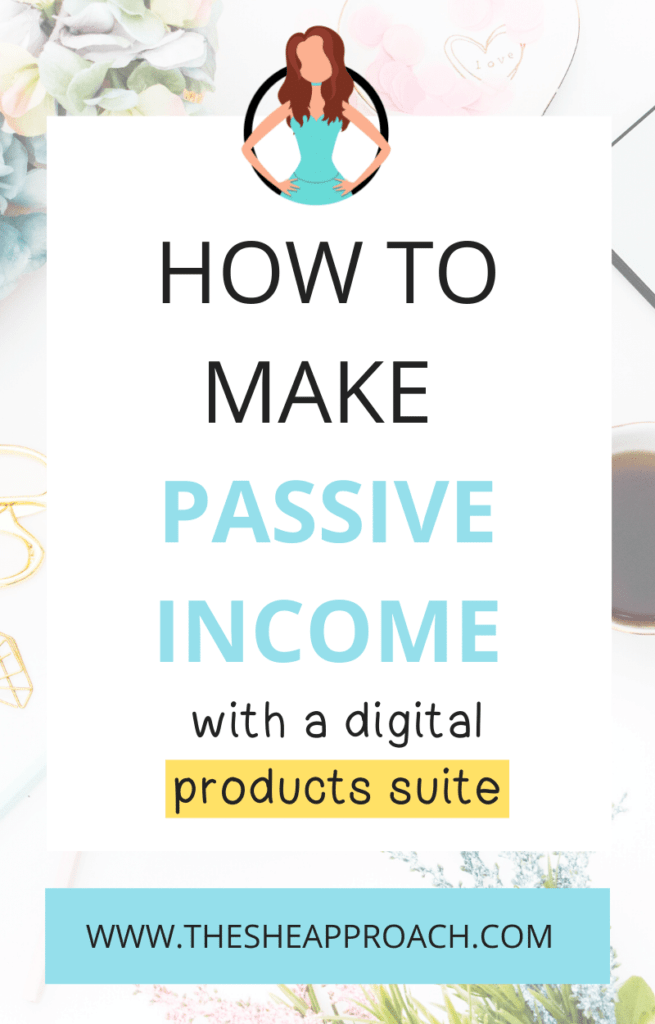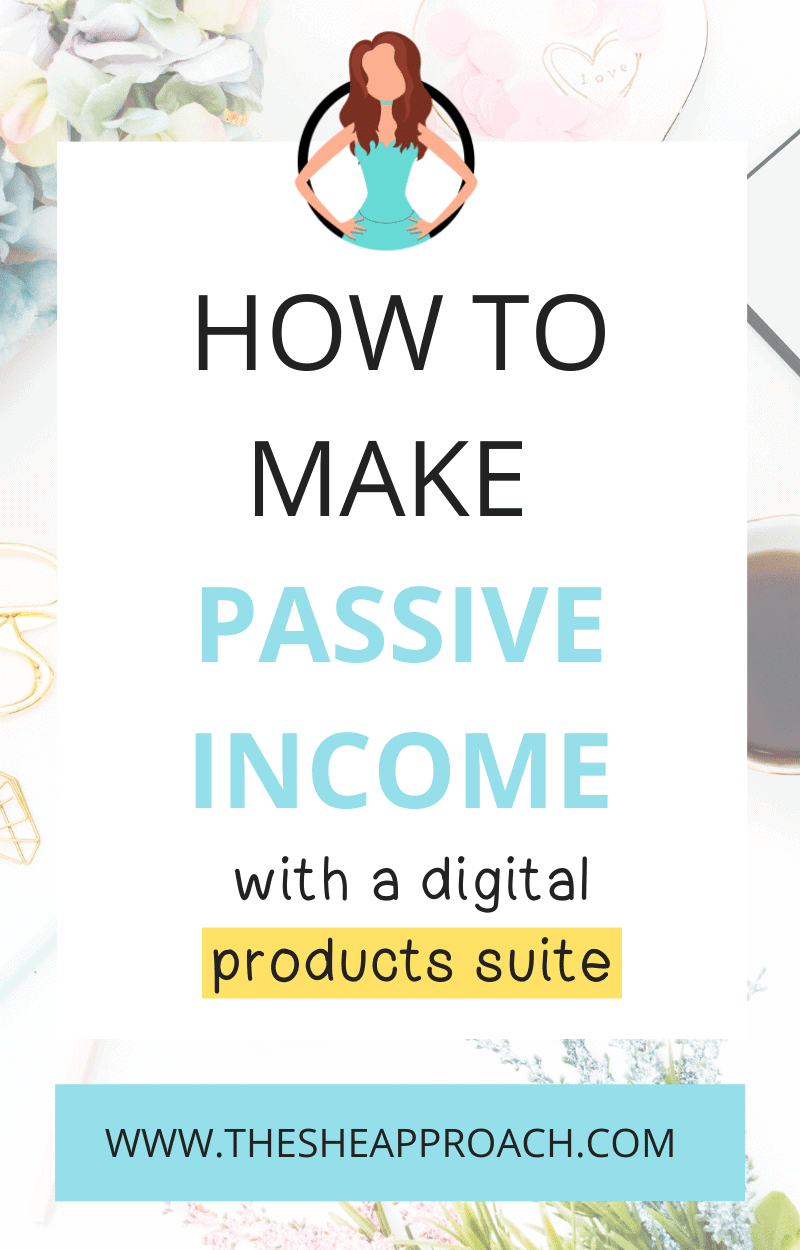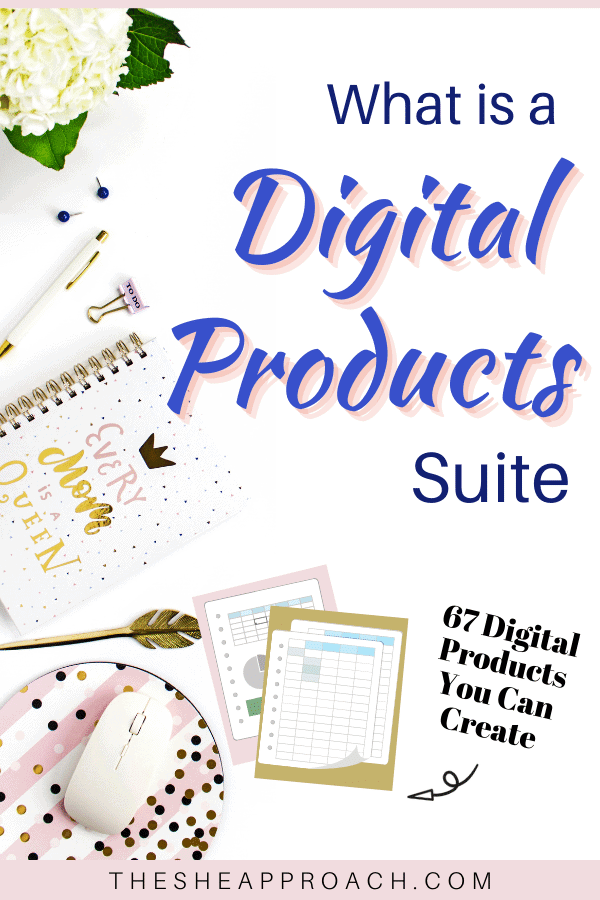 Final Thoughts On Selling Digital Products
I know that these 7-steps can look overwhelming and daunting, but please just take one step at a time. After all, this is a long-term monetization strategy to help you reach your ultimate income goals.
The good news is that you have already taken the very first (pre) step in that you now understand and see the big picture of what you can achieve and you can now start putting a plan in place to create your own multi-figure digital product suite.
Good luck!
---

⋆ Claire Bullelrwell is the creator and owner of She Does Business where she helps women find a home business which they enjoy. Claire specialises in helping women create passive income streams to leverage their business. As promised, go here to download your 7 Steps To Passive Income free printable.
---
Article Last Updated: July 2020
How To Create Multiple Streams Of Passive Income With Digital Product As A Blogger