How To Get Universal Amazon Affiliate Links With Amazon One Link – 2022 Video Tutorial
Ready to use Amazon affiliate links to monetize your social media or website traffic? In this post, I'm going to share a quick tip on how you can get paid for international traffic with Amazon One Link.
Did you know that you can get paid for sales made by your international audience, even if you are based in the US and your links are Amazon . com links? That also goes for any other Amazon marketplace.
And it's all possible through setting up your international store IDs and connecting them to your One Link account settings. Here's how:
Amazon One Link not working? Here's how to set it up:
How does Amazon Affiliate One Link work?
Amazon One Link was set up to help content creators with international audiences monetize their affiliate links and not lose sales.
If, for example, you are based in the UK and share Amazon UK products and links on your blog, but someone from Canada clicks on your link, they will not buy a product that ships from the UK.
This makes you lose out on sales.
But if you set up Amazon One Link correctly, your links will automatically redirect to the Amazon marketplace closest to them:
UK readers will see the original UK links
US readers will be redirected to Amazon . com
Canadian readers will be redirected the Amazon . ca
Same for the rest of the Amazon marketplaces
The outcome of this is that you will get paid for sales made on all those marketplaces, instead of just your home marketplace, and will earn more in affiliate commissions.
Are you a new Amazon affiliate? Also check out:
How To Set Up Amazon Associates One Link
You can find the full tutorial in the video above, but if you prefer to follow up by reading, here's a step-by-step tutorial on how to set up Amazon One Link (with pictures).
Please also note that this post contains affiliate links.
1. Create Amazon Associates accounts for all relevant marketplaces
Amazon One Link allows you to connect your different Amazon affiliate accounts. But first, you need to sign-up individually for each country's affiliate program.
The application takes under 5 minutes to fill out, and you need to start with an Amazon US affiliate account. Others that you can sign up for are:
You don't have to be a resident in the countries you are signing up for, so you get to pick.
Start with the countries where you get the most traffic from (you can check this in your blog or social media account analytics).
NOTE: And keep in mind that the same rule of making 3 sales in the first 180 days applies to each of the new affiliate accounts individually for your accounts to be approved.
2. Make a list of all your Amazon affiliate store IDs
After each application you will see a success message that looks something like this: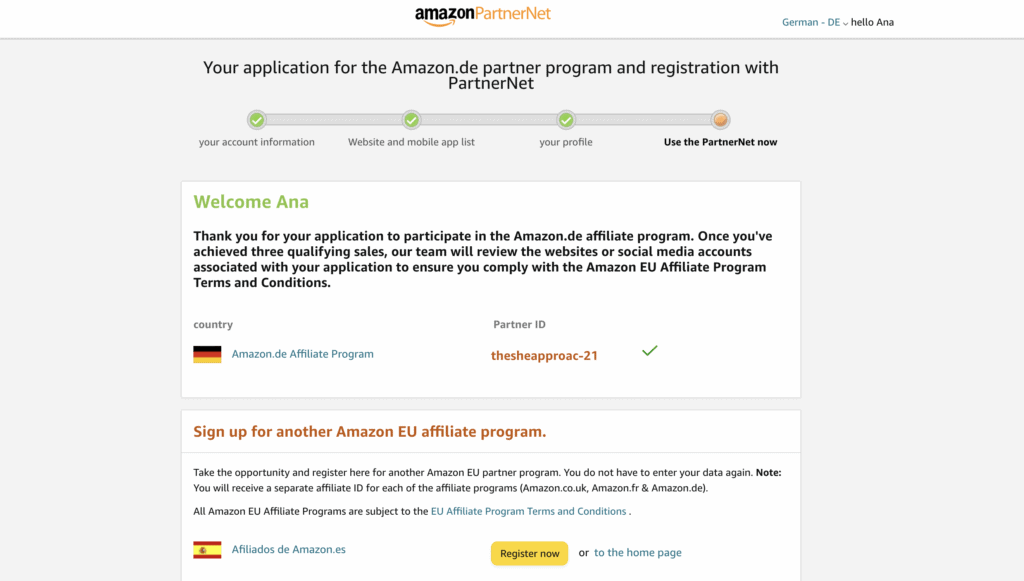 You will also notice that you get assigned a "Partner ID" also known as a "Store ID". This will be individual for each affiliate account, so if you sign up for 3 countries' affiliate programs, you will have 3 separate IDs.
Save these in a list – you'll need it for the next step.
If you closed the tab before saving it, don't worry – they also email you your store ID and it will show in your associate account as well.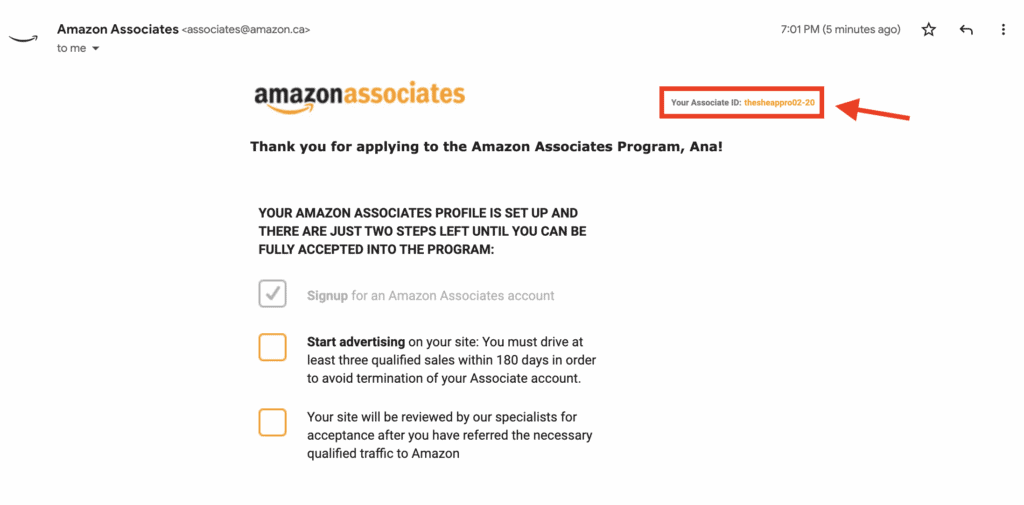 3. Link your Store IDs from Account Settings
The next step is to connect all these store IDs under the umbrella of your US account (and re-do it for the other marketplaces in case your initial links do not lead to Amazon com).
Log in to Associates Central, go to "Account Settings" and then "Link Store IDs".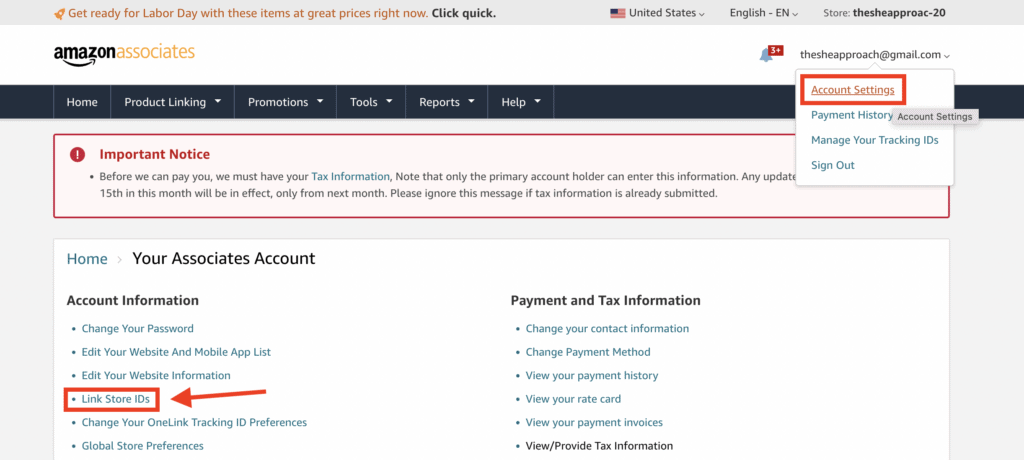 From there, the Link Stores link will open, allowing you to see what stores you already have live, and letting you add new ones via the "Add store ID" button.

Add each store ID individually in the box that opens up, by then clicking on the yellow "Link Stores" button.
Then repeat this process by signing in to the affiliate accounts of the other markeplaces.
How To Enable Amazon One Link
To verify that your store IDs are linked correctly and that One Link is enabled, you can also go to Tools > One Link and check on your global settings.

On this page, click on "Manage countries".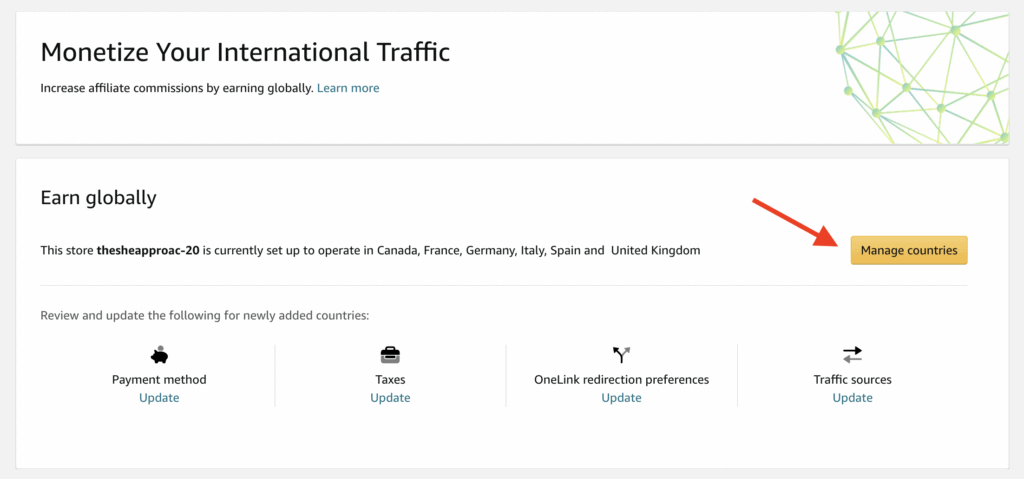 Then click on "Add countries" and select the countries you want to monetize.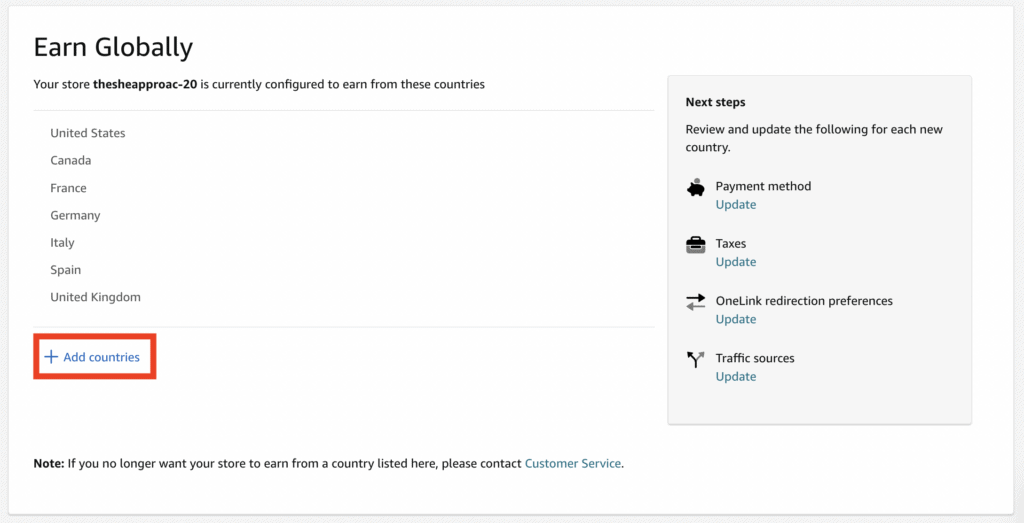 Remember – this will only work for countries where you signed up separately as an affiliate, as shown in step 1, and linked the store ID, as shown in step 3.
Amazon One Link Not Working?
If your links aren't working for your international audience, here are a few things that can be causing it:
Store ID is not correct. Make sure to double-check that you copy-pasted the exact store ID that was generated for your worldwide accounts.
Store ID is invalid or expired. If you didn't make 3 sales in the first 180 or your account wasn't approved in a certain marketplace, the store ID you inserted previously will become invalid. You need to create a new account and link the new store ID.
One Link redirect preferences are wrong. If Amazon can't find the exact product you listed on both marketplaces, they might not redirect customers at all. To avoid losing commission, you just need to change your redirecting preferences to "Close match" enabling Amazon to show similar products instead.

You are using a non-approved plugin. If you are using a plugin to insert or manage your Amazon affiliate links, but they are violating some on Amazon's strict linking rules, that might cause your links to be ineffective. Instead, use an Amazon-approved plugin like Lasso!
You are using shortened links. When embedding your Amazon links, try choosing the full longer links instead of the shortened ones. I find these to geo-locate better and have fewer issues.
If all else fails, follow Amazon's integration guide or get in touch with their support.
Joining Other Affiliate Programs
And, of course, don't forget to diversify your affiliate income or your blogging income.
There are other affiliate programs out there that tend to pay better than Amazon and if they're relevant to your niche and local to your audience, you might want to join them.
A few affiliate programs you can join are:
Most importantly, keep learning about affiliate marketing and pay attention to what your audience buys to maximize your earnings.
I teach bloggers how to do so in my affiliate marketing courses below:
Must have course for bloggers!
How To Buy Through Your Own Affiliate Links
Another question that I get asked quite often is if you can get commissions if you buy something through your own Amazon affiliate link. And the answer is NO!
In fact, using your own link or asking friends and family to buy through it can get you kicked out of the Amazon affiliate program.
But there is a way however to earn a kickback from your own online purchases – and that is through cashback sites!
Here is best cashback site and the one I use:
Alternatively, you can also sign up for:
This is a great way to earn something back for all purchases you make outside of Amazon!
In Conclusion: Set up One Link for extra income!
But to get back to our tutorial, I'm hoping this article and video were helpful and you were able to set up One Link succesfully. You won't regret it once you see sales rolling in from all over the world – especially if your blog has an international audience.
Using Amazon to promtoe products is also a very effective way to deal with a split audience, otherwise a lot of your affiliate links won't be usable unless the merchant in question ships to your customer's location.
As you can see above – I had to add tho separate links for my US and UK audience.
But with Amazon – you add one link, once. And they do the rest!
2022 Amazon One Link Tutorial