Welcome back bloggers, vloggers and online business owners! I recently had the opportunity to sit down and chat with the CEO of Flippa – Blake Hutchinson – and talk about all things blogging and what makes a blog a great digital asset.
If you're not familiar with it, Flippa is the number one global marketplace for selling and buying online businesses, domains, blogs, and other online assets.
And I had such an insightful conversation with Blake, talking about what makes a great blog or online business that is worth buying. You can watch the interview on my Youtube, or I invite you to read the highlights below:
What is Flippa and how does it work for bloggers
Even if you're not necessarily thinking about selling your blog, be sure to check out the interview if you want to find out:
What was the largest transaction that a blog was bought for in the last year
How to get your blog to a level where other people would want to buy it
What kind of blogs make for a desirable online asset
How to prepare your blog for it to be sold
The Interview Starts Here
And here we go! But first, please note this is a sponsored post written in collaboration with Flippa and the article may contain sponsored or affiliate links.
Q: You used Flippa to sell one of your online businesses, and now you're the CEO. How did that happen?
A: That's right. I had the unique experience of being a Flippa customer before I became "the Flippa custodian". The business I ran was a marketplace to buy and sell specialty food. It was equivalent to Etsy, which many of your listeners probably know.
Of course Etsy it's more arts, crafts, and furniture. In our case, we had providers and producers representing their food, wine and other specialty food products.
We had 150 producers on the marketplace shipping products all around Australia and it was pretty good. It worked for the end-user and it worked for the supplier, but it wasn't a real good money-spinner for us.
I ended up making that tough decision to exit or to step away from the business, and of course, there are very few options for business owners or entrepreneurs when it comes to that, especially back in 2015.
Flippa popped up on my radar as an obvious place and I set about looking to sell. After that, I went and changed tactics a little bit. I needed to go and work for someone else for a while and sort of recover – I call that period rehab coming out of entrepreneurship.
And so I went to work for a cloud accounting software company called Xero, then ran a business called Luxury Escapes – which was Australia's fastest-growing online travel agency at the time, and I was asked to come and talk to the board about my opinion of Flippa and its growth opportunities.
Flippa's never had a robust and big sales and marketing function. We've been bootstrapped and profitable for a long time. At that time, a lot of people haven't heard of the business. I certainly had and I was able to articulate to the board what I thought.
Inevitably I was offered the role of CEO and I haven't looked back since! I've now been doing that job for almost four years and helping small business owners all over the world find their pathway to exit.
Q: You have such a rich background in a lot of different industries. How has that helped you on a day-to-day basis, running Flippa now?
A: So much, so much! And I would encourage people to look at diverse opportunities because you never quite know where you might end up and what skills you'll need to draw upon at any given time.
One of the really great and exciting things about Flippa is that we meet business owners operating across so many different business models:
We can have content websites, which are making money through either affiliate or advertising income.
We can meet e-commerce business owners who are operating on Shopify or Amazon
And we know app developers and publishers operating on ios or android to name a few
There's just such a variability and in my case, it's helped me out a lot because I've worked in the content businesses, I've worked in SAS businesses, I've worked in e-commerce businesses and I obviously now run a marketplace for all those.
So the uniqueness of that experience has enabled me to help our staff and our great people working for Flippa all over the world.
Q: You had a record-breaking quarter recently. Congratulations! What would you say is the best thing about using Flippa as a seller or customer?
Most online business owners don't know that there are opportunities to exit, because the exit is usually reserved for big startup unicorns. But all of us, regardless of the size of our business, have an opportunity to sell to somebody else.
On Flippa, we enable business owners, bloggers, e-commerce sites, etc to sell their assets between $5,000 and 50 million. As a marketplace it's very broad, so the benefit then is that we have this huge universe of buyers and we don't just spray and pray and hope that you meet the right buyer.
Everything's done programmatically, so when you list your business with Flippa, we will programmatically match you up to relevant buyers – then those buyers will then negotiate with you. And so it's a really seamless end-to-end way of selling.
Q: How many transactions happen on Flippa on a monthly basis?
I just happen to have that number in front of me! In the month of April (2022), there have been over 1,000 successful transactions. 🎉 🎉 🎉
Q: One of the main assets that get listed on Flippa are blogs and content-rich websites. I noticed that your own marketing strategy includes collaborating with such content creators to spread the news about your marketplace. Why is that?
That's a really great question! So you know you can spend lots of money on paid marketing, going to Facebook and Google. And they have these really cool targeting tools … but they're actually not that cool.
It takes a lot of time and effort to optimize and of course, it's such a competitive environment that you're continually bidding up for the best quality customer. And you've got to optimize and optimize and experiment.
Whereas partnering with a blogger or a content producer for a Youtube channel or an Instagram account enables you to kind of eyeball the audience. It's almost like attending a meet-up and I can see that they are a good strong demographic that matches my target audience.
For us, it's about access to the right group of people. If someone is helping bloggers grow and we're helping bloggers exit, there's inevitably a point in time in their life cycle where they go from growing to thinking about exiting.
It's beneficial for us because it's easier targeting in my opinion and because you can actually get the conversation going more so than you can for a display ad or a keyword ad strategy.
Q: What was the highest transaction that took place on Flippa for a blog website?
We've had big transactions up to like 30 and 35 million in the past. But let's just go with last month – so the biggest blog that sold last month was a 5.2 million dollar blog. 🎉 🎉
And that was a blog that was all about a bit of a boring topic. But it was about compliance and GDPR compliance and website governance.
They had multiple articles, tens of millions of page views organically generated to this content, lots of backlinks from really reputable websites (which is a really good strategy buyers love), good quality users who are engaging with the content as measured by time on site and so.
Q: Do most people use Flippa to flip websites?
Not really. It does happen, but the vast majority of people who sell blogs – I would say for in excess of 50,000 all the way up to you know the 5.2 million dollar asset that sold last month that I alluded to -most of them are bloggers for passionate reasons.
They're no doubt really passionate about the subject matter that they've chosen to talk about or write about and when someone aims to create something just to flip it tends to be short-lived and short-lived content experiments tend to have lower value.
Q: Is there anything you can share about what desirable traits a blog should have to be considered a higher-value asset on Flippa or in general?
It's going to sound a little bit like a broken record, but it's all about good quality unique content.
Good quality unique content will be reflected in the keywords that you traffic for, and so a good trick is to jump onto Sem Rush, type in your own blog URL there and look at how Sem Rush perceives your site, from a domain authority standpoint, as well as the keywords that it ranks for.
For argument's sake – if you've got a really great collection of recipes about making pizza and then Sem Rush recognizes that, and we can see that Google is favoring your website as a result of customers already liking your content, then that's a really strong attribute that buyers look in a blog.
In addition to that, of course, having a strong revenue per page view is required. That will often come from having long pieces of content with multiple ad placements on the articles.
You can drive those multiple ad placements through something like a Google Adsense, Ezoic or even Media Vine – but most importantly:
We always say buyers pay for performance, but they look for opportunities. So what a buyer is going to do is they're going to look at your trailing 12-month revenue performance and that's how they'll derive the valuation.
And then they might pay you a little bit extra if they can recognize that they can optimize it even further through their capability.
>> Get a free valuation of what your website is worth here! <<
Q: Interesting! So the same strategies used to grow a blog are used to grow a website that has value as an asset you might want to sell later. Which makes sense! If someone goes down that route – what would they need to do to prepare their blog for sale?
Good question! First and foremost, you need to understand your financials. There's your revenue – that's typically really easy to understand because you might be plugging into an Adsense or something like that which gives you exact figures.
Secondly the traffic base. We will help you out with that when you come to Flippa because you can connect your Google Analytics and we'll assess that for you.
We help with the merchandising of the asset, but the key thing is understanding your expense line and what are you paying for to run your blog – for example hosting and other software, or maybe you're paying content contributors.
It's often very small amounts, but if you're a high-traffic blog it might be more and more. And then buyers will want to know. You have to understand the operations of your business and be able to articulate that to a prospective buyer.
And then finally a lot of people will try to sell when they've kind of got a little bit bored of their blog and then it might be on a slight decrease or even a very very steep decline. That's a terrible time to sell!
Q: You and your team seem to put in a lot of work to help bloggers prepare for a sale and guide them through the whole process. How else do you assist first-time sellers if they come to you?
Once you go through the FREE online valuation tool, we'll match you up with one of our business model experts and they'll have a discussion with you about the valuation and how that was derived.
They might tweak that up or down and give you some guidance as to how you can price your asset when you ultimately list it. After that, you can choose to either work with one of Flippa's representatives or work with a third-party broker.
We have a network of 35 broker partners. That makes up about 200 individual brokers who can work with you to prepare your asset and manage all the buyer interests.
We'll do a bunch of work for you so you can protect your blog with the non-disclosure agreement. If you're priced in excess of $250,000, you can even have your asset protected for verified funds buyers only, in which case we'll check their bank balances.
In that regard, it's a unique end-to-end service in the sense that we'll connect you with our sales completion team and the sales completion team will help you out with the escrow and ensuring that the payment goes through really well and smoothly before you end up transferring the core assets.
It's designed to make it as painless as possible, but don't let anyone ever tell you that it's a simple process. Because there's a lot at stake for the buyer, so they are going to be quite interrogative in their approach to doing the deal, so you do need to be prepared to answer all their questions.
Q: Is there any other due diligence that sellers can go over prior to selling their blogs or digital assets?
There are little optimizations you can make before selling. For example, if you've got any major expenses tied to the blog that aren't necessary for carryforward purposes you should think about removing those before you start selling.
In addition to that, on the buyer side, we provide profiles and mandates for every buyer so make sure that you read the buyer profiles before you choose to engage with any buyer.
We also recommend using Flippa's integrated payment system, as we have a partnership with Escrow.com. A seller should never ever transfer any assets whatsoever until Flippa confirms that the money is sitting in the designated bank account.
Q: What other Flippa features should sellers or buyers be aware of?
The only big one is the integration – you can connect your Google Analytics your AdSense or you can connect your e-commerce reports (including Shopify, Stripe and WooCommerce), allowing us to pull data and share your income with potential buyers.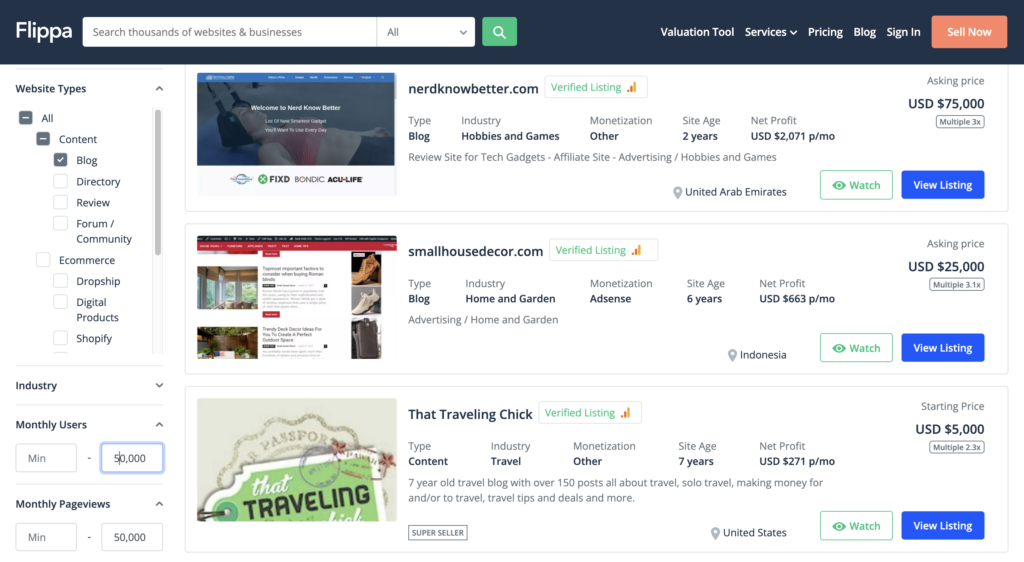 Another feature that new sellers use is to go and look for a blog that is of a similar size to yours from a traffic standpoint on the Flippa marketplace. You can use search filters on the left-hand side, filtered by the traffic that you get and you'll see all the assets come up that are similar to yours and their price points.
This gives you a great guide on pricing your own blog alongside other websites that are currently for sale (or that recently sold).
Q: What can we expect from Flippa in the following year?
We're about to launch a revised negotiation hub. Basically, you'll be able to shortlist buyers at the moment you see all the offers come in. At the moment, it's a bit hard to organize them, but moving forward you'll be able to shortlist them, favorite them and rank them to make it a lot easier to decide who you want to talk to.
The second thing is more for buyers. On every asset moving forward, you'll see buyer insight. We'll be basically benchmarking using machine learning and some cool data science to give buyers a perspective of how that asset compares to its peer set while they're looking at the specific listing.
So we think that that's going to help buyers do deals quicker and the best blogs will then stand out!
>> Sell or buy online assets with Flippa here!
---
I hope you had as much fun reading this, as I did having that conversation with Blake. If you find interviews inspiring, make sure to also check out:
How To Use Flippa To Buy or Sell Bogs – Interview With The CEO