Ever since I found out how valuable Pinterest is for bloggers and how much traffic in can bring in, I've been obsessed. I read hundreds of blog posts on the topic and I started experimenting with my own account.
And it worked! I was thrilled, but it was getting hard to keep up with a daily pinning schedule, organize all my pins to go on the right group boards and keep track of everything else. Until I found a secret weapon…
I was never a fan of schedulers until I realized there is no way to do everything yourself and not go crazy. And since Pinterest was already a profitable source for me (Read my post on How I Made My First Affiliate Sale In 2017 With Pinterest) I knew it was something worth investing it.
Keep in mind that this post contains affiliate links and in the event of a sale, I will be rewarded a small commission. I only recommend services & software that I truly believe in and I even paid full price for those mentioned in this post.
So I started using Tailwind and I never looked back.
(I am going to do a full walk-through on how I use Pinterest to get blog traffic below, but if you are interested in knowing the basics and get some tips to implement to grow your Pinterest account, take a look at my post about 8 Ways To Step Up Your Pinterest Game Righ Now)
Why Tailwind?
I knew the only way I could keep up with the growth of my Pinterest account and the promotion of my blog posts was with the help of a scheduler. After asking around and testing the free versions for myself (I was debating between BoardBooster and Tailwind, but I found BoardBooster too complicated and not as efficient for what I needed), I decided to purchase a month with Tailwind to see the full extent of its capabilities.
Free trials are amazing, but they only offer 100 free pins and you cannot see any real results that way or get access to all the features available with the free plan. I do recommend that you test the platform for yourself (get your free Tailwind trial here), but what convinced me to switch to the yearly plan was the fact that I bought a separate month to test the platform further.
💎 Here are some more reasons why I recommend Tailwind:
It's the only scheduler approved by Pinterest
It's only $9.99/month with the yearly plan and you get unlimited pins
You get a tailored posting plan which means that they analyze your feed and create time slots to help you schedule pins when it would get you the best results.
You can create board lists (this is super helpful when you are a part of multiple group boards and want a certain pin to go out in every board, a certain time apart)
You get access Tailwind Tribes (more about that later on)
You can see your profile and boards performance and track your domain pins (the ones that link back to your website) to see how it impacts your blog traffic

My favorite Tailwind features
There is no right or wrong way to use Tailwind and one of the reasons why I love it is because it can easily adapt to your specific needs. But if you're curious to know how I use it and what brought me the biggest results, this is a step by step guide to using Tailwind for bloggers.
If you have any specific questions that are not answered in this post, feel free to leave them in the comments section and I will get back to you as soon as possible.
💎 CUSTOMIZED POSTING PLAN & WEEKLY PINNING SCHEDULE
As I mentioned above, Tailwind uses their super fancy technology to come up with a scheduling plan that will work best for your feed. Before I started scheduling any actual pins, I created my weekly pinning schedule which consists of different time slots for every day of the week (which repeats week after week so you only have to set it up once).
This way, any time you add a new pin to your queue (unless you want it to go out at a specific time and date which you can set up separately) this will land on one of the empty time slots available in your schedule.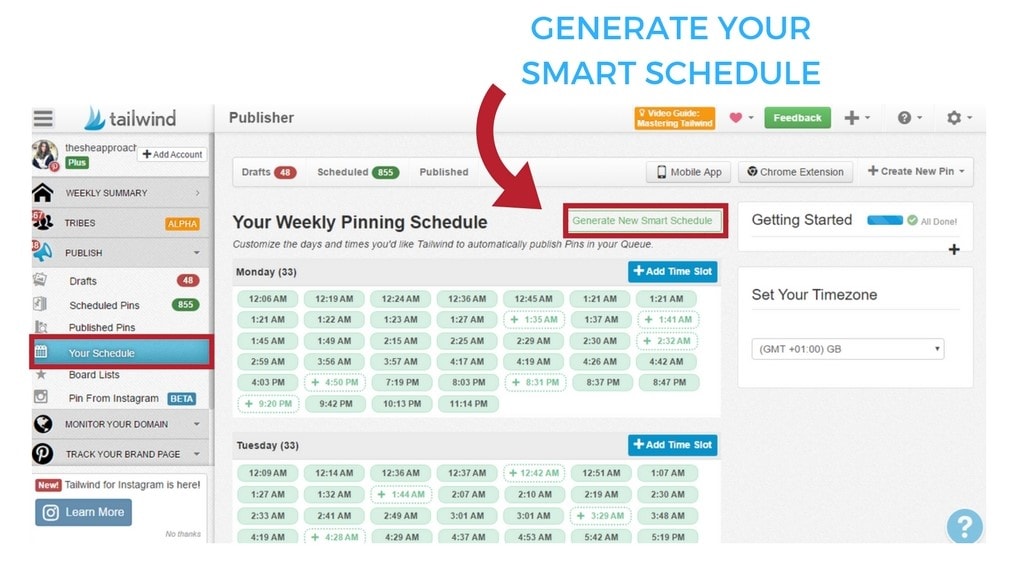 Above it's a picture of my Weekly Pinning Schedule that you can't find under the "Publish" and "Your Schedule" tab. After selecting your time zone and generating a Smart Schedule, you can edit this as you please.
The green blocks are the ones that I currently use and they were suggested by Tailwind after they analyzed my account. These will be different for most people. The white dotted blocks are others suggested time slots that I don't yet use (but I can do so with a simple click!)
If I want to add a time slot that isn't suggested by Tailwind, all I have to do is click on the blue "Add Time Slot" button in the corner and choose my own time.
If you decide to delete one of these time slots, but you already have pins queued, don't worry. Your pins won't be deleted. They simply will be moved to the next available slot.
So experiment with this as much as you can and switch things up once in a while. I started with 15 pins daily, and I am now at 40 (around 50 in the weekends because people are more active then). I choose my time slots quite randomly, but I make sure there is a certain amount of time in between them.
As I said. Experiment and see what works best for you. You have nothing to lose!
💎 PINNING QUEUE
Once you start adding pins to your queue (if you are new at this, I will explain how to do that in a moment), they will be sent out to take one of the time slots available in your pinning schedule in chronological order.
To see these pins and make any alterations, you have to go to your "Publish" category and under the "Scheduled Pins" tab. You will come across a page that will look something like this: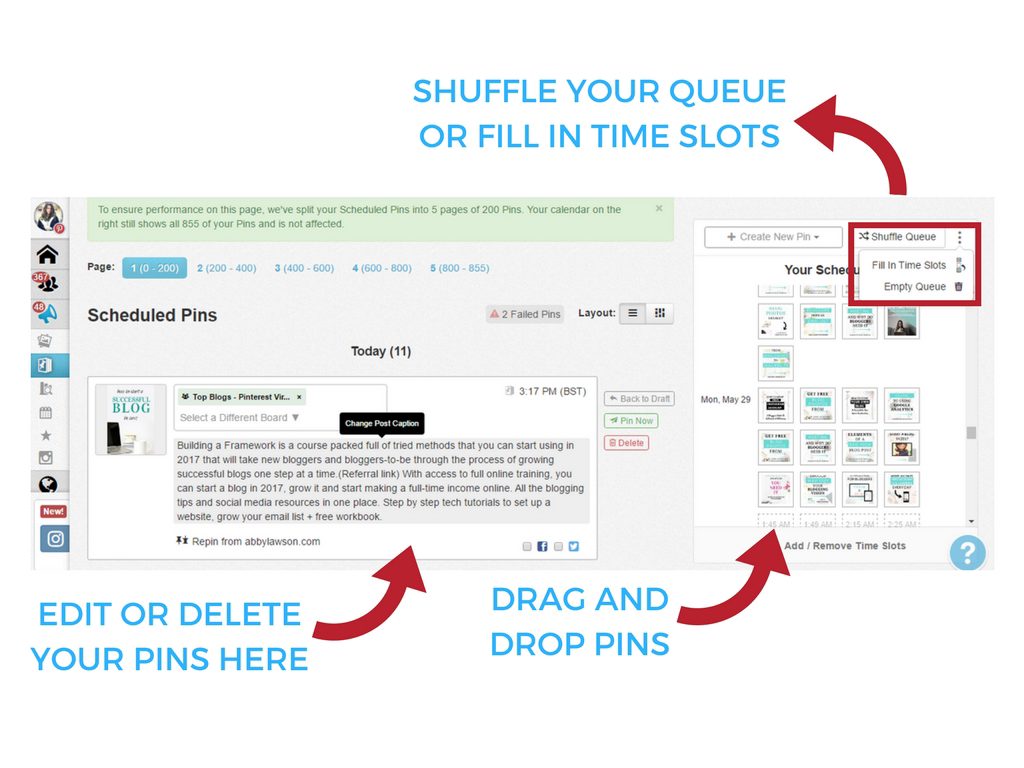 On this page, you can make final adjustments to your pins before they go out such as:
Publish them instantly instead of waiting for their turn in the queue to come. You can do so by using the "Pin Now" green button that appears when you hover over them.
Delete the pin or make it a draft
Edit the description of the pin or the board you want it pinned to
Change the time slots where it will go out by clicking, dragging and dropping the pin ( in the grid to the right) in the chosen time slot.
The grid serves as a preview of your timeslots and the pins that will go out. I usually add around 40 new pins to the queue and the shuffle it (by using the button found at the top of the grid) to make sure they are spread out equally.
If you want to shuffle your queue but you want certain pins to go out at a previously chosen time slot, you can lock in those pins to the time slots and they will not be shuffled with the rest. You can do so by hovering the pin in the grid and clicking on the lock image. That simple.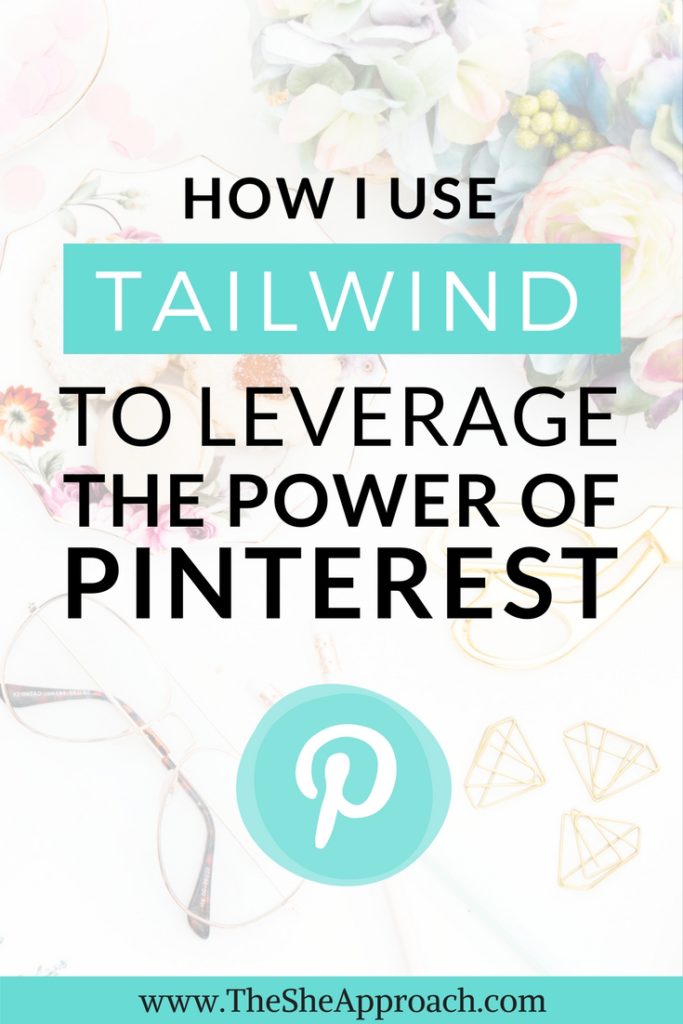 If you add new time slots to your weekly schedule, you will be left with empty squares in the grid until you start adding more pins to the queue. You can easily solve this by clicking on "Fill in time slots" button.
This all might look a bit intimidating at the moment, but their interface is very easy to navigate and once you set up your pinning schedule, you rarely have to put in any extra work.
Why don't you try out Tailwind for free and see for yourself
💎 HOW DO YOU SCHEDULE NEW PINS
To schedule pins using Tailwind you need to install a Chrome button (just like the one for Pinterest). After you make your account with them, they will guide you through exactly how to do that but it's as easy as "Download" and "Schedule".
From now on, when you hover over images (be this on Pinterest or on other websites), the blue Tailwind logo will appear and you will have the opportunity to add them to your queue.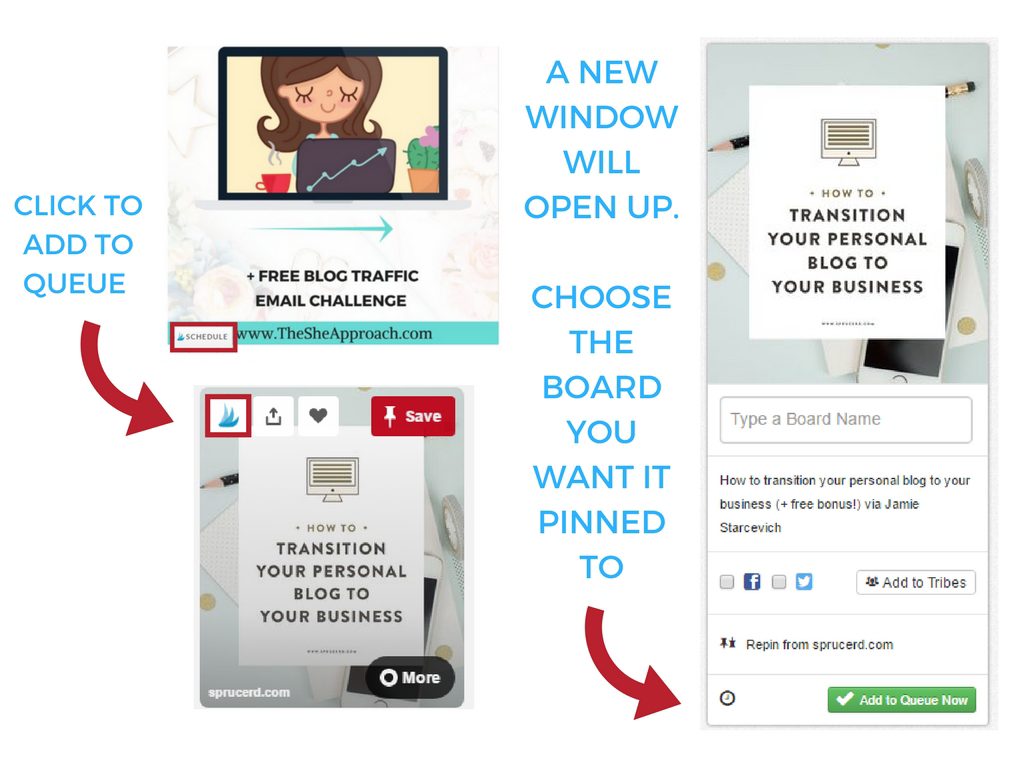 On Pinterest, the logo will appear on top, opposite of the Pin button. On other websites, the button will appear below the photo as shown above.
Once you click on the logo, a new window will open up where you can finalize adding the pin or picture to the queue. You can add the board you want it pinned to, change the description and even add the pin to one of your tribes from here. Click on "Add to queue now" and you're finished.
💎 BULK SCHEDULING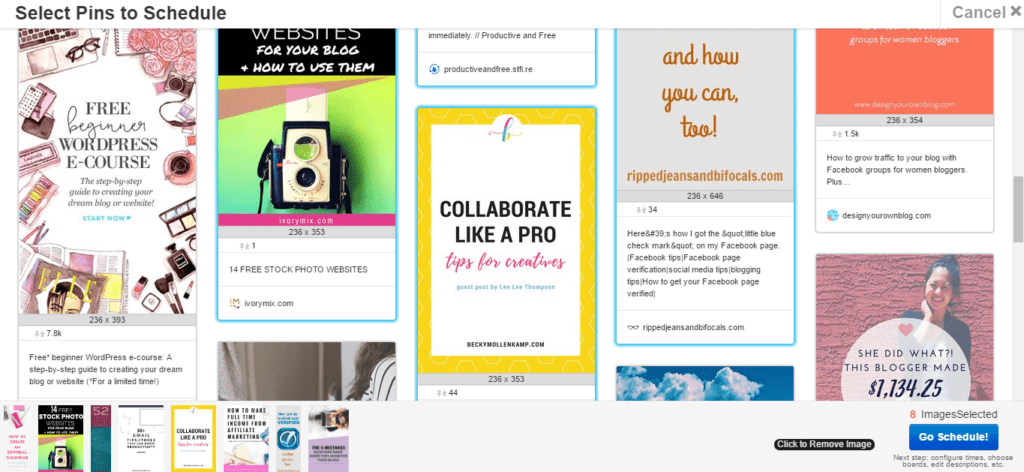 For those of you who like to schedule multiple pins at once, all you have to do is click on the Tailwind logo from your browser bar (where your Adblocker and Pin It button usually is), select the images you want to pin and a board where you want to pin them to.
This saves up a lot of time because you can select one board for all the pins you just chose (or spread them out as you see fit), without having to click on each one individually.
After scheduling them, your pins will go out to your queue in the ordered that you scheduled them, occupying available time slots. After bulky pinning sessions, I usually go back to Tailwind and shuffle my queue to make sure my own content is mixed with the new pins.
I usually schedule around 30-40% my own pins, and 60-70% other people's pins to keep a nice balance and get the most of my account.
💎 BOARD LISTS
One of the main reasons why I fell in love with Tailwind is because it allowed me to organize my pins into all the group boards I am in.
To gain traction for the pins that were linking back to my website, I joined a large number of group boards because once you are a contributor, you get to add your own content to those boards (who usually have a pretty high number of followers). Whenever I post a new blog post, I upload a graphic for it onto my Best Of The She Approach Board and schedule to repin it once in every relevant group board I am in.
---
If you are still looking into getting better at using Pinterest for blogging, read this post about 8 Ways To Improve Your Pinterest Game. If you already understand the importance of Group Boards, you can apply to join some of mine here.
---
For example, if I write a new post about "How to grow your blog", I make a quick graphic in Canva, pin it to what I call my "anchor board" (which only consists of pins for my website) and schedule to repin that in all my blogging related boards and group boards.
(Canva has pre-made Pinterest templates to help you get started if you are a total graphic design newbie.)
Before, I had to do this manually and figure out what pin went where to make sure I don't pin duplicates or miss any. This was proving to be an impossible task as I was joining new group boards all the time and not all my pins were relevant to all those group boards. Not to mention, it was taking me so long and it sucked the fun out of Pinterest.
Tailwind automated this task for me so now I spend 2 minutes setting up a new pin that will be systematically repinned through the following months in different group boards, bringing in new traffic to old posts without me lifting another finger.
Creating a board list is very simple. Go to "Publish" and "Board Lists" tab, click to add a new board list and organize your boards in categories. It's so easy to sort out your boards and it will save you so much time in the future.
Whenever I schedule a new pin, these board lists will appear on the top of your searches when you go to type in what board you want it pinned to. They are very easy to spot because they have a yellow star and the number of boards that are on the board list next to the name.
Once selected, your pin will go out to all of those boards systematically, leaving you with nothing to worry about.
💎 SEMI-LOOPING WITH TAILWIND
A new Tailwind system that allows me to promote all my posts in a uniform way is semi-looping. I came across the notion in this blog post that explains exactly how to do it so you won't need to spend any extra cash on other Pinterest schedulers that have this option,
What I personally do is:
Create same topic board lists
Choosing a pin and setting an exact interval
Schedule it to go every 2 or 3 days in a different group board
That way, if I make a board list of 60 group boards, I choose a pin, schedule it with an interval of 48 hours, that pin will be rotating in all my group boards for 4 months and all it took was 2 minutes to set everything up.
You can choose the interval as small as 2 minutes or as long as a month and you can even choose the starting date where you want it to go off or if you want the pins to take a random slot in your existing queue. (I like to choose an exact interval because my queue is already full for the next few months)
💎 TAILWIND TRIBES
Tailwind tribes are my favorite feature so far (and you can use it as well, even if you don't have a paid subscription with Tailwind).
Tribes are basically groups of people who exchange repins. Once you are invited to a tribe you can add the pins that you want repinned and you have to reciprocate by repining (or scheduling) a few pins at your choice. Tailwind keeps track of how many pins you added to every tribe and how many you repined.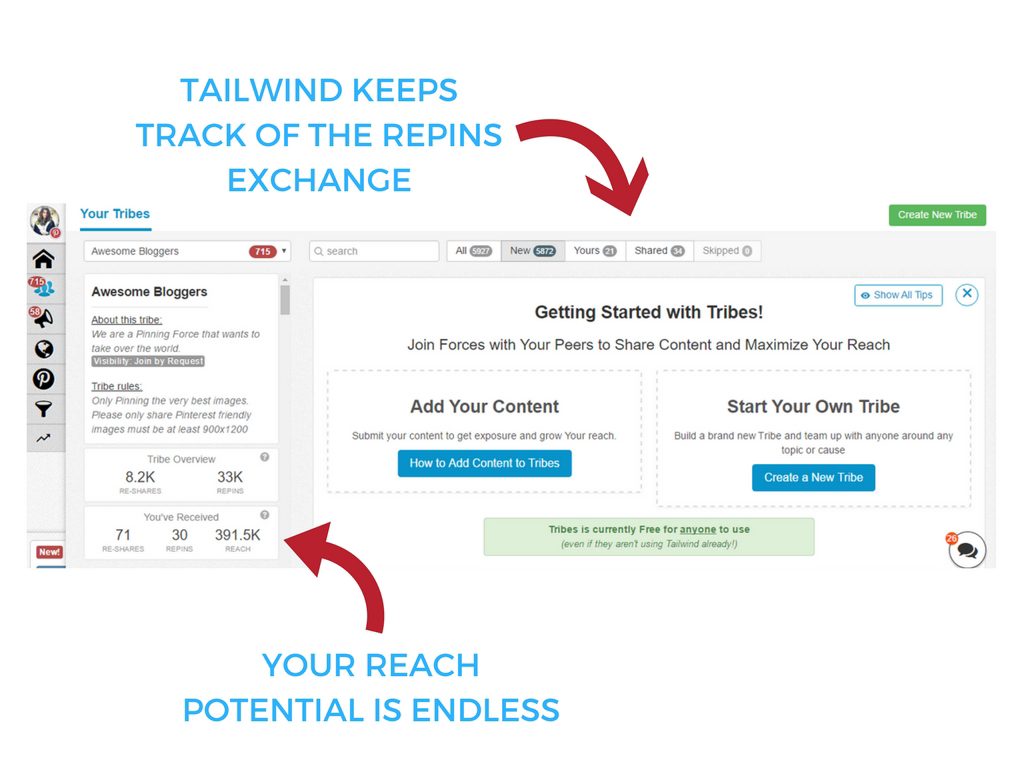 The common rule of the tribes I am in is to have repinned at least 1 more image than you have added to a tribe. If you want to add three of your new pins for example, you have to go and repin 4 from that tribe. This is amazing because you are not forced to repin anything that you don't like or wouldn't match your profile and you get to collect content for your own queue.
(To add a pin to a tribe, you have click on it to schedule it. Instead of doing that, simply click on the "Add to tribes" button and add it to all the tribes you want to.)
While being active in tribes can be a waiting game (since a lot of people chose to schedule their repins), if you do this constant enough you will see some amazing results down the line!
All you need to join is a link to the tribe that the owner shares with you as an invitation. Tribes tend to have very specific topics, so look to join those who are in the same niche as you.
If you find a couple of active tribes related to your content, that's all you'll ever need!
💎 CONCLUSION
Not only has Tailwind automated my entire process and is now allowing me to manually pin for fun, but it has expanded my reach and was one of the tools that exploded my blog traffic over the last few months.
You can check out Typical Results of Tailwind for Pinterest Members here for more case studies, to understand what you can expect from this tool.
Did you ever consider using a Pinterest scheduling tool? Let me know in the comment section below!

💎 Related Articles & Useful Resources
8 ways to improve your Pinterest game
Best Blog Traffic Tips From Pro Bloggers
P.s. Did I mention that since I started automating my Pinterest, my affiliate sales have gone up? Here are some resources you might find interest if you're looking to make an income blogging:
How I made my first affiliate sale in 2017 with Pinterest
How To Make Your First Affiliate Sale In 24 Hours Using Pinterest
If you're interested to know more, grab my free checklist here!
And don't forget to follow me on Pinterest! Would love to connect on there!