Top Social Media Schedulers For Bloggers
As bloggers, our online presence depends on being active on the most popular social media platforms at all times. But that wouldn't be possible without automation and scheduling ahead. So if you're struggling to keep up, here are the best apps to schedule social media posts and automate your social game.
Before I list some of my favorite social media schedulers and apps, I think it's important to mention that, as new bloggers especially, you don't have to be on every since social media platform.
But I do believe that if your audience is using that platform, you only increase your opportunities to connect and be found by them if you have an account there and if you use it wisely.
That being said, I am a big fan of automation! Without it, I would simply go mad because there is no way I could keep up with the demands that are required to grow certain accounts and run a blog at the same time.
(Or am I the only one who doesn't have time to tweet 20 times a day, pin 200 pins per week, write weekly Facebook posts and plan all my Instagram content?)
If you look at Instagram for example, you can see how inconsistent I've been with it over the past few months. And that is because my blog and my email list have priority. So when I have limited time, certain social media platforms receive less attention, based on the results they get me.
But the apps that I'm about to mention have changed my life, and as a result, I've been able to grow you my blog and my social media accounts by putting it less work and being more consistent with them (which plays a big part in any social media strategy).
Speaking of a social media strategy, if you're struggling to come up with a plan to promote your blog, this post on How To Build An Effective Social Media Schedule will come in handy!
As a point of reference, I still try to be active and engage with my audience on those platforms, but I made sure to automate at least 70% of my presence there (with content that promotes my blog).
The rest 30%, I try to use very intentionally when I go in and interact with my followers and make real connections with people. Without those, you risk to run your accounts on auto-pilot and appear like a tiny robot.
After much research, testing to see for myself and using the free trials for pretty much every social media scheduler out there, I found that these are the best apps to schedule social media posts:
(Please note that this post contains affiliate and referral links and if you make a purchase through such links, I will be awarded a small commission – at no extra cost for you! The social media apps that I mention here are tried and tested by me personally, and I only recommend them because I actually use them and truly love them!)
My Best Apps To Schedule Social Media Posts
---

PINTEREST SCHEDULING TOOL – TAILWIND
First off – Pinterest. I decided to start with this because I've been using this Pinterest scheduler for the longest (almost a year now) and I have nothing but good things to say about it.
Pinterest remains my number 1 traffic source (and it brings over 85% of my social traffic every month), so I've made it a top priority to be consistent with it over the time. But once I had 50+ of my own pins and joined over 30 group boards, keep track of what was pinned where was almost impossible. Not to mention that it was so time-consuming!
If you understand Pinterest, you understand how important it is to be active on it. You don't only have to share third-party content, but if you want to get traffic to your website, you have to consistently and strategically share your own pins (within all your relevant boards).
The sweet spot for me has been to pin between 60-80 pins per day, so you can see why I needed a tool that will allow me to do that without taking me the whole day. And that's when I found Tailwind.
Not only is Tailwind the only Pinterest scheduling tool that is approved by Pinterest, but for me, it was a life-saver! I was able to schedule my pins ahead of time (my queue is full until April now and we're not even in February yet), strategically share all my new pins in all my boards, join tribes and so much more!
Speaking of which, I'd love to have you join me Tailwind Tribe (it's free!) below:
Tailwind played a huge role in the quick growth of my account and my traffic, and because it saved me such much time, I was able to focus more on my blogs so this was an all-around win-win for me.
I could talk about Pinterest & Tailwind for ages, but I'll try to keep it short and direct you to some of the more in-depth posts I have on this topic instead:
Tailwind also happens to be an awesome tool to use to manage and grow your Instagram account, but I only use it for Pinterest, and it's brought me some amazing results. (Not to mention some amazing analytics into my Pinterest strategy.) But make sure to check out their features in full if you're interested to know more.
---

INSTAGRAM SCHEDULING TOOL – ONLYPULT
Just in case you're as frustrated as me to read about Instagram scheduling tools that don't actually schedule on your behalf, let me share the good news: this tool actually posts for you! And it lets you schedule everything off your desktop.
If you get easily distracted by your phone like me, this tool will not only save you tons of time (that you would've otherwise spent scrolling aimlessly), but you can schedule ahead which allows you to plan your content accordingly.
After testing multiple Instagram schedulers, I came to the realization that I need a tool that actually posts for me. Getting notified when I need to post just wasn't enough and it was distracting me from other tasks that I was trying to accomplish.
Only Pult came to my rescue, and after trying out their free version, I was hooked! Here are a few of my favorite features:
It actually posts for you.
You use the basic plan for 3 Instagram accounts at once.
You can schedule to post the first comment automatically when you schedule your posts. (That's where my hashtags go.)
You can schedule stories + posts with multiple photos.
You can see a preview of your feed.
It's crazy cheap! (Plus you get 10% off your first payment when you use my link.)
It saves you the hassle of having to send your photos to your phone + you don't lose any quality.
What more could you want from an Instagram scheduling tool?
---

TWITTER & FACEBOOK SCHEDULING TOOL – SMARTER QUEUE
For Twitter, I recently found a tool that literally saves me hours. In the past, I've used Hootsuite, but they just got rid of their free plan and only allow you to schedule around 100 tweets ahead for the paid one, which was my cue to find a new Twitter scheduler.
Back then, I used to have to copy-paste my every promotional tweet and insert it manually. When you have to promote about 60 blog posts, that takes ages! Last time I did it, it took me over 3 days and I only managed to schedule for the three months ahead. That means that every three months or so, I had to do it again.
But with Smarter Queue, I don't have to dread doing that task anymore! This tool allows you to create a social media schedule easily and add evergreen posts, which get recycled according to your instructions!
You simply add the tweets you want and they keep getting recycled according to your schedule. That means no more having to do this monthly, or having to copy-paste the same post 40 times a month. You add it once, and you let the system do the rest of the job (for years and years ahead)!
To give you an example of how I set up my Twitter weekly schedule, if I want to be able to tweet out 5 blog post per day, 2 quotes, and 1 affiliate link I add all my blog posts, quotes and affiliate links to the right category, and they are posted according to my previously created schedule. Once they all get posted, the cycle starts back up, so I won't ever be tweeting the same 5 blog posts two days in a row.
Not only is this a super efficient way to organize your Twitter feed, but it makes it so easy to add new tweets to your queue while still respecting the same schedule. Here are some other features that I love, and that make this tool super worth the money:
You get to connect 4 social media profiles for the solo account (including Facebook pages or groups, Twitter, Instagram and Linked In).
The evergreen recycling feature that multiplies the chance of your posts getting seen.
Their analytics are amazing!
You can create a custom plan if you need a certain amount of profiles or posts per day.
You can import your blog posts directly.
Compared to other schedulers, this is quite affordable!
RELATED POST: How To Automate And Grow Your Twitter Account
After researching dozens of Twitter schedulers and trying them out, I arrived to the conclusion that, for my particular needs at least, this is the most efficient one. And the fact that it only took me a couple of hours to set it up for good is a proof of that.
How I Use Smarter Queue For Facebook
When it comes to Facebook, for my page, I like to use the in-app scheduler. I don't post more than 3 times per week and I probably won't be giving Facebook much attention due to the recent changes that make it impossible for business pages to reach their audiences.
But as I started my own Facebook Group, I needed a tool that will allow me to schedule weekly threads and prompts. And because Smarter Queue allows you to connect 4 social media profiles for the same price, it was a no-brainer that I was going to use it for that as well!
And once again, I was left totally in awe of how easy it was to set it up. So if you need to post regularly on your Facebook page or in the Facebook Groups you created, this is the tool for you!
But don't take my word for it. Start your free trial now, and get it for free for an entire month instead of the 14 days trial they usually offer. I bet you won't be disappointed!
---
📌 PIN ME FOR LATER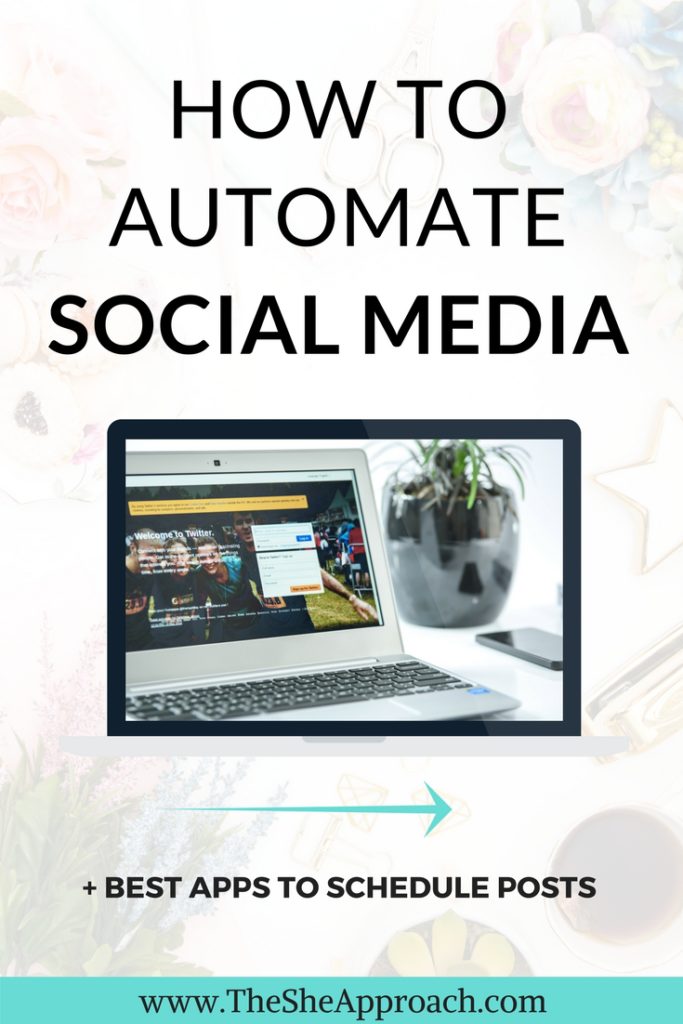 In conclusion, social media still plays a huge role in our attempts to grow our online presence. But you can't spread yourself too thin, otherwise, you will end up putting out content just for the sake of it, and that usually doesn't end too well or gain you much.
Instead, I found that my automating my social media platforms helps me be active & consistent while saving me tons of time. For most of my accounts, I set it and forget it, or I work in batches so that a few hours of work has me covered for the next few months.
This has been truly liberating, and I highly recommend it. This post includes some of the best apps that you can use to schedule social media posts 0or at least the ones that I personally use. If you'd like to see some more in-depth tutorials on how I use them, let me know in the comments section!
💎 RECOMMENDED READS
The Best Apps To Schedule Social Media Posts