Where To Find Legal Blog Pages For Your Website
You've got your brand new blog set up, a few posts written, graphics designed, and you're ready to hit publish! Exciting! But wait, are you REALLY ready to launch? Have you taken the time to ensure your new blog is legally compliant?
I've invited Dr Lucrezia Iapichino, an international lawyer, to speak on the importance of setting up legal pages on your blog and how to do it right. Please note that this post contains affiliate links, and any purchases made through those links will award me a small commission.
---
If you didn't know that your blog must be legally compliant or you're not sure what legal requirements you need to comply with as a blogger, I recommend taking this FREE legal course for bloggers, Legally Blogs™.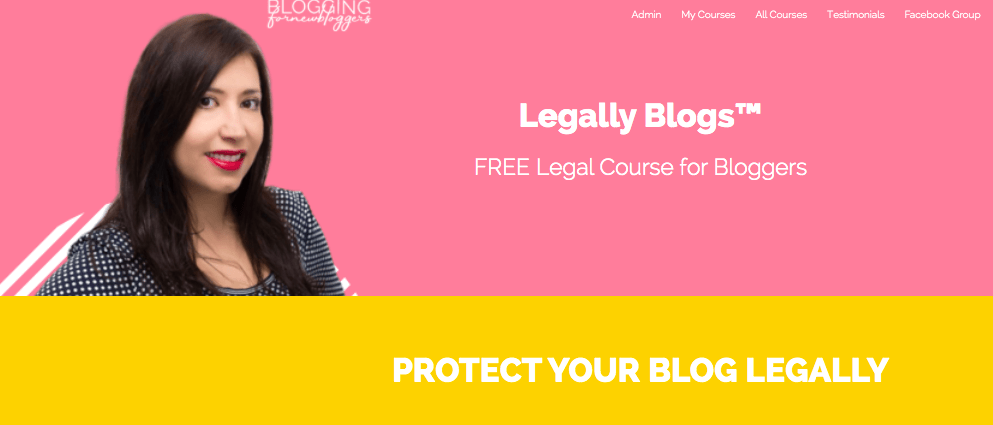 Specifically designed for bloggers, this free course will show you how to protect your blog legally and walk you through all your legal requirements, from how to use photos legally to what the GDPR is, through CCPA compliance for bloggers and more.
But today, I want to make sure that you're aware that there are actually four legal pages you need to have on your blog BEFORE you launch.
Let's look in detail at the four legal pages you need, why you need them, and how to create them.
DISCLAIMER: Although I'm an international lawyer and GDPR expert (LLB, LLM, PhD) by profession, this article is meant for educational and informational purposes only. It doesn't constitute legal advice and doesn't create an attorney-client relationship. Ana and I will not be held liable for any losses or damages caused by acting or failing to act on the ground of the content of this article. Should your circumstances require, I encourage you to seek legal advice through other avenues. Please read my full disclaimer for further information.
Legally Protect Your Blog With 4 Simple Templates For Bloggers
Setting your new blog up to be fully legal may seem beyond daunting. Most people's eyes start to glaze over when hearing or reading legal jargon. But it doesn't have to be as difficult to understand and implement as you think. I'm going to do my best to explain as simply as I can, the four main legal pages you need in place to launch your blog legally.
1. Privacy Policy
What is a Privacy Policy?
This is the most important legal page you need on your blog. Its purpose is to inform your audience of what personal data you are collecting and how you will be using it. It should also include how you store that information and how you keep it safe and secure.
This is a really simple explanation of a very important page. Far from simple, your privacy policy requires you to include a lot of very specific items such as Cookies, Third Party Privacy Policies, Children's Privacy, and users' rights under the GDPR and the CCPA, just to name a few.
Now some of you may be thinking "but I don't process people's personal information." But these personal data collection systems include:
Cookies
Contact forms
Comment systems
Google Analytics
Even if you haven't set these collection systems up just yet, in order to run a successful blog, you will eventually utilize at least some of these things.
Why you need a Privacy Policy
Every blog or website needs a privacy policy. It's required by several laws and without one, you are leaving yourself open to possible complaints, fines, and legal action.
Not only that, having a proper privacy policy makes your blog look more professional, credible, and trustworthy. Many affiliate programs require you to have one as well and may refuse to work with you without one.
More often than not you'll find easy access to a website's privacy policy in the footer of the site. If you can't find a link to a privacy policy, chances are the blogger has procrastinated setting one up. Or perhaps hasn't done their research and isn't even aware it's a requirement. This is a good way to indicate whether the site is reputable and worthy of collecting your personal information.
How to Create a Privacy Policy
There are many places online you can find free privacy policy templates or policy generators.
But stop! This quick, cheap, and easy route is a big blogging no-no! You may also think you can just copy and paste the policy of another blogger. This is also a huge mistake, and very much illegal.
The free options are just too generic and may not have even been created by a legal professional. Your privacy policy needs to be written for your specific site. This is not a "one policy fits all" situation. Every website offers different things and must follow different requirements. These differences include where you live, where your traffic comes from, what services or products you offer, what type of advice you specialize in, and so on.
You can technically write your own policies. However, unless you have a legal background yourself this is just not a wise option. You would likely spend hours doing it on your own and it still may not be done properly/legally.
For these reasons the best advice I can give you is to either hire an experienced lawyer or purchase templates from a reputable, trustworthy lawyer.
The latter has become the go-to choice for many bloggers. It's an affordable option and it's easy to find lots of reviews and testimonials by other bloggers who've purchased and utilized the templates themselves.
You can view the details of my popular Privacy Policy Template + Workshop here. Enter coupon code ANA10 at checkout to claim 10% OFF.
2. Terms and Conditions
What are Terms and Conditions?
The Terms and Conditions page is basically an agreement between you and your audience. It states the rules for using your blog or website as well as what to expect when using your services/products. It's used to identify the rights and responsibilities of both the site owner and the reader.
Why You Need Terms and Conditions
You own your site so you set the rules. The Terms and Conditions page legally protects you should problems arise from your readers not abiding by those rules. It should also include how and where any disputes will be handled.
It also protects your intellectual property. A Terms and Conditions page generally includes an intellectual property policy that protects your words from copyright infringement. Furthermore, it provides you with protection if a reader claims there's a mistake or inaccurate information within your content.
If you offer products or services, this is the place to outline your refund policy or your right to refuse certain individuals.
How to Create Terms and Conditions

Again, your Terms and Conditions should be made very specific to your site. Everyone offers something different and will need their own set of rules. You should definitely consult an experienced lawyer or have a look at my Terms and Conditions Template.
Enter coupon code ANA10 at checkout to claim 10% OFF.
3. Disclaimers
What is a Disclaimer?
Basically, a disclaimer shields you from lawsuits. It provides you, the blogger, protection in the event a reader experiences issues after depending on the information you provided to them. When you create a blog post, your disclaimer allows you to deny or disclaim any liability for the information/advice you gave.
Why You Need A Disclaimer
Every blog and website needs a disclaimer. You do not want to be held legally responsible for the content you created. If your advice leads to problems for your readers and you do not have proper disclaimers in place, you could be facing major legal action.
A disclaimer also protects you in the long term. Your posts likely won't stay 100% accurate as time goes by. Information and knowledge are always changing, in all topics and niches. You don't want to be held responsible for the advice you gave that was accurate at the time, but is no longer the most current, up to date, information.
How to Create Your Disclaimer
Much like the privacy policy, it's best to hire a qualified lawyer or purchase reputable templates you can customize to fit the needs of your own site.
Different legal page, same advice! To do things correctly I suggest consulting your lawyer. Otherwise, you can grab my ready-to-use Disclaimer Template. Enter coupon code ANA10 at checkout to claim 10% OFF.
4. Disclosures
What is a Disclosure?
A disclosure is a statement that informs your audience of your relationship with the products and brands you write about on your blog. It lets your readers know you may earn money by mentioning certain things. Most commonly disclosures are used when using affiliate links, writing a sponsored post, or working with brands.
Why You Need Disclosures
You must make sure your readers know a relationship exists between your blog and a product/brand you mention. Providing this transparency with your audience helps give them a sense of trust. It also ensures they take in your advice and recommendations knowing full well that you may be being compensated to do so.
Your disclosure statement must be placed BEFORE any affiliate links or promoted content. Your reader needs to have access to that statement before being given the opportunity to click through the link or read the promoted article.
How to Create a Disclosure Statement
Your disclosure statement can be pretty basic. Something as simple as saying:
"This post contains affiliate links. This means if you make a purchase through one of these links, I will receive a commission at no extra cost to you."
However, you should also have a separate disclosure PAGE. It's there that you need to disclose in detail your full policy regarding affiliate links, sponsored posts, or brand collaborations. Your simple disclosure statement should then link back to your disclosures PAGE.
Therefore, your simple disclosure statement could then say:
"This post contains affiliate links. This means if you make a purchase through one of these links, I will receive a commission at no extra cost to you. Read my full disclosure HERE."
(And link the word "HERE" to your detailed disclosures page.)
How to Create a Disclosure Page
You can learn more about how to properly disclose your affiliate links here and you can check out my plug-and-play and FTC compliant Disclosures Template here.
Must Haves for Starting A Blog Legally
That covers the four legal pages you NEED to have on your blog when you launch. These important documents have the power to protect you and your blog from costly lawsuits, fines, and messy legal drama.
Other than these four main pages, you may need to make sure your blog is compliant with the GDPR and CCPA laws. You may also need to create certain contracts and agreements. The needs of your site will ultimately depend on what type of products or services you provide to your audience.
Some contracts to consider might include:
For help with various contracts and agreements, you can browse what templates are available HERE.
PIN FOR LATER 📌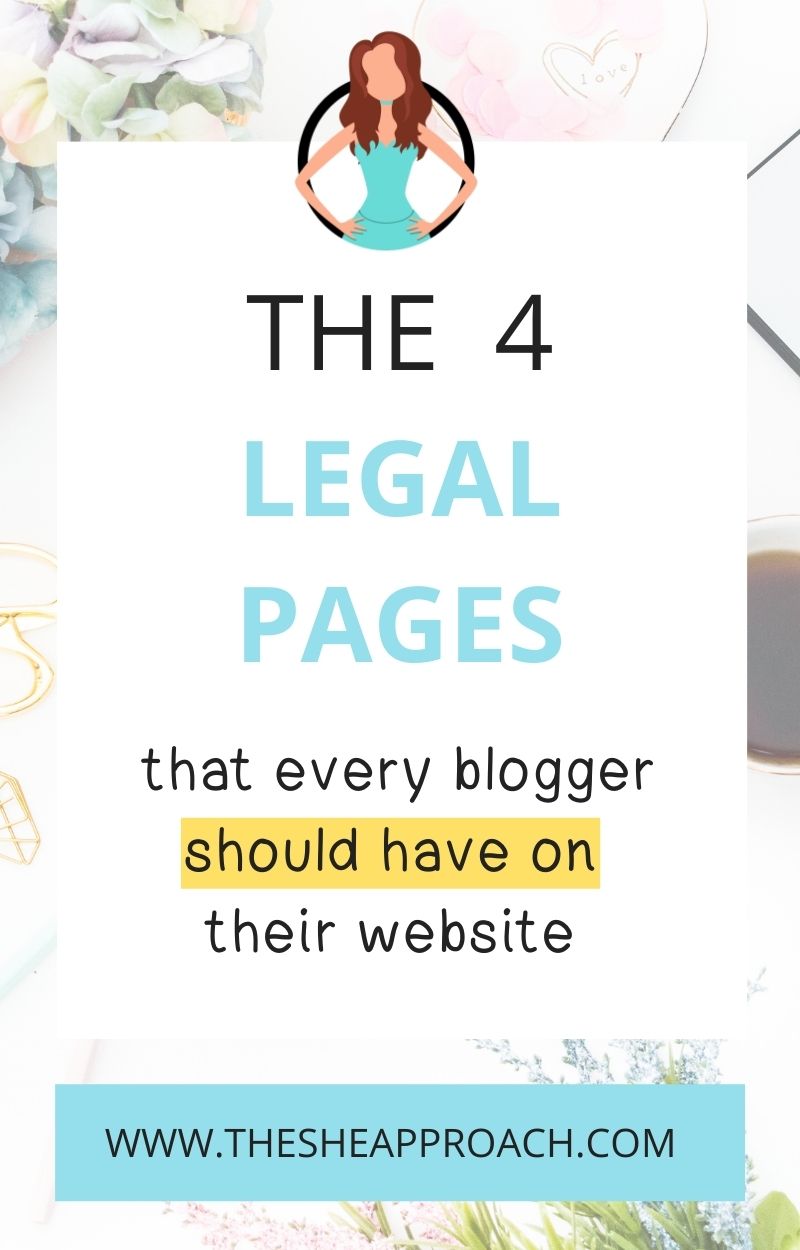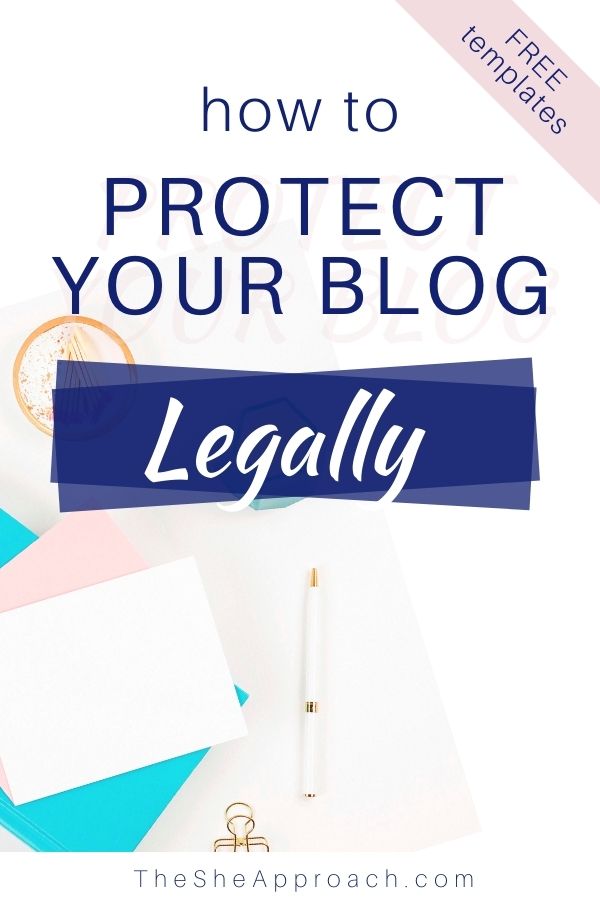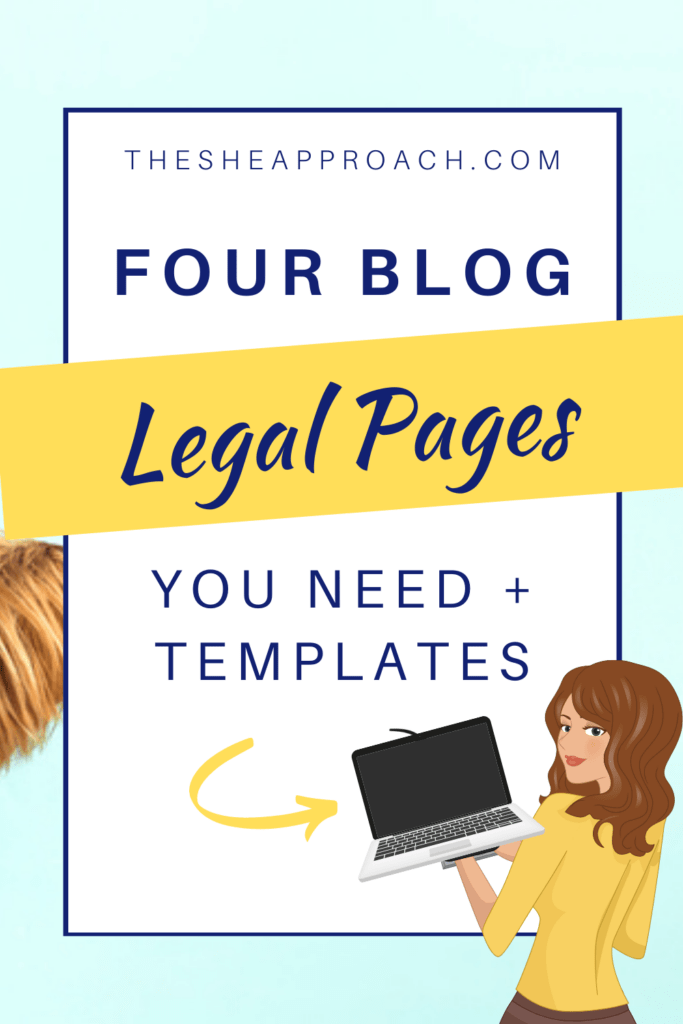 Are You Legally Ready to Launch Your Blog?
So, do you have all of your legal ducks in a row? Maybe you have some of these pages complete and not others. If you need help in some areas and not others, purchasing only the templates you need might be a great, and very affordable option for you.
However if you are realizing you need assistance with all four of these legal pages before you launch your blog, I highly recommend you look into the best seller Legal Bundle Value Pack™. It really is the best bang for your buck and will help you get everything set up quickly and easily.
Privacy Policy Template
Cookie Policy Template & recommended Cookie Plugin
Terms & Conditions Template
Several Disclaimers Templates
Affiliate Disclaimer Template
CCPA Compliance Requirements
Privacy Policy Requirements under the GDPR
FTC guidelines and other requirements
Requirements for the Amazon Affiliate Program
There are a few more bonuses included and a payment plan available if needed.
You can grab Legal Bundle Value Pack™ here and save 10% with the code ANA10.
Final Thoughts on the Four Legal Pages You Need to Have on Your Blog When You Launch
If you've neglected to ensure your blog or website is fully compliant with the various blogging laws, you are not alone. It's so common for bloggers to put off the legal side of their blogs so they can focus on content, social media accounts, etc.
To most, blogging legalities can be an overwhelming, confusing aspect of the business. That is why it truly is in your best interest to hire a lawyer. Understandably, not everyone has the funds, especially in the beginning, to invest in a reputable lawyer. Your next best option is to do it yourself with the help of professional, proven templates created by a lawyer.
You can take this FREE legal course for bloggers, Legally Blogs™ to start familiarizing yourself with legal requirements and find out how you can protect yourself and your blog legally.
Don't let the overwhelm take over and leave you and your dream business open to expensive legal issues. Having these four legal pages on your blog BEFORE you launch will bring you much needed peace of mind and allow you to move forward free from any legal fears.
---
⋆ Dr Lucrezia Iapichino is an international lawyer, university lecturer and GDPR expert (LLB, LLM, PhD) with over 15 years of legal and teaching experience in different countries. She's the co-founder of BloggingForNewBloggers.com and Tinylovebug.com and co-host of the popular community Blogging for New Bloggers.
Lucrezia has helped thousands of bloggers and online entrepreneurs start and grow their business and protect it legally with her courses, bundles, and templates. You can enroll in her FREE legal course for bloggers Legally Blogs™ here.