Writing is a very written focus task but if you want to draw people in, using beautiful imagery on your website or blog is a must. Most people rely on taking their own photographs and that's a great way to use photos legally on your blog.
But if you don't have the equipment to take your own photographs or the time to produce one for every blog or social media post you may resort to Google or Pinterest to get some images from. Big mistake!
I used to think that just because I can download pictures off Google or Pinterest then I could freely use them as I please. But boy, was I wrong!
Every picture you find on the Internet has something called "copyright" and it's basically the right of ownership that the photographer has over the picture. That means the picture is not legally yours to use and if you get caught doing so, you might get in legal trouble.
Sure, not every photographer is going to hunt down the people using their photos and sue them, but you don't want to risk it and compromise your blog in the same time!
I know a blogger that had to pay $600 after being tracked down by the rightful owner of a picture she was using without permission. Yikes! And this is not the only case.
So how can you avoid this scary legal trouble but still have a beautiful imagery on your website?
Take your own photographs
Taking your own photos is a simple way to own all your content and avoid getting into any legal altercations. (In fact, if someone steals your pictures, you have the right to demand that they take it down or ask for compensation in exchange of them using it.)
Read my post on how to take product photography like a pro (without breaking the bank)!
But photography is a skill that takes time and resources. Fortunately, if you can't afford any of those, I have a solution for you!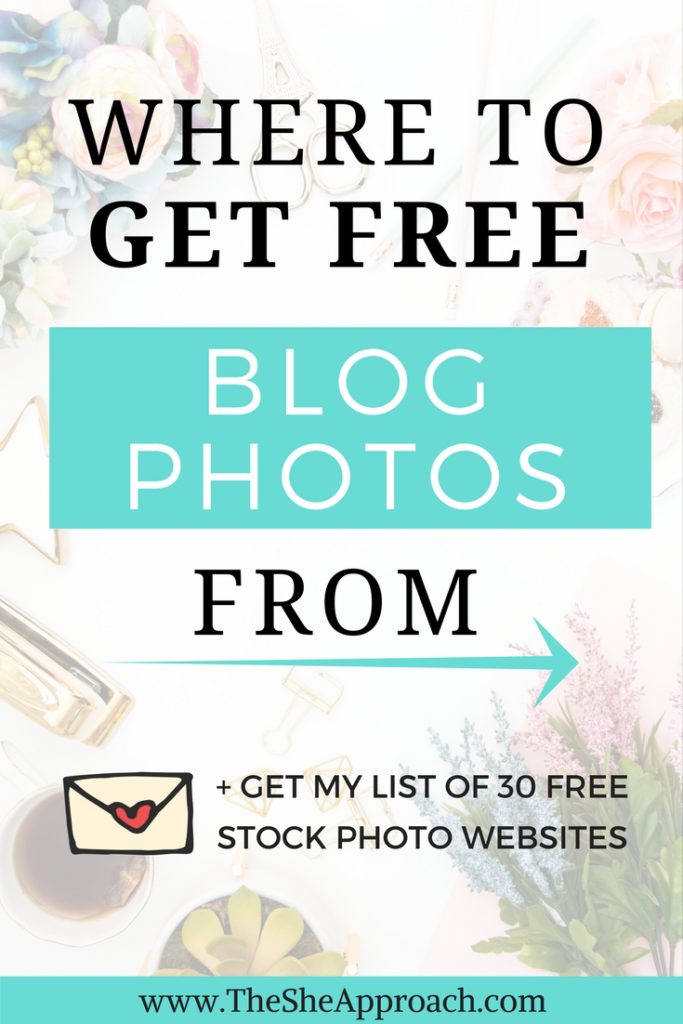 Buy royalty-free stock photos
A simple and easy way to use photos that are not yours and avoid copyright issues is to purchase them. This type of photos are referred to as royalty free stock photos and don't require you to credit the photographer since it's looked at like an online license, allowing you to use them as you please (as long as you don't sell them!).
They are usually sold individually, in bundles or you can even purchase subscriptions and get unlimited access to a stock photos library owned by a certain photographer.
Using paid stock photos means that your imagery is more likely to be unique (rather that just relying on photos that everyone has access to), you can sleep at night knowing you won't get any scary legal letters in your mail and you will have high-quality photos to attract and impress visitors (rather than using low-quality, blurry images of the internet).
Here are some of my favorite places to go to for stock photos (full transparency, these are affiliate links and I will get a small commission if you purchase something through my links, but I only recommend them because I actually use their photos and they have made my life so much easier and colorful):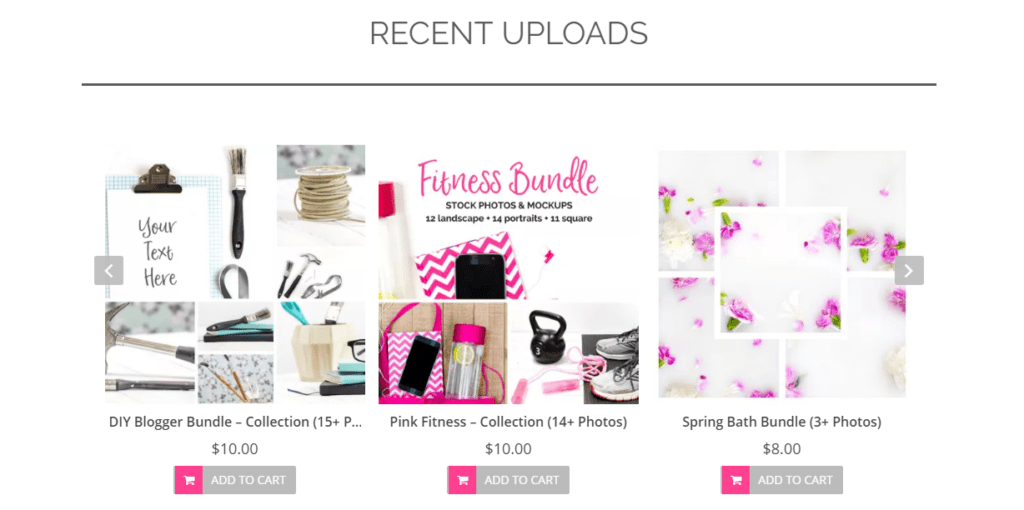 I absolutely love this shop! I often shop their bundles when I need something in particular for a blog post or social media promotion. Here are some things I think you will love about this shop:
They have super cheap but gorgeous bundles starting at as little as $8
They have a bi-monthly subscription starting with $20 ($10 a month) that gives you access to ALL THEIR PICTURES
They have a big discount on their yearly subscription and you only have to pay as little as $8 per month.
They even do custom photo shoots!
Super vibrant photos delivered in multiple templates (tall for Pinterest or wide for blog posts for example)
Loads of white space in their pictures! They can be easily modified and make for great graphics.
You can search the shop by color and get photos that match your brand image!
They give away some free photos if you join their email newsletter!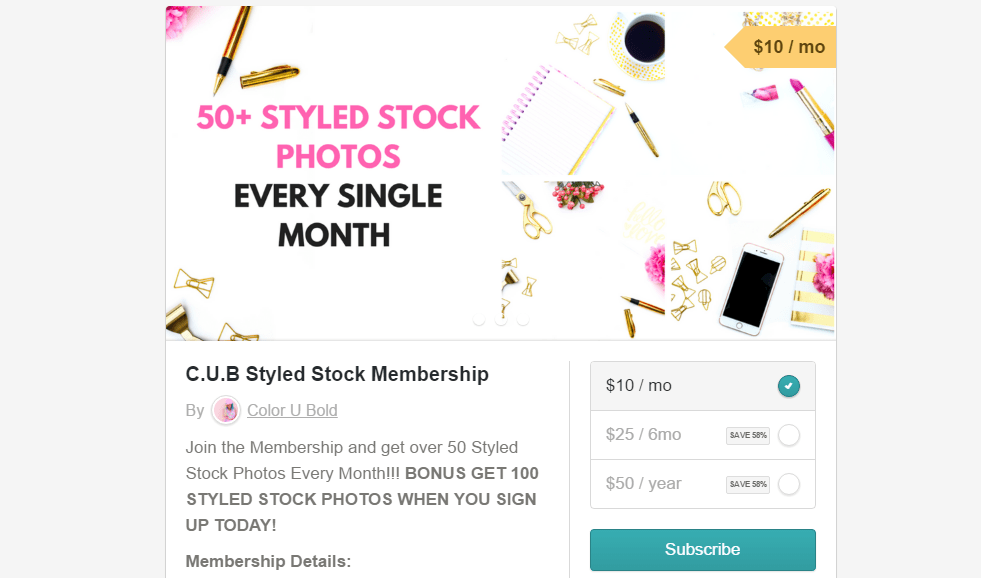 I absolutely love this shop! I am so obsessed with their pictures that I bought a yearly subscription and got a huge discount for it. And now I'm covered for the full year!
The pictures are super colorful, clean and high-quality. A lot of them are perfect for bloggers in particular (I love the workspace ones!) and I've been using the religiously to create awesome Pinterest graphics and social media content.
They are quite a new shop, but you have access to 100 photos on the day you sign up (what are the odds that you're even going to need them all??) and they add 50 new pictures every single month and notify you via email!
Update: They have recently changed their prices. You can either pay $20 per month or save 60% of the annual plan that I have and recommend (you can get it for only $95 and you get between 50 and 100 new photos send via email every month!).

FREE STOCK PHOTOS
Not every royalty-free picture out there costs money. There are a large number of websites that give away free photos that you can simply take and use as you wish because their license allows it. If you do a quick google search for "free stock photos" you will find them.
I put together a list of free stock websites you can go to when you're in need of a high-quality picture for your blog or social media. Enter your email address below to get it!
Although free stock photos are a great resource, I would look into buying a membership for a stock photo website that you really love because it will make you stand out from the crowd!
Honestly, I can't tell you how many times I've seen the pictures that I use on other blogs. And you want to avoid that as much as you can. But if you have to choose between low-quality images from Google or stock photos, always go with the last!

PRO TIP: Did you know that if you sign up for Creative Market's email list you get 6 free goodies in your inbox each week? They often include stunning stock photos, backgrounds and vectors that you can use for your blog images and graphics.
Did you know that using pictures that you don't have the rights to can get you in legal trouble? And if you did, what are some of your favorite stock photo websites?