How To Use Pinterest To Generate Sales For Your Online Shop
Have you just launched your online shop and you're struggling to get traffic or sales? Find out about my top 5 effective strategies to promote your online store on Pinterest (and all about my secret social media weapon).
When it comes to online marketing of any kind, a big focus (whether you are promoting content, products or anything else) is placed on the traffic you get to your website.
Although numbers aren't everything (especially when they don't covert), we would be naive to think that we can make sales, generate leads, gain a readership or anything else for that matter without having traffic to our websites.
After dedicating a big part of the work I do online to helping bloggers increase their traffic, I came to a hurdle of my own.
With the launch of my first online store, Blogging Mode, I realized that getting traffic to an online shop (and therefore making sales) is a bit different from getting traffic to a blog. And that difference is mostly reflected in the fact that you're trying to promote products instead of helpful content such as blog posts.
So I had to start from scratch, apply what I know to e-commerce world, make some tweaks, experiment a lot and find some new, improved and effective strategies for promoting my online store.
Disclosure: Please note that this post contains affiliate links and in the event of a sale, I will be rewarded a small commission. I only recommend services & resources that I truly believe in and that I use for my blog on a weekly basis.
Why Pinterest?
I decided my best bet was to start with Pinterest. After successfully promoting this blog on Pinterest (and getting a whopping 80% of my traffic from it month after month), I knew the power that Pinterest has when it comes to connecting me with my target audience.
In fact, I loved Pinterest so much (and – if I dare say so myself – excelled at it) that I even released an ebook titled The She Approach To Making Pinterest Possible that takes bloggers and online marketers through all the strategies that helped me reach over 10k followers on Pinterest and a reach over half a million views MONTHLY!
While doing some research for my ebook, I also found out two interesting facts that made Pinterest the social media platform to be on if you're an online shop owner:
Pinterest users are more ready to buy that users from any other social media platform. AKA people would much rather buy your product after they saw it on Pinterest vs if they saw it on Facebook. (Not to mention that according to this article

, the average order value of sales coming from Pinterest is $50 – higher than any other major social platform.)

Orders from Pinterest on mobile devices has increased by 140% in the last two years which means that if your pins are in the right place, you have plenty of chances to generate actual sales with Pinterest (not to mention all the traffic and the brand awareness you're getting on top of that).
So, now more than ever, Pinterest is the ideal platform to use to showcase your products and get in front of your ideal customers.
Getting Started With Pinterest For Online Shop Owners
If you're reading this in awe of the results that Pinterest can bring you, and you're ready to give it a shot, but you're not familiar how the platform works (or how to work the platform in the favour of your online store), have a quick look at the resources below, because the 5 strategies that I'm going to get to in a minute are based on the assumption that you know your way around Pinterest.
First off, read the following Pinterest guides that I've previously published on my blog:
Once you've done that, your best bet is to get your hands on a full guide to Pinterest, that you can follow to fully understand the steps you need to take (and in which order) to create your account, optimize your pins and grow your Pinterest presence.
Although there are some pretty comprehensive Pinterest courses out there, if you're not willing to spend a fortune (but you still want a complete guide without having to do hours of research and experimentation yourself), I recommend checking out my Pinterest ebook.

Although it's written with bloggers and content creators in mind, the ebook goes over crucial aspects and strategies (that no one else shares) that apply to promoting product pins as well.
In other words, if you want to fast track your Pinterest knowledge and get started with promoting your online store on Pinterest having a clear plan, you'll get a lot out of the strategies and tactics presented in the ebook.
Once you've understood how to work Pinterest, it's time to tweak your strategy a little bit, and optimize it for promoting your online store according to my top 5 effective strategies for generating sales with Pinterest.
1. Creating A Pinterest Business Account
Although this is more technical, and perhaps a less strategic tip, this is a vital part of getting started on Pinterest as a shop owner. To move on past this step you need to make sure you tick the following three boxes:
You create a BUSINESS profile account

(or switch from personal to business if you created a personal business account by mistake). A business account will allow you better analytics and better features, including the two that follow.

You claim your website.

You can find out how to do so

here

. This part lets Pinterest know that you are the owner of your website and online shop, and therefore when you pin something from your domain, they are likely to perform better than if a random account would pin them.

You enable rich pins (or product rich pins)

. You can find out how to do so

here

. Rich pins allow Pinterest to extract a little bit more information, therefore, it gives your products a better chance of getting found. Product rich pins in particular also showcase the price of your products, if they are in stock and other helpful info (see example below).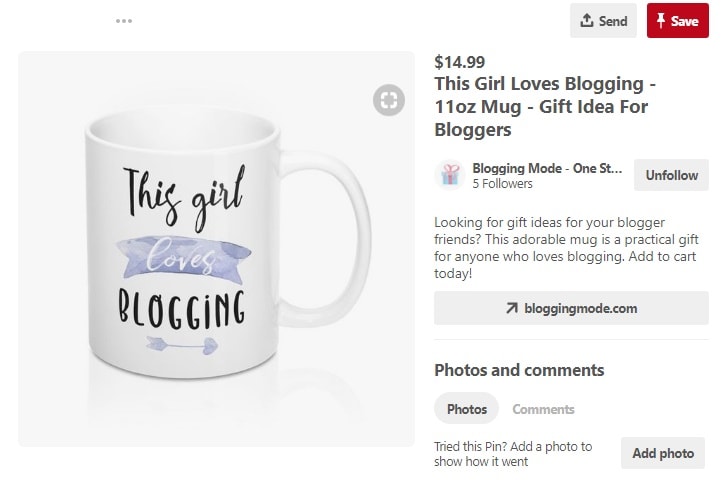 Although a bit technical, this step is essential to setting a strong foundation for your Pinterest presence and getting started on the right foot. I'm not going to get into it in more detail than this, but my Pinterest ebook has a breakdown and tutorial for each step if you're interested to find out more.
2. Showcasing Your Products On Pinterest
Pinterest acts like a visual library of ideas, a search engine, and a bookmarking vault at the same time, making it the ideal place to promote and showcase the products you have in your online shop.
In other words, people go on Pinterest looking for home decor ideas for their bedroom for example. Once they type it up in the search bar, they get presented with columns of pictures of bedrooms and bedrooms related products. (If you were selling beds, lamps or interesting frames, this is where your pins would show up!)
From here, people like to save their favorite ideas and products by bookmarking them in their boards (a process which results in increasing the reach of those pins because they are actively sharing what they save with their followers).
So not only people are sharing pins all the time (an action called "repinning") to be able to organise them in their boards, but they actually use these pins as inspiration and, as the statistics from the beginning of the post showed, they go as far as to make purchases based on the pins they find.
Because the odds are that your next customers are already on Pinterest looking for products like the ones you sell in your shop, all you have to do is to showcase your items on Pinterest. Here is how you do that:
A. CATEGORISE YOUR PRODUCTS IN BOARDS
For my online shop, Blogging Mode, I started by creating a board for each type of product that I sell such as Mugs, Clothing, Tote Bags, Notebooks and so on.
First, I made sure that both the title and the description of these boards reflect what they are about, to make it easy for people to find them. (This process is also known as Pinterest SEO optimization because Pinterest acts like a search engine.)
After that, I started slowly pinning my products in the right boards and adding a detailed description for each pin as I went on. (The idea here is the same – you need to give Pinterest a hand in figuring out what your pins are about and writing pin descriptions do just that.)
B. SHOWCASE YOUR PRODUCTS IN OTHER RELEVANT BOARDS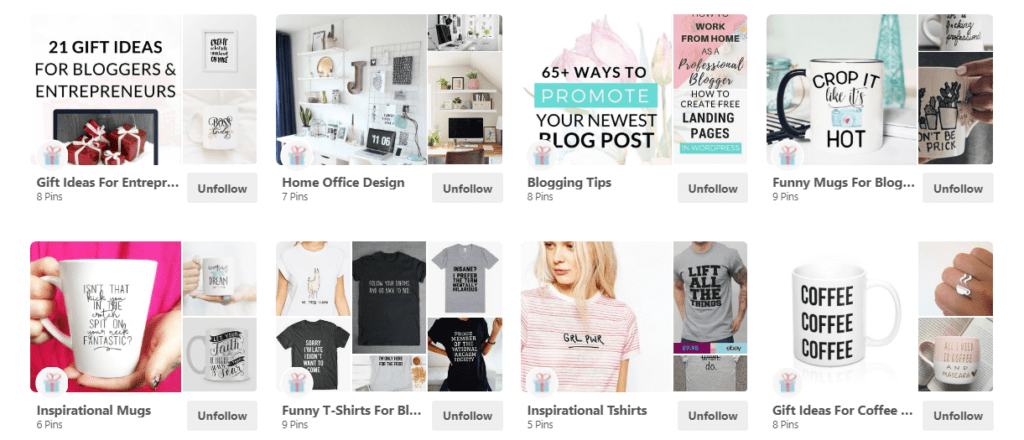 After that, you want to take it one step further (because you can technically only add those products to your main boards once).
To create more chances to share your products and attract your customers, you also want to create other relevant boards where you will share other people's content alongside your own. For example, I created boards such as "Funny Mugs" and "Gift Ideas For Coffee Lovers" to be able to share my funny coffee mugs in there.
I've also created boards that are relevant to my audience (such as "Blogging Tips") but that I won't necessarily contribute any content to, just to give Pinterest and my audience a little bit more context and reasons to follow my account.
By doing that, not only am I curating content for my audience (which in my case loves coffee and funny quotes), but I'm also creating opportunities to showcase my mugs alongside other relevant products (which strengthens their SEO at the same time, so Pinterest will start showing them to people who are searching those terms).
Other types of boards that are great on Pinterest and that can help you showcase your products beyond the people who follow you are Pinterest group boards.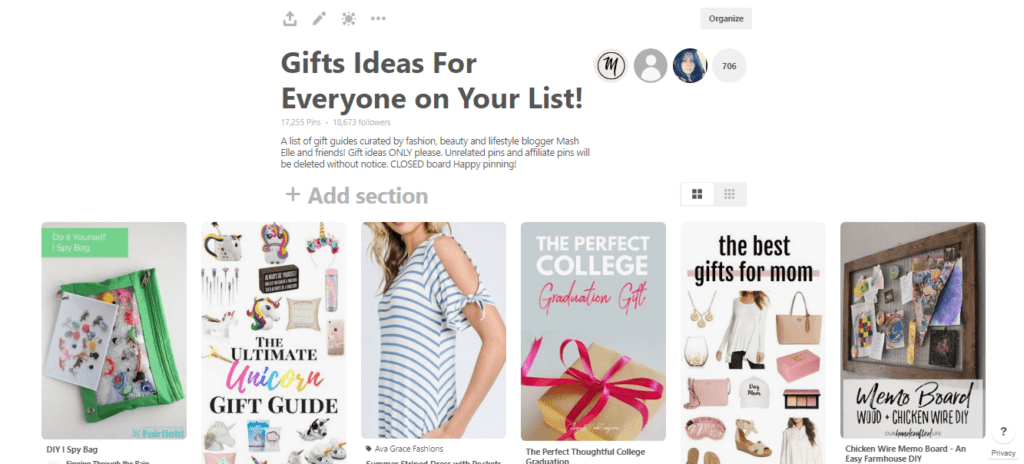 Group boards are boards where multiple pinners are invited and marked as collaborators (so they can all pin to that board even if they haven't created it. For example, this "Gifts For Everyone" group board has 700+ contributors and we are all allowed to share gift guides and gift ideas (so our products!) in there.
You can find some relevant boards to join in your niche on Pin Groupie or you can start one yourself with your other e-commerce friends. (Just try and keep them specific. If you sell jewelry, a Handmade Jewellery group board will perform better for you than an "All Handmade Products Welcome" type board.)
And if that doesn't work, you can exchange repins and re-shares with Tailwind Tribe members. Find out what Tailwind Tribes are and how they work here!
3. Creating Content Around Your Products
If there's one thing I've learned from promoting my blog successfully on Pinterest is that content (especially helpful, informational or inspiring content) is very popular on Pinterest.
So why not create content that showcases your products, solves a problem for your audience, or offer your products as a solution to that problem.
For example, if you sell beds you can create blog posts on "How To Pick The Perfect Bed For Your New Apartment" and if you sell baby products you can write about "10 Things That Can't Miss From Your Baby Shower Registry".
From tutorials, to gift guides, and "how to" posts, content works miracles and it offers you an incredible opportunity to showcase the features of your products and tell your potential buyers why they need what you sell.
To take my own advice, I've attached a blog to my online store and I've started creating gift guides (such as "10 Instagram Worthy Mugs For Bloggers") where I direct people towards different items from my online gift shop for bloggers.

Promoting my blogs posts alongside my products on Pinterest has already made a tremendous difference and having such content on my website has a double benefit as well because Google loves content as well (so my SEO has improved as well).
As you can see, on Pinterest alone, 4 out of 5 top results for my "gift ideas bloggers" query resulted in showing pins that lead back to my blog posts.
💎 PRO TIP: Creating content doesn't only refer to written content. Another amazing type of content that you can create to better showcase your products is lifestyle photos of your products.
Instead of always having your products on a white background, try posting lifestyle shots of them (if they are clothes – show them on a model, if they are beds – show the full bedroom) on Pinterest while they are in use.
This will sparkle people's curiosity and increase the chances of your pins getting saved and clicked on!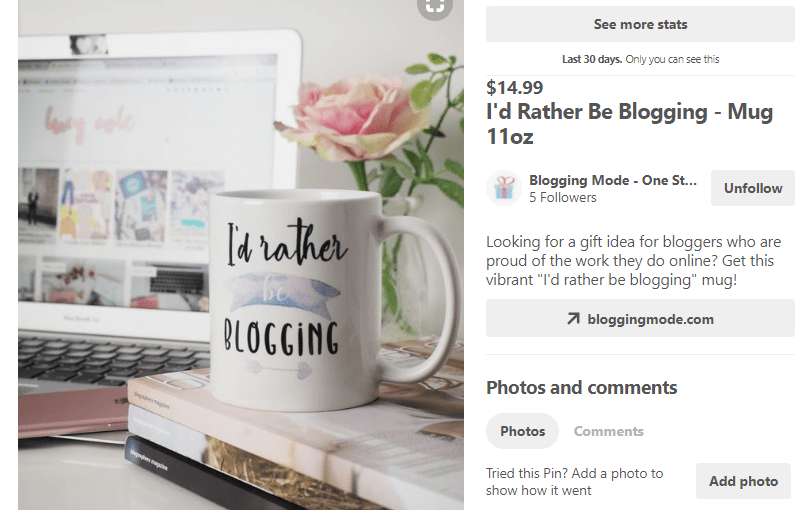 For example, I've started creating some Instagram + Pinterest content for my products by taking flat lay photos, and I've also offered free products to influencers to create more user-generated content of my products in use (like the stunning photo above).
So get creative, and start curating some lifestyle images for your products! (Pinterest advises this as well in their guide for ecommerce stores.)
4. Use Tailwind To Grow Your Online Shop Traffic And Sales
My secret weapon when it comes to managing both my blog's and my online shop's Pinterest activity is my favorite Pinterest scheduler – Tailwind.
If you own an online store, you are well familiar with all the daily and weekly tasks you need to keep on top of from product creation, to customer service, marketing, social media, accounting and so on.
If your time is limited, but you still want to give Pinterest a try, then I recommend using Tailwind. Not only will this scheduler help you automate your Pinterest presence (so you won't need to be pinning daily to keep getting traffic and sales from Pinterest), but its features are designed to make life easier for you when it comes to promoting your products online.
Here are a few that came in handy for me, as I've been using Tailwind to promote my online store:
A. TAILWIND'S SMART SCHEDULE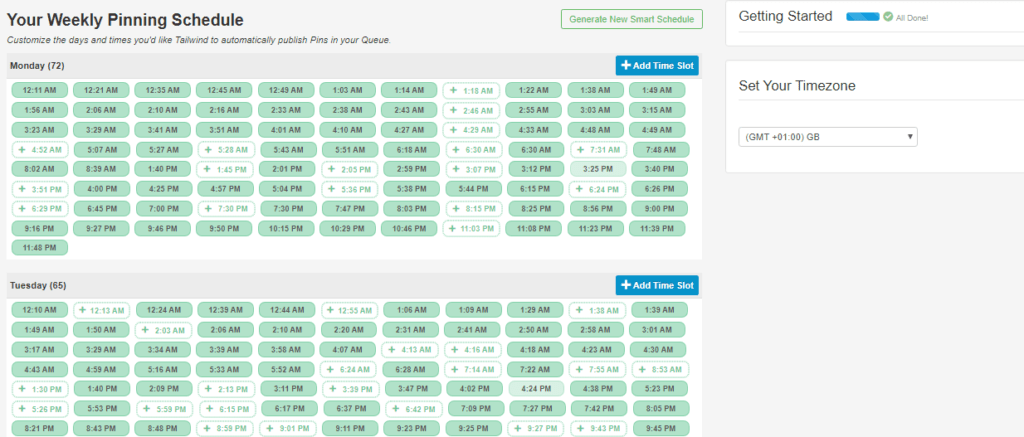 If you want to be consistent with your pinning activity, but you don't have time to pin around the clock every day, Tailwind can automate this task for you by allowing you to create a weekly Smart Schedule (when they even recommend the best times to pin each day based on when your followers are active).
All you have to do is select how many times you want to pin each day, generate a unique Smart Schedule and then start adding pins to your queue. In a few hours you can have your entire week mapped out, with nothing left for you to do but enjoy the free traffic!
B. TAILWIND'S BOARD LISTS AND INTERVAL PINNING FEATURES
A big part of your Pinterest strategy should be focused around sharing your own pins and products multiple times, helping them gain traction so they can be seen by people that don't even follow you on the platform yet.
To help you keep track of that, Tailwind has two amazing features that you can use when scheduling your pins and promoting your online shop:
Board lists. Board lists allow you to group your relevant boards together, so you can repin the same pin in multiple boards, without having to manually keep track of everything. (You can literally schedule 1 pin in 10 boards with one click.)
The interval pinning feature. This feature allows you to select the time in between those repins. So if you choose to pin an image of your newest product in 10 different boards, instead of being pinned one after another (and looking spammy), you can select that you want it to wait 2 days between each pin, creating a consistent repinning schedule that will increase your odds of being seen by all of your followers without spamming any of them.
Want to take advantage of these cool features? Try out Tailwind for free here!
C. TAILWIND'S ANALYTICS AND INSIGHTS
One of the most overlooked Tailwind features, but debatably the most important one, is Tailwind's analytics center (known as the "Insights" tab). Because they are an approved Pinterest scheduler, Tailwind knows things about your Pinterest profile that not even Pinterest does.
If you want to keep an eye on what your most popular products are on Pinterest, what your customers loving or ignoring, if you want to see how your pins or boards are performing, you can find it all in Tailwind.
From their pin inspector (that shows you how many times a pin is repinned once you've added it to a certain board), to your website's insights (that show you how pins leading to your domain are performing, what's most popular and so on) Tailwind is committed to helping you figure out what your clients want more of, so you can increase the sales and the revenue coming from your online shop.
Having a Pinterest presence for your online shop is a crucial part of any online marketing strategy, but it's also time-consuming. If you want to make sure you're not missing out on any sales while making time for the things in your business that matter, I recommend trying Tailwind for free using this link and automating your Pinterest activity.
If you're struggling to set up your Tailwind account or read your analytics, my Pinterest ebook has an entire chapter on this that's going to blow your mind. Grab your copy here and master Pinterest for good!
5. Create Opportunities For People To Follow You On Pinterest
Out of sight is definitely out of mind when it comes to having an online shop. People move on quickly and forget if they don't see your shop anywhere for a few weeks, and with so many other options of places to shop for, they might not return if they aren't prompted.
To prevent that from happening, and to grow your Pinterest reach in the same time, you need to create opportunities for your customers and website visitors to follow you on Pinterest. A very simple way to do so is by adding your Pinterest link alongside your other social media links on your website or in your emails.

But if you want to make sure that people see it and actually take the time to hit that follow button, you can do a few things to make your Pinterest presence more visible on your website such as:
Create a Pinterest widget to display your account or your activity (they come with a big fat red follow button). You can add these widgets on your shop's sidebar, in your blog posts or in the footer of your website.
Add a pop-up on your website. A lot of bloggers use a tool called MiloTree, asking blog visitors to follow them on Pinterest in a pop-up, as soon as they land on your blog. And it works!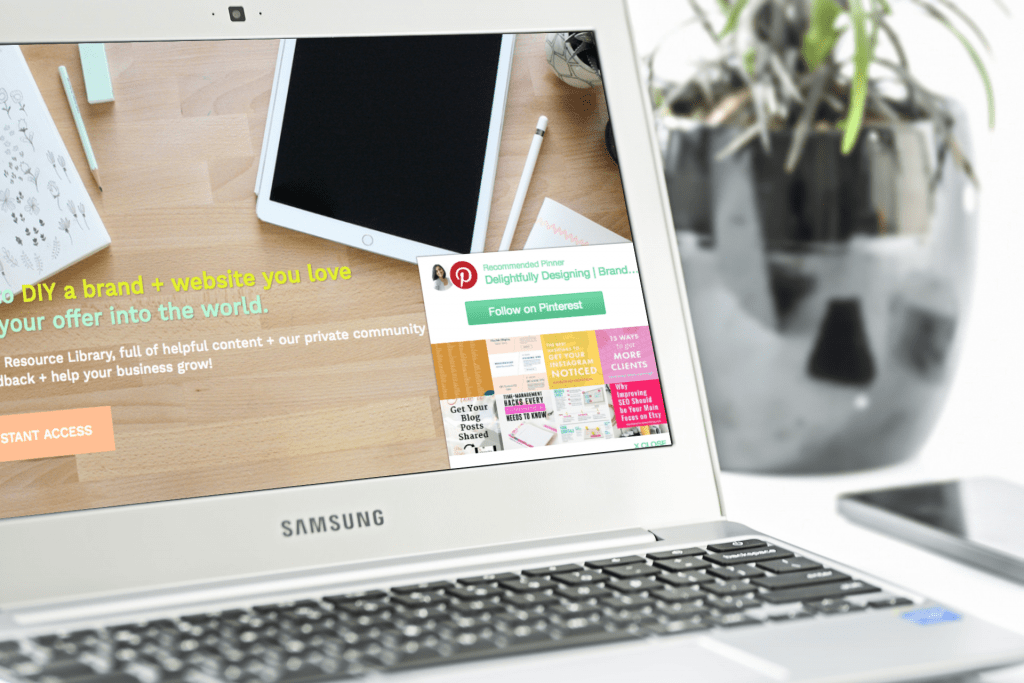 These follow buttons will only take a few minutes to set up, but it ensures that you are keeping in touch with your potential clients. Plus, it's a very simple and easy way to grow your Pinterest account, because who is more likely to love your pins that the people who spend time on your website?
---
📌 PIN THIS POST FOR LATER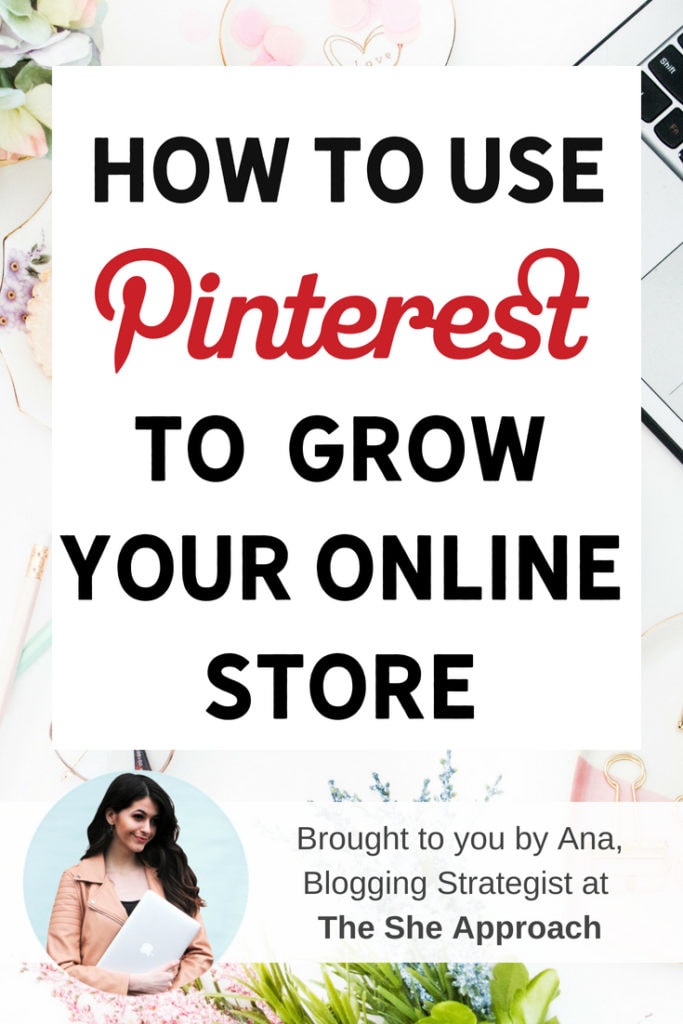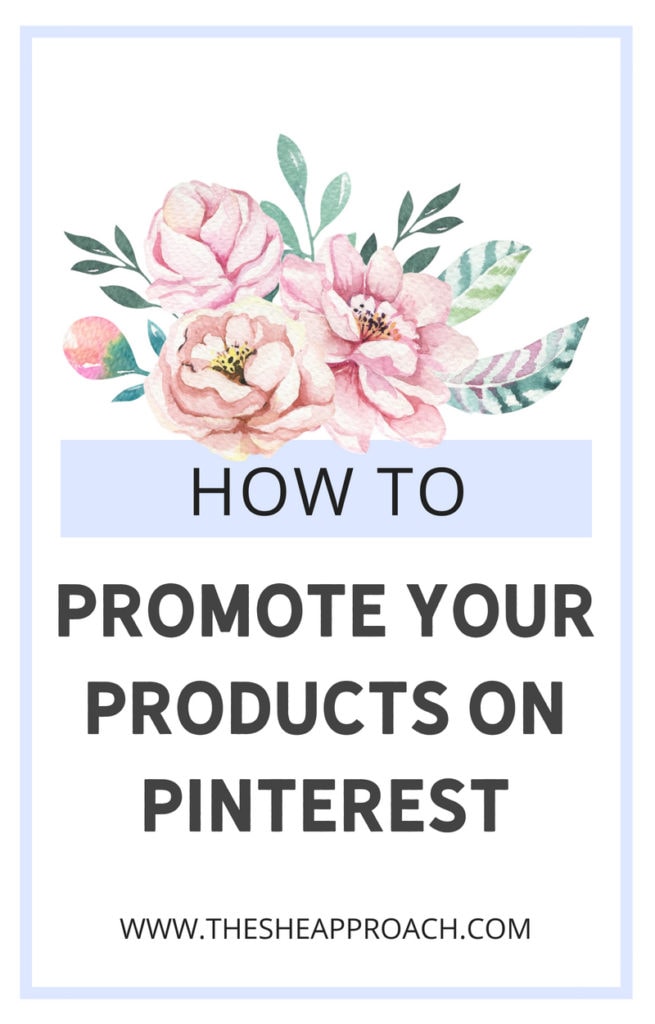 And there you have it! These are my 5 effective ways to promote your online store with Pinterest. Have you tried increasing the traffic and sales to your online shop by using Pinterest? And has it worked?
Let me know in the comment section below and let's continue this conversation!
💎 OTHER RECOMMENDED READS
5 Ways To Promote Your Online Store On Pinterest