How To Design Pins To Promote Your Blog On Pinterest
When people sign-up to my email list, I urge them to reply to my welcome email and tell me about their biggest struggle or challenge as a blogger or business owner. 8 times out of 10, that answer has something to do with getting more traffic to their blogs or websites.
If you're reading this, you may be wondering what do Pinterest graphics have to do with growing one's traffic. Well, I'm here to let you in on a little secret: creating stunning Pinterest graphics for your blog posts is the essence of promoting your blog on Pinterest, and therefore getting a buttload of traffic.
And, because Pinterest requires very little effort once your account is set up, nearly 90% of the traffic that I get to my blog each month comes directly from Pinterest passively.
If you're not familiar with Pinterest yet, check out my previous posts on this topic:
In this post, we're going to explore how to create stunning Pinterest graphics for your blog posts, even if you have never created a social media graphic before.
In fact, to make things easier if you're someone who learns by watching instead of reading, I put together a quick video tutorial on how I come up with my Pinterest graphics in less than 5 minutes. Enter your email below to receive a super-secret link to the video (for free!):
Please note that this post contains affiliate links and any purchase made through such links will award me a small commission (at absolutely no extra cost for you). These funds help me feed my dog and keep this blog up and running. Learn more about it here.
Does the design of your Pinterest graphics matter?
The key to making Pinterest work for you is found in the aspect and appearance of your pins. In fact, because Pinterest is first and foremost a visual platform, the design of your pins play an integral part of your Pinterest presence and creating stunning pins should be a priority for your Pinterest strategy.
Becuase like I said, Pinterest is a visual search engine and people will stop to pay attention to, click on, and re-pin those pins that they are visually drawn to in the first place.
When creating Pinterest graphics for your blog posts, it's important that you create unique, eye-catching pins that will not only stand out from the sea of other pins but also look professional. Because let's face it, whether you're looking for a WordPress tutorial or a tasty summer BBQ recipe, you only want to read the best posts out there.
And, even if your post is great, if your Pinterest graphic for that post doesn't measure up to that standard as well, people will judge a book by its cover, or it this case, a post by its pin.
What's the anatomy of a perfect pin?
So, we know why the design of pins matters but what actually goes into creating a stunning Pinterest graphics for your blog posts? Well, I'm just about to tell you:
There are a few criteria that you should try to stick with when creating new graphics:
1. CREATING LONG, VERTICAL PINS
It's well-known fact that long, vertical pins perform better on Pinterest that landscape type pictures, and that's because longer pins take more space in the feed, due to Pinterest organizing their pins in columns.
So make sure that your Pinterest graphics and templates are respecting the 2:3 pixels ratio. I found the sweet spot to be somewhere around 800 x 1200 pixels.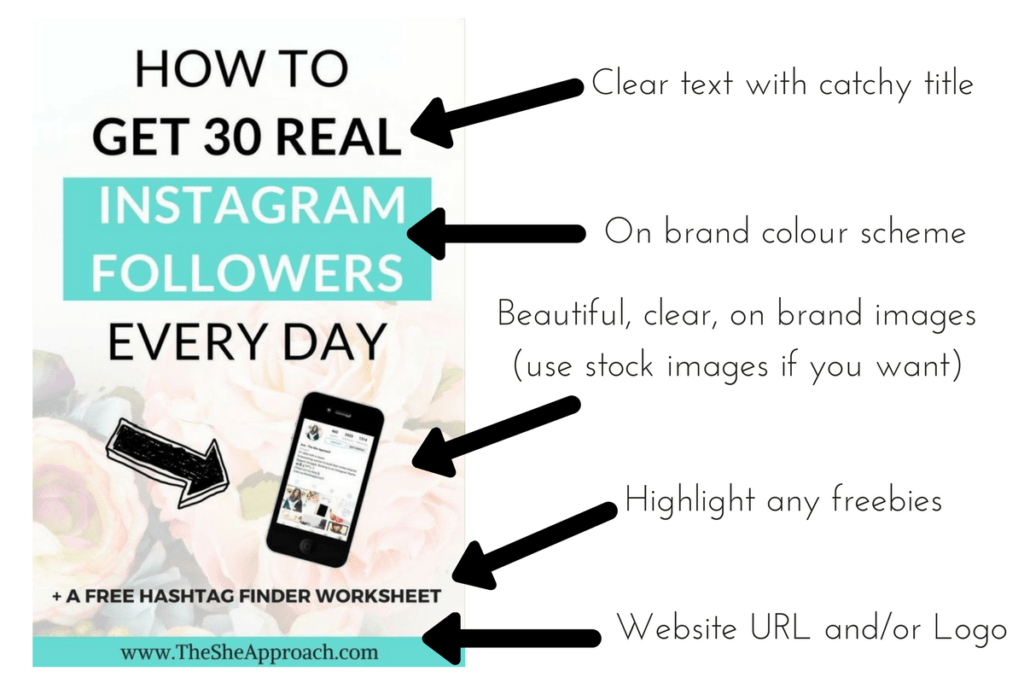 2. WRITING CATCHY AND COMPELLING HEADLINES
The headline of a pin is also known as the copy or text overlay that goes into a pin. Pinterest might be a visual platform, but that's not necessarily helpful when your content can't be represented in photos.
For example, if I wanted to lead people to a post about how to gain Instagram followers, having a pin with a picture of a phone simply won't do it, because that could mean a million things. (Am I selling phones, reviewing them, writing tutorials on how to repair one, how to take flat lays of a phone or am I offering general social media tips? The list is endless!)
By adding catchy headlines into your pin designs, you are letting people know exactly what they can expect from clicking on your pin and eliminating all the guesswork out of the process.
This will not only help your pin to be understood, but it will bring people over to your blog that are actually interested in what you're writing about.
3. KEEPING YOUR COLORS ON BRAND
Not only do you want your pins to stand out from the others, but you also want people to be able to recognize them as yours. You want to foster a sense of know, like & trust when people begin associating your Pinterest template to your website.
In other words, you want your pins to remind people of you.
Branding your pins is a big part of making that happen, and one of the easiest ways to do so is by remaining consistent with the colors you use in your pins. You also want to make sure that the colors you use when creating your Pinterest graphics, are the same ones you use on your website, in your emails and so on.
4. USING BEAUTIFUL, CLEAR IMAGES
But your pins don't need or have to be all text. In fact, to keep your pin designs uncluttered, it's always a good idea to add some images. You can use these as background, or simply to add dimension to your pin designs.
When choosing what photos you want to feature in your pins, you want to make sure that you own the right to using those images (so no stealing them off Google!) and that you're using high-quality photos (no blurry, out of focus or poorly lit photos please).
If you're not good at taking your own photos, there are plenty of free and premium photos for you to choose from.
💎 RECOMMENDED READS
A good tip for making sure your text is readable when placed in front of a busy picture is to increase the transparency of the image, so it fades out just enough to make the headline pop.
5. HIGHLIGHTING YOUR FREEBIES
If your blog post has a content upgrade or freebie included, make it super clear to your audience. Everyone loves something for free so, when they're scrolling through Pinterest and they see 4 or 5 pins offering the same thing BUT one of them also states that it includes some sort of freebie, they're more likely to pick that one!
So leverage those freebies, offer some kind of visual preview of what they can get and include a call to action in the pin to invite people over to claim it. It really works wonders.
Here are a few examples of fantastic pins for some inspiration: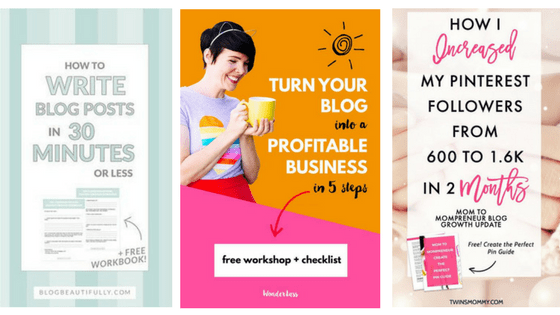 6. INCLUDING YOUR URL AND/OR LOGO
Not only does this help your pins look more professional but it also helps people identify pins as belonging to you (which is particularly helpful if people aren't familiar with your brand yet, or when your pins get stolen and you have to prove you're the rightful owner).
So make sure to include at the bottom of your pins, your URL or logo. These should be easy to read, but in a smaller font than the rest of your text, because you don't want them to distract users from reading your headline.
How to create stunning Pinterest graphics for your blog posts
Now you know what goes into creating Pinterest graphics for your blog posts, it's time to take some action and make this theory a reality.
My favorite tool for creating pins is Canva. It's super easy to use and has lots of customization options that you can benefit from without any previous designing skills. Oh, and did I mention that it's free?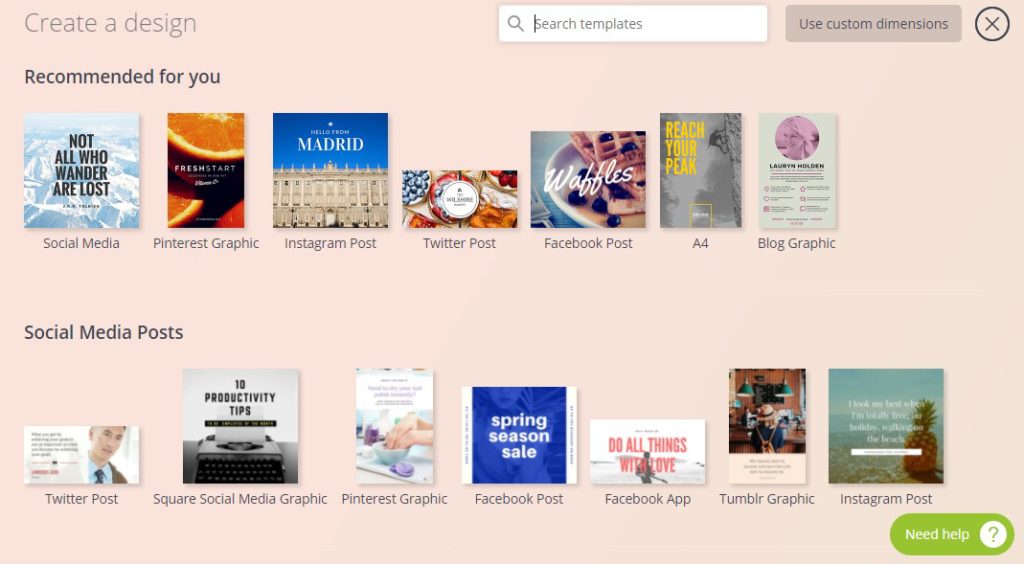 Simply create an account and select the Pinterest template from the main menu for a correctly sized template and get designing!
Canva will have a number of ready-made Pinterest templates that you can use and customize to match your blog and branding or you can start from scratch and design every element of the pin yourself – the choice is yours!
If you want to create original templates for your pin designs and you need some guidance, pop your email in the form below and I'll send you my quick video tutorial on How I Come Up With Stunning Pin Designs In Under 5 Minutes:
Whilst Canva has a huge library of images and graphics that you can use in your pins, you may sometimes find that you want something slightly different or a bit more unique. Enter Creative Market!
You can find pretty much anything you need on Creative Market for amazing prices. From fancy fonts (that you can also upload to, and use in Canva if you have the Pro version) to hand-drawn vectors and quirky images, everything you could ever dream of can be found here.
Plus, if you sign up for their newsletter, they send you 6 freebies every single Monday! (All of which I've hoarded over time and used in my new pin designs.)
PURCHASING READY-MADE PINTEREST TEMPLATES
If you can't find the time to learn how to navigate Canva, or you've given up on the idea of coming up with a professional looking pin design by yourself, there's a second alternative.
You can simply buy ready-made Pinterest graphics and templates (for both Canva and Photoshop), and simply change the wording on them to fit your blog posts. There are a lot of marketplaces out there that sell done-for-you templates, and all you have to do is find one that matches your branding or style.
Here are a few of my favorite:
Having templates for your pins will save you heaps of time in the long-run too as all you'll need to do is create a new copy of the template and edit it to match your latest blog post.
Buying a few templates it's a good idea even if you have created pins of your own in the past because ideally, you want at least 2-3 pin designs for each blog post you write.
📌 PIN ME FOR LATER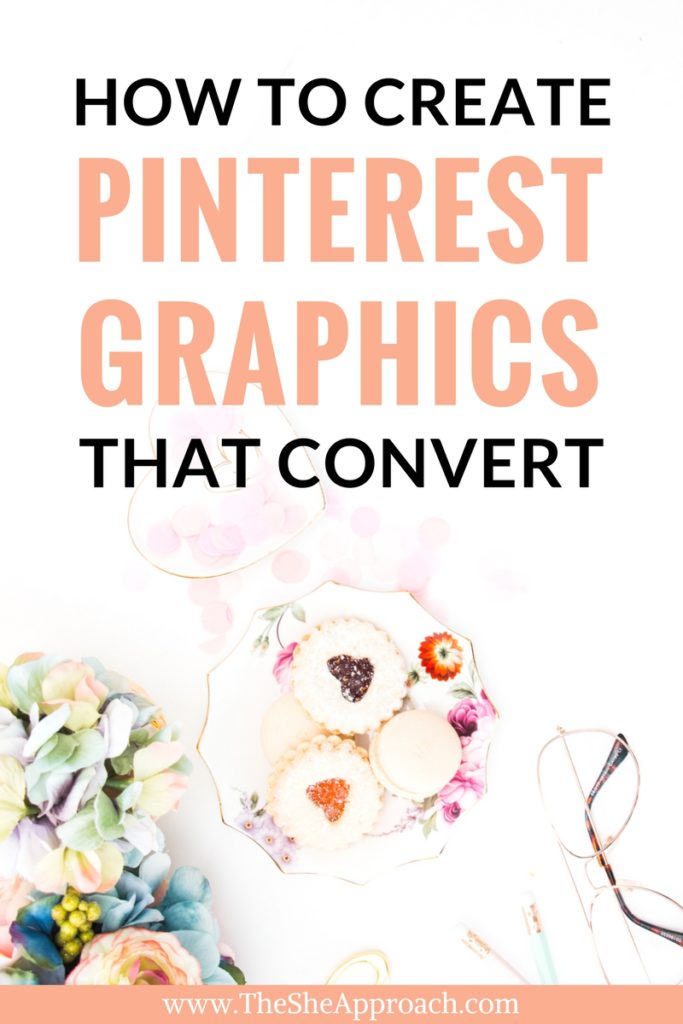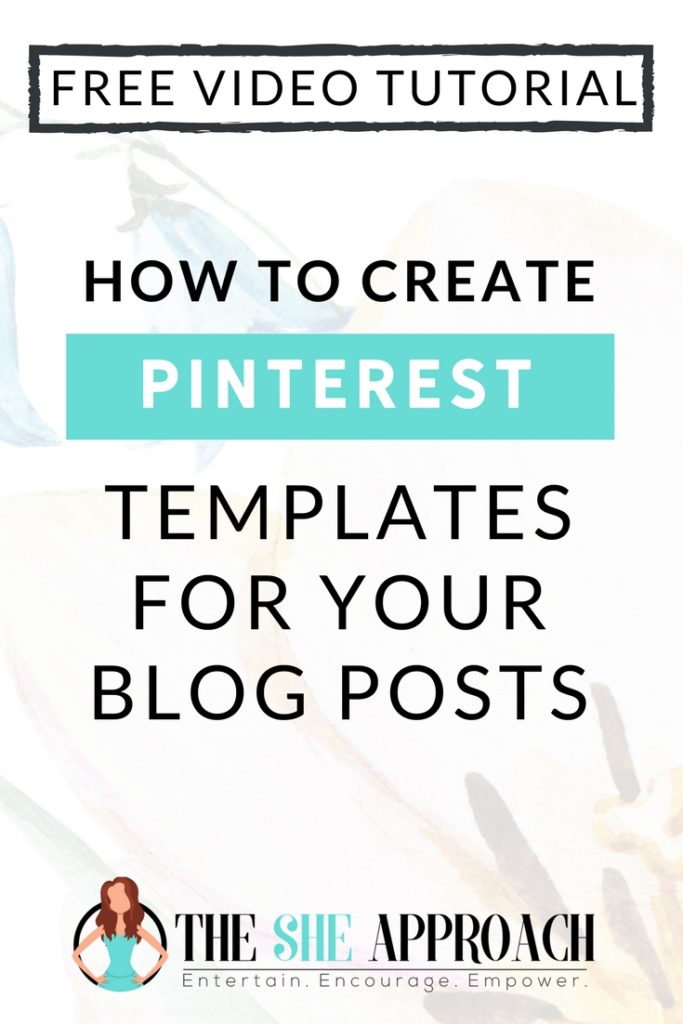 Use the criteria and tools outlined above to create unique and distinct pins for each post. The more pins you have out there in circulation on Pinterest, the more likely it is that people will see them.
Plus, if you vary the design of them slightly, you might find that they appeal to slightly different audiences. For example, some people will be drawn to fairly plain looking pins with large text, whereas other people will be drawn to pins with bright images on them. If you have a couple of different pins, you're appealing to more people.
And there you have it! A simple guide to creating stunning Pinterest graphics for your blog posts that actually convert. You'll be seeing that Pinterest traffic flooding in, in no time at all!
I created my pins. Now what?
Creating your own pins is a vital part of any Pinterest strategy, but that's only the beginning. This is not a case of "you build, and they will come". You have to start promoting your own pins, sharing them in the right places, optimizing your profile and more.
Uploading your Pinterest graphics to Pinterest and waiting for a miracle to happen, and for one of them to go viral is not enough and it's definitely not how Pinterest works.
In fact, it took me just under a year to perfect a Pinterest strategy that will bring me traffic on autopilot and that tripled my blog traffic. And after sharing this strategy with my blogging friends, I know that it can work for any account, regardless of the niche you are in.
Because my mission is to help bloggers grow their traffic, I included everything (and I mean EVERYTHING) I know about Pinterest in my new Pinterest ebook where I share my exact blueprint to 10k Pinterest followers and a buttload of blog traffic.

My ebook, titled The She Approach To Making Pinterest Possible, is the ideal training for new bloggers who are just getting started with Pinterest (and want all their information from one place, instead of spending hours trying to figure out how to use Pinterest to promote their blogs) and for advanced pinners that have seen what Pinterest can do and want access to advanced strategies.
Here are just a few of the things that you will learn from this ebook:
How to create or optimize your Pinterest profile (so you show in search results)
How to create, arrange, optimize and grow your boards
How often to pin, where, what and why (along with tips on how to create a manual pinning schedule and a full blueprint to automating your Pinterest)
My 10 steps blueprint to reaching 10k followers on Pinterest
Reading, understanding and interpreting your analytics (finding out what works and what doesn't)
This ebook is one of the most comprehensive training I've ever put together and it sold over 100 copies in the first 5 days of being launched alone. My goal was to create an affordable (but complete) guide to Pinterest, so you won't need to spend money on another Pinterest course again!
So if you're still struggling to make Pinterest possible for your blog, give this ebook a chance. It might just be the training that unlocks your blog's potential!
How To Create Stunning Pinterest Graphics For Your Blog Posts