How To Add An Online Shop To Your Blog
Making an income from your blog is not always as predictable as we would want it. Traffic comes and goes, affiliate links don't convert as well as we would want them to, and sponsored opportunities seem to non-existent sometimes.
That is why I am a big believer in diversifying your online income, especially if you want to blog full time. You need to be creative in order to build a digital empire, and that starts with creating multiple income streams for your blog.
One of these ways to do that is by incorporating a store into your blog and selling physical (or even digital) products to your loyal followers. If that idea crossed your mind before, but you're not sure where to start, this post is for you!
Please note that this post contains affiliate links and any purchase made through such links will award me a small commission (at absolutely no extra cost for you). These funds help me feed my dog and keep this blog up and running. Learn more about it here.
Here are my five essential tips for incorporating an online store into your blog or for starting e-commerce business:
1. Know Your Audience
What kind of things you're going to be selling on your blog's store depends on who your blog readers are. Before you start randomly picking products or services to sell, consider your audience. If your blog is all about arts and crafts, then it makes sense to sell arts and crafts supplies! If you're a foodie blogger, then recipe books or kitchen utensils are a great idea!
Because my audience is formed of bloggers and online entrepreneurs, I opened a gift shop called Blogging Mode that is aimed at my existing audience. This way, I don't have to start from scratch when it comes to building a following and I'm also avoiding confusing my blog readers by selling unrelated products.
As a note, you can definitely start an online store that has nothing to do with your blog topic, but in that case, you wouldn't want to incorporate it or promote it on your blog.
Whatever the case might be, you could look into something like dropshipping if you have no space for stock or no time to manually pack orders. (Dropshipping is the only way I can afford to make time for my online shop and my blogging business at the same time.)
2. Pick Your Platform
Once you've decided on what to sell, it's time to work out how to actually create an online shop and incorporate that into your blog/website. There are 2 options you can choose from to make that happen.
You can either create a store that's embedded into your blog, using a plugin such as WooCommerce so that people can shop directly from your site. (I created Blogging Mode on a different website, but I manage it through a WordPress WooCommerce website.)
Alternatively, you can use an e-commerce platform that will create a separate store for your blog, with all the features you need already incorporated. A platform like Shopify is an affordable way of setting up your own online store that can be easily linked to your blog, without much fuss or extra work.
Plans with the e-commerce platform start from $9 per month, so you don't have to invest too much to get started. This is ideal if you want to test the waters before fully committing to building a whole new website with the first option for example.
3. Drive Traffic With Your Social Networks
Once your online store is set up, the quickest way to get the news out there about it is to create some buzz on your social media platforms. If you've chosen your store theme wisely, your existing audience will already be interested in what you sell and because you already have a connection with them, it will be easy to generate warm traffic that way.
If you have been following me for a while, you'll know that 70% of my blog traffic used to come from Facebook. Now Pinterest has taken off, and I find it a great tool for promoting e-commerce products, no matter what niche you are in. You can read my guide on getting started with Pinterest here.
So utilize the tools and audience you already have, and generate some buzz to get those first sales.
4. Keep On Top Of Customer Service
Running an online store comes with a whole heap of other responsibilities that you're going to want to think about before taking the plunge. It's not like affiliate sales, where you get to sit back, earn the commision and not worry about delivering the products or customer service.
I find that the only thing you can't automate or cut corners with when it comes to owning an online shop is customer service. So make it a habit to check your messages and keep your customers happy early on. Your shop might just depend on it.
5. Create Several Revenue Streams
Did you know that 65% of self-made millionaires have three streams of income? If you are only focusing on one (such as your blog), then you could be missing out.
My advice to you would be to set up one stream of income until it's running perfectly. (So once you have a system for running your blog, add an online shop!) Then set up your second online venture and get that running smoothly. (This is the part where you create your shop and put everything into place so you can market it on autopilot.) Now, add on your third and start spinning those plates! (For me, that was starting to offer coaching services!)
Having several revenue streams is not easy, but it's key to making the most out of your online influence and generating real profit. So start considering what else you could run alongside your blog store, including affiliate links, freelancing, and working with brands and businesses as an influencer.
And if you're out of ideas, check out my post on 10 Creative Ways To Make Money Online.
📌 PIN THIS POST FOR LATER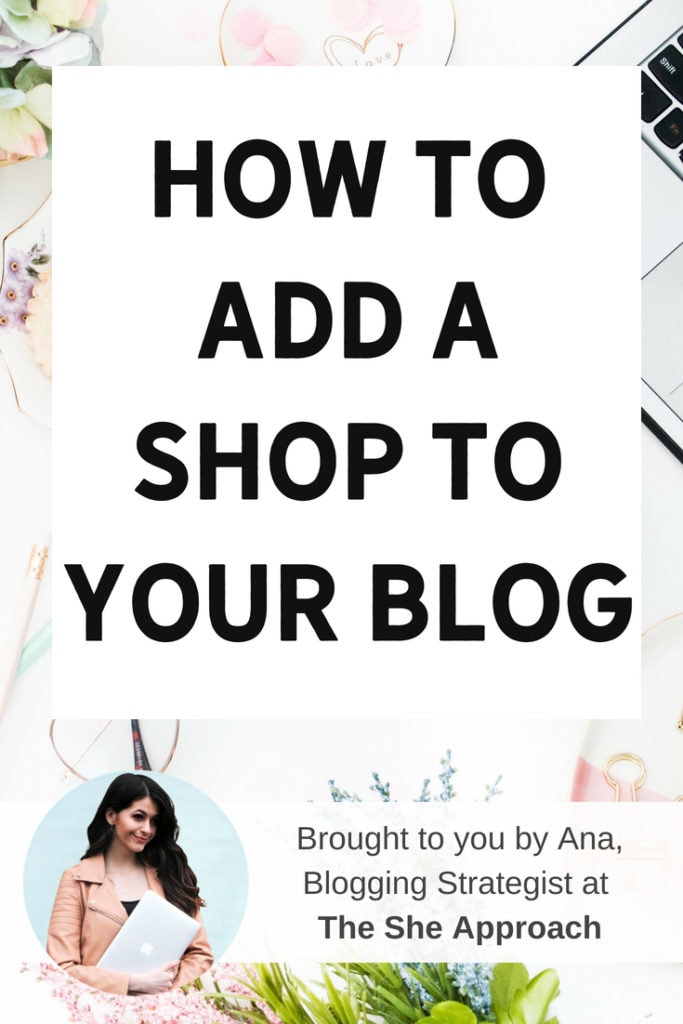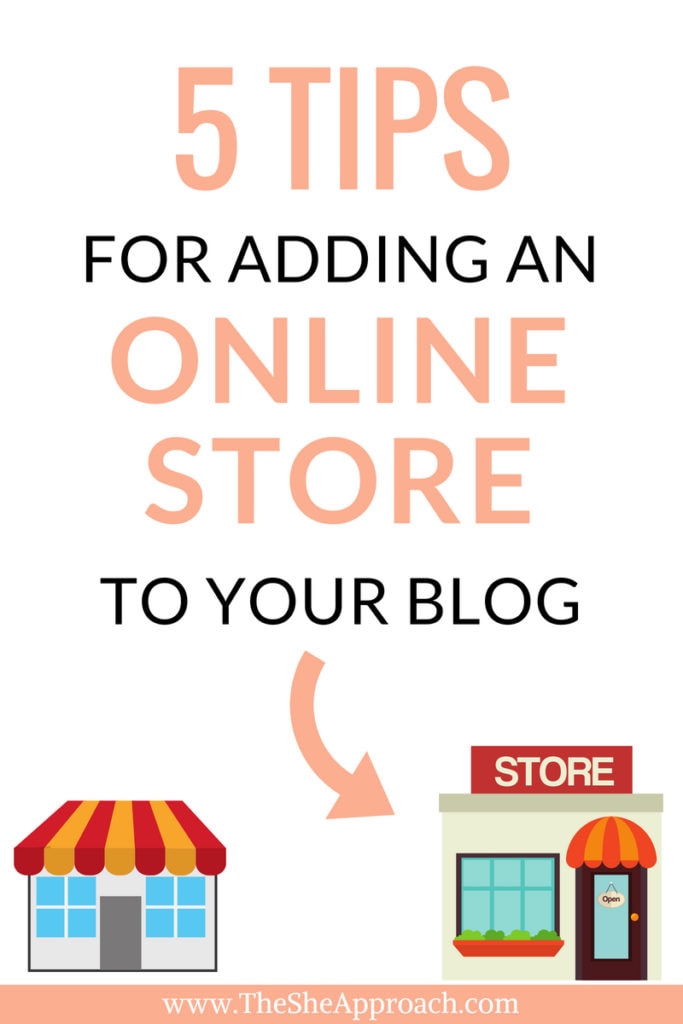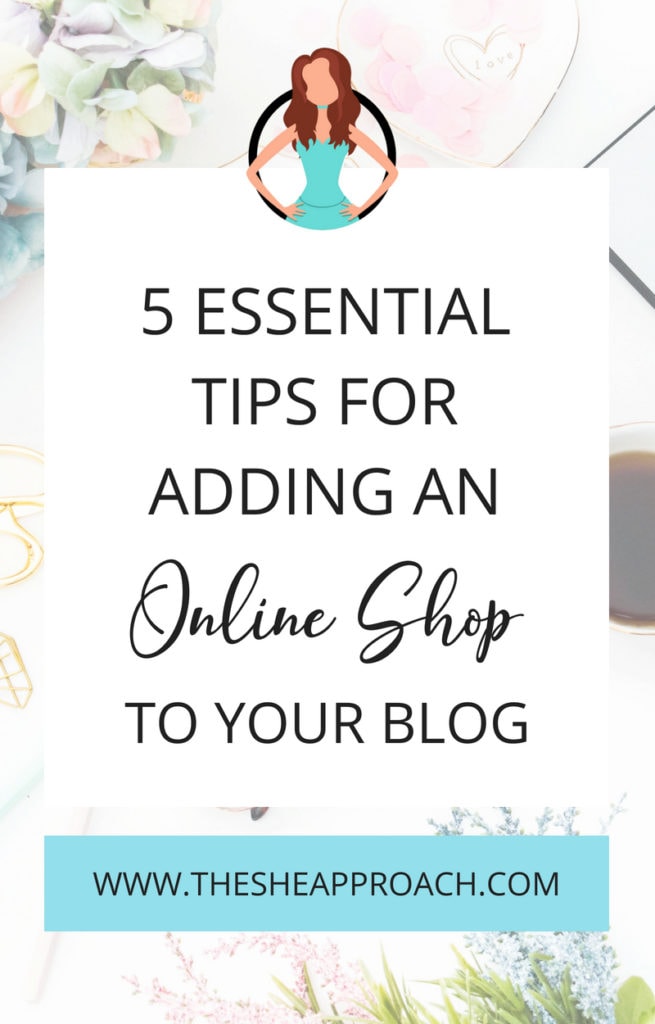 These are my five essential tips for incorporating a store into your blog – although there are plenty more things to consider when venturing into the world of e-commerce! If this is a topic you're interested to hear more about, leave me a comment below and let me know!
💎 RECOMMENDED READS
5 Essential Tips For Incorporating An Online Store Into Your Blog