Amazon Associates Program vs Amazon Influencer Program
Hi there, affiliate marketer! Did you know that you can be successful in making money online with Amazon (as an affiliate or as an influencer) even if you only have a small blog or online platform?
There are actually two ways to partner up with Amazon when it comes to promoting their products.
You can be an Amazon affiliate and join their Amazon Associates Program or you can become an Amazon influencer and be part of the Amazon Influencer Program.
I get asked all the time what the difference between the two and which one should you sign up for. So this video and post will explore all that to help you make the right choice.
Key Differences Between Amazon Affiliate vs Influencer
There are a few key differences between being an Amazon affiliate and being an Amazon influencer. And those differences can have an impact depending on your content marketing strategy and whether you are a blogger with a website or a social media influencer who posts content on social platforms instead.
For the last 7 years, I have been a guide for content creators who are seeking to enhance their affiliate marketing approach. In fact, I've just finished creating a 14-day blogging challenge tailored to website owners aiming to get more clicks and conversions from their existing traffic.
This course is designed to help you reach these goals without having to bring in any additional traffic, and it includes a lot of PRO tips about how to increase your Amazon affiliate earnings in particular.
Grow Your Affiliate Income
But if you are new and don't know which one to get started with or which avenue is more profitable, here's what you need to know:
2 Ways To Monetize Your Content or Blog With Amazon Links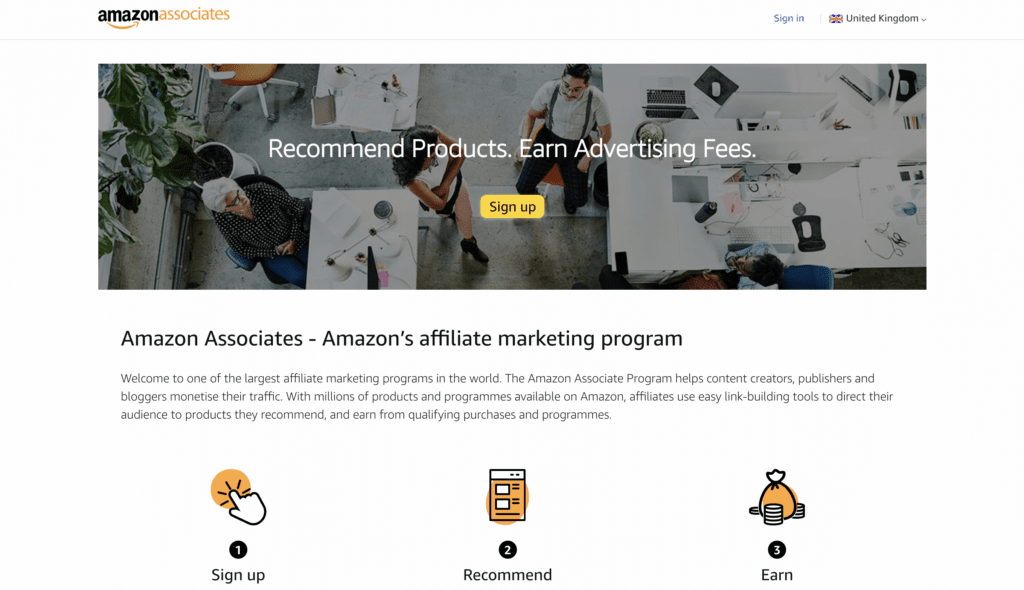 1. Join as an Amazon Affiliate
The Amazon Affiliate Program, or the Amazon Associate Program as they also call themselves, is made mainly for bloggers who have websites – content-rich websites in particular.
The type of content they're looking for is mostly evergreen content (so articles that you can write today and would still be relevant a year from now for example), although they do allow shopping and news-based websites in as well.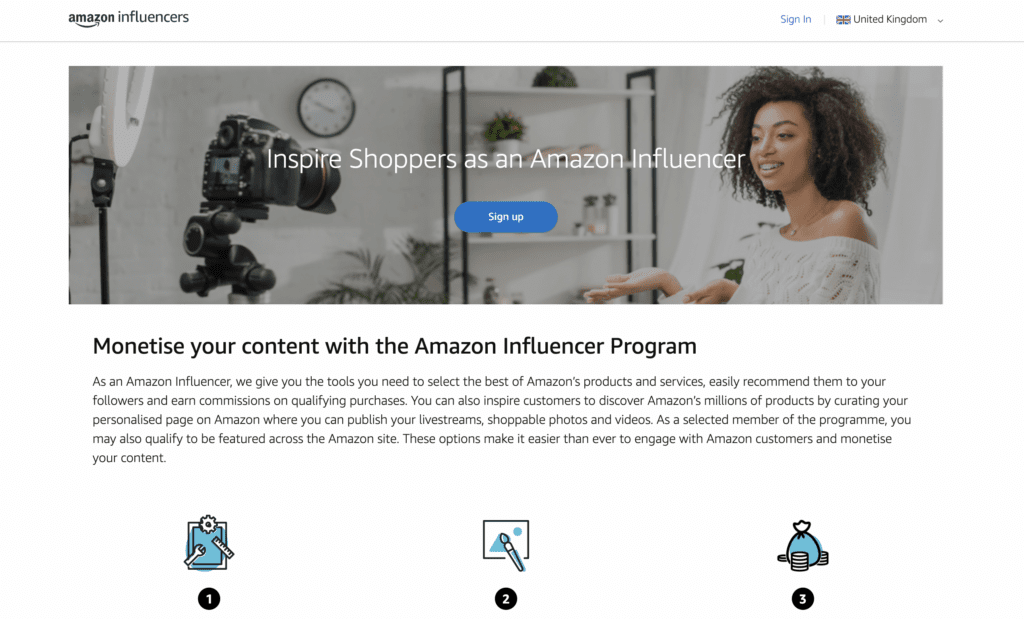 2. Join as an Amazon Influencer
The Amazon Influencer Program is made for content creators with a social media platform and you don't have to have a website to join.
But you do need a social media presence and good engagement on at least one of the social networks they support – such as Instagram, Youtube, TikTok, or even Facebook.
Key Differences Between Amazon Affiliates vs Influencers
Although you can be part of both programs simultaneously, to maximize your efforts and earnings, I usually suggest picking one program over the other. And that choice comes back to your content strategy.
So first, you must consider the main differences between the two programs:
1. Requirments To Join & The Application Process
The Amazon Affiliate / Associates Program:
Requires you to have a website or blog. In some cases, they also accept an app or YouTube channel as your main platform. But in most cases, you will need a live website, that has some content on it. (At least 2-3 blog posts / videos.) Learn how to start a blog here.
You don't need to have a specific amount of traffic to your website or followers on social. You can join & be approved even if you just started your blog today!
Once you apply, you have instant access to the affiliate platform and you can start sharing your affiliate links.
You are required to make 3 qualifying sales in the first 180 days to get your account approved.
Once you meet those 3 sales, you will get a manual review of your account, and get a final confirmation email that you are approved as an affiliate. You will then get access to extra features – like promoting the Amazon Bounties.
The Amazon Influencer Program
Requires you to have at least one social media platform that has good engagement & a decent number of followers. Although Amazon doesn't disclose what this number is, you cannot apply with a brand-new account. (My estimate is that you need at least 1-5k followers.)
You do not need a website or blog. You can apply with a Youtube, Instagram, TikTok or Facebook account.
Once you apply, you go through a more rigorous screening before your account gets approved. You might be denied if you don't have enough followers, engagement or content.
Once you're approved, you need to keep up that engagement. If you don't send traffic to your Storefront and influencer link, you might be removed from the program. (This won't happen as an affiliate.)
2. Sharing Links & Promoting Amazon Products
The Amazon Affiliate / Associates Program:
Once you join, you get access to the Amazon "Site Stripe". This means you can create direct affiliate links for almost every single product that is sold on Amazon.
You can send your audience to exactly the product you have in mind. (You cannot do this as an Influencer – you can only link to your whole store or a category in there.)
You can embed these links or images on your blog, and on socials.
You can use an affiliate plugin such as Lasso to display Amazon products with their Prime badge, price and reviews for better conversion.
You are not allowed to share these links anywhere "offline", like in PDFs, private conversations and emails. (This is allowed as an Amazon influencer.)
Once you are approved, you can also create affiliate links to their other special offers and get paid bounties. For example – you can get paid $5 if someone creates a Baby or Wedding Registry on Amazon with your link, or if they sign up for an Amazon Prime account.
The Amazon Influencer Program
Once you are approved as an Influencer, you can create a "Storefront" – which is a collection of all the products you want to promote and showcase (and you can categorize these products by use/theme/season etc).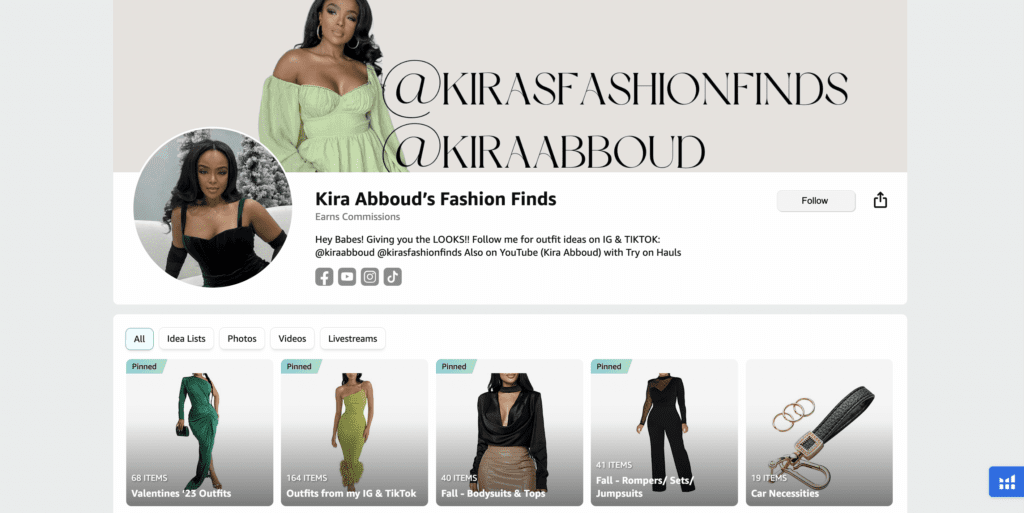 You can see more examples of stores on the Amazon Influencers page.
You will get to customize your own unique Amazon store link that you can share to earn commissions. You can also create links to specific categories on your profile if you want to send people directly there. But you cannot generate links for a specific product alone – so your readers will need to browse through everything on your store to find it.
You can share your storefront influencer link anywhere online and offline to earn commissions. This includes email, newsletters, private groups, books, PDFs and so on (where you can't share affiliate links).
As you can see, the Affiliate Program offers a lot more flexibility with linking to individual products, but the Influencer store link is easier to share on social media platforms where you don't have room to include multiple links.
And while Amazon Influencers get an online store page they can easily build on the Amazon platform, affiliates usually have to build their own websites or landing pages to share the products.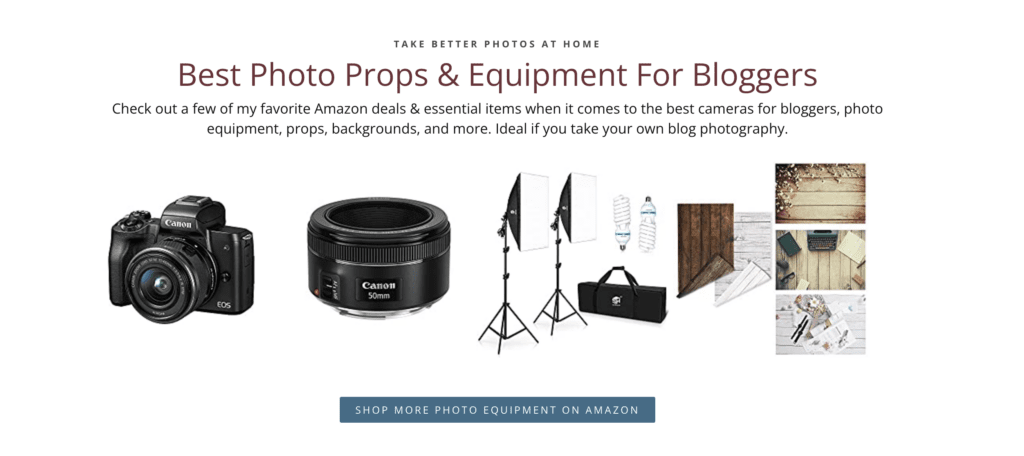 For example, I include Amazon affiliate images + links on my blog pages that I build with Elementor (which is a free page-builder). All you need is a self-hosted blog and you can build this too!
3. Monetizing International Traffic
The Amazon Affiliate / Associates Program:
When you join as an Amazon affiliate, you can do so for multiple Amazon marketplaces throughout the world. And you can follow the tutorial below to set up their One Link system, which automatically connects your international accounts.
Unlike the Influencer program, once you have this set up, your affiliate links will geo-locate where your audience is clicking from and take them to their "local" Amazon website.
This means you don't lose out on international sales and you earn more global commissions! (Incredibly useful if you have a global audience.)
The Amazon Influencer Program
As of this moment, you cannot monetize your international audience as an influencer. You can only create one store per marketplace – so for example, if you join as an Amazon . com Influencer, you get to display products sold in the US. Any international audience who finds your Storefront, won't be able to buy through your links, and you won't get a commission for that.
You can however join as part of multiple marketplaces and display all your Storefronts links in your bios / link tree, letting your audience choose where to shop.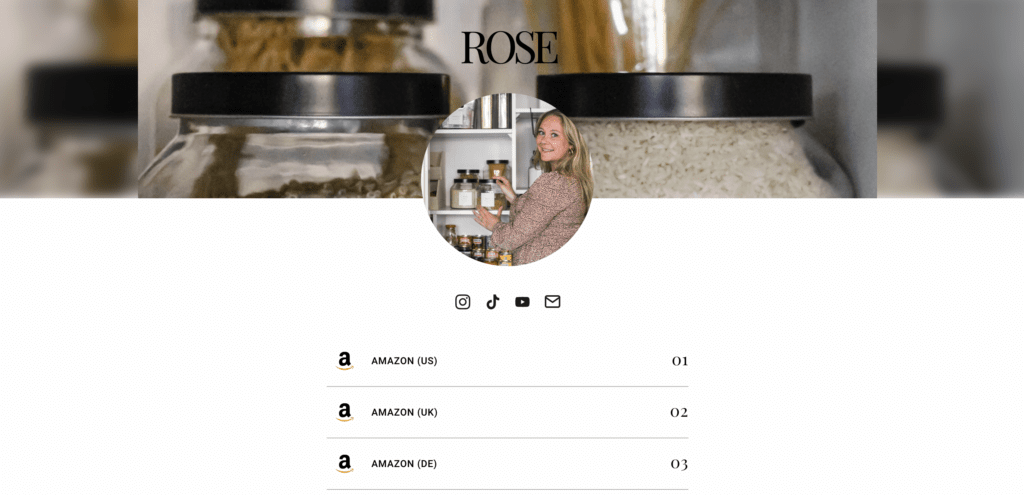 The downside? You will need to create all Storefronts separately (so it doubles and triples your workload). And you are also relying on your audience to pick the right one in order to earn commissions from it.
4. Getting Paid & Commission Structure
When it comes to earnings commission as an Amazon affiliate versus an Amazon influencer, there's not much of a difference there. You get paid the same the percentage or commission, which often depends on the category that the product is in, rather than if you're an influencer versus an affiliate.
These commission structures change constantly, so check out the official Amazon program page and its terms and conditions.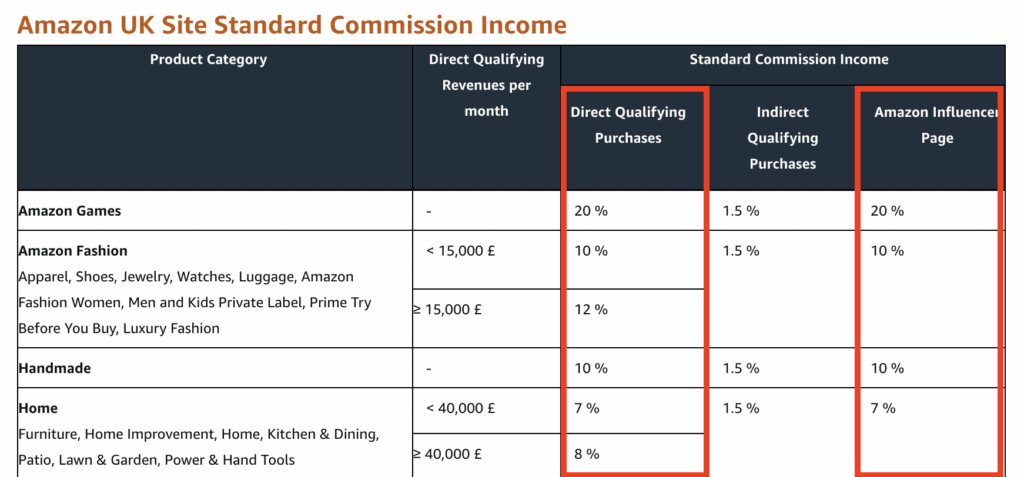 So while the commissions will range from 1% to 20% per product, they stay the same if you promote that category as an affiliate (with Direct Qualifying Purchases) or influencer (last column). Equality at last!
My friend Debbie, who's a home decor blogger, makes upwards of $5,000 a month with Amazon affiliates – so the opportunity to earn with Amazon can be incredible if you use it right.
She's actually created a course called The Journey to the Center of Amazon, where she explains the best strategies to really leverage your content when it comes to affiliate marketing and getting paid for your efforts.
It's a great resource if you decide to go down the Amazon affiliate path and she also keeps it updated to follow all these Amazon rules and requirements that they change from time to time.
RELATED POST: Amazon Affiliate Program DO's & DON'Ts
4. Disclosing Your Relationship With Amazon
This is another chapter that both programs follow the same rules. Regardless of if you share amazon affiliate links or your Amazon storefront link, both need to come accompanied by a disclaimer that you earn commissions from those links in partnership with Amazon.
Disclaimers examples that you can include:
"As an Amazon associate, I earn from qualifying purchases."
"[your name] earns commissions from some of the services/products listed on this site."
"[your name or blog name] is a participant in the Amazon Services LLC Associates Program, an affiliate advertising program designed to provide a means for sites to earn advertising fees by advertising and linking to Amazon.com"
Do not forget to include at least one of these statements on your website, or anywhere you add an Amazon link. A shortened version such as "#ad" will be accepted for stories or where you don't have the space to include the full disclaimer.
5. Account Termination
Now let's talk about something scary. Getting kicked out or Amazon terminating your partnership with them. That definitely can happen both as an Amazon affiliate and as an Amazon influencer – which I should know about because both happened to me at one stage.
The Amazon Affiliate / Associates Program:
Can terminate your account if you don't make 3 sales in the first 180 days of joining.
You can reapply at any time, and re-start the clock.
Once you make those 3 first sales, and your account is approved, there is no minimum amount of traffic or sales you need to send over. You are safe.
Can terminate your account if you break any rules. For example, you are not allowed to cloak any Amazon links (by using link shorteners or other re-direction links), share these offline, use the Amazon trademark or download the photos without the Site Stripe.
The Amazon Influencer Program
Can terminate your account if you are not actively promoting and sending traffic to your Storefront link for a period of time.
This is known as "Account Dormancy", and it means you need to keep having good engagement to keep your account.
You can also get kicked out for using Amazon's trademark or "otherwise violate any intellectual property rights".
You cannot offer any rewards or incentives for people to buy through your links – this will get you kicked out of both programs.
Differences Between Amazon Affiliate vs Influencer Concluded
And with that, you now know the key differences between the two programs.
Although they pay the same, these programs have different rules and benefits.
Here's my personal recommendation if you are on the fence about which one to join:
If you are a blogger – somebody who has a website and who posts content on there regularly – join the Amazon affiliate program.
You can pair this with the Lasso affiliate plugin and create amazing and stunning display boxes where you can share vital Information about a product.
You can even create comparison tables to help your reards buy something suited to them at a glance!
Basically, the Amazon affiliate program offers you a lot more flexibility which means you can promote them in various ways, while with the influencer program, you're a little bit boxed in.
But if you don't have a website and you don't plan on ever creating one, join the influencer program instead! It's great for monetizing social media platforms like YouTube, Facebook, TikTok, Instagram, and so on and you can do so without a lot of extra work.
You can just combine and categorize your favorite products and present them to your audience all on the same page. It requires less tech knowledge and it's basically a shortcut to creating a website. The only downfall is that you can only promote Amazon products, and you can't throw in any other affiliate programs or links there.
If you have both an active social media following and a blog then you can join both programs. There's no rule against it and you can actually be really savvy in how you use your links and where. Good luck!
More Resources To Help You Earn Online:
Difference Between Amazon Affiliates and Influencers