A Beginner's (Honest) Blogging Income Report
A while back, I posted my first version of a blogging income report, all about How I Made My First $100 Blogging, and it got a lot of attention. I think people like to read about small beginnings, which is why I decided to take it one step further and share everything about how I made my first $1,000 blogging.
Before I get into a full breakdown of what made me money online in the last few month, my biggest takeaway from all of this is that you have to diversify your income streams and never put all your eggs in one basket. A big part of it is experimenting and not giving up when something doesn't go quite as pictured.
I also need to mention that since certain affiliate programs or income streams have a payment threshold or delay before paying you, but I only included money I earned from blogging that I have already been paid for and cashed in.
At the moment I have another $850 from ad income, Bluehost affiliate sales, Ultimate Bundle sales, AWIN and ShareASale referrals that have not been paid out just yet, so I did not include them in this month's tally.
Please keep in mind that this post contains such affiliate links and I will get a small commission if you purchase certain products and services through my links. If you choose to do that, thank you so much for supporting me, my dream and my blog!
If you're reading this post because you want to start your own blog, be sure to enroll in my free course. Everything you need to know about making money online (that I've learned from the past year or so) is included in there, so you can fast-track your blogging experience.
How I Made My First $1,000 Blogging
Ever since I found out that making money blogging was a possibility, I refused to give up without a fight. I tested strategy after strategy, and a couple months after I've made my first $100 blogging I reached the much-awaited milestone goal of $1,000.
The tally below shows how I earned the rest of $900, what worked, what didn't and I even share my expenses and my best investments that earned me another $800 that I haven't yet been paid for. (But that are reflected in my other income reports.)
As I mentioned above, all the earnings below have already been cashed in. I hope this income report inspires some ideas in you and encourages you to keep building on your dream.
💎 Affiliate Sales: $373
Affiliate marketing has been my highest earner so far and over $650 of the money I haven't been paid yet are due to affiliate sales. I've been focusing a lot on implementing new strategies, finding new programs to join and building my audience, and it clearly paid off.
If you want to get into affiliate marketing, I urge you to but don't treat it as money you can make overnight because it does take patience.
Surprisingly, one of the platforms that resulted in most affiliate sales for me so far has been Pinterest and it's all due to an ebook I bought I while back, titled How to Make Your First Affiliate Sale in 24 Hours Using Pinterest (which is now a mini-course).
The increase in my affiliate income (and overall income) can also be attributed to my blog's growth and Pinterest account taking off. A higher blog traffic opens up new monetizing opportunities which is why that is such an important part of your blog to focus on growing.
UPDATE: Over time, I've also perfected my core strategy and that's why I've cashed in over $5,000 in affiliate sales since writing this. And the reason why I'm sharing this is because I want to let you know that it's possible, but you have to know what you're doing!

If you're just getting started or you're making under $100 a month with affiliate marketing, I highly recommend checking out my new Affiliate Marketing Training Bundle.
This bundle is based on everything I've learned about affiliate marketing and it includes a step-by-step action plan that you can follow, along with video tutorials, case studies and a list of 500+ affiliate programs to choose from.
---
Another strategy that has worked for me and that increased my affiliate income was finding and joining different affiliate networks and individual affiliate programs that are relevant to my audience.
My biggest earners so far have been House Of Brazen, AWIN, Ultimate Bundles, ShareASale and other individual programs I joined over time. If you blog about blogging, head over and join my affiliate program and earn 35% of each sale (paid monthly!).
And always keep an eye out for new opportunities! Such as my private list of must-join affiliate programs for bloggers that you can access below!
RECOMMENDED READS:
💎 Freelancing and VA work: $130
Blogging is a really great way to be found online and be hired for your Virtual Assistant services. My time was limited, but I had two new clients that found me through my blog and hired me for tasks such as freelance writing and social media management (Pinterest in particular).
Because your blog serves as your portfolio, all you need is to implement a "Work With Me" page and list some of the services that you can do for others.
💎 Ad Income: $112
In my previous income report, I was ready to give up on ads completely as it was only bringing in pennies and it looked like it would take ages to meet the threshold and get paid.
Since then, I decided to give Google Adsense another try and it paid off. If you're interested in more details, check out my post on How To Get Your First Google Adsense Payment.
💎 Digital Product Sales: $300
Having my own digital products for sale was always a dream of mine and after a couple of months of research, strategic testing, writing and launching, my first ebook is now live.

Titled The She Approach To Boosting Your Blog Traffic, the ebook is meant to help new and established bloggers to increase their page views, build a solid foundation for their blog and reach their dream audience. Go over and grab a sample chapter!
By selling it on my blog, advertising it to my email list and building up a team of affiliates around it, I have already sold $300 worth of copies. I believe the ebook also played a part in the increase of my affiliate income since I used different affiliate links in it and I have also used it as an incentive when promoting courses I am an affiliate for.
If you are serious about monetizing your blog and you have the knowledge to talk about a certain topic, I recommend starting to plan the release of a digital product soon.
If you do so, SendOwl is the service you will need to host and sell your digital products (also works for physical products) and to get started with your own affiliate program. As someone who has used the platform as both an affiliate and as a seller, I can vouch for it as efficient, simple and great value for what you pay.
---
TOTAL: $1,024 ($915 + $109 from previous income report)
TIME ELAPSED SINCE BLOG LAUNCH: 10 months
---
My Blogging Expenses So Far
Not to sound like every sleazy online marketer out there, but it takes money to make money. As a common theme, I noticed that the more I let go of my old money mentality (that fear of spending money on growing your blog because "what if it doesn't pay off") and the more I invested in my blog, the more money started to come in.
As you will see below I invested over 50% of the money I earned back into my blog a since a lot of these expenses are annual, I have no doubt they are going to pay off along the way.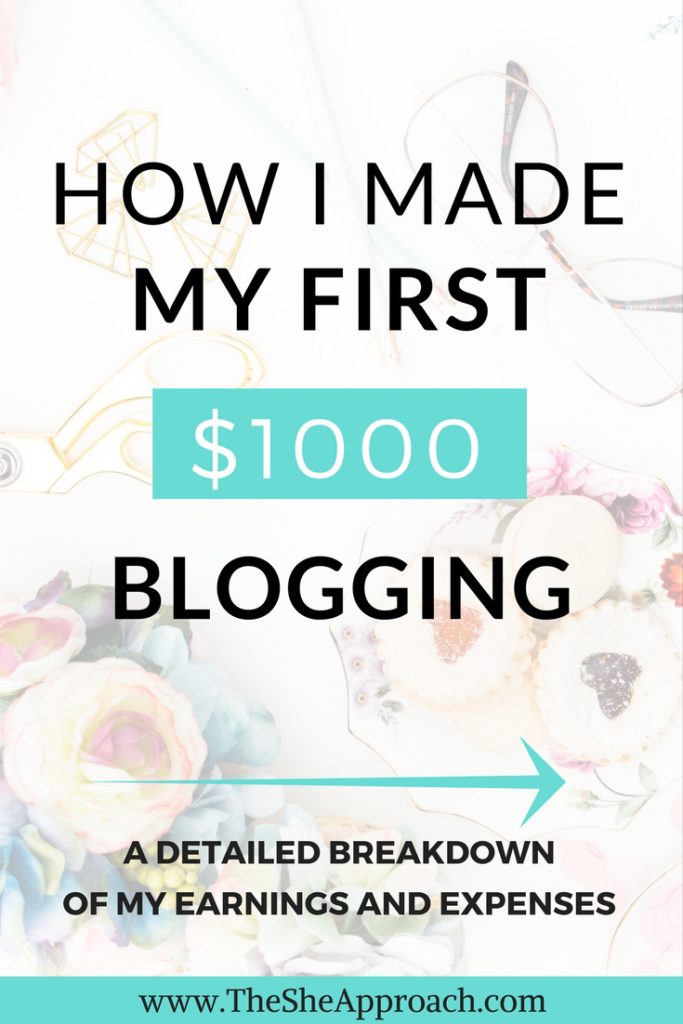 Here are some of my best-spent investments:
💎 Web Hosting – Bluehost: $170 (3 years)
Making money with a free blog is virtually impossible (my three previous failed blogs can attest to that). But as soon as I went self-hosted, everything started to change!
I invested around $170 with Bluehost, my hosting provider, and my blog is fully paid for for the next two years. Considering all the freedom I got with going self-hosted and the money I already made back, I think that is a fully justifiable expense (and one you can't skip). They also provide a domain name for free for the first year.
Read my post on What Is Hosting And Why Do You Need It As A Blogger here and if you're new, check out my guide on starting a blog to find out how to start a profitable blog.
Once I went self-hosted, I purchased a premium theme off Sugar + Code Design to make sure my website looked unique and professional. This is a one-time expense that is beyond worth it and that I suggest every blogger should opt in for.
If you're struggling to find a web theme that you like, check my post on 10 WordPress Themes For Female Bloggers & Entrepreneurs.
💎 Email Service Provider – Mailerlite: $108 (annual)
Building my email list and keeping in touch with my readers is extremely important to me, which is why I decided to invest in a quality email service provider.
I got started with Mailerlite which it's free up to 1000 subscribers. I recently passed that mark (hip hip hurray!) and bought a yearly subscription with them because they are everything I need for in an email provider and they are way cheaper than other options out there where you end up paying up to $40 monthly.
RECOMMENDED READS:
💎 Pinterest Scheduler – Tailwind: $119 (annual)
I knew the only way I could keep up with the growth my Pinterest account and the promotion of my blog posts was with the help of a scheduler. After asking around and testing the free versions for myself I decided to go all in with Tailwind and it was beyond worth it!
Ever since starting to use it, Tailwind has brought constant traffic from Pinterest my way, saved me tons of time and even made me money (by automating affiliate sales). Not to mention that my Pinterest account went from 800 to nearly 4000 followers and I only had to invest 5 hours monthly.
Read about my favorite Tailwind features and how I leverage it to make the most out of Pinterest here.
Since I rarely take my own photos for my blog, I decided to invest in a yearly subscription with a stock photo website. I went with Style Stock Society that was having a sale at that time (now it's $75 quarterly which I would still pay for knowing the value they offer) and I have not lived to regret it yet!
They add over 100 new photos monthly beside the 1,500 pictures you get access for free (instantly!) when you sign up and they are always stunning and a perfect fit for my blog and social media.
💎 Educational Expenses: Approx. $250
Investing money in online products and services is scary but I knew I couldn't possibly be where I need to be at the speed I wanted to, without investing in my education and spending time learning from those who have been where I was.
Over the year, I've read everything I could find on the topics that were of interest but soon came to realize that there was more to blogging industry. So I started saving and investing in different e-courses and ebooks that made a world of a difference and speed up the process. (The fact that I was supporting bloggers in the same time and other women who are rocking the online world was the cherry on top.)
Here are some of the ecourses and ebooks that, in my opinion, are well worth paying for:
E-BOOKS & E-COURSES:
As a conclusion, I regret none of the purchases I made towards my blog and I honestly recommend the products and services mentioned in this post.
Where are you in your blogging journey and what do you hope to achieve in the next 3 months? Let me know in the comment section. And for more resources and weekly blogging tips, don't forget to join my email list and get access to my resource library for bloggers!
P.S.: Want a step-by-step tutorial on how to build a profitable blog? Enroll in my free course below:
MORE BLOGGING INCOME REPORTS:
How I Made My First $1,000 Blogging – How I Make Money Online