When To Use Follow VS No Follow Links Tags On Your WordPress Blog
So you're a blogger, who wants to stay on top of good SEO practices, but you use links on your blog that are sponsored or affiliate links. When should you use no follow links and why? Let's explore that!
Part of what I do on a monthly basis includes working one-on-one with blog coaching clients. I was doing this particular blog audit for one of my client's blogs and I noticed her affiliate links were not marked as no-follow.
So I sent that in the audit, recommending that she make sure she fixes them and she came back to me and say "what now?". If you're in the same boat – don't worry. I'm here to walk you through what nofollow and sponsored links are, and where and when you should use them on your blog to make sure you comply with Google's policies.
What are No Follow Links?
So what are no follow links and when should you use them?
In an effort to keep link-building fair, Google wants to reward websites and blogs that build these links organically. They want other businesses or brands to link to you because you've earned it and not because you paid for it.
That's why it's a forbidden practice to pay for backlinks, even if it increases your SEO score.
RELATED: How to build your blog DA score with HARO
If you often get requests to include other people's links in your articles, disregard them! It is not worth the $30-40 bucks that they're willing to pay when it can get you penalized in Google.
And it can get you shadow-banned from Google results forever – meaning you will not appear in organic searches anymore which is one of the best ways to get free organic and relevant traffic to your blog or website.
And if they find out that you've been paying for links or that you've included paid links to other brands on your website, they can penalize you both.
To keep things simple we want to stay on Google's good side and we can easily do so by letting them know when we get commissions or when we get paid for including certain links.
Because accepting paid collaborations in itself is not forbidden but you have to disclose that information to them. And the way you do that is by marking your paid links as no-follow.
Do Follow Links vs No Follow Links vs Sponsored Links
Let me break it down even further, and explain the difference between the type of links you can have on a blog or website.
DO FOLLOW LINKS
A "do follow" link is a default link. All links are considered do follow links unless stated otherwise.
These give SEO juice to the destination website. It practically tells Google to do follow the link to the source, that it's relevant to the context you're inserting the link into and also pass along some of that SEO backlink juice to the website in question.
YOU MIGHT ASLO WANT TO READ: Link Building and Internal Links Explained
When To Use Do Follow Links:
When you link to relevant sources that you used to get your information from.
When you link to external links from other high authority websites.
When you insert any organic links (that haven't been paid or incentivized).
When you link to your own content, products or blogs.
NO FOLLOW LINKS
A "no follow" link on the other hand, tells Google not to follow the link, not to give any extra juice or SEO value to the end website. It tells Google that you've been paid or you benefit in some ways from linking to this website and in some scenarios it tells Google not to follow the link that it might be spammy.
A nofollow link acts the same way to the untrained eye – so your audience won't be able to tell the difference between how a do follow link and a nofollow link look like. But the main difference is that signal that it sends to Google.
When To Use No Follow Links
When you've been paid to insert that link – such as a sponsored post or link, paid collaborations and so on.
When you can gain commissions from that link – such as affiliate links.
Whne you don't trust the end website.
SPONSORED LINKS
Google also recently introduced the "sponsored" link tag, which basically means what it says. It indicates that the link has been specifically paid for or sponsored.
When To Use Sponsored Links
Therefore, if you've been paid to write a sponsored post about a brand and you include the brand website in there, you need to market a sponsored as well (as no follow).
If a brand purchases ad space on your blog or sidebar, this applies again.
If you've been sent a free product in exchange for a blog mention.
Can You Still Accept Paid Links On Your Blog?
Bloggers can make money in various ways. There's nothing to keep you from doing that.
All is fair when you have a self-hosted website. You can decide how you want to monetize.
Google is not against you making money out of these links. They just want you to disclose it, and be transparent about it. After that – it's in your control what kind of collaborations you accept.
Just don't accept any that insist that paid links are marked without the "no follow" tag!
How To Disclose Affiliate Links vs Sponsored Links
Let's look at how you should disclose these links if you have affiliate links versus sponsored links. Because what kind of links you use, will indicate how you should disclose them.
How Should I Label Affiliate Links?
If you use affiliate links on your blog – meaning you signed up to a brand's affiliate program and generated a unique tracking link which allows you to get paid for every sale you make through it – then you need to toggle on all three options.

If you're in your WordPress dashboard and click on a link you should have three toggles appear automatically and you want them all three toggled on.
The first one just implies that the link is going to open in a new tab which is important to do for any external link (it keeps your readers from losing their place and leaving your website too early).
You also need to check the nofollow link and the sponsored link. And you need to do that because you are getting paid in the eventuality of a sale and also you don't want to give any extra SEO juice – because you have technically entered into a paid agreement with the affiliate network.
So if you're using affiliate links on your blog, you need to:
How Should I Label Sponsored Links?
If it's a sponsored post or sponsored collaboration on your blog, then you just want to toggle the sponsored tag. This will often automatically also toggle on the no-follow link for you.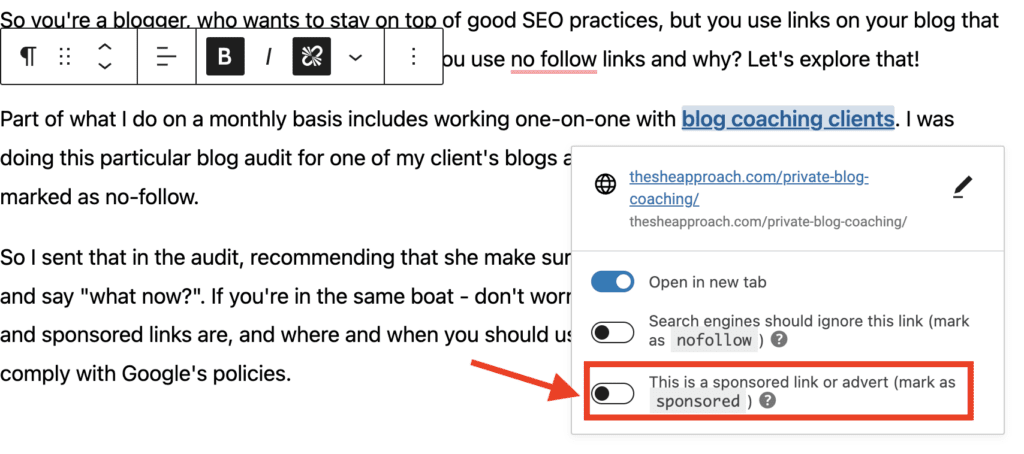 Keep in mind that you still need to do this whether or not you disclose verbally or written in the blog post that this is a sponsored blog post.
A written disclosure is needed for your audience, and the sponsored or no follow link tags are needed for the little Google robots.
So if you're using sponsored links on your blog, you need to:
Have them open in a new tab.
Have them be sponsored.
Add a written sponsored disclosure in that article.
Do You Need To Mark Links As No Follow Outside Of Your Blog?
The simple answer is no – you only need to use the no follow and sponsored link attributes when linking from your own website and domain.
If you share affiliate or sponsored links on social media for example, you only need to disclose them accordingly, but you can use the links normally. (This applies for including paid links in email campaigns, in FB groups or other communities, as well as Instagram or other social networks.)
And that's because when you own your own website, Google looks at it a little different and marks it against other websites. They don't want people paying for links to be marked as higher.
How To Add The No Follow Attribute In HTML Code
If you own a WordPress blog, it's so easy to toggle these attribute on by clicking on each link and doing a double check before you publish an article. See the screenshots attached above.
However, if you don't see this option or you want to add this in the actual code on any other blogging platform you can do so by selecting the article – going to "Edit as HTML", and adding the no follow attribute manually.
Your links need to look a little like this:
<a href="YOUR LINK HERE" rel="sponsored nofollow" >
Or to make it open in a new tab as well:
<a href="YOUR LINK HERE" target="_blank" rel="sponsored nofollow noopener"
You can see how this code looks for Amazon affiliate links below, to be able to easily spot it on your own blog (or if the "rel" attribute doesn't show up, you need to manually include it as follows):

And of course there are now savvier solutions to doing this rather than doing it manually. For example, I use the Lasso affiliate plugin which I absolutely love.
They create these stunning boxes that make the affiliate links or images really pop. In there, you can toggle on the nofollow link as well as adding an automated affiliate disclosure at the bottom of every box.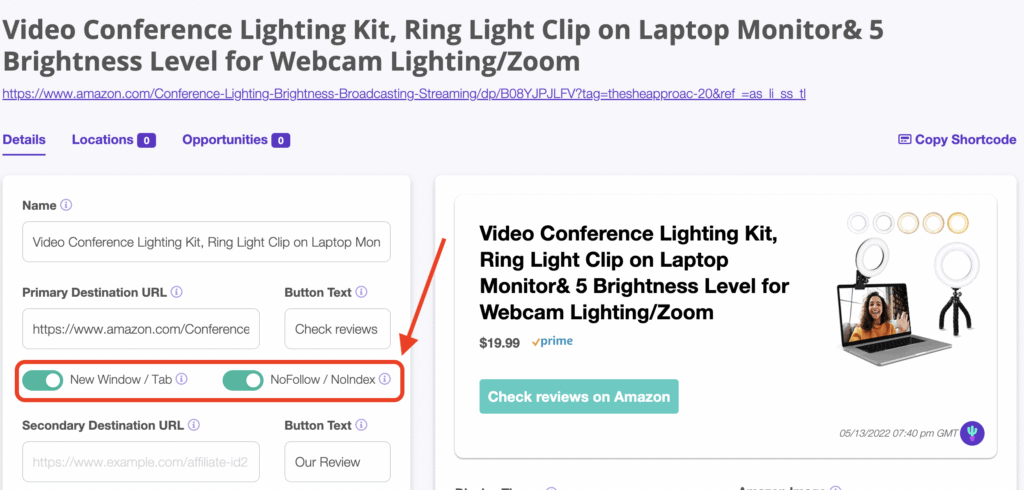 So if you're looking for a tool that can also increase your affiliate clicks, and not just stay compliment with all the rules out there, give Lasso a try for free!
Conclusion: No Follow Links Explained
Making sure that your paid links are nofollow is a non-negotiable and it should be done for every affiliate link or brand partnership that you're working on.
So if a brand wants to pay you, but they want the link to be do follow, I would stay clear from that because Google still knows!
Don't put your whole blog's reputation in the eyes of Google at risks for one-time collaboration.
I hope this helped you understand no-follow vs do-follow links a little better. If not, here are a couple common questions I get asked:
Should all of my affiliate links be labeled as "nofollow"?
Yes – you need to mark each individual relevant link with the no-follow tag. Doing it just once, isn't enough. (But you only need one written affiliate disclosure per page or post.)
Do I need to mark Amazon affiliate links as "nofollow"?
Yes! Amazon affiliate links aren't excepted from this rule. However, sometimes the no-follow attribute is included in their shortned links.
Read my post on Amazon Affiliate Program Best Practices & Common Mistakes for more tips on how to stay on top of Amazon's Associates Program rules.
How does a "no follow" link look on a blog page?
At first glance, no-follow links look exactly the same way as do follow links. So your readers won't be able to tell the difference, unless they inspect the HTML code of your website.
In there a do-follow link will look like "<a href="YOUR LINK HERE" >" while a no-follow link will show up as "<a href="YOUR LINK HERE" rel="sponsored nofollow" >".
Do I need to use BOTH no-follow and sponsored tags for paid links?
The simple answer is yes. If you're using affiliate links or sponsored links, they both need to be toggled on.
As the sponsored tag is a new addition that Google introduced in the past few years, a lot of the old affiliate links will only have the no-follow attribute. According to this Google update, it isn't necessarily to go back and edit old links, but you should also be using the sponsored tag moving forward.
The only instance when you would use no-follow but not the sponsored attribute, is when you link to websites that you don't particularly trust or want to give SEO points to, but you haven't been paid to do so.
More SEO tutorials for bloggers:
No Follow and Sponsored Links Explained For Bloggers