Expert Tips On Starting A Profitable Blog And Making Money Online
So you want to start a money-making blog, earn an income online by creating content surronding topics you love, turn your passion into profit and find out what it takes to make money blogging.
In that case, you're reading the right post. And hey, I know there are a lot of similar posts out there about how to start a blog in 2023, but this post is different. Because it will teach you how to start a successful blog!
Instead of just telling you what every other "start a blog" tutorial tells you, I'm going to break down exactly what I would do differently if I was starting my first blog this year.
This post will go well beyond the technical aspects of starting a blog (that I know you can conquer even if you have no idea how WordPress works) and will dive into what I would do differently if I had just started The She Approach now, with all the knowledge that I accumulated over the past three years.
Consider this a Bandersnatch-like experiment (the interactive Netflix episode anyone?) where I get to blog smarter and choose a faster path towards monetizing my blog and growing it if I had known then what I know now.
I will also list the tools and trainings I would invest in, the ones I wouldn't (because I paid for a lot of things I shouldn't have, because I thought I needed them in order to be a successful blogger) and describe the strategies and tactics I would personally focus on first to help you get started right away.
Before I do, please keep in mind that this post contains affiliate links and any purchases made through such links will award me a small percentage of the sale (but you won't pay a cent more than you would have normally – promise!).
Also, if you're somebody that learns better by printing out information, highlighting key facts and jotting down notes on the side of a paper, you're going to love my Amazon exclusive book: The She Approach To Starting A Money-Making Blog.
Not only is the book an overview of how to start your blogging journey (and it goes into a lot more detail about how to pick a blog name, a niche and create content that will make you money), but it comes with worksheets and exercises at the end that you can use to brainstorm your money-making strategy. Check it out!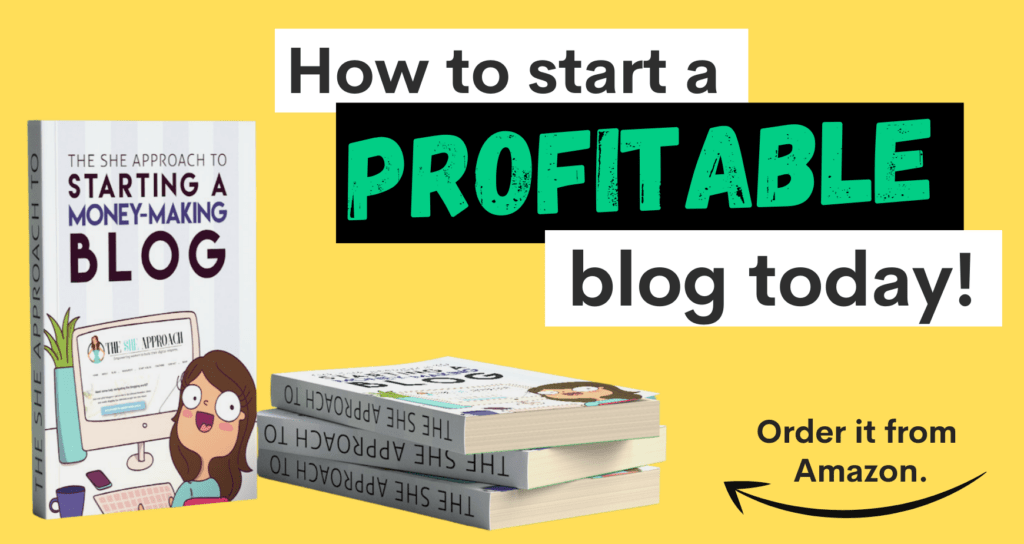 Who Am I To Tell You How To Start a Blog?
I've been blogging for over 3 years and I've started a couple of online businesses from scratch as well. What I preach, I experimented and tested on my own "skin" first.
But beyond my own experience, as a blogging growth strategist and coach, I've worked with hundreds – if not thousands – of other bloggers, from all over the world, and most importantly, from all different niches and industries, and I've helped me create thriving blogs.
So, I'm basing this experiment on some of the most common blogging hurdles, questions, failures, and drawing from my personal success and other success stories that my clients have shared as well.
---
How I Would Create A Money-Making Blog If I Were Starting From Scratch Today
If my current blog disappeared overnight, and I had to start all over again, this is how I would start and what I would do, step by step.
1: BRAINSTORM YOUR BLOG'S PURPOSE
I see a lot of people starting a blog without a clear idea of what the blog is going to be about, who is it going to speak to and what the end goal is for creating this blog in the first place.
Actually, I've made this mistake myself when I first started The She Approach, and it cost me over 4 months where I had no idea what the purpose of my was. I was writing about everything that I could think of, under the clever branding about a lifestyle blog, I was appealing to no one, and I wasn't making any progress when it came to growing my audience or my brand credibility.
I wasn't clear on everything, so I wasn't known for anything.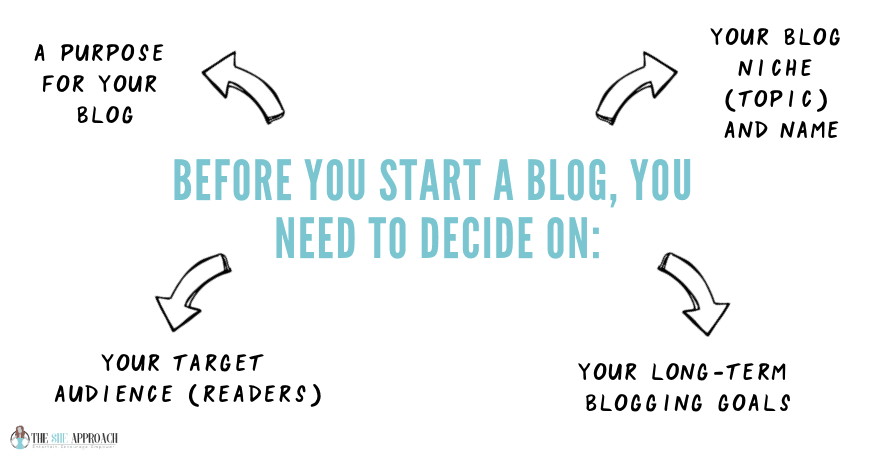 So, if I were to start a blog today, I would take at least a week to brainstorm the following aspects:
My blog's purpose. What do I want this blog to do for me? What do I want it to do for others? Why is it important to me to create this blog? Why is it worth my time?
My blogging goals. Am I only blogging as a creative outlet or do I have a bigger picture in mind of how this blog is going to change my life? Do I want to turn this blog into a business? If so, how much money do I want to earn in 2 year's time? (Remember, this is not a get rich quick scheme so it will take time even if you have all the answers.) How many employees do I want to have down the line? What brands do I want to work with? How many followers do I want to earn each week? (Be as specific as possible about your blogging goals and write them down! Make sure they align with your blog's purpose as well!)
My target audience. Who is this blog for? Who is going to enjoy it the most, or need it the most? Who is my content going to help, or inspire, or entertain? Who am I going to try to get in front of?
My blog's content. What I am going to write about? What do I want to be known for? On what topics do I have real insight and knowledge on that I can't wait to share? What am I a geek for?
My blog's name. And after all of that, I would choose a name that would represent my topic of choice, my blog's purpose and that would resonate with my target audience. If you need more tips on this, check on my blog post on how to come up with a blog name.
---
2: GET HOSTING, A DOMAIN NAME & A WEB THEME
Another step that I wouldn't postpone is starting with a self-hosted blog right away. I see a lot of people that are exciting about blogging starting off with free blogs and never moving past that point because they can't grow it. I get it, I was one of you, but now I know better.
If you're not sure that you're going to be committed to your blog and to this project, then, by all means, start a free blog and only share it with your friends and family. But if you're serious about turning this blog into something more, or about ever earning money from it, then you need to invest in blog hosting.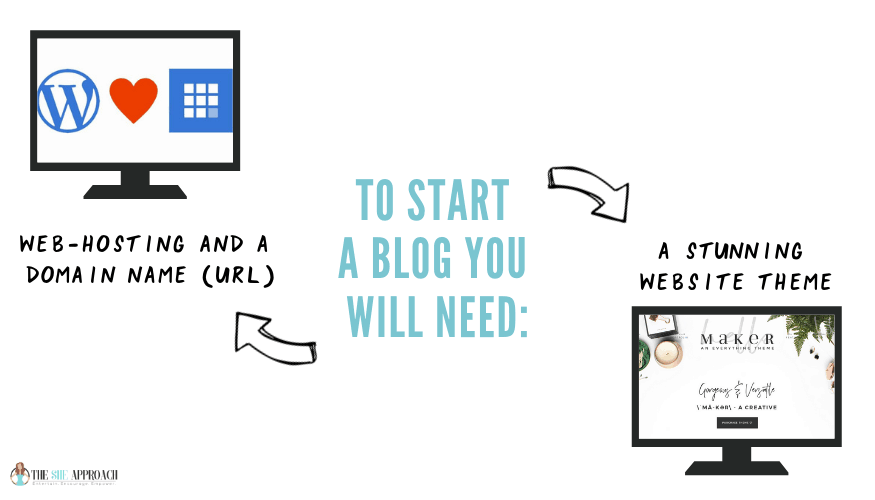 You need to own your own platform, a professional looking website, and an easy to type domain name (the URL of your website – in my case – www.thesheapproach.com).
Postponing this until you grow your following, or get good at writing, or anything else, it's just an excuse. I know that investing in something like this, investing in your creativity, can be scary. But when you think of it, it doesn't cost more than a cup of coffee a month to start something that will literally change your life.
If you're not sure why you should pay to have a blog in the first place, read my post on 7 Reasons To Go Self-Hosted With Your Blog.
But one of the biggest reasons why you don't want to make the same mistake I did (and try to grow a free blog first) is because you're going to waste a lot of time that you could have used to grow your actual blog!
In particular, to get found in Google searches (which is a brilliant and free way to grow your blog and following without having to do anything), you need to build something called "domain authority". So the longer your website is around, the more awesome posts you have on it and the more people that link to it, the higher you will rank.
But if you have a free WordPress or Blogger blog, you don't stand a chance against self-hosted blogs out there. And to be painfully honest with you – no one will take you seriously if you don't take yourself (and your website) seriously. (So building trust with your readers or getting to work with brands will be 10 times harder than it has to be.)
Not to mention that when you change your domain name and platform, you will lose pretty much all your followers (WordPress followers mean nothing – you want to collect email addresses that you have control over instead, which I'm going to talk about soon) and all your domain credibility – having to start from scratch!
So why not pay less than $3 a month and start a blog the proper way? Here's what you have to do to start a self-hosted blog, for as little as $160 for not one, but THREE years:
First off, you need to make sure that your chosen blog name is available (and that it doesn't conflict with other brands or trademarks). Simply google it to see what shows up, or use the box below to check if the domain name is available and secure it:
You can also purchase the domain name, for as little as $15 per year from Name Cheap. (Just make sure to follow the instructions they give you to sync it with your hosting later.)
I've been with Bluehost for over 23 years now (that's something I would do exactly the same if I were to start a blog now!) and they have safely and securely hosted my website without any issues.
Plus, because I wanted to make things even more affordable for my readers, I kindly asked them to offer me an exclusive discount and they obliged! So if you start your blog using any Bluehost link on this page you get a premium price!
They also have a one-click installation system for WordPress, which means that you can get to manage your website from a user-friendly platform that makes it super easy to write and categorize your blog posts.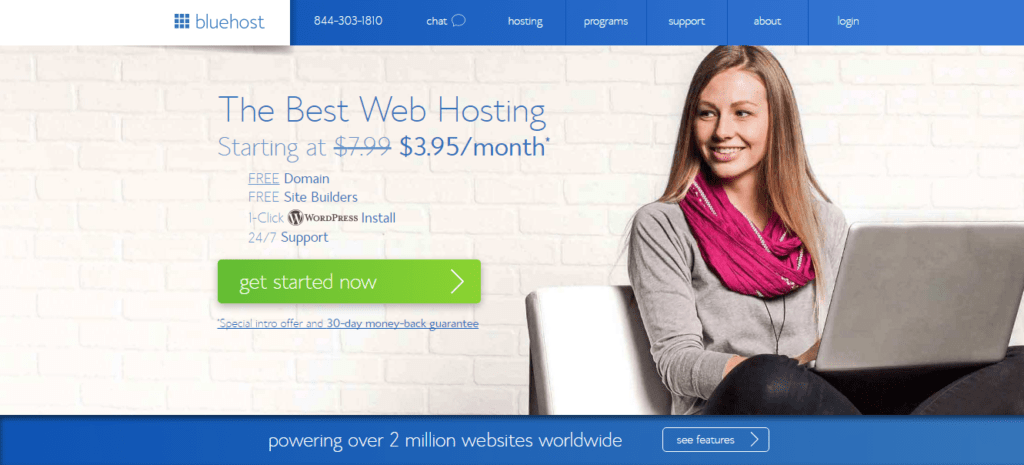 To start your blog and build your website, choose your free domain name from Bluehost, purchase your hosting (I recommend the 3-year plan since it offers a huge discount) and simply follow the instructions they lay out.
If you want the full step-by-step process of what you need to fill out, what you need to select for the best price and more details on how to set up your blog, take my free online course:
Once you have access to your website, you can start customizing it and adding content. The first thing that I recommend you do is to search for a stunning WordPress theme that fits your personality and your needs.
First impressions are huge, so if someone lands on your website and it looks just like other 10,000 blogs out there because you're using a free theme (a big no-no), you might just lose them as a reader.
So, something I would do now if I was starting another blog today, was to choose a professional, clean looking WordPress theme that I can customize with my branding and infuse my personality into.
You can find stunning themes from Creative Market, Bluchic or Restored 316 for under $50, and once you get them you have them for life.
---
3: WRITE HIGH-QUALITY BLOG POSTS
So if I was a brand new blogger, and I had just created my website, the next step for me would be to start creating high quality, valuable content right away.
I'm talking about 2,000 – 3,000 words blog posts that are incredibly useful, well organized, easy to read and on topics that would solve problems for my readers.
Before I would even launch my blog, I would have at least 5 to 10 of these blog posts already published, and waiting for my first few readers. There's nothing worse than promoting a website that is virtually empty or only has a "welcome to my new blog" post.
[socialpug_tweet tweet="Getting ready to launch your new blog? Make sure to have at least 5 live blog posts that give your first few readers an idea on what type of blog you're starting. " display_tweet=""]
I would also create another 10 or so blog posts (or at least the first draft) and have them ready to publish over the next few months, so that when my blog is live, I can focus on promoting it and growing my audience, instead of having to write and publish blog posts each week.
It's also important that these blog posts are not at random, but that there are strategically chosen based on your blogging goals. So, depending on what I want to be known for, what products I plan to promote in the future, brands I want to work with or even what products I want to create, I would make sure that those blog posts attract the right type of attention.
So for example, if I were to start a dog blog and I would want to make money from it from affiliate marketing (recommending dog products and receiving a commission for sales made through my links) and create an eBook about how to house train a puppy, I would write round-up posts of my favourite dog products and tutorials on how to take care of a puppy.
Basically, you want to make your job easier for yourself down the line, so when you do join relevant affiliate programs or launch that eBook, you can simply add the relevant links to posts that are already getting attention.
So, this strategy will require some planning ahead and for that, you need to know how you plan to make your money blogging. To help you narrow it down, I've created a free quiz that you can take below to find out:
But you can always check my income reports for inspiration on how I got started and more information on how you can make money blogging:
I'm currently working on my next income report, outlining how I made my first $50,000 blogging (UPDATE: it's live now!), so trust me when I say that the key to starting a money-making blog in 2023 is to write amazing, helpful content that people want to read!
So instead of trying any crazy strategies to make more money with your blog because you're desperate to make it as quickly as possible, make sure that your blog posts and articles are the best they can be and that you SERVE your readers before you SELL to them.
---
STEP 4: START AN EMAIL LIST FROM THE START
If I wanted to start a new blog, one that would make me money, I would put just as much focus into my email list as I would into my blog.
That's right! Email marketing is incredibly important (find out why every blogger should have an email list here) and it's the second most important key to making real money online because it allows you to actually keep in touch with your blog readers and form a true connection with them.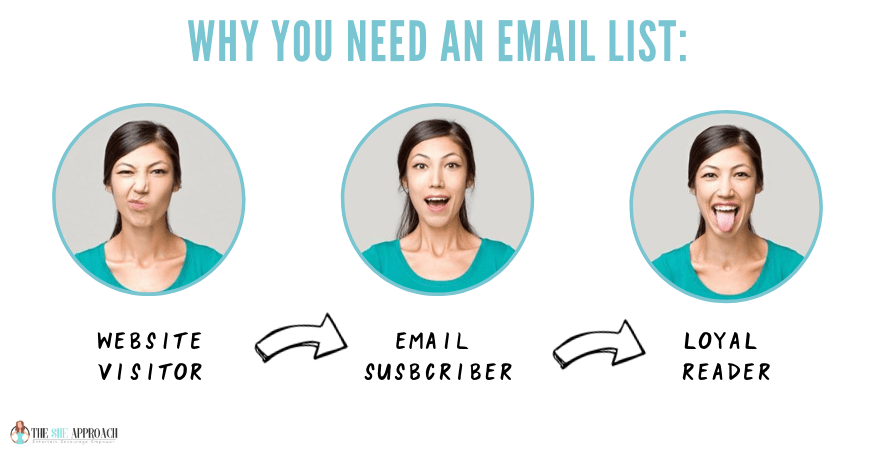 But just like on your blog, content is key. And you have to offer value via your emails and not only sell. So treat your email subscribers as VIP readers that deserve your best content (and not only just spammy emails each time you publish a new post).
One of the mistakes I made with The She Approach was that I wanted too long to start an email list, and then, and even bigger mistake, I waited too long to start emailing my list.
So read my post on How To Start, Manage And Grow An Email List and start your email list as soon as you launch your blog.
I highly recommend using Mailerlite because their free version is more than enough to get you started (they allow you up to 1,000 free subscribers) and they are really affordable after that.
Then start finding out what people love hearing more about, how you can better serve your subscribers and only then you can start trying to monetize your email list.
RELATED BLOG POSTS:
---
STEP 5: START USING PINTEREST RIGHT AWAY
And once my new blog is up, my content is live and my email forms are in place to capture all those readers, I would start turning my attention to Pinterest.
Starting to use Pinterest to promote my blog was one of the smartest things I've done for my existing blog, and it's something that I actively encourage everyone to do if they want to grow their blog traffic organically (without having to pay for ads).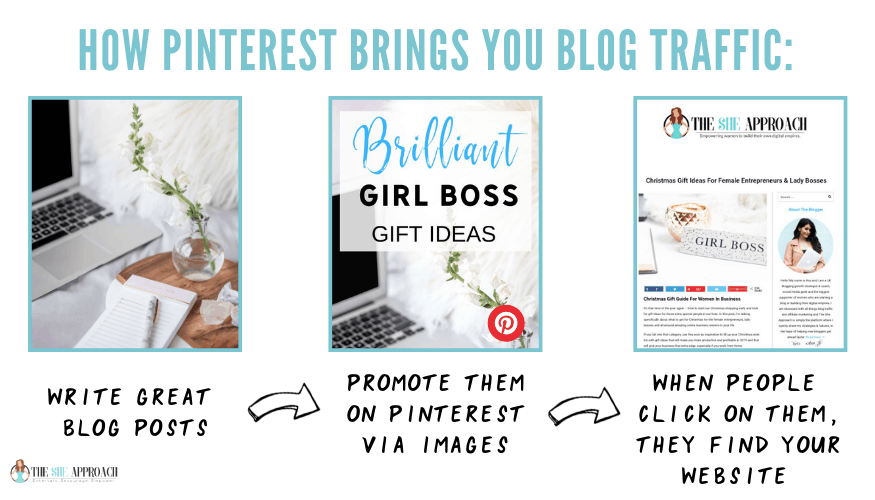 Because without traffic, your blog is good as dead! But you can't hope that people will just find your blog on their own – you have to put it out there for them to find.
And Pinterest is a social media network (and search engine!) that people love using to find useful information, inspiration and people to follow. In fact, in 2018 alone, Pinterest brought me over 80% of my page views!

If you're absolutely new to Pinterest and have no idea how you can use it to grow your blog, check out my detailed post on How To Get Started With Pinterest For New Bloggers.
Once you've been using Pinterest for 1-2 months, I would also sign up to Tailwind. Tailwind is this amazing Pinterest scheduler that helps me automate all my pinning efforts so that I don't have to any work to be active on there, which is why I can not touch my Pinterest account for weeks and still get blog traffic.
Read my blog post on How I Use Tailwind To Leverage The Power Of Pinterest to find out what Tailwind actually does for me and how I make the magic happen.

But if you want to truly understand the power of Pinterest and get your blog to a level where you can earn real money online (because more traffic = more opportunities to make money), then I recommend checking out my Pinterest eBook: The She Approach To Making Pinterest Possible.
---
These are the first 5 steps I would make to start a profitable blog if I had to start all over. There is a lot more that goes into building a money-making platform, but if you focus on these 5 first you can't go wrong!
And, just as promised, here's a quick list of tools and resources I would invest in again, and things I wouldn't be spending money on in the first place:
TOOLS I WOULD BUY AGAIN:
A Tailwind premium account to schedule pins
Stock photos (because you need images to break up the text and promote your blog)
The Genius Blogger's Toolkit (a blogging bundle that comes around only once a year and that has helped me learn so much about all different aspects of blogging)
TOOLS I WISH I HADN'T BOUGHT:
Countless fonts I never use (I am obsessed with these, but bought more than I needed)
A marble background from Amazon (back when this was popular between bloggers and I thought I would have the time to take my own photos)
Pinterest and Facebook ads. Not saying that they are not effective, but I started trying to promote my posts before I had any idea what I was doing. In retrospect, I should've invested in a Pinterest eBook or Facebook training before I had any business paying for advertising on them.
Instagram courses that will remain nameless. Again, not saying that I didn't learn anything from them, but when you're trying to grow a blog (especially one that you just started), you don't want to spread yourself too thin, especially in a niche like mine where readers rarely come over to your website from Instagram.
And there you have it! These are just a few of the tools that are a must if you're starting a blog, or resources that you probably won't really need to grow it, or at least not right away.
📌 PIN THIS POST FOR LATER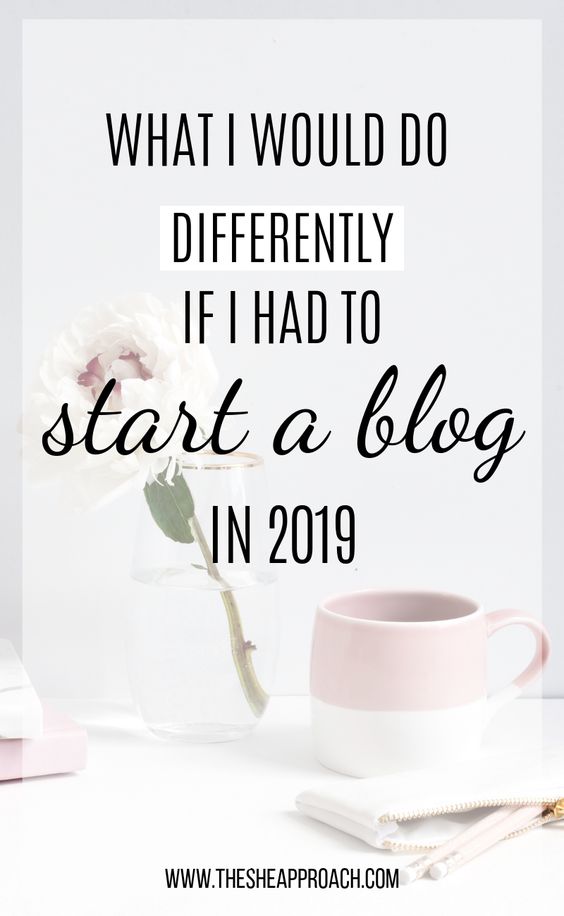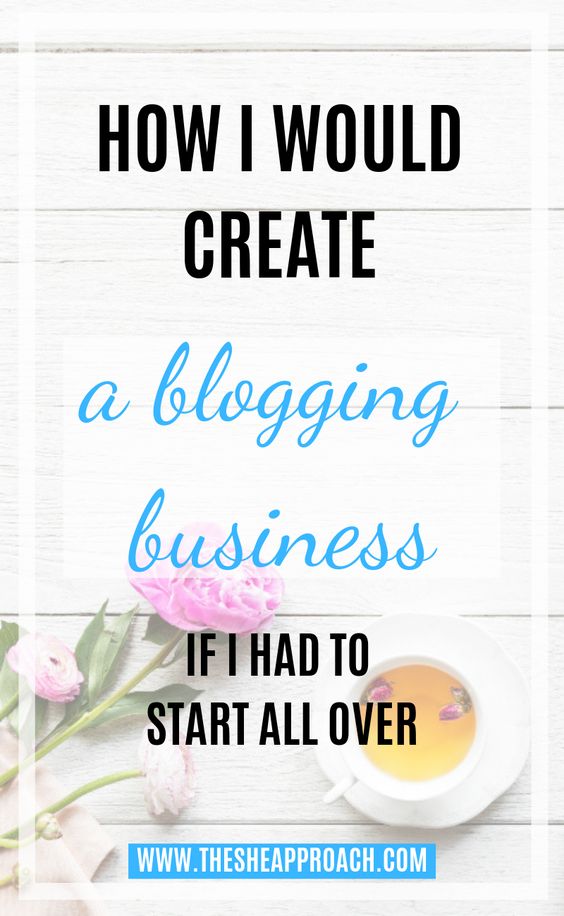 But, as a final word, I want to encourage you to make 2023 the year where you finally start the blog you've been dreaming of. Stop comparing yourself with other creators, thinking you're too late in the game to make it. Because you're not!
My blog has given me a new sense of purpose and the fact that I can make money blogging is only a bonus. But there's now a bigger opportunity than ever to monetize a platform such as this, and you don't want to miss out on being paid to be creative. Trust me!
According to this 2019 survey, 14.5% of bloggers are making more than $5,000 per month from blogging – with 1.9% of bloggers surveyed making more than $20,000. And I believe those numbers will increase in the following years, as bloggers become more educated about their opportunities.
So start your dream blog today! And check out if your chosen blog name is available (because if you wait too long, you might just miss out on that perfect blog title):
The Ultimate Guide To Starting A Successful Blog In 2023